£60 million Active Travel projects announced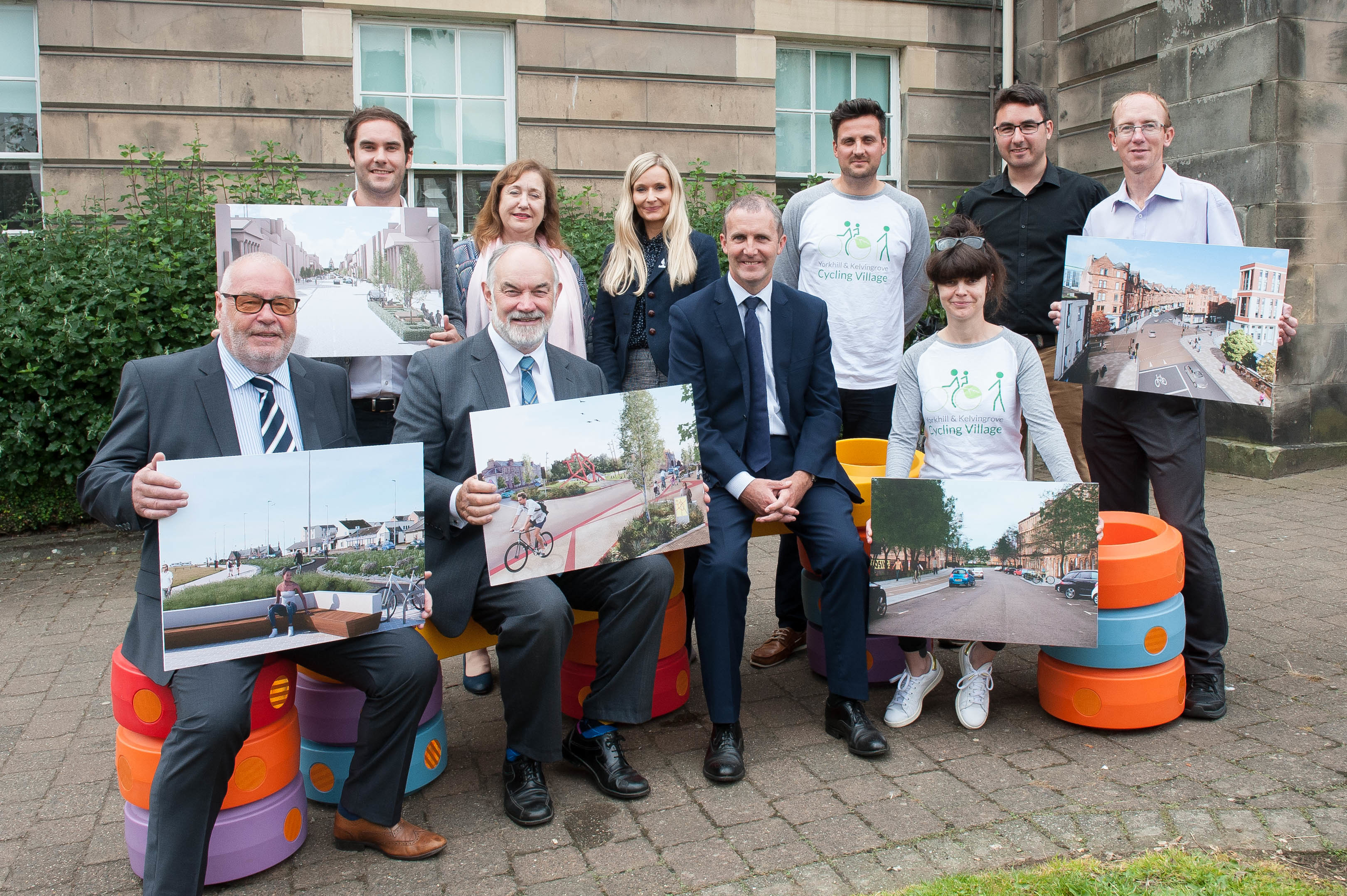 Cabinet Secretary for Transport, Infrastructure and Connectivity Michael Matheson has announced that five new active travel projects have been given the go ahead through the Places for Everyone fund which is managed by walking and cycling charity Sustrans Scotland.  This will see almost £60 million being invested in this new infrastructure in Perth, Edinburgh, Glasgow (two projects) and Arbroath over the next five years. 
The allocation of the funding was announced at the launch of the National Transport Strategy public consultation. 
Perth, People, Place (Perth & Kinross Council)
Award: £6.45 million
Funding has been awarded for the first arm of the network, on Dunkeld Road, connecting the neighbourhoods of Bertha Park, Inveralmond and Muirton to the City Centre. The project aims to make Dunkeld Road a key walking and cycling artery for local travel, by reallocating parts of the A912 dual-carriageway to create a fully segregated cycle-lane and improved footways as well as public realm improvements and green infrastructure. Reallocation of the road-space will considerably reduce barriers for active travel in Perth, as highlighted in consultation with local residents. A proposed bridge connecting to National Cycle Network Route 77 will provide a commuter and leisure link with villages north of Perth.
Arbroath Active Travel Active Town (Angus Council)
Award: £6.92 million
Accessible Arbroath seeks to address the severance caused by the A92 dual carriageway through the centre of the town by reallocating two lanes of traffic as walking and cycling links, planting and improved public spaces. New crossings across the A92 will reconnect local amenities and attractions with housing and tourist accommodation, while National Cycle Network Route 1 will also be enhanced with new connections to train and bus stations. Integrated active travel and local transport is expected to benefit staff and students at Dundee and Angus College, local residents and visitors to the area.
Glasgow Avenues PLUS (Glasgow City Council)
Award: £19.38 million
Avenues PLUS extends the existing Glasgow Avenues projects to provide segregated cycling facilities and footway improvements on a number of streets leading to the City Centre. These will see the Dennistoun, Port Dundas and Lauriston communities, which are all undergoing significant investment and regeneration, provided with direct routes to the existing Avenues and cycle routes. Areas around High Street Station, Buchanan Bus Station and Strathclyde University and City of Glasgow College Campus will be improved. Two new junctions will also replace an existing gyratory near South Portland Street. The project seeks to increase active travel, improve health outcomes, reduce emissions and improve the sense of place. Recognising the lack of bike storage in many areas of Glasgow, the Council also seeks to pilot new high capacity public bike stores based on models used in the Netherlands.
Yorkhill & Kelvingrove Cycling Village (Yorkhill & Kelvingrove Community Council & Glasgow City Council)
Award: £6.5 million
The first major Places for Everyone project to be led by a community organisation aims to deliver a Mini Holland-style project in the west of Glasgow. They aim to create the "most accessible community in Scotland", with a network of segregated cycle routes between key journey drivers and community centres, alongside integration with public transport. A key outcome is improving localised air pollution in the area and strengthening the local economy by attracting more people to local businesses though ease of access. The project will link to the SSE Hydro and the SEC via Exhibition Centre station and join existing connections to the Riverside Museum and Glasgow Science Centre. With integration with the Glasgow Avenues, Connecting Woodside, West City Way and the National Cycle Network, Yorkhill & Kelvingrove Cycling Village promises to create a key link in Glasgow's cycle network for utility and leisure journeys.
George Street & First New Town (The City of Edinburgh Council)
Award: £20.32 million
In line with the aspirations of Edinburgh's City Centre Transformation, this project will see significant removal of parking spaces from George Street, widening of footways and creation of a new segregated, bi-directional cycleway. Existing crossings will be improved, and pocket parks will be created at points along the street, creating new seating and rest areas for pedestrians, encouraging people to make sustainable and active transport choices. The project will connect to existing walking and cycling projects, including Meadows to George Street, City Centre West to East Link and the National Cycle Network.
---