Scotland is preparing the transport system as we transition through and out of the COVID-19 crisis.
---
Introduction
The Cabinet Secretary for Transport, Infrastructure and Connectivity launched the Transport Transition Plan on 26 May. This continually evolving plan outlines the action Transport Scotland has taken to date and the planning being undertaken to prepare the transport system as we transition through and out of the COVID-19 crisis.
As we have eased out of lockdown and restrictions have been lifted, how we work, socialise and access services has changed. Work has been undertaken and continues to provide a safe transport system to meet the needs of the country. The focus is to ensure Scotland can keep on moving, whilst continuing to supress the spread of the COVID-19 virus. On 21 May, the First Minister published a Route Map, setting out the steps which will take us there in a careful and gradual manner.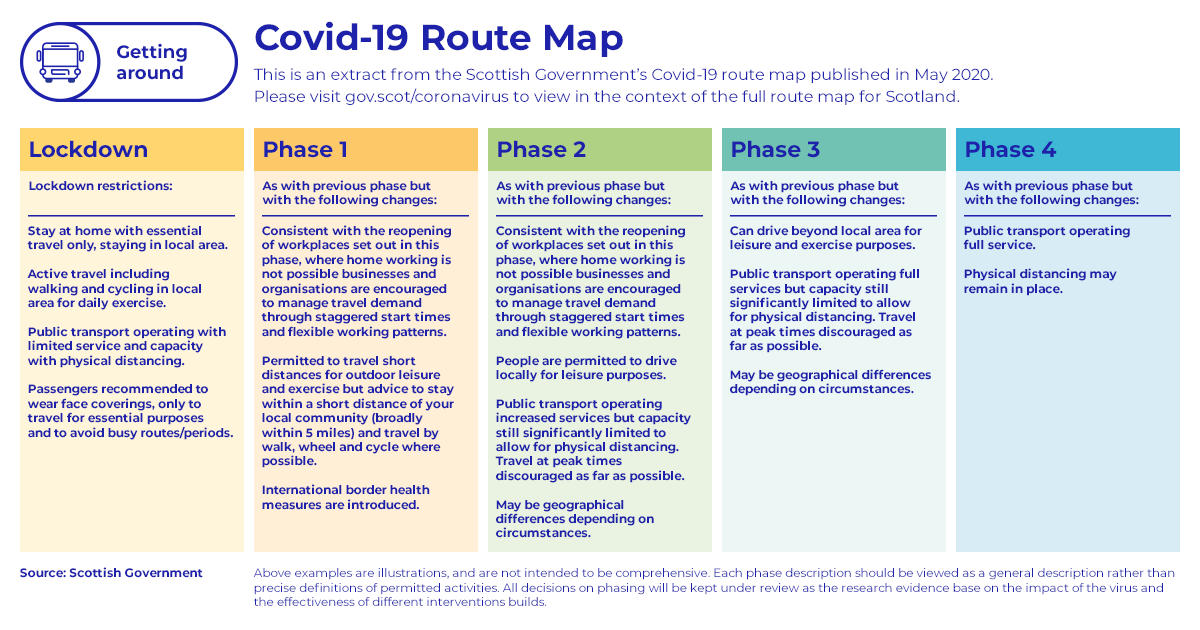 This Government is taking an evidence-based and transparent approach in this transition, which aligns with the Framework for Decision Making document. These pages set out the plan and work undertaken to date for transport within Phase 1 - 4, as services recover to full service, but whilst physical distancing may still be in place. The phases in the Route Map set out how and why people are able to move around and explain that while the level of service of public transport will be on an increasing trajectory, it will not be at full capacity levels throughout. 
In the transition, Transport Scotland will frame decisions with the unifying principle:
To operate a safe transport service, mitigating risks where possible for those using our transport network and for our transport operators.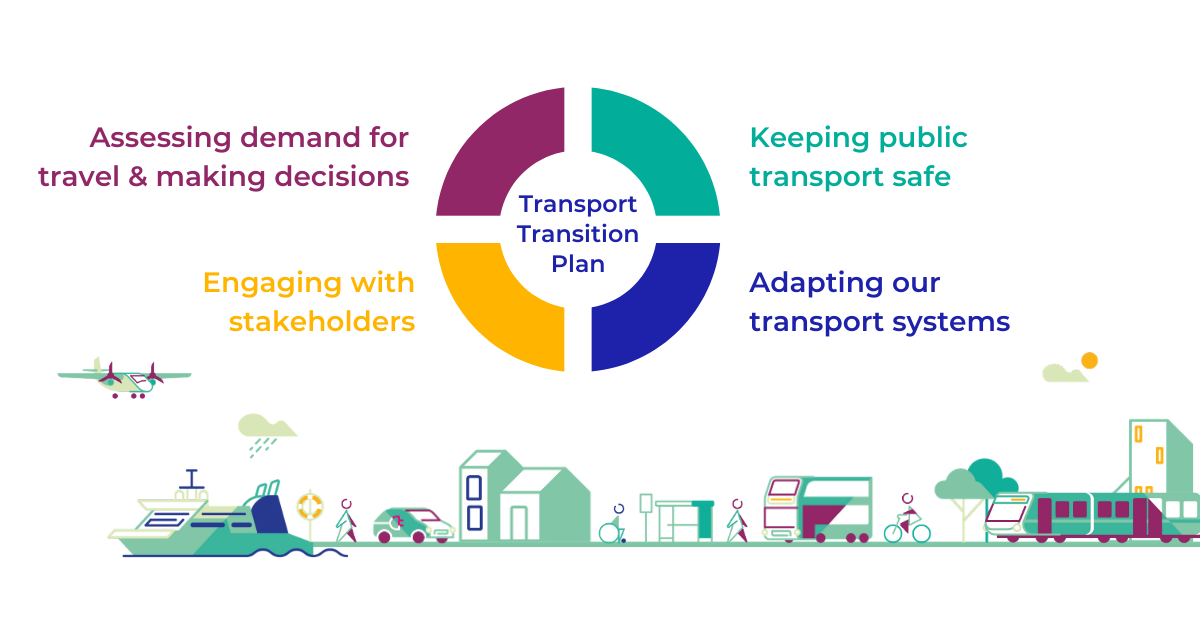 The Plan, over the immediate, medium and longer term, will seek to:
ease restrictions on everyday life and movement
support economic recovery within the transport sector and broader economy, and
develop the future of transport in Scotland
The Transport Transition Plan will continue to develop as we tackle this unique challenge. The following sections aim to provide an insight into the scale and response to the challenges and how we will implement our transport decisions.
Our plan will:
inform passengers about when and how to safely access public transport
support management of travel demand, reinforcing broader messages on physical distancing and discouraging unnecessary travel
sustain behavioural changes, encouraging active travel options and staggering journeys to avoid peak times, and
inform passengers and road users of busy areas and times to encourage alternative choices
Where we are on the Route Map
Scotland moved to Phase 3 of the Route Map on 10 July, with changes being introduced in stages.
In terms of the 'Getting Around' element of the Route Map, In this phase you can drive beyond your local area for leisure and exercise purposes. Public transport will be operating full services but capacity will still be significantly limited to allow for physical distancing. Travel at peak times will be discouraged as far as possible. Importantly, there may be geographical differences in arrangements depending on local circumstances.
To help people understand how to travel, when and safely, we have prepared Guidance documents:
Transport Scotland, along with other partners such as SG, Traffic Scotland, Operators and more, and producing campaigns to provide suitable information to promote safe travel during Transition.
During Phase 3, public transport has continued to scale up to full services. Transport, including public transport, is one of a limited number of sectors where an exception has been made to move to one metre physical distancing provided that appropriate risk mitigation measures are in place. It is estimated that even with the move to one metre physical distancing the capacity on public transport could be in the region of 40% although this figure varies across modes and depends on the configuration of vehicles and vessels.
We acknowledge from the opinion polling that public confidence in public transport has reduced significantly. As a response to this we will all need to carefully manage the increased demand on public transport to prioritise the safety of its users and prevent overcrowding. We want to promote the use of sustainable transport choices where possible and not become a society with greater car dependence than before.
Key Issues:
Ensuring communication is clear, so transport users understand the circumstance in which they should be travelling. Advice needs to be clear on how, where and when they can travel.
There will be geographic challenges and with that, there will be no 'one size fits all' to the approach.
Public transport has an essential function in our society. We need to consider the impact on those who are most vulnerable and those who are most dependent on public transport and for accessing essential services.
There may be a tendency to use private cars when available due to the ability to physical distance. We need to ensure the adverse environmental and physical impact are limited by promoting cycling, walking and wheeling where possible.
A fair and sustainable restart
Our National Transport Strategy
We must consider the type of society and transport system we wish to have. The National Transport Strategy (NTS) - Protecting our climate and improving lives, published in February 2020, sets out a vision for a sustainable, inclusive, safe and accessible transport system, helping deliver a healthier, fairer and more prosperous Scotland for communities, businesses and visitors. While it did not consider this challenge in its remit, the NTS will provide the guiding principles for the planning for Scotland's Route map through, out of the crisis and in to the future.
There are four interconnected Priorities to deliver our Vision: reducing inequalities; taking climate action; helping to deliver inclusive economic growth; and improving health and well-being. Therefore providing a fair and sustainable restart is consistent with our long term strategy to ensure that we provide fair access to transport services that we need, incorporating  the up-to-date guidance, reducing inequality and advance equality to include all  protected characteristics.  We also need to ensure that we are able to make travel choices that minimise the long-term impacts on our climate and the well-being of our future generations.
A fair restart
We know that the biggest barrier to transport for inequalities groups is cost and accessibility and that COVID-19 will have affected those facing inequalities. However, further work is required to better understand the challenges we as a society face and the contribution that transport can make. The Scottish Government's (COVID-19): framework for decision making highlights that the harms caused by the pandemic are not felt equally and in our response we must recognise these unequal impacts. Transport plays an important part in delivering the fully inclusive society we want and as we develop and implement the Transport Transition Plan we will work to ensure that Scotland's transport system continues to meet the changing needs of our citizens.
The NTS recognises that those on low incomes are excluded from maintaining social connections or accessing employment or training opportunities due to the affordability and availability of transport options. We also know that people in low income households are more likely to travel by bus, placing an increased importance on ensuring everyone has access to the services they need at an affordable cost.
On 14 April, the Office for Budget Responsibility (OBR) estimated that the UK economy could shrink by 35% in the second quarter and see unemployment jump by two million, based on a three month lockdown, followed by a three month period when restrictions were only partially lifted.  The big increase in joblessness would take the unemployment rate up to 10%, a level not seen since the early 1990s.
It is also anticipated that COVID-19 will have a disproportionate impact on women, who often work in service industries hit hard by the pandemic.  Women also rely much more on public transport than men.
Emerging data also shows that young people are taking a disproportionate financial and employment hit as a result of the pandemic. Older people are also less likely to travel due, in part due to health concerns, which has links to social isolation. Prior to the pandemic, many people felt socially isolated with 6% of adults having contact with family, friends or neighbours less than once or twice a week and COVID-19 is likely to have exacerbated this. Barriers to travel can also create considerable problems for disabled people to access employment, healthcare, carry out caring responsibilities and participate in activities leading to lower levels of travel by disabled people. Disabled peoples' confidence in using public transport will be further impacted by COVID-19 and the physical distancing measures.
The NTS also sets out how transport challenges differ across regions of Scotland, with different areas of the country having their own transport requirements to meet their inclusive growth objectives. Our cities have had more cases of COVID-19, many of Scotland's most disadvantaged communities are in cities, particularly in suburban areas with many of those living in these areas having to travel longer distances to access employment and education opportunities. Access to employment and education is also a challenge for those living in remote and rural communities, particularly those on low incomes.  For those who have lost employment due to the pandemic they might have to commute further than they previously did to seek work.  Similarly, transport costs could be a real challenge for those who are forced into lower paid employment as a direct result of COVID-19. This could drive forced car ownership particularly in the context of lower fuel costs and with demand for public transport, especially in remote and rural areas, make it more challenging for public transport operators to deliver viable services on a commercial basis. As a result, expenditure on transport may have a disproportional impact on lower income households.
As part of our response to COVID-19 through the Transport Transition Plan we recognise the role of impact assessments as a supportive tool for policy development, which is critical during the COVID-19 pandemic as we consider the restrictions placed on Scottish society and the evidence available to inform decision making. We will therefore be taking forward statutory impact assessments as required (including: Equalities Impact Assessment; Fairer Scotland Duty Assessment; and Child Rights and Wellbeing Impact Assessment) which will inform our Transport Transition Plan. This will assist us in strengthening our evidence base and understanding of the transport challenges  arising from the pandemic and ensure that our developing policies take due consideration of their impact on our Scottish Citizens. The fluidity of the circumstances around the pandemic and the easing of lockdown dictates that policy and practice decisions are happening at an unprecedented pace, and the development of these assessments will carried out on in conjunction with the iterative processes.
We will continue to take account of regional differences as recognised in the National Islands Plan, and in line with the Islands (Scotland) Act 2018 we will continue to engage with partners, recognising the importance of the transport system in supporting our island communities as we transition out of lock down and in particular the role of ferry and air services to overall journeys.
A sustainable restart
The Transport Transition Plan workstream includes the action we are taking as we transition through Scotland's Route Map with further recovery and other planning taking place through other workstreams. In both we must take the opportunity to deliver a sustainable, green recovery. A key part of our recovery will be the pathway towards Net Zero emissions by 2045, in tandem with tackling air pollution in the quickest time possible. We remain dedicated to introducing Low Emission Zones across Scotland's four biggest cities in a way that takes account of the COVID-19 impacts whilst improving air quality, protecting and improving public health. We will continue to protect and enhance our natural environment, and we will continue to adapt our transport networks to climate change. We must be bold in our actions to reset the transport system in a way that delivers a green recovery, and in doing so reduce inequalities, improve health and wellbeing and deliver sustainable economic growth. We have seen significant societal change due to travel being limited to essential only which has resulted in a short term reduction in transport emissions. Embedding some of the new behaviours that are positively impacting on transport emissions, such as increased working from home, walking and cycling, will be central to delivering a green recovery. Investing in sustainable travel will improve access to employment, education and key services, particularly for lower income groups while also positively impacting on health, well-being, air quality and climate change.
This will be co-ordinated with our work on the National Transport Strategy delivery plan, the transport element of the forthcoming Climate Change Plan update and the second Strategic Transport Projects Review. The National Transport Strategy explicitly states the need to manage transport demand and reduce the need to travel by unsustainable modes. This strategic aim remains unchanged notwithstanding the impacts of COVID-19.
Future transport investment decisions will continue to be made in line with both the Sustainable Travel and Sustainable Investment hierarchies, prioritising walking, wheeling, cycling and public and shared transport options in preference to single occupancy private car use.
Sustaining reduced demand for transport is about peoples' and businesses' choices after the pandemic in terms of work, education, accessing key services, leisure, visiting family, etc. Therefore, people and businesses, as well as Government, have a key role to play in helping manage the demand for transport.
Next sections of the Transport Transition Plan