---
Update to the Transport Transition Plan
On 23 October 2020, the First Minister launched the COVID-19: Scotland's Strategic Framework, subsequently updated on 23 February 2021 The document sets out our strategic approach to suppress the virus.
The Framework sets out approaches to travel and transport in the different levels that may apply to an area.
The Transport Transition Plan is evolving to reflect the changes arising from the Strategic Framework. The fundamental work to provide a safe transport system to meet the needs of the country and to keep Scotland moving continues. This work will be delivered within the context of the Strategic Framework and its application across the country.
Introduction
As we deal with the COVID-19 crisis, decisions in relation to transport in Scotland will be framed with the unifying principle:
To operate a safe transport service, mitigating risks where possible for those using our transport network and for our transport operators.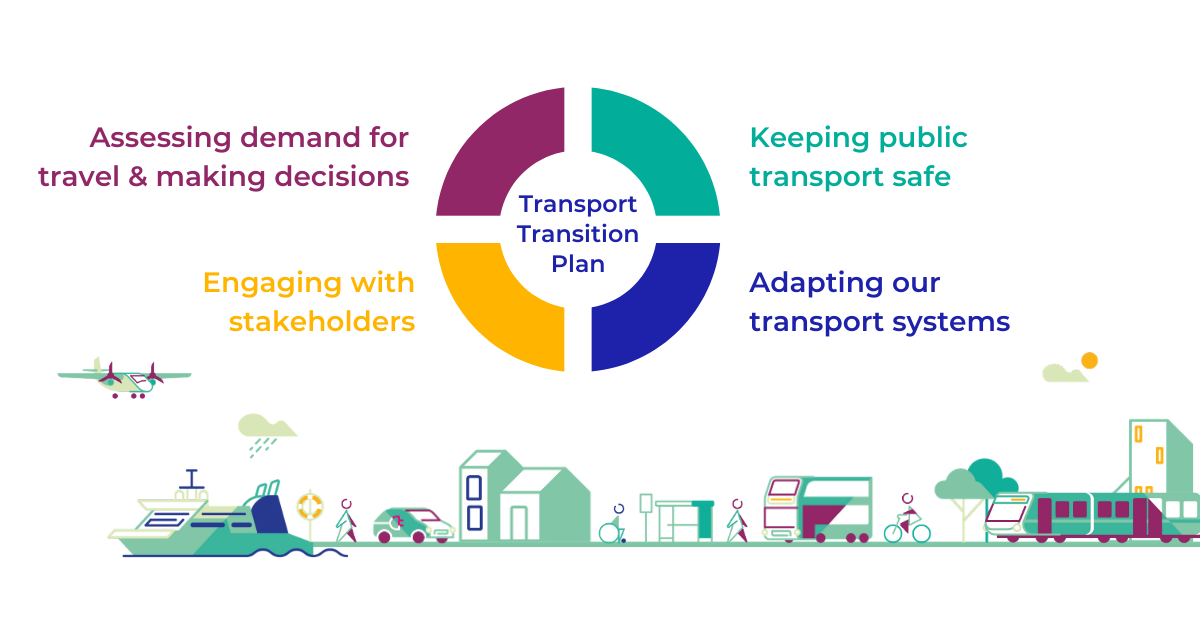 The Transport Transition Plan will continue to develop as we tackle this unique challenge. The following sections aim to provide an insight into the scale and response to the challenges and how we will implement our transport decisions.
Our plan will:
inform passengers about when and how to safely access public transport
support management of travel demand, reinforcing broader messages on physical distancing and discouraging unnecessary travel
sustain behavioural changes, encouraging active travel options and staggering journeys to avoid peak times, and
inform passengers and road users of busy areas and times to encourage alternative choices
Where to go for Guidance and Advice
To help people understand how to travel, when and safely, we have prepared Guidance documents:
Transport Scotland, along with other partners such as SG, Traffic Scotland, Operators and more, and producing campaigns to provide suitable information to promote safe travel during Transition.
A Fair and Sustainable Transport Transition Plan
Our National Transport Strategy
We must continue to consider the impacts of COVID-19 on the transport system and on society and on our long term strategy for transport. The National Transport Strategy (NTS) - Protecting our climate and improving lives, published in February 2020, sets out a vision for a sustainable, inclusive, safe and accessible transport system, helping deliver a healthier, fairer and more prosperous Scotland for communities, businesses and visitors. While it did not consider the specific COVID-19 challenge within its original remit, the NTS2 is a long term strategic document and will therefore continue to provide the guiding principles for the transport component of planning for the Transport Transition which supports delivery of Scotland's Route map through, out of the crisis and in to the future.
There are four interconnected Priorities to deliver our Vision: reducing inequalities; taking climate action; helping to deliver inclusive economic growth; and improving health and well-being.
Our vision and our priorities remain the framework for our future transport. To aid consideration of these objectives, both during the pandemic and as we look forward to our future recovery post-pandemic, our future transport system still needs to deliver all the priorities in the Strategy albeit in the new context to take account of the impacts of the pandemic.
As part of our response to COVID-19 through the Transport Transition Plan we recognise the role of impact assessments as a supportive tool for policy development, which is critical during the COVID-19 pandemic as we consider the restrictions placed on Scottish society and the evidence available to inform decision making. We will therefore be taking forward statutory impact assessments as required (including: Equalities Impact Assessment; Fairer Scotland Duty Assessment; and Child Rights and Wellbeing Impact Assessment) which will inform our Transport Transition Plan. This will assist us in strengthening our evidence base and understanding of the transport challenges  arising from the pandemic and ensure that our developing policies take due consideration of their impact on our Scottish Citizens. The fluidity of the circumstances around the pandemic and the response strategy dictates that policy and practice decisions are happening at an unprecedented pace, and the development of these assessments will carried out in conjunction with the iterative processes.
Other public bodies are expected to take into account equality issues when delivering their services and it is imperative that what is shaped, planned for, developed and/or built within this period has robust equality considerations built in.
We have published an interim report on the ongoing impact assessments and will continue to work with stakeholders to share evidence and findings.
We will continue to take account of regional differences as recognised in the National Islands Plan, and in line with the Islands (Scotland) Act 2018 we will continue to engage with partners, recognising the importance of the transport system in supporting our island communities as we transition out of lock down and in particular the role of ferry and air services to overall journeys.
A sustainable recovery
We must take the opportunity to deliver a sustainable, green recovery. A key part of our recovery will be the pathway towards Net Zero emissions by 2045, in tandem with tackling air pollution in the quickest time possible. We remain dedicated to introducing Low Emission Zones across Scotland's four biggest cities in a way that takes account of the COVID-19 impacts whilst improving air quality, protecting and improving public health. We will continue to protect and enhance our natural environment, and we will continue to adapt our transport networks to climate change. We must be bold in our actions to reset the transport system in a way that delivers a green recovery, and in doing so reduce inequalities, improve health and wellbeing and deliver sustainable economic growth. We have seen significant societal change due to travel being limited to essential only which has resulted in a short term reduction in transport emissions. Embedding some of the new behaviours that are positively impacting on transport emissions, such as increased working from home, walking and cycling, will be central to delivering a green recovery. Investing in sustainable travel will improve access to employment, education and key services, particularly for lower income groups while also positively impacting on health, well-being, air quality and climate change.
This will be co-ordinated with our work on the National Transport Strategy delivery plan, the transport element of the Climate Change Plan update, published on 16 December 2020, and the second Strategic Transport Projects Review. The National Transport Strategy explicitly states the need to manage transport demand and reduce the need to travel by unsustainable modes. This strategic aim remains unchanged notwithstanding the impacts of COVID-19.
Future transport investment decisions will continue to be made in line with both the Sustainable Travel and Sustainable Investment hierarchies, prioritising walking, wheeling, cycling and public and shared transport options in preference to single occupancy private car use.
Sustaining reduced demand for transport is about peoples' and businesses' choices after the pandemic in terms of work, education, accessing key services, leisure, visiting family, etc. Therefore, people and businesses, as well as Government, have a key role to play in helping manage the demand for transport.
Next sections of the Transport Transition Plan