M8 / A8 Completing the 'Missing Link'
Overview
Major diversion of M8 / A8 on approach to Baillieston Interchange
A major 10 week diversion of all M8/A8 traffic (east and westbound) is needed on all approaches to Baillieston Interchange to connect the newly-built M8 motorway with the existing network.
The diversion via the newly-aligned A8 will start from 8pm on Friday 17 February 2017.
Delays are expected on all diversion routes for the duration of the works. Road users are advised to:
Plan ahead
Avoid Baillieston interchange
Use alternative routes and modes of transport if possible
Routes affected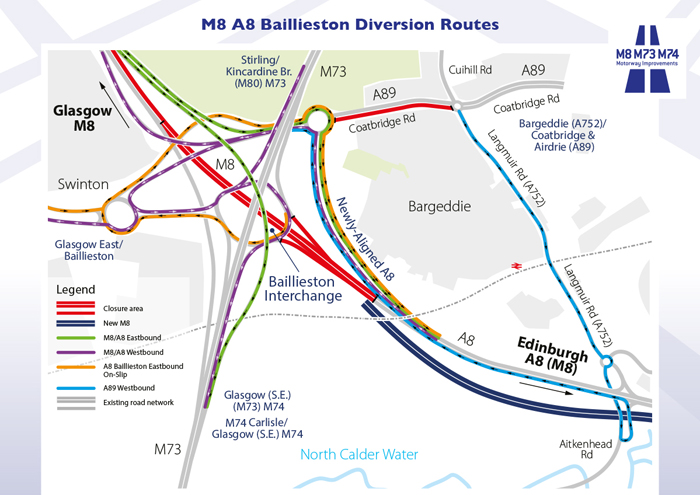 Access to all routes will be maintained via the newly-aligned A8. However, significant disruption is expected on the approach to Junction 8 Baillieston interchange on the following routes:
M8/A8 east and westbound
M73 north and southbound
The following local roads will also be affected:
A89 Coatbridge Road closed westbound from roundabout with A752
A752 Langmuir Road
A8 Glasgow and Edinburgh Roads on approach to Swinton Roundabout
Reason for the diversion
This major diversion of the A8/M8 is needed to remove 13,000m² of existing carriageway and 40,000m³ of earth to connect the new M8 to the existing M8, which is approximately 5m higher.
Also, 12,000 tonnes of blacktop will then be laid to complete the M8 'Missing Link'. After these major construction works, the new M8 between Junction 8 Baillieston interchange and Eurocentral will be opened to traffic.
Glasgow to / from Edinburgh, M8 / A8 east and westbound
From eastbound M8 follow the newly aligned A8 at junction 8 to the existing eastbound A8: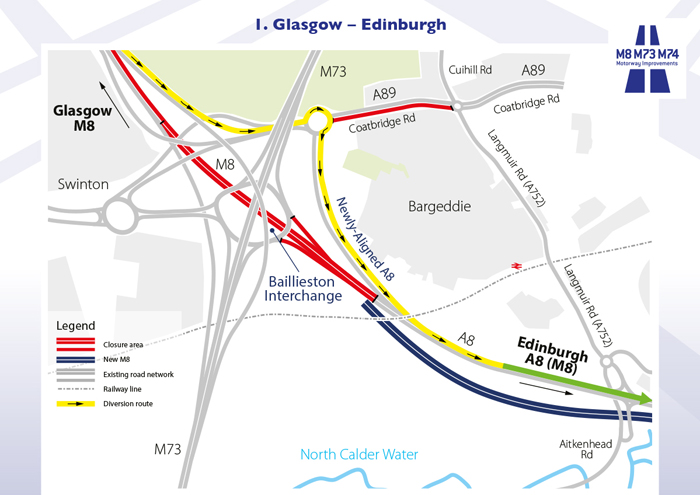 From westbound A8 follow the newly aligned A8 to the existing westbound M8 on-slip at junction 8: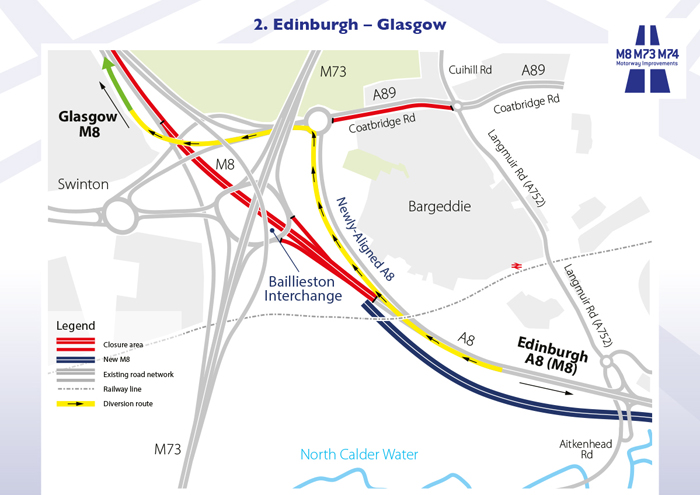 Stirling to / from Edinburgh, M73 north and southbound
From southbound M73, take junction 2 off-slip to Baillieston Interchange, Swinton roundabout, via newly aligned A8 to existing eastbound A8: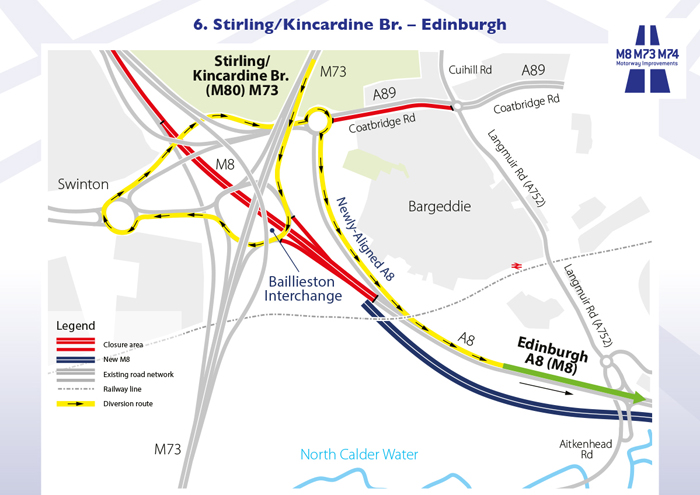 From westbound A8 follow the newly aligned A8 to Swinton roundabout, Baillieston Interchange to existing northbound M73 on-slip at junction 2: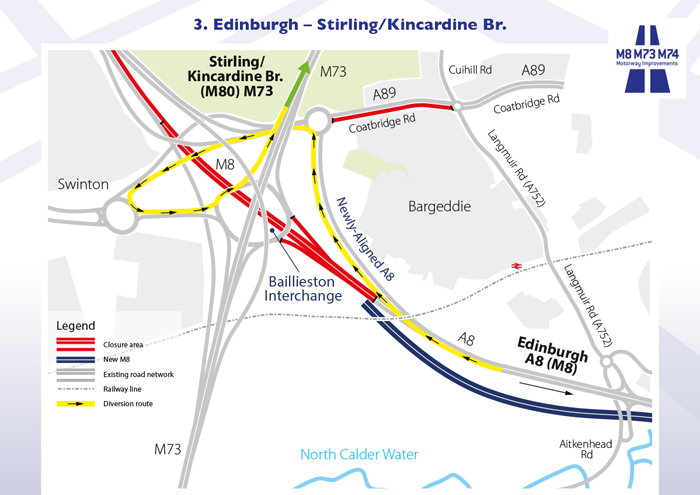 Glasgow South East (M74) to / from Edinburgh
From northbound M73, take junction 2 off-slip to Baillieston Interchange, Swinton roundabout, newly aligned A8 to existing eastbound A8: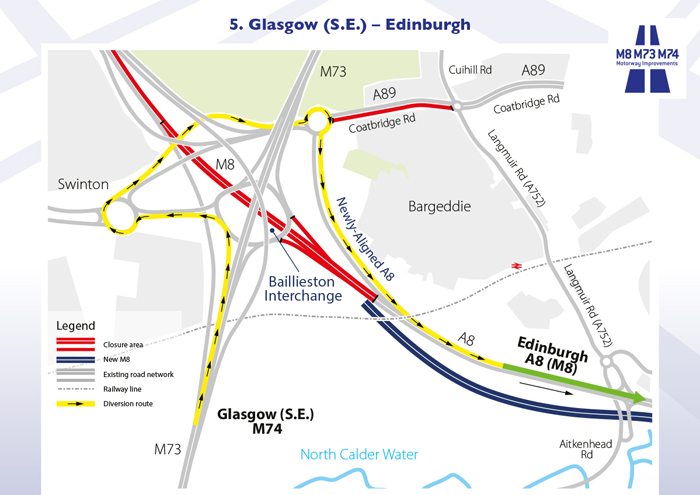 Bargeddie / Coatbridge A89 to Glasgow East / Baillieston
From westbound A89 (Bargeddie/Coatbridge & Airdrie) follow A752 Langmuir Road / Aitkenhead road, A8 westbound on-slip, the newly aligned A8 to Swinton roundabout to Glasgow East / Baillieston: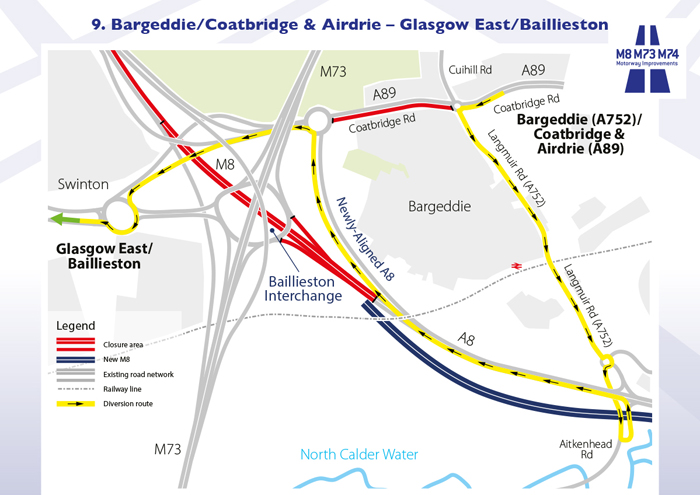 Bargeddie / Coatbridge A89 to Glasgow M8 westbound
From westbound A89 (Bargeddie/Coatbridge & Airdrie) follow A752 Langmuir Road/ Aitkenhead road, A8 westbound on-slip, the newly aligned A8 to the existing M8 westbound on-slip at junction 8: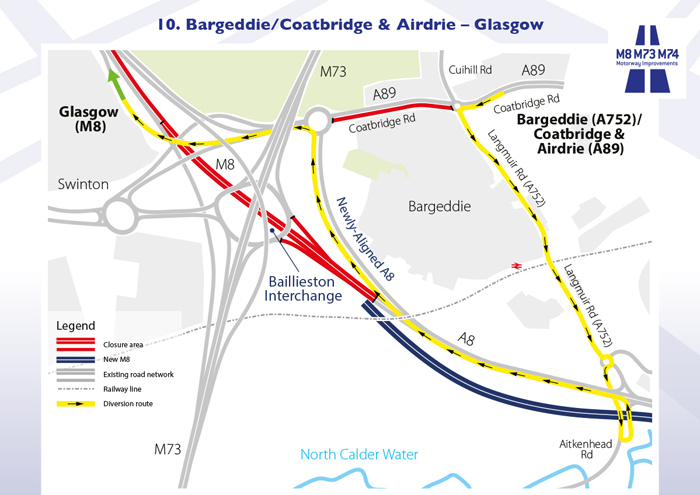 Bargeddie / Coatbridge A89 to Stirling / Glasgow South East
From westbound A89 (Bargeddie/Coatbridge & Airdrie) follow A752 Langmuir Road / Aitkenhead road, A8 westbound on-slip, the newly aligned A8 to Swinton roundabout, Baillieston Interchange to the existing M73 northbound on-slip at junction 2: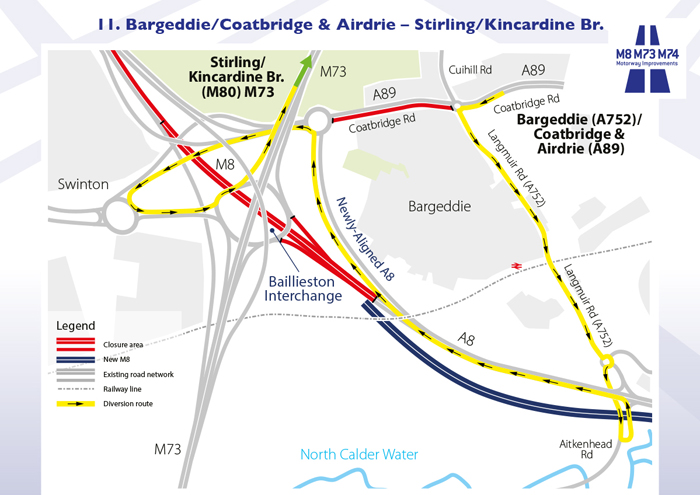 From westbound A89 (Bargeddie/Coatbridge & Airdrie) follow A752 Langmuir Road / Aitkenhead road, A8 westbound on-slip, the newly aligned A8 to Swinton roundabout, Baillieston Interchange to the existing M73 southbound on-slip at junction 2: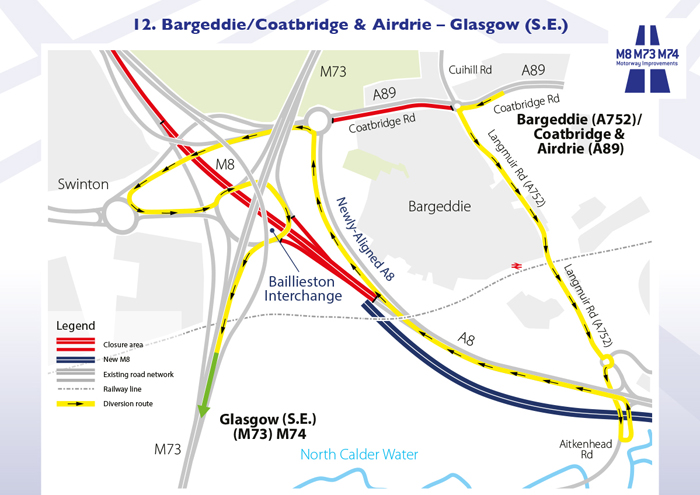 Edinburgh A8 to / from Glasgow East / Baillieston
From westbound A8 follow the newly aligned A8 to Swinton roundabout to Glasgow East / Baillieston: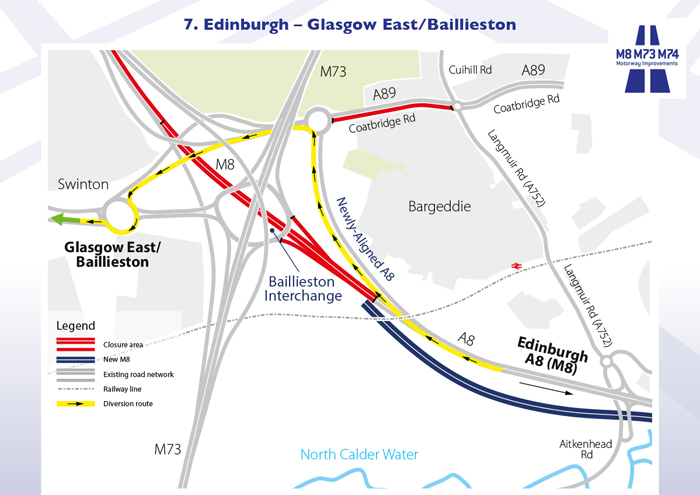 From Glasgow East / Baillieston to Swinton roundabout, the newly aligned A8 to existing eastbound A8: