3. Low Emissions Buses Special Focus
Carbon Account For Transport Volume 9, 2017
3. Low Emissions Buses Special Focus
This section examines the bus and coach industry in Scotland from the perspective of its emissions over time, and the policies The Scottish Government have put in place to reduce emissions.
Buses and coaches have historically contributed to less than 5% of total transport emissions in Scotland, a proportion which has fallen since 1990. Total emissions have also fallen in this period, as illustrated in the graph below.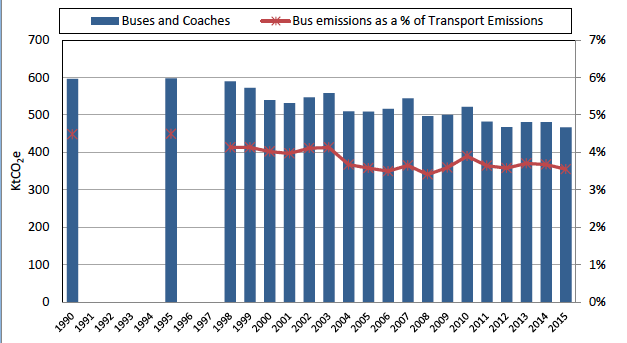 Source: National Atmospheric Emissions Inventory
The Scottish Government has two key policies in place regarding the decarbonisation of bus and coach travel. The first is the Green Bus Fund, a capital grant awarded to bus operators for up to 80% of the additional cost of purchasing a low emissions bus relative to its diesel equivalent. The second is the Bus Service Operators' Grant (BSOG) Low Carbon Vehicle (LCV) incentive, currently paid at a rate of £0.101 per kilometre to qualifying buses. This is in addition to standard BSOG paid to all bus services at a rate of £0.144 per kilometre.
Green Bus Fund
Since its inception in 2010 the Green Bus Fund has aided the purchase of 362 buses on the Scottish network, across seven funding rounds. To qualify for funding, the bus being purchased must satisfy "…a more than 15% improvement on well-to-wheel greenhouse gas emissions as compared to an equivalent diesel Euro V bus of the same passenger capacity and which can achieve the Euro VI emission standard." Euro V and Euro VI are emissions standards for vehicles sold in the European Economic Area. They set limits for the emissions per kilometre travelled for gases which affect air quality, including nitrous oxides (NOx) and particulate matter (PM). The standards do not set limits for carbon dioxide, which is a greenhouse gas.
The number of buses purchased through each of the seven rounds of the Green Bus Fund is shown in the table below. It does not show a corresponding year because some buses purchased were not introduced until a later financial year.
| | | | | | | | |
| --- | --- | --- | --- | --- | --- | --- | --- |
| Scottish Green Bus Fund Round | 1 | 2 | 3 | 4 | 5 | 6 | 7 |
| Buses Purchased | 48 | 22 | 24 | 32 | 143 | 46 | 47 |
Source: Transport Scotland
The Green Bus Fund is technology neutral to incentivise the development of new technologies in the future, and to not show bias in favour of existing emissions reducing technology. In practice this means that some qualifying buses are more efficient versions of their diesel equivalents. The most emissions reducing buses are those which include alternative drivetrains, and the Green Bus Fund has helped finance a number of hybrid and electric buses since its inception. However, some low emissions buses on Scotland's roads have not been funded through the Green Bus Fund. The hydrogen bus project in Aberdeen was funded with other government grants and private funding, and Lothian Buses have recently introduced the first all-electric buses to operate in Edinburgh, which were privately funded.
Bus Service Operators' Grant Low Carbon Vehicle Incentive
Operators have also purchased some low emissions buses out-with the Green Bus Fund. While their purchase was not supported, these buses do qualify for the low carbon vehicle incentive under the Bus Service Operators' Grant (BSOG). The qualifying standard is slightly different for this compared to the Green Bus Fund. The guidance states a qualifying bus is "a vehicle that produces at least 30% fewer greenhouse gases that a current Euro III equivalent diesel bus of the same total passenger capacity". Again, this is on a well-to-wheel basis. However, the standard is not as stringent as the green bus fund. There are a number of buses which qualify for this incentive which operators can afford to purchase and operate without the help of the Green Bus Fund. The graph below shows the growth in kilometres travelled by Low Carbon Vehicles relative to total commercial bus kilometres.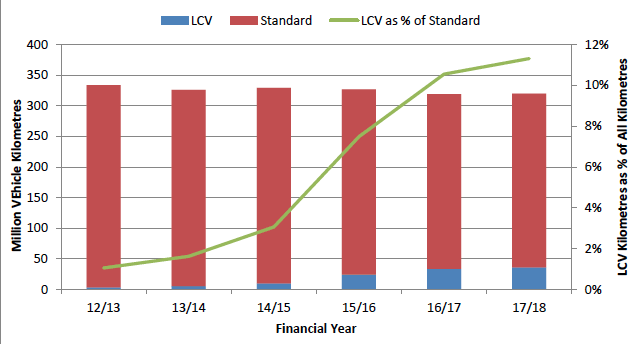 Source: Transport Scotland
As shown in the graph, there has been rapid growth in the number of kilometres travelled by qualifying buses, though this growth has slowed between 2016/17 and 2017/18. This is potentially because the LCV rate was reduced at the beginning of this financial year, but may also be the result of fewer low emissions buses coming onto the network.
Future Policy
One criticism of the current LCV incentive is that it does not compensate based on the extent to which a vehicle reduces emissions. Therefore a zero emissions bus receives no more support than a bus which just meets the emissions standard to qualify. The Scottish Government wishes to continue to incentivise the purchase and operation of progressively lower emitting buses, and is currently working with the industry to review policy in light of ever changing technologies.
---