3 REVIEW OF CONSULTATION
3.1 INTRODUCTION
This chapter will provide an overview of consultation which has been undertaken in relation to the study area. This includes a review of the consultation undertaken during the development of FETA's LTS and SEStran's RTS. In addition, this chapter will provide a summary of the detailed discussions undertaken through the Reference Groups established for the wider STPR.
The following sections discuss the consultation approaches in more detail and present a summary of results.
In order to inform the FETA LTS, consultation was undertaken with the public and key stakeholders. The aim of this was to establish the extent of agreement or disagreement with FETA's objectives and proposals. It was considered important to determine what the public and stakeholders perceived as the key issues facing FETA. It was also considered useful to obtain further views on barriers to cross-Forth public transport trips and seek views on the relative priority of the measures proposed in the draft LTS. The consultation also sought to gather opinions on the Bridge toll regime including discounting and toll levels.
The consultation was undertaken between 12 July 2004 and 30 September 2004 and was undertaken via several methods. The sections below outline the consultation with the public and key stakeholders and provide a summary of the key findings.
3.2.1 Public Consultation Process
Methodology
A number of methods were used to raise awareness of the consultation and to involve the wider public in the process and these are summarised below:
information leaflets; and
cross-Forth travellers were specifically targeted as part of a large-scale information leaflet distribution exercise:

21,000 information leaflets were handed to vehicle users at toll booths over one day;
6,000 were handed to cross-Forth public transport users over one day;
distribution at rail stations over one day;
distribution at bus stations over one day;
distribution to community councils within 10 kilometres;
distribution to Council offices;
distribution to local libraries; and
distribution to others on request.
The leaflets provided details of the LTS and the consultation process, directing respondents to the FETA website or key locations where facilities were available to enable responses to be made (for example main libraries and Council offices).
Consultation draft LTS and questionnaires.
The consultation draft LTS and questionnaires were available on the FETA web site and at main libraries and Council offices across the member authority areas. Ballot boxes were provided for questionnaire returns. Alternatively returns could be made directly via the web site. The opportunity for alternative formats was given on all advertising literature.
The consultation draft LTS was available on the FETA website from 12 July 2004 and on-line questionnaires were available from 24 August 2004.
FETA's top 100 voucher user companies were sent information about the consultation by post and invited to provide comment.
2,000 e-mail registered voucher users were sent information about the consultation and invited to provide comment.
The consultation sought views on six broad areas:
extent to which respondents agreed or disagreed with a number of objectives set out by FETA;
to rank, in order of significance, the top three issues, from a pre-defined list, relating to the Forth Road Bridge which the respondents thought required greater attention from FETA;
to rank, in order of significance, the top three issues, from a pre-defined list, which the respondents believed presented barriers to making trips across the Forth on public transport;
to suggest what level of priority should be given to various transport measures under consideration by FETA;
proposed options to alter tolls on the Forth Road Bridge for certain user groups; and
the preferred option for levels of changes in Bridge tolls and what the extra funding would pay for.
3.2.2 Stakeholder Consultation Process
Forty-two stakeholders were identified and invited to participate in the consultation process, as follows:
Fife Council
City of Edinburgh Council
West Lothian Council
Perth and Kinross Council
Scottish Enterprise Edinburgh and Lothians
Scottish Enterprise Fife
Strategic Rail Authority
Stagecoach
Freight Transport Association
Road Haulage Association
AA/RAC
Mobility and Access Committee Scotland
Rail Users Committee
Tourist Boards
Scottish Executive

Edinburgh Airport
SEStran
Citylink
CBI Scotland
Forth Ports
Scottish Association for Public Transport
Scottish Chambers of Commerce
Scottish Environmental Protection Agency
SPOKES (the Lothian Cycle Campaign)
TRANSform Scotland
Transport 2000
Confederation of Passenger Transport
British Motorcycle Federation
North East Scotland Transport Partnership (NESTRAN)
Emergency Services
The stakeholders listed above all received, by post, a self-complete questionnaire which sought views on the six broad areas outlined in Section 3.2.1.
3.2.3 Main Findings
693 public responses were received (approximately 3 per cent) during the consultation period, together with 30 stakeholder responses (71 per cent). In addition, a further 26 organisations provided a response.
From an analysis of trip origins, destinations, age group, gender type, car ownership and travel modes it was considered that the responses received provided a fair sample of the FETA population.
The LTS indicated that there was "strong support" from the public and stakeholders for the objectives set out by FETA in the consultation draft LTS:
to maintain and operate the Forth Road Bridge and to do so in the most effective manner and to minimise inconvenience to others (approximately 96 per cent);
to optimise the potential number of public transport person trips across the Forth (approximately 75 per cent);
to increase car occupancy across the Forth Road Bridge (approximately 48 per cent);
to reduce congestion levels on the Forth Road Bridge and minimise environmental, safety and social impacts of traffic on local communities (approximately 87 per cent);
to improve journey times and reliability for sustainable transport modes (approximately 82 per cent);
to increase the range of cross-Forth journeys for which public transport can be an attractive option (approximately 75 per cent); and
to improve integration between transport modes for cross-Forth travel to provide seamless journey opportunities (approximately 84 per cent).
The objectives of FETA as set out within the draft LTS were, overall, endorsed by the public and stakeholders and subsequently adopted within the final LTS.
The biggest issues facing FETA were considered to be maintenance and operation of the Bridge and improving public transport alternatives. The greatest barrier to public transport use was considered to be the lack of direct services followed by reliability, speed and cost.
The LTS outlines that there was "significant support" from the public and stakeholders for improved public transport measures. A new multi-modal crossing also received public and stakeholder support, as did queue management and changes to the tolling regime.
Issues requiring attention by FETA, in order of importance as viewed by stakeholders / organisations were:
improving public transport alternatives / maintenance of the Forth Road Bridge;
improved system of tolls;
response time to breakdowns;
improving local air quality;
warning of incidents on the Forth Road Bridge; and
improving traffic information.
Barriers to public transport use as perceived by stakeholders / organisations were (ranked greatest concern – least concern):
lack of direct service;
speed of journey;
reliability of journey;
distance from rail station;
cost of the journey;
lack of comfort and cleanliness during journeys;
lack of information about journeys;
lack of flexible working hours to accommodate public transport times; and
distance from bus stops.
Stakeholder / organisations' views on tolls can be summarised as follows:
frequent car user tolls abolishedF2

General consensus with opposition from Chambers of Commerce and motoring organisations.

sustainable modes should receive a discount
lorries should pay a higher toll, reflecting the greater wear and tear they make on the Bridge.

Most supported but Enterprise Companies, the Confederation for British Industry (CBI) and Fire services "slightly disagreed" and the Freight Transport Association (FTA) strongly disagreed.
502 written comments were received from the general public and included:
there should be no tolls (9 per cent);
A8000 is the priority project (16 per cent);
a modern system of toll collection should be implemented to ease congestion (9 per cent);
lane discipline and marking on the Bridge would ease congestion (4 per cent);
any policy which penalises single occupants is unfair (4 per cent);
equal number of comments supporting (9 per cent) and objecting (10 per cent) to a Multi Modal Crossing; and
improvements to integration of public transport needed, in particular train services (11 per cent).
Stakeholders provided written responses that welcomed the consultation draft LTS and offered suggestions to clarify the document. Written responses from stakeholders included:
Fife Council
any provision of a multi-modal crossing must not increase the total number of lanes available for single occupancy commuter vehicles crossing the Forth;
further analysis, justification and a clearer explanation of form of multi-modal crossing required;
importance of short wins should be emphasised;
FETA needs to include and take ownership of targets for reduced traffic growth;
need for a policy to reduce / eliminate tolls/charges for public transport;
need a freight policy in light of adverse impact of HGVs;
package needs to include ferry proposals; and
other issues include the role of the Forth Road Bridge within the Trans European Network and the relationship to the Central Scotland Strategic Road Network, South Fife/West Edinburgh Economic Development Zone.
City of Edinburgh Council
support FETA's view that a new road only Bridge is not the answer;
note the important strategic role of the Bridge;
important to manage impact on west and central Edinburgh of any additional capacity created; and
note that further work is required to clarify / quantify the issues that will allow an objective view to be made of the need for a second bridge.
West Lothian Council
acknowledges benefits of public transport improvements to West Lothian; and
recognises reasons for considering a new multi-modal crossing.
Perth and Kinross Council
HGV toll review supported;
a new objective to "emphasise to Government that, whilst supporting an increased range of cross-Forth journeys, it is essential that road infrastructure relating to new bridge crossings should be examined with the aim of minimising traffic that passes through villages, especially HGVs"; and
support for a multi-modal solution.
Strategic Rail Authority
integration of services is the biggest barrier and significant investment in a range of initiatives to tackle this are required.
Road Haulage Association
modern design has made HGVs more "road friendly";
A8000F3F;
automated tolling required;
supports multi-modal crossing; and
impact of closure due to winds an issue for members.
Mobility and Access Committee Scotland
welcome policies regarding equality of access; and
support continued exemption from tolls and recommend FETA investigate ways of improving the procedure to reduce delay.
Scottish Association for Public Transport (SAPT)
does not support a multi-modal crossing;
proposes an alternative strategy including rail; and
requests a meeting of interested parties to agree a five year programme.
TRANSform Scotland
support measures to significantly develop public transport infrastructure through intensive investment in public transport; and
does not support a multi-modal crossing.
ForthRight Alliance Campaign
The ForthRight Alliance is a campaign against the construction of a second Forth Road Bridge. 273 e-mails were received as part of the campaign and the comments related primarily to support for sustainable transport options and opposition to the proposal to construct a second Forth Road Bridge.
Overall results of the consultation indicate that the FETA objectives were supported by the public and stakeholders. The core role of FETA to maintain the Forth Road Bridge was validated with the additional role of promoting public transport strongly supported. There was a consensus that barriers to public transport are lack of direct services and reliability, speed and cost. Top priority measures included public transport investment, implementation of a multi-modal crossing and a queue management / tolling regime.
The key issues arising from the FETA LTS consultation can be summarised as follows:
Figure 3.1: FETA LTS Consultation Key Issues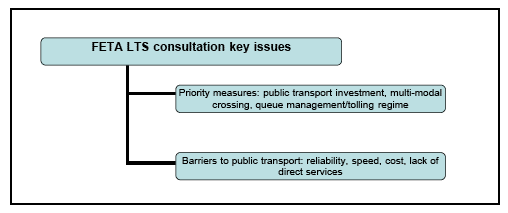 An extensive consultation process with the public and key stakeholders has been undertaken to inform the development of the SEStran RTS. This has included a number of phases intended to raise awareness of the emerging RTS and to feed into the development of the strategy in terms of identifying the key regional transport issues, appropriate objectives, option identification and the form of the final strategy. A range of approaches were used to ensure as wide a coverage and inclusive an approach as practical, these included:
awareness-raising leaflets;
telephone and face to face interviews;
workshops; and
questionnaires.
The key issues identified during the consultation process and as stated within the RTS Draft For Consultation (SEStran November 2006), are outlined below:
Health Issues
Discussions with health authorities and partners in health care highlighted that difficulties with transport impacted directly on the ability to provide on-the-ground health care. Comments received can be summarised as follows:
bed blocking due to lack of transport home after a hospital stay;
inability to attend outpatients' appointments punctually on account of the grouped nature of patient transport services;
difficulties and cost of out of hours transport for patients, samples and urgent goods;
poor partnership working between hospital transport teams and local authorities;
limited car parking for staff results in those who require to drive having no option but to park and walk from residential areas;
public transport timetabling frequently does not match staff shift times or their origin – destination locations; and
health and transport policies are not integrated and that this could be improved for the mutual benefit of health and transport providers as well as users of health services.
Education Issues
Many consultees stated the school run was a major concern not just in terms of traffic congestion and road safety but also for developing good life-long travel habits. It was considered that good practice in early years, such as walking or cycling to school, is more likely to lead to habitual walking and cycling and, in turn, better health.
the school run poses particular problems on account of the congestion around the schools at peak times. It was recognised that many pupils travel long distances to reach private education and there may be limited transport options available to them; and
more information on sustainable travel options would be welcomed across the region for all trip makers.
Public Transport Issues
Many of the consultees recognised the progress made in public transport provision in much of the region in recent years; most notably Edinburgh Cross Rail and park and ride schemes. However various concerns were raised:
poor infrastructure, both provision and maintenance, exists in many areas – particularly rural locations;
lack of evening and weekend public transport travel options;
need for improved reliability, quality and frequency on commuter corridors (bus and rail);
many consultees were keen to see integrated ticketing in the region, yet were not aware of the One-Ticket scheme, which suggests the need for better marketing;
a number of consultees stated they felt there was piecemeal development of the public transport network, rather than an overall strategy; and
a number of public transport opportunities were also mentioned by stakeholders including:

provision of safe night time public transport;
development of a seamless public transport network;
making public transport journey times more competitive with the car;
making public transport more affordable;
providing feeder bus services to connect with rail services;
provision of co-ordinated public transport information; and
the requirement for increased parking at rail stations.
Social Inclusion Issues
A wide range of stakeholders had similar views on the manner in which transport addresses social inclusion needs and the key theme emerging from this was transport equality (fair access for all), including affordability. This included:
a lack of rural public transport provision;
limited access to transport networks for people with mobility difficulties;
transport for young people;
flexible space on buses for wheelchairs, pushchairs etc;
lack of data on latent demand;
many consultees feel that public transport is market led rather than needs based;
lack of transport provision and planning for the projected 20 per cent of the population who will have a disability;
measures taken to tackle social inclusion did not always involve consultation and therefore in some cases large sums of money have been wasted on inappropriate measures; and
there must be a recognition that different disabilities require different transport needs.
Process and Procedure Issues
A recurring theme throughout the consultation related to a perceived lack of integration between land use planning and transport planning, at all levels. Similarly there was considered to be a lack of policy integration between transport and other areas such as health, local authority and education sectors. Other concerns raised include:
the level of dependency on private transport for new developments, including business, housing and hospital developments;
the appraisal process and decision making methods gave priority to larger schemes rather than small cost effective schemes and this often presents a disparity between overall objectives and available funding;
poor communication between regulatory bodies; and
the time taken to deliver transport schemes in the region was considered to be too long.
Economy Issues
Stakeholders throughout the region with an interest in the economy wanted to see access to growth areas improved and this included reducing congestion, bottlenecks and network constraints and tackling unreliable and unpredictable car and public transport journey times. A key theme emerging through consultation with local authorities was connectivity and the need to offer different modal options for travel to key destinations and trip attractors. Other concerns included:
ensuring the labour market can access employment areas was a significant concern and consultees stated the need to:
improve business-to-business connectivity;

improve regional, national and international freight links;
consider changing oil prices; and
consider the impact of freight on road network in terms of journey times, regulation and parking.

stakeholders would like to see some focus given to new technology and its use in transport, particularly with respect to freight; and
poor road and rail links to ports4 were highlighted as a concern.
Sustainable Modes Issues
A workshop with representatives of walking and cycling organisations highlighted the importance of integrating land use planning with transport planning and provision for all development. Other concerns raised include:
the need to link cycling and walking with the existing and developing public transport network was raised as a concern;
significant gaps in both the cycling and walking network between key trip attractors which hinders modal shift on to sustainable modes for commuters;
"many consultees felt it was of paramount importance that cycling and walking are considered as an integral part of transport provision and development planning and therefore any strategy must incorporate cycling and walking measures as part of the other elements of the programme, rather than feature as a stand alone section";
improvements to leisure walking and cycling routes was highlighted;
stakeholders felt that there was a clear synergy between the health promotion agenda and the sustainable transport message which was not being exploited and more could be done to tie the two together;
active travel and school travel planning was deemed to be a positive step forward, but that more could be done to encourage travel by sustainable modes for commuting and other trips, rather than the current focus on leisure routes;
other concerns were aired such as difficulties in partnership working on boundary routes, limited routes on the rural network and streetscapes which are unattractive to pedestrians and cyclists;
some stakeholders commented that paths need to be accessible for disabled users (dropped kerbs etc.); and
there is considerable scope for buses to provide storage space for bicycles although a willingness to carry them is required first.
Other Key Issues from Consultation
emergency services felt that their response times were significantly slower at present than in previous years due to increasing congestion and traffic calming schemes; and
a number of other organisations stated that the variation in design in traffic calming measures results in the incompatibility of vehicles (particularly those with disabled lifts).
The key issues arising from the SEStran RTS consultation can be summarised as follows:
Figure 3.2: SEStran RTS Consultation Key Issues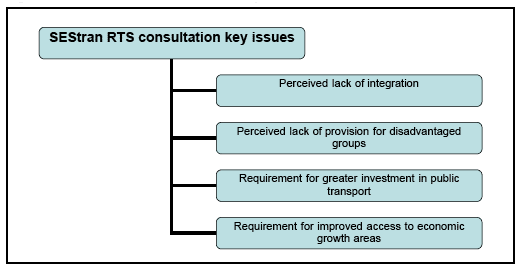 3.4 STPR REFERENCE GROUP CONSULTATIONS
Project Reference Groups have been developed for the STPR study. These groups comprise external stakeholders who represent the interests of a broader range of stakeholders and are as follows:
Regional Transport Partnership reference group;
planning reference group;
environmental reference group;
enterprise business and freight reference group; and
public transport and mobility reference group.
The Project Reference Groups comprise representatives from external organisations whose business activity or area of interest is represented by one of the Groups. The primary purpose of the Reference Groups is to ensure that the interests of a broader range of stakeholders are considered as part of the Review.
The membership of the Reference Groups and their areas of interest are as follows:
A. Regional Transport Partnership Reference Group
NESTRANS
HITRANS
SEStran
SPT
SW of Scotland
Shetland Transport Partnership
TACTRAN
COSLA
B. Planning Reference Group
Glasgow and Clyde Valley Structure Plan Committee
City of Aberdeen Council
Highland Council
Dumfries and Galloway Council
City of Dundee Council
Fife Council
CoSLA
C. Enterprise Business and Freight Reference Group
Scottish Enterprise
Freight Transport Association
Scottish Chambers of Commerce
CBI
Visit Scotland
Highlands and Islands Enterprise
D. Environmental Interests Reference Group
Scottish Natural Heritage
Historic Scotland
SEPA
Environment Link
E. Public Transport and Mobility Reference Group
Confederation of Passenger Transport
Passenger Focus
Bus Users UK
Mobility and Access Committee for Scotland
Network Rail
The key responsibilities of the Reference Groups are:
to consider and offer objective and constructive comment on the emerging information, analysis and reports produced by the commission's consultants;
to provide advice to the Project team on issues which affect their specific area of interest or as requested by the consultant; and
to assess and advise how well the emerging findings address the NTS expectations.
The Reference Groups are an opportunity for the exchange of information and ideas to help shape the transport network.
Communication with Reference Groups is two-way: reference groups are informed of progress on the Review and their comments / input sought on products from the Review. The Reference Group sessions are interactive in nature and vary depending on the group in question but in each case the issues covered remain the same.
Reference Group meetings were held on 3 November, 6 November and 13 December 2006. The key recommendations from this group were that the FRCS be consistent with the Final NTS and Action Plans and the emerging RTS documents.
This chapter has provided an overview of the detailed consultation undertaken to inform the FETA LTS and SEStran RTS. The FETA LTS consultation identified a consensus that:
key barriers to cross-Forth public transport are: a lack of direct services, reliability, speed and cost; and
top priority measures included public transport investment; implementation of a multi-modal crossing; and queue management / tolling regime.
The SEStran consultation identified a range of transport issues relating to:
a perceived lack of integration and a perceived lack of provision for disadvantaged groups; and
a requirement for greater investment in public transport and improved access to economic growth areas.
Consultation with STPR Reference Groups identified a particular requirement to:
ensure the recommendations from the Forth Replacement Crossing Study are consistent with emerging RTSs; and
Ensure the recommendations from the wider STPR study are consistent with the policies outlined within the NTS.
---