Rail 2014 - Public Consultation
Rail 2014 - Public Consultation
4 - Achieving reliability, performance and service quality
4.1 One of the top priorities for passengers is that rail passenger services are reliable and punctual[17], in other words that they actually run and they operate to the published timetable. Reliability and punctuality require coordination across the rail industry, and specifically between the train operator (ScotRail) and the infrastructure manager (Network Rail).
4.2 Under the current Franchise Agreement, ScotRail's performance is determined against specific benchmarks, including punctuality (delay) and reliability (cancellations). There is a minimum level of performance with which the franchisee has to comply. However, if the actual performance is better the franchisee is financially rewarded by us through Performance Incentive Payments (PIP). Poor performance can reduce the level of the these payments, however only in rare circumstances has performance fallen below target and a penalty been imposed.
4.3 In addition, each train operator (such as ScotRail) also has track access agreements with Network Rail which include rail performance measures. Under these agreements penalties are paid, if a train is late, by the company (Network Rail, train operator, or freight operator) responsible for the delay to the companies which were affected. This process is moderated by the Office of Rail Regulation (ORR).
Reliability and performance
4.4 Train performance is also currently measured through the Public Performance Measurement (PPM). PPM is a composite measurement of punctuality and reliability. It was established in 1997 as a means for measuring improvements to the rail system over time. We specify the Scottish PPM through the High Level Output Specification.
4.5 The Office of Rail Regulation uses PPM as one of its Key Performance Indicators for regulating Network Rail, and we specify what level of PPM is required for Scotland. The PPM is included in the specification to Network Rail for its Outputs. During the period April 2009 - March 2014, we set Network Rail a target of 92% PPM for ScotRail trains. Achievement of the target requires both Network Rail and ScotRail to work cooperatively. We are considering whether we need to change this target for the next franchise and the next Control Period.
4.6 ScotRail's PPM performance has steadily improved from when the franchise was awarded in October 2004. It has increased from 83.7% to 89.9 % in April 2011, reaching a record level of 91.3% in the middle of 2010. However with the exceptionally severe weather last winter the overall average for 2010/2011 dropped to 89.9%.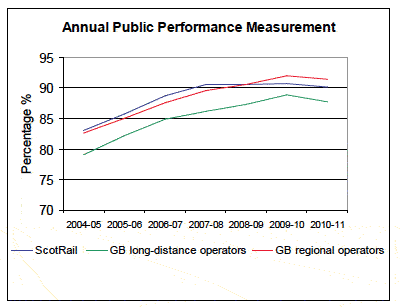 Source: ORR
Long-distance operators - % of trains arriving at final destination within ten minutes of the timetabled time
Regional operators - % of trains arriving at final destination within five minutes of the timetabled time
4.7 Scotland's Railways which sets the vision for Scotland's railways places a particular emphasis on reducing journey times. Surveys of people who do not currently use rail[18] have shown that relative journey times matter, and therefore shorter journey times will increase patronage.
4.8 However, for current passengers, reliability and punctuality of services is one of the top priorities. Accordingly, timetable adjustments could be made to increase the time journeys take which would allow more flexibility and thereby improve train performance levels, increasing the proportion of punctual trains. However increasing journey time may result in a reduction in the number of train services that can be provided.
4.9 We welcome views on the relative priority of journey time and reliability.
Passengers' Charter
4.10 As part of their licence conditions (as set by the ORR), train operators are required to produce and adhere to a Passengers' Charter. Each operator sets out in its Charter its commitments to its customers, including compensation arrangements.
4.11 Operators set out compensation arrangements for when trains are delayed or cancelled. ScotRail's charter gives, as a guide, compensation for delays over 30 minutes depending on ticket type. ScotRail passengers are, however, currently only entitled to compensation when there are no extenuating circumstances, such as extreme weather.
4.12 The actual performance figures published are related to the actual performance targets set in the Charter, and these differ from the PPM. The current ScotRail Charter has seven Service Groups (for example Highland Services) and targets for punctuality are a based on a service arriving within 5 or 10 minute of its scheduled arrival time depending on the service group (and 30 minutes for Sleeper services). Discounts to season tickets holders for renewal of season tickets is based on performance against the targets for the service group.
4.13 The Passengers' Charter also covers a number of other aspects of rail passenger services including:
buying tickets and making reservations
assisted travel and customer care
quality and standards on trains and at stations
Issues for consideration
4.14 We are currently considering how to simplify the performance regime in Scotland. We are reviewing a number of issues including:
Whether the franchise agreement should incentivise good performance at a cost to Government or whether it should only penalise poor performance.
How we should define "lateness", for example whether late should actually mean a train not arriving according to the published timetable, rather than being within a number of minutes of the published time for arrival.
Whether performance should be measured by individual routes or service groups.
Whether the current system fully represents passenger interests. Under the Passenger Charter train delays are currently calculated as being a delay on the final destination of the train. This is the information which is published. Passengers however will consider there is a delay if the train is late at arriving at intermediate stops.
Whether the performance regime should attempt to reflect the impact on passengers rather than just on trains. For example, the majority of the current regime relates to a train regardless of whether it operates in the peak or off-peak period, or whether it is a commuter or rural/tourist service. The regime therefore does not generally relate to the number of passengers that might be inconvenienced and accordingly fails to reflect the consequent economic and social cost of the delay.
What should the balance be between journey time and performance.
4.15 We would welcome views on these issues. Our conclusions will inform the franchise for rail passenger service and the High Level Output Specification for Network Rail's outputs.
Quality
4.16 The current ScotRail franchise includes the Service Quality Incentive Regime (SQUIRE) which assesses station and train quality. The system involves SQUIRE inspectors employed by Transport Scotland carrying out regular audits of ScotRail trains and stations and it is one of the most rigorous performance monitoring regimes in UK public transport.
4.17 SQUIRE inspectors audit every ScotRail station and approximately 200 trains every four weeks. Currently, 36 aspects are audited, ranging from graffiti, toilets and timetables to train cleanliness, staff service and the public address system. The results are published quarterly on the Transport Scotland website so that passengers can see the results for their stations and route.
4.18 Under the franchise agreement ScotRail is financially incentivised to exceed the SQUIRE targets set and receives financial penalties for areas which fail to reach these targets. In 2009/10 the balance between the fines and incentives resulted in a deficit to ScotRail of £787,000 however as ScotRail continued to focus on these quality aspects this improved to a net deficit of £446,000 in 2010/11.
4.19 The SQUIRE regime is, however, only directed at ScotRail assets, and as discussed in Section 5 (train services), maintenance of stations can be split between ScotRail and Network Rail.
4.20 At the GB level, Passenger Focus, produces a National Passenger Survey twice a year, which measures passenger satisfaction levels in relation to facilities and services on trains and stations. Around 1000 passengers are surveyed in Scotland for each survey, however due to the size of the Scottish network this can mean that only a few people are interviewed on each line. As a result the survey is useful to identify trends over time, but is not considered as a detailed measure of quality.
4.21 Work is currently ongoing to review the options for ensuring rail passenger services continue to improve, particularly for the next contract starting in 2014. We are looking at a range of issues and options including:
retaining SQUIRE but focussing on key priorities, following a review of the appropriateness of each quality aspect that is measured
developing SQUIRE so that it is more flexible and that issues identified through the National Passenger Survey can become priorities
establishing a self-monitoring system, where the franchisee is required to put a quality monitoring system in place
4.22 We would be interested in your views on how to ensure that the passenger-facing aspects of rail continue to be improved, and whether this type of quality regime is required.
Questions

| | |
| --- | --- |
| 09 | Under the franchise, should we incentivise good performance or only penalise poor performance? |
| 10 | Should the performance regime be aligned with actual routes or service groups, or should there be one system for the whole of Scotland? |
| 11 | How can we make the performance regime more aligned with passenger issues? |
| 12 | What should the balance be between journey times and performance? |
| 13 | Is a Service Quality Incentive Regime required? And if so should it cover all aspects of stations and service delivery, or just those being managed through the franchise? |
| 14 | What other mechanisms could be used for assessing train and station quality? |
---