Scottish Trunk Road Network Asset Management Strategy: November 2018
1. Introduction
Strategic Context
Our Trunk Road Network Asset Management Policy confirms our commitment to asset management and states how our approach supports the delivery of the Scottish Government's Purpose and Strategic Objectives.
This Asset Management Strategy builds on the progress we have made to date, and sets out how our Asset Management Policy will be delivered through enhancements to our procedures and practices. It is informed by the adoption of asset management principles, understanding asset management as part of a framework with local and national influences, and establishing specific performance standards which align to our corporate priorities.
Finally, our Road Asset Management Plan (RAMP) reflects our Strategy and describes in detail how we deliver asset management at an operational level. We published our first RAMP in 2007 and committed to a programme of ongoing improvements to our asset management practices. Our most current RAMP, published in 2016, demonstrates how these improvements have been embedded in our organisation and supply chain. Through the Strategy we will maintain our focus on improving and embedding our asset management regime to ensure that we continue to achieve enhancements and retain our position as a recognised leader in asset management.
The Scottish Trunk Road Network
The Scottish trunk road network is a fundamental part of the transport system in Scotland. It is therefore essential that it is effectively maintained and efficiently managed to ensure it supports the Scottish Government's Purpose to create a more successful country, with opportunities for all of Scotland to flourish, through increasing sustainable economic growth.
In order for the trunk road network to fulfil its potential, it is vital that it is appropriately maintained. This includes not just carriageways and footways, but also bridges, lighting, traffic signs, drainage networks and much else besides. The Scottish Government and Transport Scotland are committed to ensuring the trunk road network is maintained in a manner that supports its vision, aims and objectives.
The trunk road network is comprised of route corridors that are considered to be of strategic importance to the economic stability and growth and social wellbeing of Scotland. The trunk road network is vital because it connects our cities, rural communities and the ports that serve the islands.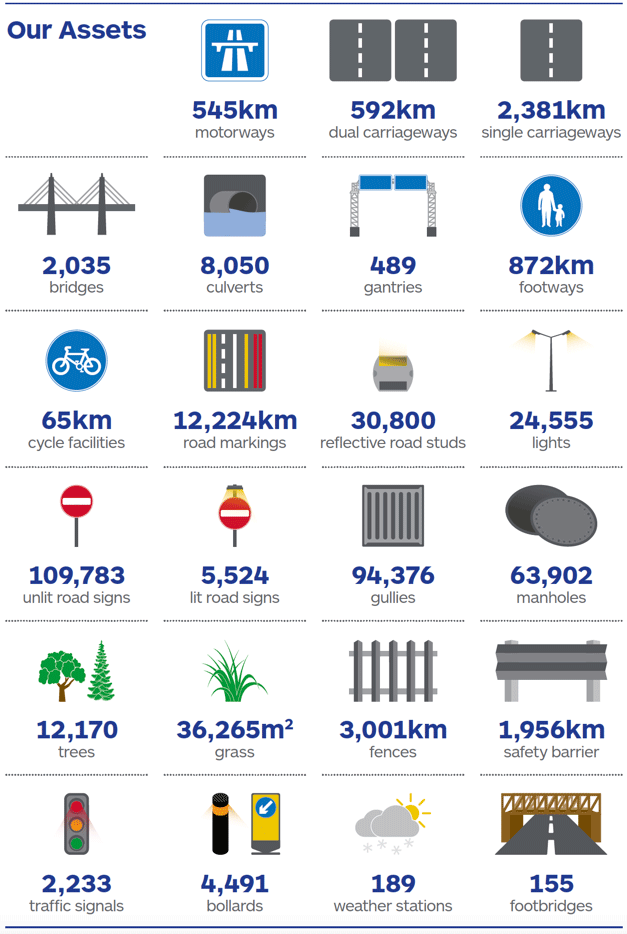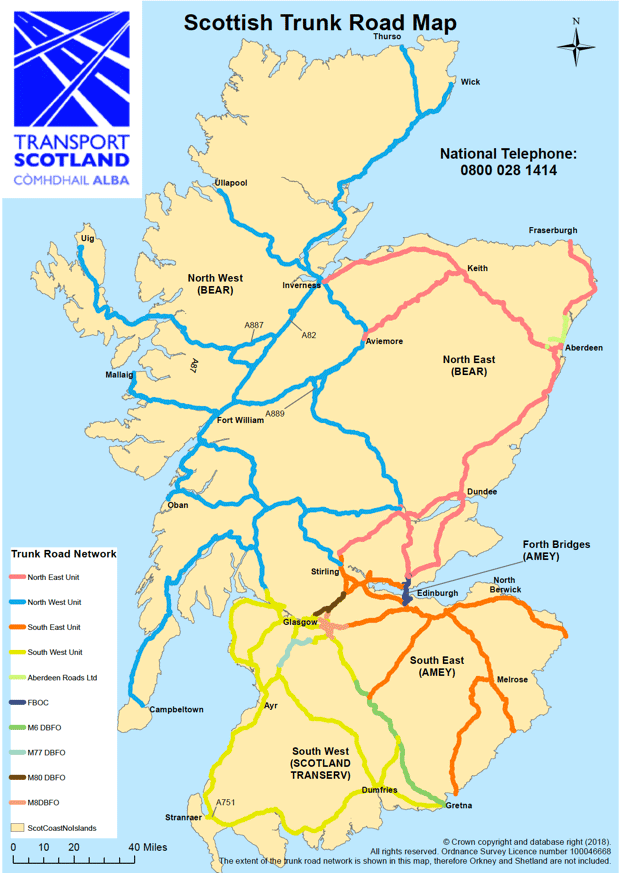 ---