Executive Summary
This Roadmap sets out a vision that by 2050 Scottish towns, cities and communities will be free from the damaging effects of petrol and diesel fuelled vehicles. It builds on the Scottish Government's existing commitment to the almost complete decarbonisation of road transport by 2050 and establishes the ambition that, from 2040 almost all new vehicles sold will be near zero emission at the tailpipe, and that by 2030 half of all fossil-fuelled vehicles will be phased-out of urban environments across Scotland.
Analysis is presented which illustrates that electric and plug-in hybrid electric vehicles (EVs /PHEVs) will make a substantial contribution to this ambition. This will be motivated by Scotland's world-leading climate change targets and commitments to improve local air quality and noise pollution. The potential economic opportunities and the contribution of plug-in vehicles to Scotland's renewable energy targets are also recognised.
Scotland has already begun to make progress in encouraging the adoption of plug-in vehicles, supporting the early market through purchase incentives and deployment of recharging infrastructure. However, to realise the Roadmap vision will require an ambitious transformation which extends beyond what Government alone can achieve. This Roadmap draws on an extensive consultation to establish what needs to be done across all relevant stakeholders in Scotland. Figure 1 identifies a series of goals and enabling measures which are comprehensively outlined across seven key areas:
| | | |
| --- | --- | --- |
| 1 | POLICY FRAMEWORKS | Plug-in vehicles are embedded in all relevant areas of policy and advance progress on climate change, air quality, renewables, energy security and public health. |
| 2 | MARKET DEVELOPMENT | Plug-in vehicles become more desirable than fossil-fuelled alternatives. |
| 3 | RECHARGING | Targeted, convenient and safe recharging infrastructure is deployed across Scotland to meet the changing needs of the market. |
| 4 | SUSTAINABLE TRANSPORT | Plug-in vehicles promote more sustainable transport systems rather than adding to existing problems. |
| 5 | ENERGY SYSTEMS | Scotland's electricity grid supports market growth of plug-in vehicles and is made smarter by controlled charging and distributed energy storage. |
| 6 | ECONOMIC OPPORTUNITY | Early leadership in advancing plug-in vehicles creates jobs and makes Scottish businesses more competitive. |
| 7 | COMMUNICATION & EDUCATION | Increased awareness and confidence in plug-in vehicles encourages widespread adoption. |
The next steps and actions for Government to support and facilitate this change are identified throughout these seven areas. These individual actions collectively contribute to a series of cross-cutting objectives for Government to drive the necessary long-term transformations across all relevant stakeholders. Some of the key commitments under each of these objectives are summarised below.
Providing public sector leadership
The preparation of legislation to implement a new permitted development right for off-road charge points.
The installation of charge points at all main Government buildings.
To replace Scottish Government vehicles with plug-in vehicles, where appropriate, as part of the ongoing vehicle replacement cycle.
Support for public sector fleet operators to access evidence-based analysis to create new opportunities for the deployment of plug-in vehicles.
Making strategic investments
Over £14 million of Government investment over the next two years to support work across the low carbon vehicle agenda, including further support for the Scottish Green Bus Fund.
The deployment of rapid charge points at intervals of at least 50 miles on Scotland's primary road network to enable extended all-electric journeys.
Support for the promotion of shared plug-in vehicles through the Developing Car Clubs in Scotland programme.
Promoting incentives
The development of a national framework for local incentives to progress opportunities to use local planning, parking and traffic management powers to encourage adoption of plug-in vehicles.
100 per cent funding for the installation of home charge points.
Funding to incentivise businesses and major employers to install workplace recharging.
Working with partners to undertake a study into the development of a national framework for establishing low emission zones.
Mobilising key stakeholders
The creation of multi-stakeholder groups to review the challenges and opportunities related to recharging, fleets and energy systems, and the preparation of necessary guidance and advice for public and private sector organisations.
Continued work with energy suppliers to encourage the deployment of tariffs and technologies to manage recharging behaviours and maximise the emission reduction benefits across Scotland.
Outreach and education
The development of an outreach and education strategy for plug-in vehicles.
Development of a plug-in vehicle marketing campaign to raise awareness, promote incentives and communicate benefits of plug-in vehicles.
Working with industry, Skills Development Scotland and other key stakeholders to quantify and determine the nature and demand for plug-in vehicle education and skills, reviewing and revising provision accordingly.
Figure 1: Overview of the goals and the key enabling measures outlined in the Roadmap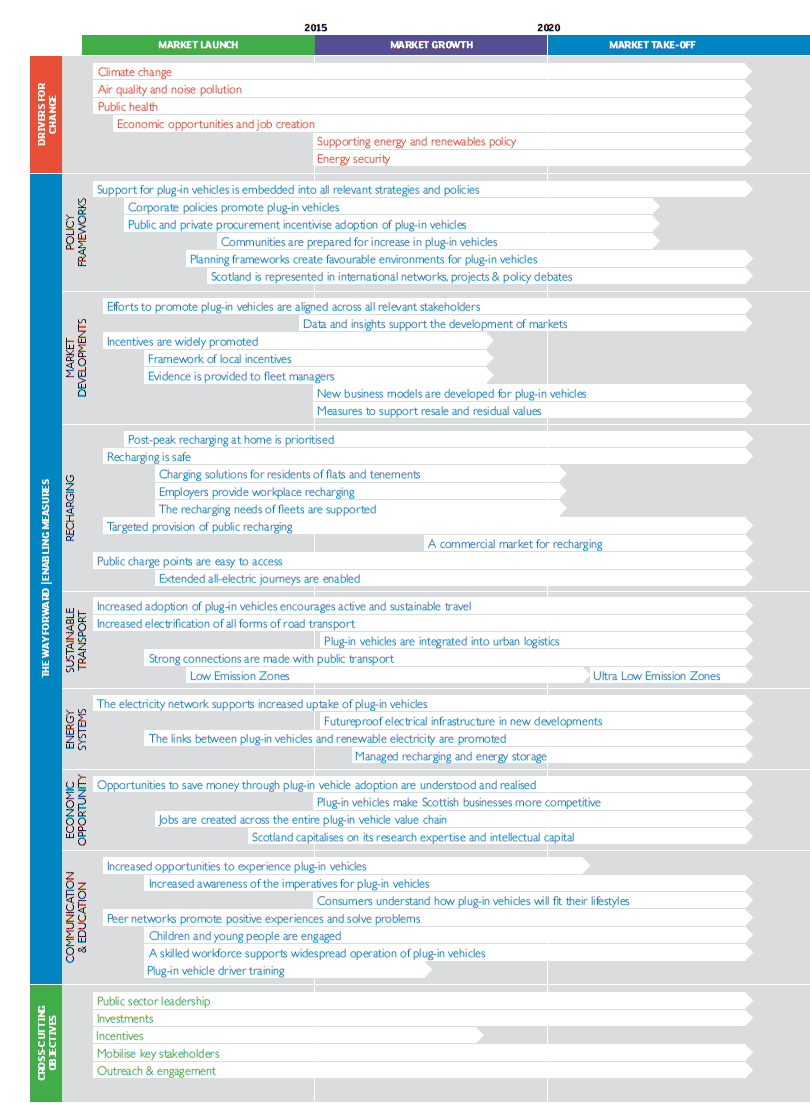 GOALS
By 2050 Scottish towns, cities and communities will be free from the damaging emissions of petrol and diesel fuelled vehicles
Plug-in vehicles are embedded into all relevant areas of policy and advance goals on climate change, air quality, renewables, energy security and public health
Plug-in vehicles become more desirable than fossil-fuelled alternatives
Targeted, convenient and safe recharging infrastructure is deployed across Scotland to meet the changing needs of the market
Plug-in vehicles promote more sustainable transport systems rather than adding to existing problems
Scotland's electricity grid supports increased adoption of plug-in vehicles and is made smarter by managed recharging and distribution energy storage
Early leadership in advancing plug-in vehicles creates jobs and makes business more competitive
Increased awareness and confidence in plug-in vehicles encourages widespread adoption
Actions by all relevant stakeholders promotes awareness and incentives for adoption, as well as delivering the necessary infrastructure, skills and business models to drive long-term growth
---