1 Introduction
1.1 Roadmap Purpose and Structure
This Roadmap establishes Scotland's vision for advancing electric and plug-in hybrid electric vehicles (EVs/PHEVs) and sets out the key challenges and enabling measures that will bring about this transformation.
The Roadmap commences by setting out a Vision, which establishes the ultimate ambition that by 2050 Scottish towns, cities and communities will be free from the damaging emissions of petrol and diesel fuelled vehicles (Chapter 2). The Landscape of trends and drivers are then explained, highlighting the policies that are motivating change and reviewing the progress that has been achieved to date (Chapter 3).
The following chapters then outline The Way Forward, providing a comprehensive overview of the factors that will influence the rate of adoption and use of plug-in vehicles. This is structured by discussion of seven key areas, for which corresponding goals are set, as well as individual actions for the Scottish Government (Chapters 4 to 11). These seven areas are shown as interlinking cogs in Figure 2, illustrating the integrated nature of these developments and highlighting the importance of sustained progress on each of these fronts.
The final chapter draws together all of the actions set in the Roadmap to provide a summary of the levers that Government will use to help drive the necessary long-term transformations across all relevant stakeholders (Chapter 12). This explains that these actions can be grouped and shown to contribute to one of the following Cross-Cutting Objectives for Government.
1. Providing public sector leadership
2. Making strategic investments
3. Promoting incentives
4. Mobilising key stakeholders
5. Outreach and education
Figure 2: The cross-cutting objectives that will be used by Government to drive sustained progress in each of the seven inter-linked areas reviewed in the Roadmap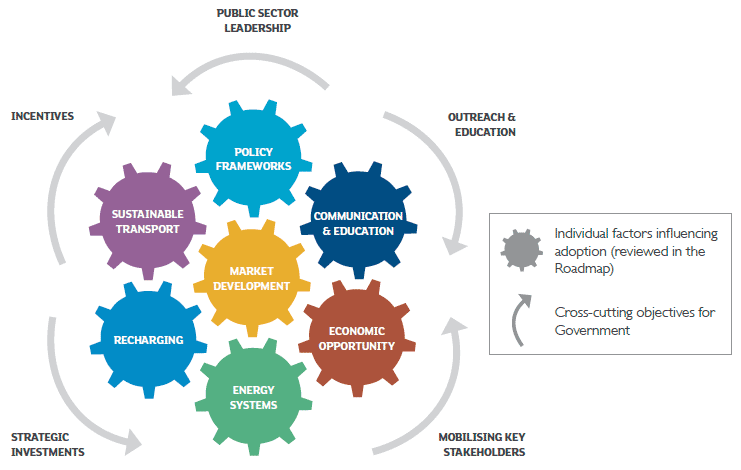 Figure 3: Plug-in vehicle configurations - (A) battery EV; (B) series plug-in hybrid; (C) parallel plug-in hybrid; and (d) internal combustion engine vehicle (source: Southern California Edison)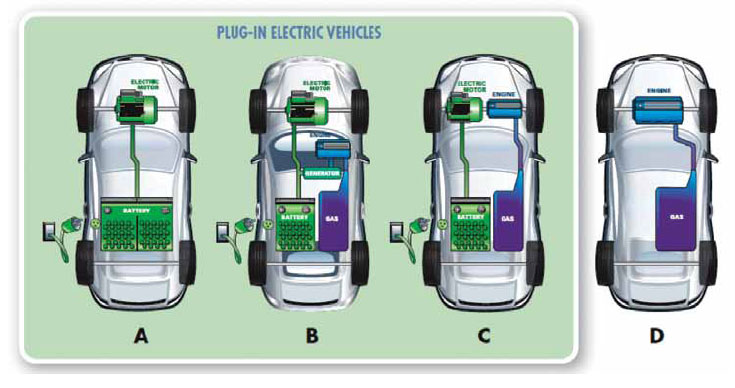 The Roadmap focuses on the measures to promote the adoption and use of EVs and PHEVs, which are collectively referred to as plug-in vehicles.
An EV or battery electric vehicle runs entirely on electricity, with a rechargeable battery pack powering an electric motor as a substitute to an internal combustion engine (ICE). However, in a PHEV, an ICE is combined with a battery pack and electric motor. PHEVs can either be in a series configuration, where only the electric motor drives the wheels and the ICE acts as a back-up generator (sometimes referred to as an extended range electric vehicle), or parallel where both the ICE and electric motor can directly power the wheels. A key point is that these vehicles are able to be plugged into mains electricity, unlike a conventional hybrid which relies on regenerative braking to generate electricity.
The Roadmap considers a broad range of factors that will influence the rate of adoption and use of plug-in vehicles. This includes developments in markets, products, services and technologies, as well as the requirements for underpinning resources, capabilities and partnerships. However, emphasis is placed on the areas that can be most influenced by the Scottish Government and other key stakeholders from across the public and private sectors.
The Roadmap is a synthesis of the outputs of four workshops held between March and December 2012 by the E-cosse partnership1, which brought together over 120 different experts from 78 organisations. Each of these workshops assessed opportunities and challenges related to different aspects of the plug-in vehicle ecosystem and related priority actions to advance adoption and use of EVs and PHEVs2.
A further workshop focussed on how to encourage individuals to purchase plug-in vehicles rather than fossil fuel vehicles, using the Scottish Government's ISM3 (Individual, Social and Material) approach to influencing low carbon behaviours. The actions and key enabling measures outlined in the Roadmap are very much in line with an ISM approach to influencing behaviours, i.e. a range of co-ordinated actions which span the individual, social and material contexts.
The workshops were supplemented by additional consultation with stakeholders from across Scotland and beyond. This included detailed input from the EV Strategic Board, established as part of the E-cosse partnership, which comprises senior representatives of a number of public and private organisations with a key role in advancing plug-in vehicles in Scotland. A full list of all Board members and workshop participants is included in the Acknowledgements section of this Roadmap.
---