3 Landscape
3.1 Introduction
The mass introduction of plug-in vehicles to replace fossil-fuelled vehicles in Scotland has the potential to support the achievement of aims across a number of different policy areas. This section explores these areas and some of the progress to date in measures to assist the take up of plug-in vehicles in Scotland.
3.2.1 Climate Change
The Climate Change (Scotland) Act 20098 sets world-leading emissions reductions targets. The Act sets an interim target of a 42 per cent reduction in greenhouse gas emissions for 2020, on the way to the ultimate goal of achieving at least an 80 per cent reduction by 2050.
Transport emissions make up just over a quarter of Scotland's total emissions, with more than two thirds of these emissions coming from road transport. The Scottish Government is therefore committed to the 2050 road sector decarbonisation target identified in RPP2.
The transport chapter of RPP2 focuses on the broad approach of how to reduce emissions from transport, setting out four core packages of proposals around decarbonising vehicles; encouraging behaviour change and promoting sustainable communities; engaging with businesses around sustainable transport; and ensuring efficient use of the road network.
3.2.2 Air Quality
Reductions in emissions of air pollutants have been largely due to policies targeted at cleaner technologies and fuels. However there has been a shift in the dominant sources of air pollutants. Twenty or thirty years ago, these were industry and domestic heating, today transport is the dominant source, as well as large combustion plants, (particularly those used for power generation).
There is evidence of significant negative health effects and environmental damage caused by emissions of air pollutants. The UK Environmental Audit Committee estimated that poor air quality reduces the life expectancy of everyone in the UK by an average of seven to eight months and up to 50,000 people a year may die prematurely because of it9.
Increased adoption of plug-in vehicles can make a significant contribution to local air quality, with a resultant improvement in public health and quality of life, whilst also helping to mitigate the possibility of multi-million pound fines from the European Commission for failing to comply with air quality legislation.
This will be particularly important in Air Quality Management Areas (AQMA) in Scotland10 where pollutants are above acceptable levels and action plans must be produced by local authorities to outline how they intend to tackle identified issues. The Scottish Government is reviewing the Local Air Quality Management system during 201311, providing an opportunity to determine the important role plug-in vehicles can play in improving local air quality.
Many of the AQMA in Scotland are in city centre locations where the establishment of low or even ultra-low emission zones could be an effective mechanism to deter access for the most polluting vehicles, and incentivise the use of ultra-low emission vehicles such as EVs and PHEVs. The Scottish Government is working with local partners to assess the challenges and opportunities associated with the establishment of such zones.
3.2.3 Economic Opportunity
The move to widespread plug-in vehicle use in Scotland presents a significant economic opportunity for Scottish businesses involved in all aspects of the change - from the manufacturing sector to the developers of new technology and services, such as specialised software to optimise EV use in fleets. The Low Carbon Economic Strategy12 estimates a potential market of £0.5 billion being generated around low carbon vehicles in Scotland - a huge opportunity for Scottish businesses to succeed and create quality new jobs. Companies such as Alexander Dennis, Allied Vehicles and Axeon, are already leading the way.
The expansion of Scottish-based companies to support the development of plug-in vehicles also has the potential to attract investment and employment to Scotland, building on the Scottish Government's Purpose to promote sustainable economic growth.
With their lower running and maintenance costs, switching to plug-in vehicles could provide financial savings for individuals and a competitive advantage for businesses in Scotland in the longer term. Furthermore, forward thinking businesses have an opportunity to promote their environmental values through early market adoption of plug-in vehicles and the provision of charge points.
In addition, academic institutions such as St Andrews, Strathclyde and Dundee Universities, Edinburgh College and the Transport Research Institute at Napier University have been and continue to be at the forefront of developing and testing new plug-in vehicle technology in Scotland.
3.2.4 Noise
Excessive noise created by road traffic can have a significant impact on people's daily lives. In addition to reducing general quality of life, excessive noise can damage health and harm the environment. Noise can also have economic impacts by potentially affecting tourism, learning and workplace productivity.
As plug-in vehicles make up an increasing percentage of the vehicles on our roads, their quieter operation compared to internal combustion engine-powered vehicles will mean that a major source of noise in our society will decrease.
3.2.5 Renewable Energy
The Scottish Government is committed to decarbonising the power sector. Today, over a third of the UK's total renewable electricity output comes from Scotland and there is a commitment to achieve the equivalent of 100 per cent of Scotland's electricity demand from renewables by 2020.
The abundance of green electricity in Scotland to power plug-in cars and vans will not only maximise the carbon reduction benefit of these vehicles, but also support increased generation from renewable sources. In particular, coordinating the recharging of plug-in vehicles with the fluctuating levels of generation from renewable sources will help to utilise green electricity that may not otherwise be used.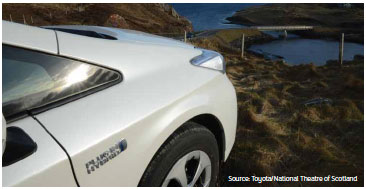 3.3 Progress to Date in Scotland
3.3.1 Plug-in Vehicle Adoption
As shown in figure 6, sales of plug-in vehicles in the early market are still relatively low, however take up has been steadily increasing in recent years.
Figure 6: New vehicle registrations of electric and plug-in hybrids in Scotland13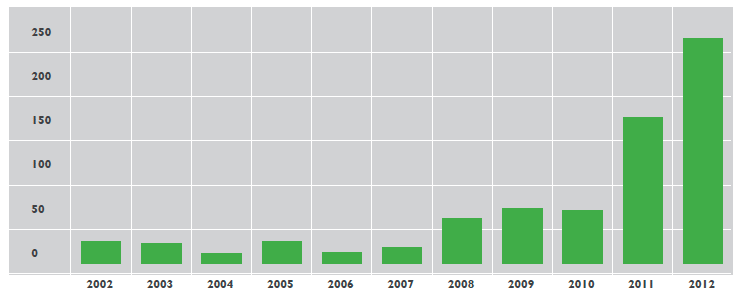 3.3.2 E-cosse
In March 2012, Keith Brown MSP, the Minister for Transport & Veterans, launched E-cosse, a partnership of Scottish Government, industry, WWF Scotland and other key stakeholders to advance adoption of plug-in vehicles in Scotland.
The creation of the E-cosse partnership has facilitated engagement with a range of stakeholders from across the low emission vehicle community, which has supported the development of this Roadmap. The partnership is led by E-cosse Director Dr David Beeton.
An EV Strategic Board was established as part of the E-cosse initiative. Co-chaired by the Minister for Transport & Veterans and Gordon McGregor, Director of Energy & Environment at ScottishPower, the Board is a high-level forum of leaders from industry, Government, academia and other stakeholders to provide leadership, strengthen key policy objectives and investments in the provision and support for plug-in vehicles in Scotland. The Board has played a key role in overseeing and guiding the production of this Roadmap.
3.3.3 Low Carbon Vehicle Activity in Scotland
Transport Scotland will invest over £14 million over the next two years to take forward work across the low carbon vehicle agenda.
Through the Low Carbon Vehicle Procurement Support Scheme and membership of the Office for Low Emission Vehicles' (OLEV) Plugged in Places Scheme, Transport Scotland has already invested over £8 million in low carbon vehicles and recharging infrastructure since 2010. This has enabled Scotland's public services to purchase around 270 low carbon vehicles, including electric cars and vans and to install over 300 charging points across the country.
Transport Scotland has continued to engage with local authorities to work towards increasing the number of charge points to over 500 during 2013, with approximately 300 available to the public. Plans include the provision of rapid charging points at least every 50 miles on Scotland's primary road network, at ferry terminals and to support the use of plug-in vehicles at the Commonwealth Games in Glasgow.
Through investment provided by Transport Scotland, motorists can also apply to the Energy Saving Trust for 100 per cent funding to install a home charge point for their plug-in vehicle. Private organisations can also claim up to 100 per cent of the cost of fitting a charge point at their premises.
Transport Scotland has also developed and launched "ChargePlace Scotland"14 on the GreenerScotland website to provide the public with advice on plug-in vehicles and access to a map showing charge point locations. The ChargePlace Scotland branding will also allow easy recognition of Scottish charge points.
Transport Scotland also funds the Energy Saving Trust's Low Carbon Transport Loan Fund through which Scottish-based businesses can access an interest-free loan of up to £50,000 for EVs, with a repayment term of up to 6 years.
3.3.4 Scottish Green Bus Fund
Transport Scotland has worked closely with the Scottish bus industry to promote the use of environmentally friendly low carbon buses with the aim of improving air quality and encouraging greater use of public transport. The introduction of the Scottish Green Bus Fund increases demand for low carbon buses, encouraging bus manufacturers to develop and invest in the technology and achieve economies of scale. Over time, this investment will contribute to reductions in the overall cost of producing these vehicles, improve their commercial viability and encourage investment by bus operators.
Bids to the Fund have been received from both large and small bus operators and a Regional Transport Partnership. Approved funding totalling some £7.7 million over the three rounds to date will see a total of 94 new low carbon buses introduced into the Scottish Bus Fleet. Seventy of these environmentally friendly buses are already in operation on Scotland's roads. A further 24 buses approved for funding under the latest round will come into operation by 31 March 2014.
3.3.5 Sustainable Transport
Plug-in vehicles will be a vital component in decarbonising the transport sector in Scotland, but it is important that the increased adoption of these vehicles complements other measures to promote sustainable transport. The uptake of plug-in vehicles should be as a replacement for, not additional to, petrol and diesel vehicles, thereby not increasing the total number of miles driven and adding to problems such as congestion.
Transport Scotland is investing more than £1 billion per year to encourage people to use public transport and walk and cycle more. This includes facilitating the transition to low-carbon transport through key rail projects, such as the Edinburgh-Glasgow Improvements Programme. Furthermore, the Borders Railway, scheduled to open in 2014, is expected to take 60,000 peak trips off roads in the Scottish Borders and Midlothian each year.
Bus travel is promoted by providing operators annually with £50 million of investment, which keeps down fare levels and provides support for the bus network. In addition, since 2007, the Scottish Government/Transport Scotland has invested £113 million in active travel, over £8 million in low carbon vehicles and over £9 million in freight facilities.
Furthermore, £15 million has been invested in the Smarter Choices Smarter Places project - a Scottish Government/Transport Scotland partnership with COSLA designed to increase active travel and public transport use and tackle transport emissions in seven communities. The funding has supported a range of interventions including: improvements to walking, cycling and bus infrastructure; personal travel planning; and promotion and marketing.
Transport Scotland and key stakeholders are also committed to the shared vision that by 2020, 10 per cent of everyday journeys will be by bike. To support this, Transport Scotland published the updated Cycling Action Plan for Scotland in June 2013, which amongst other issues, highlights the need for mutual respect between all road users and better integration with public transport.
3.3.6 Car Clubs
The Developing Car Clubs in Scotland (DCCS) programme was launched in October 2010. Facilitated by Carplus and funded by Transport Scotland, the programme aims to reduce private car dependency, improve energy efficiency and support carbon reduction in transport in Scotland. Carplus is working with a range of stakeholders and providing technical and financial resources to kick-start the development of car clubs in urban and rural communities across Scotland, such as, Anstruther, Dunbar, Aberdeen and Dundee.
Car clubs can provide drivers with affordable access and invaluable experience of driving plug-in vehicles. The not-for-profit car club operator Co-wheels provides its members with access to four plug-in vehicles in Aberdeen and one plug-in vehicle in Dundee as part of a range of vehicles available for hire in each city. Through the DCCS programme Transport Scotland aims to provide continued support for the electrification of the Scottish car club network.
3.3.7 Strategic Action on Air Quality
Transport Scotland has joined with SEPA to form the Scottish Transport Emissions Partnership (STEP). This group is developing a strategic approach to practical actions that will help manage the issue of poor air quality in Scotland. STEP aims to seek and share technical ideas and solutions, both to address existing AQMA and prevent further AQMA from being declared.
3.3.8 Smart, Sustainable Cities
Cities are responsible for approximately 80 per cent of the world's greenhouse gas emissions, and many suffer from areas of poor air quality. The Scottish Cities Alliance is delivering the ambitions set out in the Government's Agenda for Cities, published in December 2011. It is focusing on attracting new investment into the cities and creating the conditions to promote economic growth in cities and their regions to benefit the whole Scottish economy. A key theme is making Scotland's cities more sustainable and the Alliance includes low carbon transport amongst its workstreams.
3.3.9 2020 Transport Sub Group
Transport Scotland supports the work of the 2020 Climate Group's Transportation Sub-Group. This is a collection of businesses and organisations whose remit is 'to help reduce carbon emissions from transport in Scotland by helping ensure all organisations have access to relevant information that allows them to make the right behavioural or technology choices to reduce their carbon footprint and to inspire them to make positive change'.
The group has set a 2020 Transport Challenge which requires signatories to pledge action on four topics, including one of 'promoting the uptake of electric vehicles - to trial one or more of a range of electric vehicles for commercial use at almost no cost'. Transport Scotland has signed up to this Challenge and is working with the group to encourage other organisations to join.
3.3.10 Scottish Government Fleet
The Scottish Government has a number of low emission diesel and electric vehicles within the core fleet. The Government is committed to greening the fleet as far as possible and will, as part of the ongoing vehicle replacement cycle, replace fossil-fuelled vehicles with plug-in vehicles, where appropriate.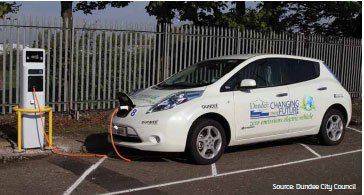 ---