5 Policy frameworks
5.1 Support for plug-in vehicles is embedded into all relevant strategies and policies
As the benefits of advancing plug-in vehicles span a number of different policy areas, support will be required across the Scottish Government, local authorities and the wider public sector. Specifically, all responsible departments and agencies across the public sector should be encouraged to embed relevant commitments to advance plug-in vehicles in their respective policy instruments and strategies. This includes, but is not restricted to, climate change, air quality, environmental protection, health, education, planning, taxation, economic development, renewables and energy security.
| | | |
| --- | --- | --- |
| Action 1 | Transport Scotland to continue to engage with colleagues across Government and the wider public sector to promote the inclusion of plug-in vehicles in relevant policies and strategies | Ongoing |
Figure 7: Policy frameworks timeline of key developments and enabling measures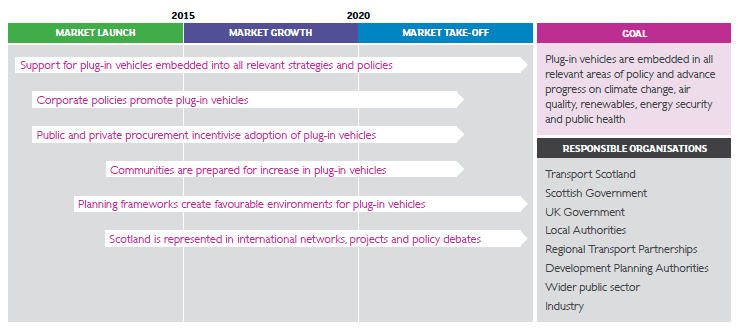 Through the RPP and RPP2, the Scottish Government has already made progress in quantifying the climate change imperatives for reducing road transport emissions. Further analysis will be needed to support polices based on air quality, noise pollution and energy security. In addition, quantifying the potential economic opportunities and the role of plug-in vehicles in supporting Scotland's renewable energy policies will further strengthen commitments to accelerating market adoption.
This will be supported by a robust evidence base and clear statements on the potential for EVs and PHEVs to contribute to all relevant policy goals. These statements should be directly related to existing legally binding targets for carbon reduction and health-based EU limit values and domestic objectives for air pollutants from road transport. They should also establish a clear economic rationale, quantifying the associated costs to the environment, human health and taxpayers that would result if compliance is not achieved.
| | | |
| --- | --- | --- |
| Action 2 | Transport Scotland to review the existing evidence base and identify needs for new research or data to support the development of policies which impact on plug-in vehicles, such as air quality, health and energy | Ongoing |
| | | |
| --- | --- | --- |
| Action 3 | Scottish Government to determine the role plug-in vehicles can play in Air Quality Action Plans as part of the review of Local Air Quality Management in Scotland | 2013-14 |
5.2 Corporate policies promote plug-in vehicles
Corporate policies and practices across the public and private sector will need to make provision to promote plug-in vehicles as part of the wider agendas for sustainable transport and energy efficiency.
Many organisations in Scotland have initiated environmental management systems and sustainability policies and should be encouraged to consider opportunities to use these frameworks to promote plug-in vehicles. The link between air pollution from road transport and public health is also likely to be an important motivation. In particular, organisations whose mission and brand are focused on improving health or the environment should be encouraged to consider the impacts of their transport operations and the imperatives for adopting low emission vehicles.
| | | |
| --- | --- | --- |
| Action 4 | Scottish Government, as part of ongoing vehicle replacement cycle, to replace fossil-fuelled vehicles with plug-in vehicles, where appropriate | Ongoing |
| | | |
| --- | --- | --- |
| Action 5 | Transport Scotland to work with Energy Saving Trust and other stakeholders to prepare guidance on the actions that can be taken to promote plug-in vehicles | 2013-14 |
</p>
INVESTMENTS IN ELECTRIC VEHICLES AT DUNDEE CITY COUNCIL
Plug-in vehicles are a vital part of Dundee City Council's plans for a modern and efficient fleet, delivering carbon reduction targets and placing Dundee at the forefront of developing a national infrastructure and creating a cleaner, healthier city. Through a strategic and focused approach the Council has become a public sector early adopter of plug-in vehicles and has worked closely with partners to provide investment that has delivered real savings as well as benefits to the environment by improving air quality, cutting emissions and reducing noise pollution.
In summer 2013, Dundee had 39 plug-in vehicles on the road, with a mixture of cars and vans which are used across many disciplines from corporate laundry, joiners, painters, supervisors and pool cars. This is supported by an increasing recharging infrastructure which currently includes two rapid chargers (with this number set to increase to four in the near future).
Dundee has already opened up their charge points to the public through working closely with the Electric Vehicle Association Scotland and its members. The points will also be connected to Transport Scotland's "ChargePlace Scotland" Pay-As-You-Go network, which is being rolled out in 2013/14.
The next stage for Dundee City Council is to fully maximise the use of the vehicles and ensure that the Council meets a target of 300,000 miles per year travelled in them. This will be achieved by ensuring full utilisation through a central booking facility and extending the use of the vehicles by working with out-of-hours services and taking full advantage of the rapid charging facilities.
5.3 Public and private procurement incentivise adoption of plug-in vehicles
Procurement policies can support adoption of plug-in vehicles. This applies across the public and private sector.
Procurement should balance the environmental and social aspects of vehicles as well as considering value for money on a whole-life basis. This should extend across supply chains, with organisations working with suppliers to reduce emissions. For the public sector, such opportunities are currently framed in The Public Contracts (Scotland) Regulations 201215 and The Cleaner Road Transport Vehicles (Scotland) Regulations 201016.
Collaboration between organisations will also offer considerable benefit in leasing and buying plug-in vehicles. This has already proven to be the case in the public sector, with the Low Carbon Vehicle Procurement Support Scheme enabling Scotland's community planning partnerships (CPPs) to access Transport Scotland funding for plug-in vehicles and recharging infrastructure on behalf of local authorities, emergency services, health trusts, national parks and other public contracting authorities.
To support this process, best practice should be shared amongst the procurement community. CPPs and fleets will also further benefit from additional support to plan for and enact cost-effective procurement of plug-in vehicles.
| | | |
| --- | --- | --- |
| Action 6 | Transport Scotland to establish a multi-stakeholder group on fleets to review the challenges and opportunities for wider adoption and prepare necessary guidance and advice for public and private sector organisations | 2013-14 |
5.4 Communities are prepared for increased adoption of plug-in vehicles
Many of the policy levers and practical challenges to support plug-in vehicle adoption are local rather than national. This places towns, cities and communities at the frontline of efforts to deploy recharging infrastructure, initiate local incentives and other practical measures to support plug-in vehicle adoption.
A key consideration is that the imperatives and opportunities to support plug-in vehicles are different across Scotland and potential developments will necessarily relate to local circumstances. For example, while cities such as Glasgow and Edinburgh are motivated to improve urban air quality, it is likely that a rural community in the Highlands would be more attracted to opportunities to promote tourism. Moreover, it is also necessary that the needs of both urban and rural communities are understood and supported to realise the potential benefits of advancing plug-in vehicle adoption across the whole of Scotland.
It is therefore essential that local stakeholders are given the necessary support and encouragement to advance plug-in vehicles. Building on the network developed by the Low Carbon Vehicle Procurement Support Scheme, local authorities, CPPs and other local champions would benefit from appropriate guidance and assistance to develop and implement plans to establish favourable conditions for plug-in vehicle adoption.
It would be helpful for key players such as the Scottish Cities Alliance and relevant community planning partners to work towards identifying opportunities for promotion of plug-in vehicle uptake both within and between Scottish cities. This could be in the form of demonstration projects, accelerating infrastructure or linking to smarter city initiatives.
It is also important that plug-in vehicles complement existing Scottish Government commitments for safer road travel and further reductions in the number of fatalities and injuries on Scotland's roads. Plug-in vehicles are quieter than fossil-fuelled vehicles which has raised some concerns that they may pose a risk to pedestrians, especially the visually impaired. Powers to introduce a requirement for plug-in vehicles to carry safety devices are currently reserved to the UK Government, and the issue is under discussion at a European Commission level. The Scottish Government will continue to liaise with the UK Government as these discussions progress.
| | | |
| --- | --- | --- |
| Action 5 | Transport Scotland to work with Energy Saving Trust and other stakeholders to prepare guidance on the actions that can be taken to promote plug-in vehicles | 2013-14 |
5.5 Planning frameworks create favourable environments for plug-in vehicles
Scotland's planning system offers important opportunities to promote the provision of recharging infrastructure. For example, the introduction of permitted development rights for off-road charge points will simplify and expedite the process for installation of infrastructure by removing the requirement to apply for approval from a planning authority. Furthermore, planning authorities should be encouraged to adopt policies that request plug-in vehicle recharging infrastructure be incorporated into new domestic and commercial developments.
Planning policy also influences where people live, work and travel for leisure activities. Accordingly, for out-of-town residential and commercial developments, consideration should be given to the resulting travel patterns and whether these are aligned with Scotland's ambitions to promote plug-in vehicle adoption and decarbonise road transport.
| | | |
| --- | --- | --- |
| Action 7 | Scottish Government to prepare legislation to implement a new permitted development right for off-road charge points | 2013-14 |
5.6 Scotland is represented in international networks, projects and policy debates
A number of European and international networks have been established to disseminate emerging best practice and collaboratively solve problems associated with advancing plug-in vehicles and supporting infrastructure. Engaging with these networks provides the opportunity to access valuable experience and expertise. It will also serve to promote Scotland in the international community and attract further funding for initiatives to encourage adoption of plug-in vehicles.
A key area for engagement is the development of standards for recharging infrastructure. These standards are largely being driven by industry and are being coordinated at the European level. The Scottish Government can offer any necessary support to this process and secure the best interests of plug-in vehicle drivers in Scotland.
| | | |
| --- | --- | --- |
| Action 8 | Scottish Government and its partners to continue to engage with international plug-in vehicle networks and projects to attract funding and support policy debates | Ongoing |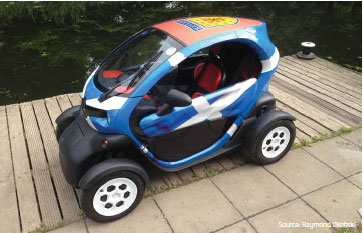 ---