6 Market development
The transition from early to mainstream markets represents a considerable challenge. Past experience of introducing new technologies to the market has shown that strategies to promote EVs and PHEVs need to respond to the requirements of different consumer groups beyond early-adopters. Promoting mainstream adoption requires a move away from the historical emphasis on pilots and trials. This creates a perception that EVs are a novel, niche or experimental technology. Strategies now need to be focused on supporting commercialisation and stimulating market growth. The ultimate objective is to promote plug-in vehicles as more desirable than fossil-fuelled alternatives.
6.1 Efforts to promote plug-in vehicles are aligned across all relevant stakeholders
The Scottish Government recognises its key role in co-ordinating the launch and ramp-up of plug-in vehicles. This is essentially a process of aligning the efforts of the various stakeholders involved, including: the automotive industry, electric utilities, local authorities, NGOs and academic researchers. Increased co-ordination and communication between stakeholders is seen as crucial in helping to facilitate a quick and smooth market uptake of EVs and PHEVs.
Figure 8: Market development timeline of key developments and enabling measures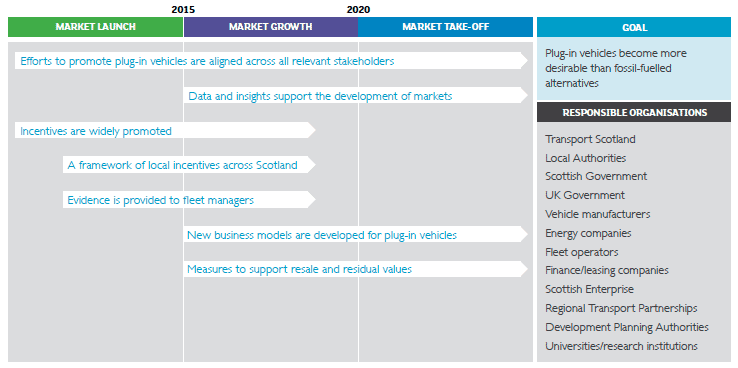 | | | |
| --- | --- | --- |
| Action 9 | Transport Scotland to continue to co-ordinate partnership working and promote communication across the plug-in vehicle stakeholder community | Ongoing |
6.2 Data and insights support the development of mainstream markets
A comprehensive understanding of the needs, behaviours and preferences of different consumers will be fundamental in realising the market potential of plug-in vehicles and in identifying opportunities for private sector investment.
The changing needs of consumers should be prominent in all efforts to advance plug-in vehicles. This can be supported by involving plug-in vehicle drivers in the planning processes of Government and industry. In particular, lines of communication that allow early adopters to provide feedback will help optimise the provision of recharging and other plug-in vehicle related services.
The collation and analysis of data on markets and consumer behaviour will also provide valuable insights. For example, demographics and daily driving distances will enable identification of potential early adopters and help characterise the needs of mainstream consumers. In addition, data collected from Plugged in Places and in trials of EVs and PHEVs across Scotland will provide insights into driving and recharging behaviours.
By working together, industry, Government and the wider public sector can assemble quality data on markets and consumer behaviours to establish metrics for market potential. Making this data publicly available will highlight emerging opportunities for investment.
| | | |
| --- | --- | --- |
| Action 10 | Transport Scotland to work with OLEV to share data and insights from the Plugged in Places project | 2013-14 |
| | | |
| --- | --- | --- |
| Action 2 | Transport Scotland to review the existing evidence base and identify needs for new research or data to support the development of policies which impact on plug-in vehicles, such as air quality, health and energy | Ongoing |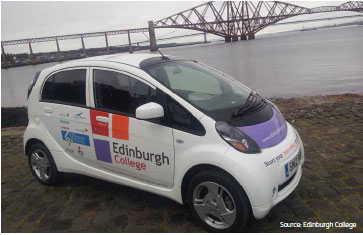 CASE STUDY:
EDINBURGH COLLEGE eCAR PROJECT
In 2011, Jewel & Esk College and Stevenson College embarked on a project with the support of SEStran and other partners to acquire and operate a small fleet of plug-in vehicles with the aim of evaluating them from a real-life user's perspective, and integrating their technology with the curriculum for the benefit of students.
Starting with four cars, the vehicles were used for intra-campus transport and other journeys that would have normally been carried out in staff members' own cars - the so called 'grey fleet'. To provide necessary infrastructure to support the operation of the plug-in vehicles, college students planned, designed and manufactured 3kW, single-phase charging posts which were then installed at each campus.
College staff also designed and developed a system to manage eCar bookings and administer the vehicle activity. It is now a college-wide database with well over 300 registered staff users. The vehicles have proved popular with the staff, in many cases positively changing people's opinion of plug-in vehicles.
The use of the vehicles is monitored through the booking system plus GPS tracking units that each car is fitted with. These come courtesy of 'www.TrackYou.co.uk' and allow vehicles to be tracked in real-time, create monthly reports on the mileage travelled, the number of trips, and longest trip each month.
The eCar Project was a success from the outset and expanded in 2012, as the separate colleges merged to become Edinburgh College. More vehicles were added and now the college operates a fleet of six plug-in vehicles plus monitor the data for another four operated by East Lothian Council.
6.3 Incentives are widely promoted to encourage plug-in vehicle adoption
The Scottish and UK Governments already have a number of incentives in place to reduce the cost of purchasing plug-in vehicles and installing recharging infrastructure. This includes purchase grants, fiscal incentives, and local benefits such as the provision of free electricity or parking.
All of these incentives are currently planned to run until 2015, and the Scottish Government will continue to work with the UK Government to assess the future provision of incentives and the most effective way to support the developing markets for plug-in vehicles. This will include participation in OLEV's 'call for evidence' to inform the development of a package of support, including incentives, as set out in 'Driving the future today: a strategy for ultra low emission vehicles in the UK', which was published in September 2013.
To maximise the influence of these measures, it is essential that they are promoted to as wide an audience as possible, with the associated benefits and opportunities clearly explained. Education and outreach activities are required to connect with individuals and organisations across Scotland to ensure that every potential plug-in vehicle buyer is aware and takes advantage of these incentives.
| | | |
| --- | --- | --- |
| Action 11 | Scottish Government to develop a plug-in vehicle marketing campaign as part of wider Greener Scotland activity, to raise awareness, promote incentives and communicate benefits of plug-in vehicles | 2013-14 |
| | | |
| --- | --- | --- |
| Action 12 | Energy Saving Trust to continue to promote its support for Scottish businesses to adopt plug-in vehicles through EV Awareness Raising Workshops, Sustainable Transport Advice Service and Interest Free Low Carbon Transport Loans and FuelGood driver training | Ongoing |
| | | |
| --- | --- | --- |
| Action 13 | Scottish Government to work with the UK Government to assess the future provision of incentives and the most effective way to support the developing markets for plug-in vehicles | Ongoing |
6.4 A framework to implement and align local incentives across Scotland
Local authorities and development planning authorities have a range of planning, parking and traffic management powers that could help promote the use of plug-in vehicles. Such local incentives could ultimately make it more convenient and cost effective to use an EV or PHEV. This includes the provision of preferential or free parking, free electricity for recharging and access to bus lanes or high-occupancy lanes.
Glasgow City Council is set to become one of the first local authorities in the UK to implement such measures, with a planned trial to offer free parking for plug-in vehicles at a number of on-street locations in the city centre.
Providing access to bus lanes is perceived to offer a potential advantage of reducing journey times for plug-in vehicle drivers. This, however, is a complex area and initial discussions have identified concerns amongst local authorities relating to the potential impact to bus networks and difficulties with enforcement. It is therefore recommended that local authorities are supported in further assessing opportunities to implement such policies through provision of necessary analysis, data and advice.
An overarching objective is that local incentives across Scotland are coherent and coordinated. A patchwork of measures in different local authority areas that change across boundaries will be confusing to the public and will be less effective in stimulating plug-in vehicle markets. To avoid this, a national framework for local incentives would provide local authorities with necessary analysis, data and advice to support in the planning and implementation of measures and help to ensure alignment across regions.
| | | |
| --- | --- | --- |
| Action 14 | Transport Scotland to work with local authorities, planning authorities and COSLA to develop a national framework for local incentives | 2014-15 |
6.5 Evidence is provided to fleet managers to support investments
More than half of all new cars in the UK are bought by fleets17. Engaging with fleet decision-makers is therefore an important requirement in achieving mainstream adoption of plug-in vehicles. Positive experiences of driving plug-in vehicles in the workplace will also help accelerate deployment amongst private consumers.
Integrating plug-in vehicles into fleets offers organisations opportunities to achieve real financial, operational and reputational benefits. Quantifying these opportunities is central to advancing fleet adoption of EVs and PHEVs.
In the short term, organisations may gain some marketing capital from purchasing plug-in vehicles. However, achieving mainstream adoption requires identification of the most practical applications of these vehicles. This necessitates a planned and evidence-based approach to establish how plug-in vehicles can satisfy operational requirements and deliver real benefits to fleets.
The ability to adopt a plug-in vehicle will largely depend on how the vehicles are used by an organisation. Operational analysis and route scheduling is used by fleet operators to increase revenues, reduce emissions and save money. It can also be used to create new opportunities for plug-in vehicles. Instead of judging plug-in vehicles as a like-for-like replacement for fossil-fuelled equivalents, fleet managers should be encouraged to change the way that they operate vehicles to optimise efficiencies and create a broader base of applications for EVs and PHEVs.
The public sector can show leadership here by helping to build demand in the early market. A number of public sector fleets in Scotland have made good progress in lowering their average emissions and there are opportunities to sustain and broaden this progress by providing expert analysis and guidance on how plug-in vehicles can be introduced into fleets and save organisations money. Fleet analysis could also change operational policy on vehicles by targeting the grey fleet. This is where employees travel for business in their own cars and are reimbursed at approved mileage rates. Many organisations substitute this mileage with pool car provision, which could potentially be a promising area for plug-in vehicles as the calculated cost per mile is likely to be competitive with privately run vehicles.
Purchase price is currently the biggest factor for buyers of fleet vehicles. However, the costs of owning an EV or PHEV are very different to those associated with a fossil-fuelled vehicle. For example, while the upfront capital costs (purchase price) tend to be higher for a plug-in vehicle than a petrol and diesel equivalent, running costs (fuel, maintenance, car tax) tend to be lower. Accordingly, in determining viable opportunities for adoption of plug-in vehicles, there is an imperative to encourage valuations based on the whole-life costs.
| | | |
| --- | --- | --- |
| Action 15 | Transport Scotland to provide funding and work with partners to support evidence-based analysis of public sector fleets to create new opportunities for the deployment of plug-in vehicles | 2013-15 |
| | | |
| --- | --- | --- |
| Action 5 | Transport Scotland to work with Energy Saving Trust and other stakeholders to prepare guidance on the actions that can be taken to promote plug-in vehicles | 2013-14 |
CASE STUDY:
SOFTWARE TO OPTIMISE OPPORTUNITIES FOR PLUG-IN VEHICLES IN FLEETS
Livingston based Route Monkey develop and sell software that optimises the use of fleet vehicles through complex algorithms and inputs which are set to match the requirements of a fleet manager. The Route Monkey software was developed originally around the unique requirements of plug-in vehicles which are range, charging rates and duty cycles. The software focuses on getting the best from the vehicle in terms of energy consumption and then planning in charging opportunities whether they are the main overnight charge or a short top-up charge during the working day to ensure the duty cycle can be met or even extended.
Route Monkey does this through looking at the routes and optimising load against route. Obviously operational requirements are the key driver, but when these have been met, optimising the route to minimise energy consumption is the right approach.
Another benefit is the scheduling of the charging route within the route plan. An opportunity of a half hour stop within a schedule could change the whole pattern of usage and make battery electric vehicles viable.
The key is for a fleet to consider how much they are willing to make changes to their operation in order to move to plug-in solutions. Change of operation does not have to mean a loss of efficiency, quite the contrary, it could be a long-term improvement in working practice and vehicle utilisation while reducing energy use and costs.
CASE STUDY:
The Eco Travel Network
The Eco Travel Network (ETN) is a not-for-profit company which operates a hire and charging network for ultra-low energy electric vehicles in the Brecon Beacons National Park. Launched in 2012, it currently has a fleet of seven Renault Twizys. The aim is to enable visitors and residents to move around using far less energy but having far more fun.
The vehicles are funded, hosted and hired out by ETN member businesses - typically accommodation businesses - who keep any hire revenue. Members pay an annual ETN service charge for battery rental, insurance and administration. Their hire revenue covers this. The ETN model spreads the significant capital cost and risk across its members to make it more manageable for all. The ETN and its members promote each other.
The ETN has an additional 40 businesses (pubs, restaurants, visitor attractions and activity providers) who welcome and re-charge visiting Twizys. This creates a "virtuous circle" where the hosting businesses and the charge-points promote each other and low energy transport.
Aims are to expand the network across the National Park and explore alternative funding models for small businesses (e.g. campsites) who cannot afford the upfront cost of purchasing a vehicle. Having won the inaugural Green Transport Prize in May 201318, the ETN are also looking to strengthen the concept of ultra-low energy vehicles for rural areas by investing in design alternatives to the Twizy and researching new applications for such vehicles on Scottish islands.
6.6 New business models are developed for plug-in vehicles
Mainstream adoption of plug-in vehicles will also be fostered by new business models and service offerings which meet the needs of fleets and individuals. Leasing and financing models can offset the high purchase cost of plug-in vehicles, address concerns over battery degradation, residual values, and offer greater certainty on costs. For example, a number of vehicle manufacturers have separated the ownership of an EV and the battery. This sees manufacturers lease the battery to buyers, providing guaranteed levels of performance and removing any potential risks associated with this technology.
Rental companies can also provide solutions to organisations and individuals where the majority of their needs would be met by an EV, but occasionally find it necessary to have access to a car or van to drive longer distances, or to carry more people or payload. The flexibility and potential cost savings of such an approach could make it particularly appealing. Similarly, developments in the offerings of car clubs will increase the options available to individuals and organisations in Scotland.
Such flexible schemes may ultimately form the basis of alternative ownership models. Instead of buying single vehicles, individuals and organisations may prefer to access flexible mobility services that are tailored to their specific needs.
| | | |
| --- | --- | --- |
| Action 16 | The Scottish Government, Scottish Enterprise and partners in the public and private sector to promote Scotland as an attractive location to introduce new consumer offerings and mobility services for plug-in vehicles | Ongoing |
6.7 Measures to support the resale and residual values of plug-in vehicles
Measures to support the residual and resale values of plug-in vehicles and batteries will help encourage investments and reduce the overall cost of owning EVs and PHEVs. Manufacturers of plug-in vehicles have stated that they expect batteries to last approximately eight to ten years before they are no longer able to hold sufficient charge to adequately power a vehicle. However, a key concern for consumers is the potential for degradation in battery performance.
A possible way to reassure second hand buyers and support markets for used vehicles would be for industry to develop an official measure of how a battery is performing throughout the life of the vehicle. This could be in the form of a certificate or official rating that would give an indication of the remaining expected life in the battery.
Once the battery has reached the end of its usable life for powering plug-in vehicles, it is still possible that they can be deployed for other applications. This includes stationary power units for storage of surplus capacity from centralised renewables and microgeneration technologies. Identifying and developing a second-life market for such applications could have the benefit of increasing the residual value of batteries and hence support investments in plug-in vehicles. This will demand research into stationary energy storage units or other uses to ensure batteries maintain residual value.
Once the battery is no longer suitable for primary or secondary applications, measures also need to be in place to ensure safe recycling and recovery of valuable materials to minimise any environmental impact.
| | | |
| --- | --- | --- |
| Action 17 | Scottish Government to continue working closely with industry to meet the changing needs of the plug-in vehicle market | Ongoing |
A major advantage of plug-in vehicles compared to other alternatively-fuelled transport solutions is that the majority of infrastructure is already in place in the form of a nationwide electricity grid. The key task is therefore to ensure that the final elements of this infrastructure, namely the charge points, are safely deployed to meet the changing needs of the market.
Supporting growth in markets for plug-in vehicles does not require the provision of charge points on every street corner across Scotland. This would be both unnecessary and uneconomic. Furthermore, underutilised charge points could actually damage public confidence. Accordingly, the task is to ensure that charge points are provided in the places in which they are most needed. This relates to both the locations in which they will be most used and also where recharging will enable plug-in vehicle drivers to achieve the journeys that they wish to make.
---