8 Sustainable transport
An efficient and sustainable transport system is essential for Scotland's economy, communities, environment, health and general wellbeing. Accordingly, measures to promote plug-in vehicles will need to advance improvements in the overall quality and sustainability of Scotland's transport system rather than adding to existing problems.
8.1 Increased adoption of plug-in vehicles encourages active and sustainable travel
Efforts to advance plug-in vehicles need to be aligned with strategies to promote active and sustainable travel. This includes smarter working, walking, cycling, public transport, and responsible car use. Plug-in vehicles should replace existing petrol and diesel cars and be aligned with the overall ambition to reduce car use in Scotland, thereby not resulting in increased congestion, greater traffic numbers, reduced road space for cyclists or a decrease in the use of public transport.
A key opportunity for alignment is the behaviour change ambitions of active and sustainable travel campaigns. Promoting the thoughtful use of plug-in vehicles offers the wider benefit of educating individuals and organisations to consider the economic and environmental costs of how they work and travel. This in turn could support an overarching ambition of helping to reduce the total number of vehicle miles travelled on Scotland's roads.
| | | |
| --- | --- | --- |
| Action 11 | Scottish Government to develop a plug-in vehicle marketing campaign as part of wider Greener Scotland activity, to raise awareness, promote incentives and communicate benefits of plug-in vehicles | 2013-14 |
| | | |
| --- | --- | --- |
| Action 21 | Transport Scotland to develop an outreach and education strategy for plug-in vehicles | 2013-15 |
Figure 10: Sustainable transport timeline of key developments and enabling measures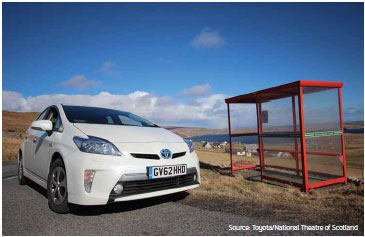 CASE STUDY:
HYBRID ELECTRIC BUSES SAVE FUEL AND INCREASE PASSENGER NUMBERS
In September 2011 Lothian Buses introduced fifteen Alexander-Dennis Ltd (ADL) diesel-electric series hybrid buses to the route 10. These buses were purchased with support from Scottish Green Bus Fund and made up the first double-deck hybrid bus fleet in Scotland. The service 10 was selected for their introduction because of its high proportion of car commuters and because it passes through two local Air Quality Management Areas. The executive design of the buses and features such as free on-board Wi-Fi and audio-visual stop announcements was aimed at encouraging modal shift from car to bus commuting.
A significant increase in passenger numbers has been observed on the service 10 since the introduction of the hybrid buses. The introduction of the hybrid buses has seen the company experience fuel savings of 59 per cent, compared to a diesel vehicle on the same route, saving some 600 Tonnes per year of carbon emissions.
Following this success, ten Volvo parallel hybrid single-decker buses were introduced to the company's fleet in April 2013. These were purchased with financial assistance from the second round of the Fund. For the first time engine-off at idle technology will be used to significantly cut air and noise pollution in the city centre. They are expected to have a carbon footprint around 40 per cent smaller than a diesel bus.
Falkirk-based ADL have supplied 58 of the buses bought to date through the Fund, and are well placed to benefit from any further rounds. ADL has credited the Fund and similar initiatives with enabling it to become established as one of Europe's leading suppliers of low carbon hybrid-electric buses, supporting 900 jobs in Falkirk and a further 2,000 across its wider supply chain network.
CASE STUDY:
ADL'S INDUCTIVE ELECTRIC HYBRID BUS CHARGING PILOT PROJECT
A proposal being developed by a partnership of ADL, SSE, Axeon, BAE Systems and Strathclyde University, and supported by funding from Transport Scotland and Scottish Enterprise seeks to demonstrate in Glasgow, the viability of a modified ADL hybrid bus with expanded battery capacity, capable of running for some of its route purely on battery power thus cutting engine tailpipe emissions to zero during those periods.
The system will utilise novel "inductive charging plates" embedded in the road (or depot floor) at strategic points on the bus route. These can rapidly charge the batteries at points when the bus is stationary over the plate, without the need to plug in to a charge point. This allows charging at times that the bus would be stationary anyway as part of its routine. Thus topped up, the bus will run for more of the route on batteries alone, with greater range accessed via use of the charging diesel engine as required.
The pilot scheme will allow pure electric-running of the bus within dense urban parts of the journey, helping to address the serious air quality problems from which some central Glasgow streets currently suffer.
8.2 Increased electrification of all forms of road transport
Beyond passenger cars and vans, there are also opportunities to achieve emissions savings through electrification of other forms of road transport.
The Scottish Government's Green Bus Fund has already invested over £7.7 million to support the deployment of 94 hybrid electric buses. Continued deployment of these vehicles is important in achieving necessary emissions reductions and improvements to local air quality.
| | | |
| --- | --- | --- |
| Action 26 | Scottish Green Bus Fund to continue to support the wider roll-out of low emission buses across Scotland | Ongoing |
The increasing popularity of car clubs provides opportunities for multiple individuals and business users to experience driving plug-in vehicles. This is being supported through the DCCS programme, with funding from Transport Scotland providing financial and technical assistance to encourage the adoption of shared plug-in vehicles in car club fleets.
| | | |
| --- | --- | --- |
| Action 27 | Support for the promotion of shared plug-in vehicles through the Developing Car Clubs in Scotland programme | Ongoing |
There are also over 20,000 taxis and private hire cars in Scotland25 which could offer further potential for increased adoption of plug-in vehicles. This requires engagement with drivers and the provision of necessary recharging infrastructure to support such operations.
In summary, opportunities for door-to-door electrification and hybridisation of all forms of transport should be encouraged where meaningful emissions savings can be achieved.
| | | |
| --- | --- | --- |
| Action 6 | Transport Scotland to establish a multi-stakeholder group on fleets to review the challenges and opportunities for wider adoption and prepare necessary guidance and advice for public and private sector organisations | 2013-14 |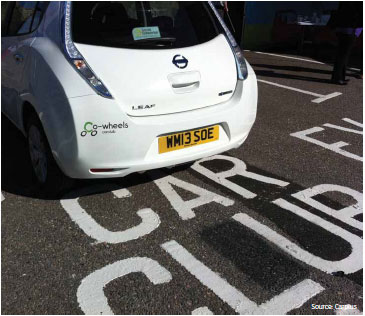 CASE STUDY:
SHARED ELECTRIC VEHICLES IN SCOTLAND'S CAR CLUB NETWORK
Scotland has a network of commercial and not-for-profit car clubs which provide access to pay-as-you-drive vehicles in rural and urban communities across the country. Car clubs provide their members with access to vehicles available for hire on an hourly or daily basis, 24 hours a day, 7 days a week. Car club vehicles tend to be parked in dedicated and clearly marked parking spaces close to the homes and workplaces of car club members.
The car clubs cover all the costs of owning and operating the vehicles, such as insurance, tax, fuel, cleaning and servicing. Members usually pay an annual membership fee to be part of a car club and then pay an hourly charge to hire a vehicle and a mileage charge to cover fuel costs and vehicle wear and tear. Members can join and book vehicles online or over the phone and access vehicles via a personal smart card or by a key, accessible via a key safe.
Car clubs can provide drivers with affordable access and invaluable experience of driving EVs. The not-for-profit car club operator Co-wheels provides its members with access to four EVs in Aberdeen and one EV in Dundee as part of a range of vehicles available for hire in each city. Through the DCCS programme Transport Scotland aims to provide continued support for the electrification of the Scottish car club network.
8.3 Plug-in vehicles are integrated into urban logistics
Medium and heavy-duty freight and delivery vehicles offer opportunities for both hybridisation and electrification. Such vehicles are increasingly being used by delivery companies, supermarkets and other businesses across Scotland and the UK.
The use of low emission trucks can be optimised by better organisation of the interface between long-distance and last-mile freight transport. Initiatives that focus on the last mile of deliveries, which is the most inefficient part of the journey in terms of fuel consumption and emissions, aim to limit individual deliveries to the shortest possible route.
Local authorities can also contribute to reductions in traffic emissions through management of the municipal vehicle fleet. This not only includes cars and vans operated by local authorities but also other municipal vehicles such as road sweepers and refuse collection trucks.
Local authorities, CPPs and other relevant local actors, such as freight quality partnerships, will need support and encouragement to show leadership in the adoption of plug-in vehicles and to advance measures that will reduce damaging fossil fuel emissions in towns and cities across Scotland.
| | | |
| --- | --- | --- |
| Action 6 | Transport Scotland to establish a multi-stakeholder group on fleets to review the challenges and opportunities for wider adoption and prepare necessary guidance and advice for public and private sector organisations | 2013-14 |
8.4 Strong connections are made with public transport
For plug-in vehicles to be integrated into wider public transport infrastructure, efforts should be made to encourage EV and PHEV drivers to use car parks that enable easy connections to public transport. This includes park-and-ride sites as well as other transport interchanges such as train stations and bus stations.
Central to this is to ensure that charge points are installed at these locations and promoted to plug-in vehicle drivers. Transport Scotland has already begun this with charge points being installed at park-and-ride sites at Hermiston and Straiton Park in Edinburgh in 2013.
CASE STUDY:
LAMILO FREIGHT CONSOLIDATION CENTRE IN PERTH
Plans for a freight consolidation centre outside of Perth will see individual consignments or part-loads grouped at a logistics facility and then delivered by an EV to retail and office premises in the city centre. The EV would run up to four deliveries per day, with additional services also being considered including collection and recycling of waste and packaging materials. The operation would work 24/7, be free of charge to users initially to encourage uptake and participation will be voluntary.
Funding was made available for a feasibility study and detailed development of a proposal through Scottish Government Air Quality Grant. Additional funds have also been approved through a European INTERREG project which will provide 50 per cent funding for a period from 2012-2015.
CASE STUDY:
ELECTRIC ROAD SWEEPERS IN SOUTH LANARKSHIRE
In 2012 South Lanarkshire Council introduced two Electric Compact Sweepers to its fleet through the Low Carbon Vehicle Procurement Support Scheme operated by Transport Scotland. The sweepers, made by Tennent Green Machines in Falkirk, were deployed within the Council's town centres and precincts, replacing the previous diesel powered sweepers and are used on a daily basis.
Although initially sceptical over ability and battery performance, feedback from the employees using the electric sweepers has been very positive and all comment on the reduced noise and emissions allowing the units to operate at times the previous diesel powered units could not. Members of the public have often commented on the use of the electric sweepers and the improvement this has made to the local environment. Although heavier diesel powered sweepers are still required, the introduction of the electric sweeper has allowed these to concentrate on the more demanding areas improving the already high standard of South Lanarkshire's public footpaths.
| | | |
| --- | --- | --- |
| Action 28 | Transport Scotland to continue the deployment of charge points at park and ride sites and other transport interchanges | 2013-15 |
| | | |
| --- | --- | --- |
| Action 29 | Transport Scotland to encourage the deployment of electric vehicle charging points at railway stations with bidders for the new ScotRail Franchise | 2013-15 |
| | | |
| --- | --- | --- |
| Action 19 | Transport Scotland to establish a multi-stakeholder group on recharging to review the challenges and opportunities and prepare necessary guidance and advice for public and private sector organisations | 2013-14 |
8.5 Development of ultra low emission zones
A low emission zone is a geographically defined area where the most polluting vehicles are restricted, deterred or discouraged from access and use. Low emission zones have been successfully implemented and run for a number of years in various places, including Sweden, Japan, the Netherlands and London. A number of cities across Scotland are also currently assessing the potential to implement low emission zones.
An ultra low emission zone sets even more ambitious emissions thresholds to incentivise the use of ultra low emission vehicles such as EVs and PHEVs. It was recently announced that London intends to implement such a scheme and is currently investigating the feasibility of having this in place during working hours from the year 202026.
In addition to supporting necessary improvements in local urban air quality, ultra low emission zones offer significant potential to promote the use of EVs and PHEVs in preference to fossil-fuelled vehicles. Such schemes will also provide important benefits in promoting active and sustainable travel.
To help local authorities identify the need and opportunities for ultra low emission zones, necessary support and technical assistance will need to be provided to investigate the potential for these schemes in towns and cities across Scotland. Where local authorities identify that such zones can and should be implemented, the Scottish Government will offer support to help expedite their establishment and achieve necessary improvements in air quality to limit adverse health impacts and damage to ecosystems and the wider environment.
| | | |
| --- | --- | --- |
| Action 30 | Scottish Government to work with partners to undertake a study into the development of a national framework for establishing low emission zones | 2014 |
| | | |
| --- | --- | --- |
| Action 3 | Scottish Government to consider the role plug-in vehicles can play in Air Quality Action Plans as part of the review of Local Air Quality Management in Scotland | 2013-14 |
CASE STUDY:
LOW EMISSION ZONES FOR GLASGOW 2014
Glasgow City Council plans to establish Low Emission Zones at each of the 14 venues in the 2014 Commonwealth Games. These zones will be managed by using the functions specifically employed for the duration of the Games to ensure that the increased activity at the venues does not lead to an unacceptable increase in air pollution.
The zone boundaries will be defined by the Organising Committee's footprint for each venue and will employ a strict security cordon which will be dependent on temporary road closures. The cordon will restrict access to all logistical and non-logistical vehicles subject to a controlled permit system. Permits will only be issued based on the appropriateness of vehicles that comply with the Euro-5 category which has been designated by the council as the minimum standard for the zones.
---