9 Energy systems
A key advantage of plug-in vehicles is that much of the infrastructure to support their operation is already in place in the form of the national electricity grid. However, as increasing numbers of vehicles enter the market it is essential to ensure that the grid is sufficiently robust and well-managed to accommodate any changes in demand. A further key opportunity is to fully realise the potential of plug-in vehicles to support the development of a cleaner and smarter energy system.
9.1 The electricity network supports increased uptake of plug-in vehicles
At the grid level, the absolute increase in electricity demand from the growing uptake of plug-in vehicles is expected to be manageable. Research on behalf of the European Commission showed that even a complete electrification of the European fleet would only result in additional demand in the order of 10-15 per cent27. It is therefore expected that existing and planned generating capacity in Scotland will be able to meet the additional demand in the short to medium term.
Figure 11: Energy systems timeline of key developments and enabling measures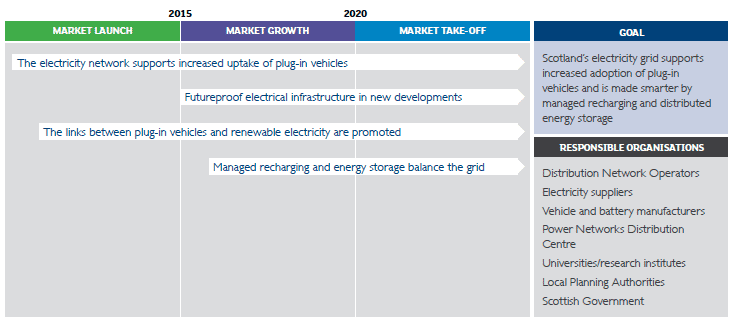 CASE STUDY:
RESEARCH INTO THE IMPACT OF PLUG-IN VEHICLES ON THE GRID
Scottish & Southern Energy (SSE) has been involved in EV trials, case studies and academic research into the impact of EVs on the electricity network. The key conclusions from these studies are that 90 per cent of EV charging is expected to take place at home, with the balance in work places or public charge points.
Because domestic recharging predominates, the research carried out by the University of Strathclyde concentrated on the effects on the low voltage (LV) domestic supply networks. These studies found that the existing LV networks can support up to around 30 per cent penetration of EVs, even with 32 Amp charging, provided that the bulk of the charging is done overnight when there is spare capacity on the network. When drivers are provided with simple controls and beneficial tariffs to recharge overnight, the vast majority of the charging is done at that time.
Conversely, in the absence of these incentives, drivers tend to plug in their vehicles on arriving home from work, creating additional demand in the early evening. This coincides with existing peaks on the network and even low penetrations of EV could cause overloads on the low voltage network.
To cope with even higher demand from EVs, smarter charging methods need to be developed to spread the load over the whole of the off peak period. SSE is carrying out further work with EA Technology into control mechanisms for EV charging that can maximise the potential of the existing networks.
CASE STUDY:
MY ELECTRIC AVENUE
The My Electric Avenue project aims to test the monitoring and control technology by recruiting 'clusters' of EV users, both residential and business; all people in a cluster must be fed by the same local electricity substation feeder. The 'cluster trials' will aim to simulate a 2030 network; these clusters will be in both residential situations (charging at home) and in business situations (fleet cars charging at work).
The project will provide essential learning about managing the strain on the electricity distribution network from the anticipated increased uptake of electric vehicles. It will also deliver a cost-effective solution to Distribution Network Operators, that reduces the need for network reinforcement and allows a faster uptake of EVs. The project will also monitor EV users as individuals rather than clusters ('social trials') for behavioural and socio-economic data - i.e. their driving and charging habits will be recorded.
EA Technology has developed monitoring and control technology that offers a solution to reduce network reinforcement, and to support EV market growth. This solution will delay, and in some cases avoid, the need for additional electrical infrastructure - which would be costly and disruptive, as well as taking significant time - to accommodate the forecast increase in EVs.
The results of these trials will be communicated to the DNO community in Great Britain, to Government, to the energy industry and to the general public. This will advance understanding of what an 'EV ready' street of the future may look like, and what the implications might be for the electricity network.
However, at the level of local networks and sub-stations, it will be necessary to ensure that appropriate provisions are made for increased uptake of plug-in vehicles. Distribution Network Operators (DNOs) will need to plan for and manage any changing patterns of demand resulting from the anticipated growth in plug-in vehicles. This will be supported by Government and industry working together to provide necessary market data and forecasts.
| | | |
| --- | --- | --- |
| Action 31 | Transport Scotland to establish a multi-stakeholder group on energy systems to review the challenges and opportunities and prepare necessary guidance and advice for public and private sector organisations | 2013-14 |
9.2 Futureproof electrical infrastructure in new developments
The growth in markets for plug-in vehicles will both demand and be supported by appropriate provision of the necessary wiring and electrical infrastructure for recharging in new residential and commercial developments. Ideally this would see the routine installation of dedicated circuits and charging units in developments. However, as a minimum, developers should be encouraged to ensure that service conduits are appropriately sized to accommodate future necessary electrical infrastructure for recharging.
In the design phase of large new developments, consideration should also be given to the potential for on-site energy generation, energy storage, and energy management systems. Such systems would reduce or eliminate the need for improvements to the local grid resulting from increased adoption of plug-in vehicles.
Scotland's planning regime has a central role to play in encouraging this and the Scottish Government will seek to strengthen guidance to planning authorities on these issues as part of a review of the Scottish Planning Policy in 2013-14. Developers, building owners and architects should also be engaged and shown how making such provisions in the construction or substantial redevelopment of facilities can significantly reduce the cost of installing charge points and other necessary electrical infrastructure.
| | | |
| --- | --- | --- |
| Action 32 | Scottish Government to consider how best to strengthen guidance for planning authorities relating to plug-in vehicle charge point provision in new developments as part of a review of Scottish Planning Policy | 2013-14 |
| | | |
| --- | --- | --- |
| Action 31 | Transport Scotland to establish a multi-stakeholder group on energy systems to review the challenges and opportunities and prepare necessary guidance and advice for public and private sector organisations | 2013-14 |
9.3 The links between plug-in vehicles and renewable electricity are promoted
Plug-in vehicles recharged with green electricity offer significant opportunities to achieve carbon reduction benefits. Scotland is especially well placed on this front, with over a third of the UK's total renewable electricity output coming from Scotland and a commitment to achieve 100 per cent of Scotland's electricity demand from renewables by 2020. The Scottish Government's commitment to decarbonise the power sector and promote a 100 per cent renewable future should therefore feature prominently in messaging to promote plug-in vehicle adoption.
A further important area is the link to micro renewables. Through the Home Renewables Loan Scheme28, the Scottish Government is actively working to increase the number of homes, offices and many other buildings that generate their own electricity from wind turbines and solar photovoltaic panels. In addition, the UK Government's Feed in Tariff Scheme is open to homeowners, businesses and organisations in Scotland. The profiles of the individuals and businesses that are receptive to such technologies are likely to match those of early-adopters of plug-in vehicles. Furthermore, recharging with electricity from micro renewables will reduce the running costs of plug-in vehicles, creating a compelling incentive for owners to generate their own electricity.
Given the complementarities and mutual reinforcing benefits, there should be active cross-promotion of micro renewables and plug-in vehicles.
| | | |
| --- | --- | --- |
| Action 21 | Transport Scotland to develop an outreach and education strategy for plug-in vehicles | 2013-15 |
| | | |
| --- | --- | --- |
| Action 31 | Transport Scotland to establish a multi-stakeholder group on energy systems to review the challenges and opportunities and prepare necessary guidance and advice for public and private sector organisations | 2013-14 |
CASE STUDY:
ELECTRIC VEHICLES RUNNING ON GREEN ELECTRICITY
Michael Davis, owner of Tetro Energy Ltd sees a strong connection between EVs and his business of developing sites for commercial wind turbines. Having purchased a Peugeot iOn with an Energy Saving Trust's Low Carbon Transport Loan, Michael now plans to utilise a 4kW domestic solar photovoltaic system and a 50kW on-site wind turbine to ensure that his EV is powered as much as possible by renewable energy. Living in Insch in Aberdeenshire, the area already has a number of commercial wind turbines, so EV owners in the region are already benefitting from increased renewable generation. Michael will also be receiving 100 per cent grant funding for a domestic charging point, which will reduce charging time by around a third in comparison to using a standard domestic socket.
"Since taking delivery of the iOn in early March 2013, we have clocked up over 1600 miles. The vehicle is ideal for return journeys of up to 50 or so miles. Charging the car from our own renewable generation makes this a virtually zero emission vehicle, the only CO2 resulting from its use being that embedded in the vehicle and consumable items such as tyres. Whilst reduced carbon emissions are very welcome we are also delighted with the reduced fuel costs resulting from the use of this vehicle. Overall purchase of the car has been a sound business decision."
CASE STUDY:
POWER NETWORKS DEMONSTRATION CENTRE
The Power Networks Demonstration Centre (PNDC) in Cumbernauld, is a collaborative venture between Scottish and Southern Power Distribution, Scottish Power Energy Networks, Scottish Enterprise and the University of Strathclyde, to develop and accelerate the introduction of novel technologies into the electricity market.
The Centre is part of the Faculty of Engineering based in Glasgow and therefore staff are often required to undertake a considerable amount of commuting to attend face-to-face meetings with colleagues. In March 2013 the PNDC and the Faculty of Engineering invested, with support from Transport Scotland, in the introduction of two electric chargers, one at each location. These will serve two distinct purposes, reduce the carbon footprint of the interactions between both geographically separated locations and allow for unique testing of these technologies to take place and demonstrate the functionality and economics of vehicle to grid integration.
For this purpose, the operation of these charging platforms and the connection to the grid will be monitored continuously. In addition, the charging post at PNDC will have the option of connection to the demonstration network. This will allow real-time testing of vehicle to grid interactions and the development of expertise to allow the prediction of the effect of electric vehicle integration to the grid. The vehicles used will be sensorised in order to understand and improve the vehicle's energy usage such as thermal management.
9.4 Managed recharging and advanced energy storage help balance the grid
There are a number of important reasons to manage and influence recharging behaviours. Firstly, it enables the greatest carbon reduction benefits, whereby recharging at times of low overall demand makes it more likely that renewable energy sources will provide most of the electricity. In contrast peak surges in demand are currently met by switching on high-carbon coal or gas generators.
Managed recharging can also support increased electricity generation from wind turbines and other renewable sources. The recharging of plug-in vehicles can be matched to the fluctuating levels of generation from renewable sources, helping to balance energy systems and charge with green electricity that might not otherwise be used.
Smart and controlled recharging will also limit the requisite need for grid reinforcement and avoid overloading local networks at times of peak demand. Moreover, plug-in vehicles could ultimately reduce peak generation requirements. In the short to medium term this is most likely to be in the form of vehicle-to-home applications, with surplus capacity in plug-in vehicle batteries used to run domestic appliances. However, in the longer term, vehicle-to-grid applications may enable plug-in vehicles to export electricity back to the grid, although this is expected to be some way off.
The central measure to regulate or incentivise recharging at specified times will be new consumer energy packages and tariffs which promote recharging at the most optimal electricity price for the day. This will help reduce the operating costs of plug-in vehicles and may also enable large fleets to agree terms with energy providers where there is a mutual benefit in specific tariffs. In addition to advancing plug-in vehicle adoption, new ways of supplying electricity and associated product offerings could represent an entrepreneurial opportunity for Scottish companies.
Developments in bi-directional communications will enable remote control of plug-in vehicle recharging. Smart meters will also be a key enabling technology to manage recharging behaviours and support dynamic tariffs, which change in response to real-time demand. The UK Government has stated that every home in Scotland should be offered smart meters by 2019. Accordingly, the energy companies that are responsible for this roll-out should be encouraged to consider how these smart meters can support controlled recharging of plug-in vehicles.
In summary, by working together, Government and industry can progress opportunities for managed recharging and advanced energy storage. This should specifically focus on the necessary technologies, infrastructure, business models, operational frameworks and network design required to support such developments. It should also evaluate potential concerns about the increased cycling of batteries for grid stabilisation and the associated impact on performance and residual values.
| | | |
| --- | --- | --- |
| Action 33 | Scottish Government to continue to work with energy suppliers to encourage the deployment of tariffs and technologies to manage recharging behaviours and maximise the emission reduction benefits across Scotland | Ongoing |
| | | |
| --- | --- | --- |
| Action 31 | Transport Scotland to establish a multi-stakeholder group on energy systems to review the challenges and opportunities and prepare necessary guidance and advice for public and private sector organisations | 2013-14 |
---