12 Cross-cutting objectives
12 Cross-cutting objectives
12.1 Introduction
The previous chapters set out the way forward by identifying the necessary future progress across all stakeholders in Scotland and specific actions that will be taken by the Scottish Government to help establish the market for plug-in vehicles.
Achieving the Roadmap vision will require sustained action in each of the seven areas outlined with failure to do so making progress slow and inefficient. Delivery also requires a long-term strategic approach that results in cross-cutting actions and not isolated initiatives. The following sections summarise and further clarify the Government actions set out in this Roadmap and explain how they can collectively drive progress. They are grouped into five cross-cutting themes of: public sector leadership; making strategic investments; promoting incentives; mobilising key stakeholders; and outreach and education.
Transport Scotland will work with colleagues across Government and the public sector to support the development of policy frameworks that encourage the adoption of plug-in vehicles (Action 1). An initial area of focus will be to further incentivise the deployment of recharging infrastructure by preparing legislation to implement a new permitted development right for off-road charge points during 2013-14 (Action 7) and consideration of how best to strengthen guidance for planning authorities relating to plug-in vehicle charge point provision in new developments, as part of the review of Scottish Planning Policy (Action 32).
The public sector can also show leadership by helping to build demand in the early market. A number of public sector fleets in Scotland have made good progress in lowering their average emissions. To sustain and broaden this progress, Transport Scotland proposes to work with CPPs to outline timelines for reducing emissions across the entire public sector fleet. The results of the Plugged-in Fleets Initiative30 showed that differences in the way that fleets operate mean that it will be necessary to do this on a case-by-case basis rather than as a single quantitative target. Support will therefore be offered in the form of analysis, guidance and advice to develop actionable plans for fleets and to optimise the levels of ambition, with this work phased over 2013-15 (Action 15). As part of this commitment, the Scottish Government will realise appropriate opportunities to replace fossil-fuelled vehicles with plug-in cars and vans as part of the ongoing replacement cycle of its fleet (Action 4).
Additional actions and opportunities to show leadership will also be advanced. In particular, public sector employees will be encouraged to adopt plug-in vehicles through the provision of workplace recharging, with charge points installed at all main Government buildings by the end of 2014 (Action 20).
12.3 Making Strategic Investments
Promoting widespread use and adoption of plug-in vehicles requires that investments are targeted at transformational activities that will contribute to each of the seven goals of the Roadmap.
In addition to over £8 million of funding that has already been invested in recharging infrastructure deployment through Plugged in Places and the introduction of 270 plug-in vehicles to the public sector fleet, Transport Scotland has committed over £14 million over the next two years to take forward work across the low carbon vehicle agenda.
Part of this funding will support the ongoing development of a national recharging infrastructure for Scotland. Transport Scotland has provided resources and support to Scotland's CPPs in 2012/13 and 2013/14 in order to achieve this aim. This support will continue into 2014/15 (Action 18).
Funding for recharging infrastructure will be targeted to meet the changing needs of the market. Priorities include the provision of 100 per cent funding for the installation of home charge points, funding to incentivise businesses and major employers to install workplace recharging (Action 18), the installation of charge points at park and ride sites and other transport interchanges (Action 28 and Action 29) and the deployment of rapid charge points at intervals of at least every 50 miles on Scotland's primary road network (Action 25). There will also be a focus on making the use of charge points as convenient as possible through the provision of a pay-as-you-go network (Action 24).
Figure 14: Cross-cutting objectives for Government to drive long-term progress on each of the goals set in the Roadmap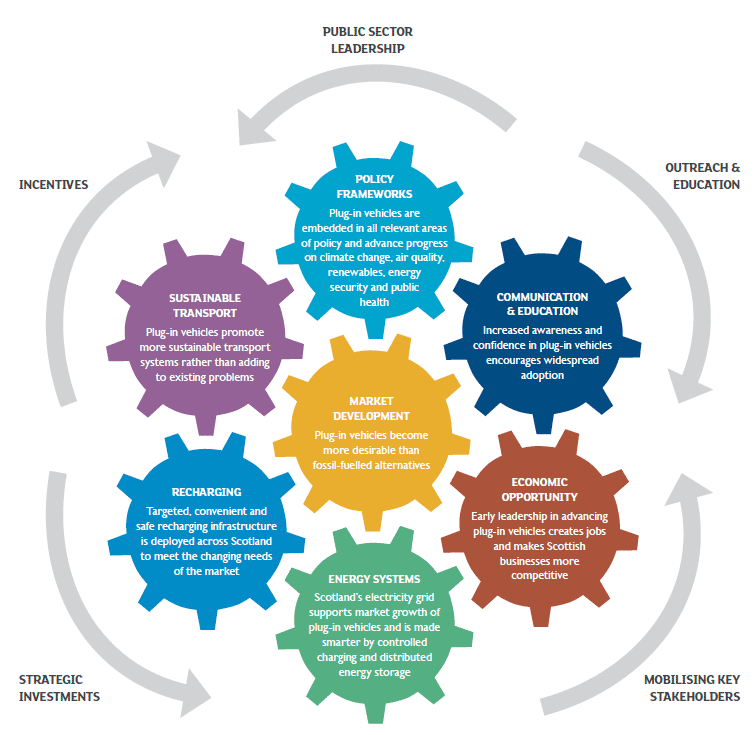 Transport Scotland will also undertake a study on transitioning infrastructure provision from a Government-funded pilot project to a private sector-led initiative that meets Scotland's long-term needs for recharging infrastructure (Action 22).
To extend the reach of Government funding, priority will be given to collaborative projects which engage key stakeholders and support private sector investment. This will be complemented by the Scottish Government, Scottish Enterprise and partners in the public and private sector working to attract investments and to promote Scotland as an attractive location to introduce new consumer offerings and mobility services for plug-in vehicles (Action 16). It will also be supported by continued engagement with international plug-in vehicle networks and projects to access both the additional funding and expertise that such initiatives offer (Action 8).
Other Transport Scotland funded initiatives will also support the implementation of the Roadmap. For example, the DCCS Programme is providing financial and technical assistance to support the introduction of shared plug-in vehicles in car club fleets (Action 27). Furthermore, the Green Bus Fund will continue to support the wider roll out of low emission buses across Scotland (Action 26).
Government also recognises the importance of a comprehensive and robust evidence base to support widespread investments in plug-in vehicles. Transport Scotland will therefore work with OLEV to share data and insights from the Plugged in Places project (Action 10) and work to promote any important findings arising from projects undertaken in Scotland or elsewhere. Transport Scotland will also continue to review the existing evidence base and identify any needs to commission new research (Action 2).
An overarching objective for all investments made in plug-in vehicles and supporting infrastructure is alignment with the Roadmap's goal to realise the economic opportunity presented by early leadership in this market. To better understand this potential, and ensure that necessary investments are made and supported, Scottish Enterprise will focus on growing capability and capacity around Smart Mobility, including a key focus on transport systems (Action 34).
The Roadmap establishes an overarching market development goal of promoting plug-in vehicles as being more desirable than fossil-fuelled alternatives. Therefore a key focus for implementation will be to maximise the value proposition of plug-in vehicles, ensuring that the benefits exceed the perceived costs.
Many of the developments to reduce the whole-life and purchase costs of plug-in vehicles will be driven by industry through innovation, more efficient production and new business models. Accordingly, the Scottish Government will continue to work closely with industry to meet the changing needs of the plug-in vehicle market (Action 17).
However, in the early market this will also be supported by government incentives. The Plug-in Car and Van Grants offer direct purchase incentives to reduce the cost of EVs and PHEVs. Furthermore, a range of fiscal incentives are also in place in the UK to make ownership of plug-in vehicles more cost effective. As all of these incentives are currently planned to run until 2015, the Scottish Government will work with the UK Government to assess the future provision of incentives and the most effective way to support the developing markets for plug-in vehicles (Action 13).
Transport Scotland will also work with local authorities and planning authorities to progress opportunities to use local planning, parking and traffic management powers to promote plug-in vehicles. This will see the development of a framework for local incentives across Scotland during 2014-15 (Action 14). This will review all possible measures, provide implementation guidance and establish a basis to align developments across different regions.
Businesses and employers will also be encouraged to advance a range of measures to make ownership of plug-in vehicles more convenient and cost effective. This includes company car provision, salary sacrifice schemes for purchasing vehicles, free or preferential parking and provision of workplace recharging. Transport Scotland will work with the Energy Saving Trust and other stakeholders to prepare guidance on the actions that can be taken to promote plug-in vehicles, with a view to publishing in 2014 (Action 5).
The final category of incentives is measures to make plug-in vehicles more convenient than fossil-fuelled cars and vans. The Scottish Government will therefore determine the role that plug-in vehicles can play in Air Quality Action Plans as part of the review of LAQM during 2013-14 (Action 3) and work with partners to undertake a study into the development of a national framework for establishing low emission zones (Action 30).
12.5 Mobilising Key Stakeholders
Many of the necessary actions to advance plug-in vehicle markets are outside of the direct influence of the Scottish Government. Implementation of these actions will therefore require that responsible stakeholders are engaged and given necessary support. The Scottish Government's principal method for achieving this will be through continuing to co-ordinate partnership working and promoting communication across the plug-in vehicle stakeholder community (Action 9).
In the process of developing the Roadmap, representatives of 78 different organisations contributed insights and support. To ensure that these organisations and individuals remain engaged and play an active role in implementing the Roadmap, Transport Scotland will establish multi-stakeholder groups in 2013-14. This will bring together experts, peers and champions that are actively working to advance plug-in vehicles. These groups will aim to highlight best practice, share lessons learned, solve problems and broaden opportunities for plug-in vehicle adoption. Three groups will initially be established to provide support on fleets (Action 6), recharging (Action 19) and energy systems (Action 31).
The EV Strategic Board established through the E-cosse partnership will also have a role in mobilising additional resources and expertise to advance plug-in vehicles. This group of senior leaders from across the public and private sector was specifically established to develop shared commitments to action across Government and industry, promote private sector investments and work to attract additional funding.
The energy sector will represent a key area of engagement. Government will work with Distribution Network Operators and energy suppliers to plan for increased adoption of plug-in vehicles and develop opportunities to advance smarter grids. Similarly Government will work with energy suppliers to encourage the deployment of tariffs and technologies to manage recharging behaviours and maximise the emission reduction benefits across Scotland (Action 33).
Effective outreach and education initiatives will be essential to advance the adoption of plug-in vehicles, the deployment of recharging infrastructure and to create the necessary behaviour changes to penetrate mainstream markets.
At the basic level, this requires that individuals and organisations understand the imperatives for plug-in vehicles and how they can support, participate and benefit from this change. Also, once individuals and organisations have made the transition to plug-in vehicles, there is then a requirement to sustain and embed this behaviour. This requires continued promotion of the benefits and efforts to maximise consumer satisfaction.
There is no single way to connect with and influence all relevant stakeholders in Scotland. Furthermore, this will not happen overnight. Therefore, to ensure that available resources and means are most effectively deployed, Transport Scotland will develop an outreach and education strategy for plug-in vehicles during 2013-15 (Action 21).
This strategy will build on the Energy Saving Trust's continued support for Scottish businesses in adopting plug-in vehicles through Sustainable Transport Advice Service, Interest Free Low Carbon Transport Loans, EV Awareness Raising Workshops and FuelGood driver training (Action 12) as well as a new driver network tool to allow individuals and organisations to speak to current plug-in vehicle owners and experience plug-in vehicles first hand at their local dealerships (Action 35). It will also encompass a marketing campaign as part of the Scottish Government's wider Greener Scotland activity (Action 11) as well as continued development of the EV and PHEV content on the Greener Scotland website (Action 23). This will seek to provide a comprehensive range of relevant information, guidance and evidence to promote adoption of plug-in vehicles. It will also highlight best practice, testimonials and educational materials, as well providing links to other relevant internet resources. The strategy will also include strands to support and maintain satisfaction amongst existing plug-in vehicle drivers. This will include relevant information on the location of charge points and feedback mechanisms to help inform future plans and ensure that any inconveniences or difficulties can be quickly addressed.
To encourage the development of the necessary skills to support widespread adoption of plug-in vehicles, the Scottish Government will continue to work closely with industry to ensure that future needs are anticipated. This will include working with employers as well as children and young people to promote awareness and future employment opportunities. This will see the Scottish Government and industry bodies work with Education Scotland to review existing resource provision for schools relating to plug-in vehicles (Action 36). The Scottish Government will also work with Skills Development Scotland and other key stakeholders to determine the nature and demand for plug-in vehicle education and skills and review and revise provision accordingly (Action 37).
The rapid pace of change in technologies and markets for plug-in vehicles raises the expectation that new challenges and opportunities will emerge. The implementation of the Roadmap will therefore be an iterative process in which adjustments are made to respond to any such changes. Accordingly, an implementation review will be undertaken in 2015 to assess progress and identify any areas in which further action is required.
---