2 Building on the Switched On Scotland Roadmap
Switched On Scotland Phase Two: An Action Plan For Growth
2 Building on the Switched On Scotland Roadmap
The Switched On Scotland Roadmap establishes a long-term strategy that will continue to guide Transport Scotland's comprehensive approach to promoting widespread adoption of EVs. This action plan provides an opportunity to restate the vision and approach established by the Roadmap.
2.1 Vision
"By 2050, Scottish towns, cities and communities will be free from the damaging emissions of petrol and diesel fuelled vehicles. A significant reduction in greenhouse gas emissions will be accompanied by marked improvements in local air quality, noise pollution and public health. Scotland will also enjoy increased energy security and new economic opportunities through leadership in sustainable transport and energy technologies.
A key ambition is that by 2040 almost all new car sales will be near zero emission at the tailpipe and that by 2030 half of all fossil-fuelled vehicles will be phased-out of urban environments across Scotland. EVs running on Scotland's abundant green electricity will make a substantial contribution to this. Electric and electric hybrid EVs will be widely used as part of a sustainable transport system and will support progress towards a cleaner and smarter energy grid.
Actions taken in the early market up to 2020 will see increasing adoption of EVs and establish foundations for long-term growth. This will be delivered through the commitments of all relevant public and private stakeholders and driven by increased awareness and confidence in the technology. Change will be made actionable through promotion of the opportunities and incentives for adopting EVs, as well as developments in the necessary skills and business models."
2.2 Scotland's Joined-Up Strategy
The Roadmap establishes a clear case for Scotland to promote widespread uptake of EVs as an alternative to fossil-fuelled vehicles and how this can support Government aims across several important policy areas, including climate change, air quality, energy and economic development. This case has been further strengthened by the 2017 Draft Climate Change Plan, the 2017 Draft Energy Strategy, the 2016 refreshed National Transport Strategy and the 2015 Cleaner Air for Scotland Strategy.
The Roadmap also sets out a comprehensive framework of the measures that will enable Scotland to achieve its 2050 vision and identifies how Government can influence and accelerate this transition. As shown in Figure 3, the Roadmap explains that progress is required across seven distinct areas, with the cogs representing that all of these areas need to progress in unison. Figure 3 also shows that the actions taken by Government to drive this progress will be a combination of: leadership, incentives, investments, outreach, and work to mobilise key stakeholders from across Scotland and beyond.
This action plan builds on the long-term strategic approach of the Roadmap and establishes a set of priority actions that will drive further progress in the period 2017-2020.
Figure 3 - The strategic approach set out in the Switched On Scotland Roadmap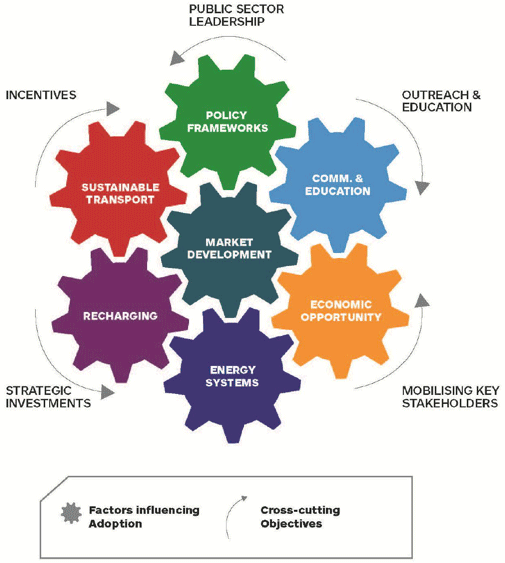 ---