Transport Scotland Corporate Plan 2006-2008 INTRODUCTION FROM THE CHIEF EXECUTIVE
Transport Scotland Corporate Plan 2006-2008
INTRODUCTION FROM THE CHIEF EXECUTIVE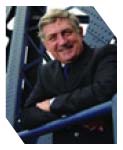 Transport Scotland has been created to deliver committed investments in the national rail and trunk road networks and to take future investments forward in line with the priorities which will be identified by the Transport Strategic Projects Review. It oversees operation and maintenance of these networks. It will run the national Free Bus Scheme for older people and disabled people from April 2006, and will run the national Concessionary Travel Scheme for young people when it launches in 2007. It plays a key role in promoting transport integration and connectivity between public transport and roads. And as a new organisation, it sets itself high standards as a developing national centre of excellence in transport delivery.
The detailed tasks, both underway and ahead, include oversight of a complex programme of projects to improve and expand Scotland's public transport infrastructure. They include management of a trunk road network which ranges from a 10-lane stretch of the M8 in Glasgow to single track roads in the Highlands — each in their own way lifelines for Scotland's communities. And they include management of the ScotRail franchise now that the Scottish Executive directly procures, funds and manages our train services following the devolution of rail powers to Scottish Ministers in 2005.
Transport Scotland must act at all times as a prudent steward of public money on behalf of taxpayers, and manage itself as efficiently as possible. This means regularly reviewing how we work, challenging and changing when we need to. Achieving these things is dependent on the professionalism and commitment of my staff. All of them carry out their work in the context of 5 working principles for Transport Scotland, one of the most important of which is equipping staff to do the best possible job.
These are huge responsibilities and tasks. Our Corporate Plan 2006—2008 captures them in 5 high level aims; the objectives and targets which are required to achieve those aims; and the resources we have to do it. The Annual Business Plan, the first of which will be published in March 2006, sets out the detail of each yearly stage towards successful delivery. And each year the Minister for Transport will present an Annual Report to the Scottish Parliament on what has been achieved over the previous 12 months.
Annual business planning and reporting are important ways to ensure that Transport Scotland is clearly accountable for all that it does. But the fundamental purpose of Transport Scotland is to support delivery of the Scottish Executive's vision for sustainable transport in Scotland, making a real difference for people and businesses using the national rail and road systems. That is the key measure of success for the organisation as a whole; for me as its Chief Executive; and for all of our staff.
Dr Malcolm Reed
Chief Executive,
Transport Scotland
---