Transport Scotland Corporate Plan 2006-2008 TRANSPORT SCOTLAND: WHO WE ARE AND WHAT WE DO
Transport Scotland Corporate Plan 2006-2008
TRANSPORT SCOTLAND: WHO WE ARE AND WHAT WE DO
We work in tandem with the Transport Group of the Enterprise Transport & Lifelong Learning Department, which is responsible for a complementary range of policy and delivery functions. Our staff have the specialist and technical skills needed to deliver the national transport projects and services within our remit.
Transport Scotland is an agency of the Scottish Executive. Executive agencies deliver public services directly, rather than through a traditional Government Department. They have a clear remit which is distinct from the wider role of a Department. This lets staff focus on the job in hand, with the right skills and resources all in one place. It also means that, as an organisation, the agency is more visible to the public. It is accountable to the public through the Scottish Parliament, with the Chief Executive reporting directly to the Minister for Transport.
We work in tandem with the Transport Group of the Enterprise Transport & Lifelong Learning Department, which is responsible for a complementary range of policy and delivery functions. Our staff have the specialist and technical skills needed to deliver the national transport projects and services within our remit.
THE LANDSCAPE FOR DELIVERING SCOTLAND'S TRANSPORT
Transport is simply a means to an end — it allows people, goods and services to move around the country as quickly and efficiently as possible. In doing that, we all need to consider the impact on the environment and minimise it where possible.
Scotland's transport is a complex landscape, because there are many different bodies involved in its planning and delivery. These bodies are ranged across the private, public, community and voluntary sectors.
For example Transport Scotland on behalf of the Executive is directly responsible for the trunk road network, while bus services are provided by commercial operators. Bus operators and road hauliers are regulated by the Traffic Commissioner for Scotland, who is independent of Ministers and the Executive. There are a number of public and private organisations involved in Scotland's railways, explained in detail later on. From 2006 new regional transport partnerships (RTPs) will start drawing up regional transport strategies and, in some parts of Scotland, deliver a range of transport services for communities. Local authorities are responsible for local roads. Air services are mainly provided by the private sector, both airport operators and airlines. (An exception is that the Scottish Executive owns Highlands and Islands Airports Limited, which owns 9 and operates 10 local airports.) And ferry services are operated by both the private and public sectors.
The National Transport Strategy (NTS) for Scotland is currently under development and will be finalised by summer 2006. The NTS will be a high-level document which will cover all areas of transport for which the Scottish Executive is responsible. Delivery of the aims, objectives and policies contained in the NTS will be divided between Transport Scotland and the Scottish Executive's Transport Group. This Corporate Plan has been developed in the context of the emerging NTS. Forthcoming regional transport strategies must also reflect the national priorities set out in the NTS.
SCOTLAND'S TRANSPORT REQUIREMENTS
Scotland's population has particular needs when it comes to transport services — ferry and air services are critical lifelines for people living on the islands, for example. And demand-responsive services (such as Dial-a-Bus) are similarly important for people who don't have access to other means of transport to get to work, to school or college, or out to meet friends and family.
The transport networks are also essential for Scotland's economic health and growth. Commuter routes are needed to get people to work. Rail links are vital to move freight across the country - such as coal, to keep our power stations working. And trunk roads are also needed to move goods around, keeping shops and other services running for people across the country. Better integration of these networks is essential for delivering convenience and choice to the transport user.
Transport Scotland works with many different bodies in delivering its functions, as well as with the wider Executive. This involves different working relationships. For example, on behalf of Scottish Ministers we:
Monitor our contract with First ScotRail to ensure it runs Scotland's train services to required standards specified in the Franchise Agreement.
Specify Scotland's requirements for Network Rail (the GB body responsible for maintaining and enhancing the rail infrastructure, such as track and signalling).
Directly procure and manage the Scottish Executive's contracts with the private sector companies which carry out roadworks and routine maintenance on the trunk road network.
From April 2006, directly deliver the national Free Bus Scheme to older people and disabled people travelling in Scotland. From April 2007 we will also deliver the Concessionary Travel Scheme for young people nationwide.
Work to improve connectivity between public transport and road networks.
We also provide expert advice to Scottish Ministers on how the rail and trunk road networks should be developed and managed, and to the wider Executive on transport policy.
On behalf of the Scottish Executive, Transport Scotland is responsible for:
The rail and trunk road networks. Transport Scotland is directly responsible for some functions on those networks — such as Traffic Scotland, the national information service used to manage traffic on the trunk road network and provide 'real time' information to road users. In other cases, we manage and monitor services delivered by third parties — for example First ScotRail, the current rail franchisee for Scotland.
Supporting delivery of the project programme to enhance public transport and trunk road infrastructure. As part of this programme there are currently 7 new major public transport construction projects underway or due to start in the next decade. There are also 6 construction projects scheduled for the trunk road network. Again, in some cases Transport Scotland delivers these projects itself, and in others it supports or manages third parties to do the work.
Establishing and running the new national concessionary travel schemes — the Free Bus Scheme for older people and disabled people, and the Concessionary Travel Scheme for young people which will begin in 2007.
Overseeing the provision of impartial travel information services — Traveline Scotland and the GB service Transport Direct. It also supports increased provision of integrated tickets — the principle of 'one ticket can get you anywhere' — by working with commercial transport operators including First ScotRail and bus operators.
WHO WE ARE
OUR STAFF STRUCTURE
Transport Scotland's Directorates are responsible for rail and trunk roads. Overarching Strategy and Investment planning for the rail and trunk road networks is carried out in liaison with the Scottish Executive Enterprise Transport & Lifelong Learning Department. Finance and Corporate Services oversees the efficient running of the organisation, and delivery of the national Free Bus and Concessionary Travel Schemes.
The Directors report to the Chief Executive. As the senior management group, they are supported by two non-executive Directors. The non-executive members of the management group do not have operational responsibilities and are not civil servants. They are appointed in line with public appointment procedures, bringing external perspectives and experience to the organisation.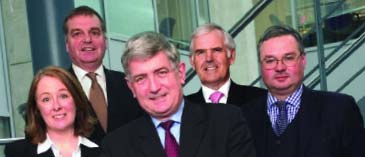 L to R: Frances Duffy, Director Strategy and Investment; Jim Barton, Director Trunk Road Network Management; Malcolm Reed, Chief Executive; John Howison, Director Trunk Road Infrastructure and Professional Services; Bill Reeve, Director Rail Delivery; the post of Director of Finance and Corporate Services is being recruited during 2005—2006.
WHAT WE DO
STRATEGY AND INVESTMENT
Strategy and Investment leads policy development across all modes for which Transport Scotland is responsible. In addition, it co-ordinates broader policy development with the Enterprise Transport & Lifelong Learning Department, and with the wider Executive (for example, on transport's role in meeting environmental, economic and social inclusion objectives).
A Centre of Excellence
Through its work on project appraisal and analysis Strategy and Investment contributes to Transport Scotland's role as a centre of excellence. It provides the most up to date transport project appraisal guidance and continues to develop the Transport Model for Scotland. These tools will provide the transport and land use modelling capability we need to assess both existing and future transport performance across key modes of transport.
We also work closely with the Department for Transport and other rail industry parties in developing generic modelling tools and business systems for the British rail network, ensuring that these are customised where necessary to reflect Scottish requirements.
Investment Decisions
The Directorate is responsible for setting rail, public transport and trunk road policy within the strategic priorities laid out by Scottish Ministers and the National Transport Strategy. Within that framework, it advises Ministers what the investment priorities for the rail and trunk road networks should be over the next 10 years. This requires an objective consideration of affordability issues, feeding into future Scottish Executive Spending Reviews. The Directorate is also responsible for project appraisal and prioritisation of the current investment programme in rail, public transport and trunk roads.
Rail
Working closely with stakeholders, including regional transport partnerships, local authorities and industry partners, the Directorate will set the future direction for rail in Scotland. It leads on the engagement with the Office of Rail Regulation and is responsible for setting the High Level Output Statement for Network Rail for 2007. The Directorate team also represents Scotland at a UK level on rail issues. These include consultation on and implementation of European Directives, rail accessibility issues and both current and emerging safety standards.
Trunk Roads
The Directorate is responsible for strategic overview of the trunk roads programme over the next 10 years. It will look at ways of improving efficiency in the use of the network, and what the long-term options are for tackling congestion and other pressures. There are no straightforward long-term solutions to these pressures. But it is important to look at what currently works, in Scotland and elsewhere (for example more sophisticated traffic management systems, or bus priority lanes on busy roads), in order to identify the right long-term solutions.
RAIL DELIVERY
This Directorate focuses on developing and improving the railway network in Scotland, delivering the Scottish Executive's commitments on rail services, infrastructure and improvements. It is responsible for current operational rail networks and rail services, and for delivering those planned for the future.
Who does what in rail?
A number of organisations, at both a national and GB level, are involved in running and maintaining the rail network. Rail Delivery works through its two key delivery partners, Network Rail and First ScotRail. It manages the franchise contract with First ScotRail, which operates 95% of the passenger services in Scotland.
Rail Delivery also oversees Scottish Executive funding to Network Rail so it can do its job of maintaining the capability and capacity of the rail network. Working with the UK Office of Rail Regulation (ORR), the Directorate ensures that Network Rail clearly understands and delivers what is expected of it for rail users in Scotland, and for the Scottish Executive as its funder.
The ORR monitors standards, including safety standards, for Network Rail GB-wide. It can take enforcement action against Network Rail where it fails to meet the standards required of it. As stated earlier, Strategy and Investment leads for Transport Scotland in its dialogue with ORR and setting the High Level Output Statements for Network Rail. Rail Delivery provides the detailed technical input for this work.
Rail Delivery also works with other passenger and freight train operators in Scotland. It is uniquely placed within the Scottish rail industry to ensure that the needs of rail users are joined up with the need to maintain and improve the rail infrastructure, such as the recently opened Larkhall-Milngavie rail link.
Improving Scotland's railways
Rail Delivery oversees the Scottish Executive's programme of improvements to the rail network. This is happening through delivery of the Major Public Transport Projects Programme, which includes heavy and light rail schemes. It is also delivered through a programme of smaller scale initiatives and investments. For example, it leads the joint rail industry Fife Circle performance programme and is leading work to improve access at Edinburgh Haymarket Station. The Directorate acts as the client on behalf of the Scottish Executive for some of these projects, or as funder/sponsor of other organisations which promote public transport projects, including local authorities, regional transport partnerships and Transport Initiatives Edinburgh. It leads on engagement with all these stakeholders, to make sure the Scottish Executive's commitments are delivered on time and to budget.
Looking ahead, the Directorate will explore and facilitate opportunities for the private sector to invest in the rail network — for example to increase investment in rail freight capacity. The Directorate team will be responsible for identifying and delivering efficiencies in the operation of the rail network; and providing the technical input to long-term strategic solutions to issues including performance and reliability.
Skills and expertise
The Directorate's team of staff provides the expert technical and operational support on heavy and light rail for Transport Scotland and the wider Scottish Executive. This allows the Executive to operate as an 'informed client' within the rail industry, making sure that best value for money is obtained and that projects and services are delivered to required standards. Directorate staff represent Scotland at a GB level in these specialist areas, and promote Transport Scotland as a centre of excellence.
TRUNK ROAD INFRASTRUCTURE AND PROFESSIONAL SERVICES (TRIPS)
In common with rail, the trunk road network links Scotland's cities. It also provides vital connections for rural and other isolated communities in Scotland. The network itself is hugely diverse — from the 10 lane M8 in the centre of Glasgow to single carriageways in the West Highlands. It forms approximately 7% of the total Scottish road network but carries around 37% of all road traffic, and two thirds of heavy goods vehicles.
Improving Scotland's trunk roads
Scotland's trunk roads have been directly managed by central government (and the Scottish Executive since devolution in 1999) for 70 years. (Local roads are the responsibility of the relevant local authority.) In that time the network has evolved, but at the same time the volume and type of traffic it carries has also changed and increased. The trunk roads we have now do not provide a long-term solution to the transport challenges we face.
The key function of TRIPS is to deliver improvements to the network which meet today's needs and future challenges. Together with Strategy and Investment it advises Ministers on the balance between road user needs and aspirations; provision and affordability; and on environmental considerations.
Construction and enhancement
Providing a new road or improving an existing one involves planning, design development, acquisition of land, procurement, construction and completion of the new facility. Project teams carry out these functions for the Scottish Ministers' agreed programme of trunk road projects.
Transport Major Infrastructure Projects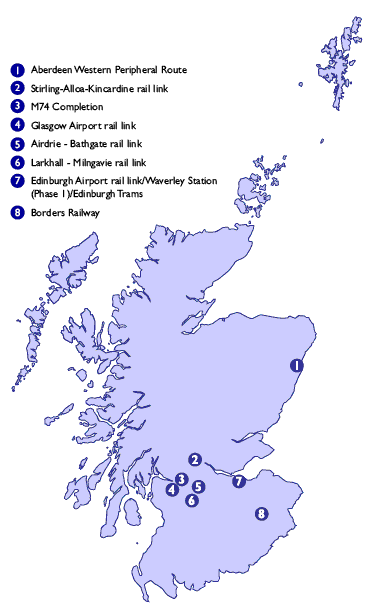 Skills and expertise
The trunk road construction programme is supported by professional services teams which develop and provide advice to the project teams as well as the wider Scottish Executive. These teams set the standards of provision for Scottish trunk roads in:
Road user safety.
Environmental and economic impacts.
Sustainability.
Engineering materials and earthworks.
Procurement policy (including major competitions for new road construction and the maintenance of the trunk road network).
Wider health and safety requirements for constructing trunk roads.
IT systems which support the development and management of the trunk road network.
This work is carried out by a range of professionals including engineers, environmentalists and IT experts. In doing this, they play a key role in Transport Scotland's commitment to be a centre of excellence, and offer advice to the wider roads community. Part of that remit is to disseminate best practice, and hold constructive consultations with central and local government, other agencies and public bodies, professional and trade associations, and wider practitioners.
An outward focus
There is a high level of public interest and debate about the needs and aspirations of road users, alongside other considerations such as the environment and economic growth. In promoting a new road scheme or making changes to the trunk road network there are both statutory and administrative processes which must be followed — for example to allow public consultation on proposals for a new road; or to assess its long-term environmental impact before it is built.
The TRIPS teams include specialists in these processes, who together with the Office of Scottish Executive Solicitors support the project teams and ensure the relevant legislation and procedures are followed. Beyond this, the Directorate also uses new technological opportunities to better inform communities about road schemes. Examples include the public websites for the M74 Completion and for Aberdeen Western Peripheral Route — both trunk road schemes which have aroused high levels of public interest and debate. And virtual reality modelling is used, so that people can visualise what the new roads will look like.
TRUNK ROAD NETWORK MANAGEMENT
Keeping the trunk roads moving
Network Management is responsible for the operation and maintenance of Scotland's trunk road network, which covers about 3,500 route kilometres of motorways and main roads, 1,900 bridges and 3,700 other structures. The business of the Directorate is to provide people and businesses using trunk roads with a safe, efficient, reliable and environmentally acceptable system of strategic routes throughout the country.
Scottish Ministers' aim is to support responsible choices about how we travel, acknowledging that our road networks are essential for many whilst encouraging modal shift onto public transport where possible. Increasing car ownership and traffic levels across the country are causing congestion on many parts of the network. Equally the large and varied land mass of Scotland, with its densely developed central belt, sparsely populated rural areas and remote Highlands, presents a range of challenges for our road engineers. All these factors mean that a huge variety of different demands on our roads have to be prioritised and met.
These demands range from heavy traffic which causes congestion and environmental impacts in the central belt, to the technical challenges of rough terrain on the less heavily used but still vital roads in the Highlands. Harsh weather conditions also take their toll, requiring a vigilant and efficient management regime to keep the network running safely and smoothly.
Safety
Scotland's trunk road network is one of the safest in the world, and it needs constant vigilance to keep it that way. The Directorate has its own specialist Accident Investigation and Prevention Unit, which identifies accident 'black-spots' on the network and targets them with a range of measures such as improving the road signs and markings at a junction to make the layout clearer. It also works closely with Scottish police forces and local authorities on road safety issues — for example advising local Safety Camera Partnerships. When incidents occur, there must be a quick response to deal with damage and manage the traffic.
Efficiency
Getting the most out of the existing network is vital. The Directorate's Traffic Controller and his team are responsible for developing our 'Network Operator' role further. New technology allows us to gather and provide road condition and traffic information to travellers. Real-time information is available to drivers when they plan their journey on the Traffic Scotland website, and during their journey on the Variable Message Signs located along trunk roads. Traffic Scotland is also a vital management tool for the Directorate, local authorities and other transport providers.
Planning for future pressures
The extensive growth and development — such as new homes and businesses — which is happening across Scotland also impacts on the trunk road network. It requires strategic planning to ensure the network can accommodate these new pressures. The Directorate works jointly with Strategy and Investment to identify long-term investment priorities. It also works with local authorities to provide input to Structure and Local Plans, and monitors planning applications in order to ensure that the interests of the travelling public are protected, whilst supporting essential economic development.
Who does what?
The trunk road network is managed and maintained by private sector companies who are contracted by Transport Scotland on behalf of the Scottish Executive. They carry out day-to-day inspection, management, maintenance and repairs to the trunk road network under 5 to 7-year contracts. There are 4 separate Operating Companies for the North West, North East, South West and South East. As well as these there are separate 'Design, Build, Finance and Operate' (DBFO) contracts for:
The A74(M) from Junction 12 to the English Border
The M77 from Junction 5 to Fenwick.
Routine maintenance, such as grass cutting and clearing drains, takes place continuously, as does minor repair work to road surfaces, barriers and signs. More major repairs, resurfacing and minor improvements are designed and carried out by the Operating Company or, for large or complex projects, by other contractors. Bridges on the network range from large modern estuary crossings to historic stone arches, all requiring specialist care and management. Winter conditions require salting and snow clearance to keep the roads open and safe. All of these activities are crucial in delivering a high level of service to road users and maintaining the asset value of the network.
FINANCE AND CORPORATE SERVICES
Transport Scotland operates on the basis of 5 core working principles. Whatever the scale of the task, we will:
Strive to become a centre of excellence in transport delivery, both nationally and internationally.
Promote transport integration.
Maintain a clear outward focus on the needs of transport users.
Work in partnership with other transport providers and wider government in our planning and delivery.
Make the most efficient use of public resources, and equip our staff to do the best possible job.
The role of Finance and Corporate Services is to monitor how successfully Transport Scotland delivers in line with these principles in all that it does. It ensures that the organisation runs as efficiently as possible, with the right kind of support systems (such as Communications, Human Resources and Information Management) in place.
In 2006—07, a key task is to manage the relocation of Transport Scotland from Edinburgh to Glasgow whilst keeping the business running efficiently and smoothly.
The Directorate also oversees delivery of the national Free Bus Scheme for older and disabled people and Concessionary Travel Schemes for young people.
Corporate Finance
The Chief Executive is the Accountable Officer for Transport Scotland, directly supported by the Director of Finance and Corporate Services, who oversees expenditure on both the capital investment programme and the running costs of the organisation. The role of the Corporate Finance Team is to undertake financial planning, budgeting and reporting; financial monitoring and accounting; and to monitor the financial performance and transparency of Transport Scotland. The team also co-ordinates work on Spending Reviews and the organisation's input to the Scottish Executive Budget processes.
Corporate Planning and Performance
Transport Scotland is required to manage and monitor how successfully it delivers — both at a high level and in detail. Working alongside Corporate Finance, this small team is responsible for:
Medium and short-term planning: preparing the Corporate Plan which sets out high level business aims, objectives and targets for Transport Scotland, in line with Scottish Ministers' transport agenda. The team also co-ordinates the annual Business Plan, including setting relevant annual targets. It prepares Transport Scotland for its annual Business Reviews with the Minister for Transport, during which past performance is reviewed.
Horizon scanning — identifying long-term external changes and pressures which will impact on the organisation and its activities, and ensuring it can adapt to change whilst continuing to deliver its business aims.
Efficiency: together with Corporate Finance, the team is responsible for monitoring the overall efficiency of Transport Scotland in delivery. This is a 'challenge' role — regularly reviewing business systems and processes, and proposing changes where required. Tools such as Best Value, linked to a programme of efficiency savings which are built into the Business Plan, are used to maintain a culture of continuous improvement.
Communications
Transport is, and will always be, a topic which attracts high levels of public interest and debate. Transport Scotland is responsible for keeping a clear outward focus on the needs of people who use the rail and trunk road networks, or other services for which it is responsible. The Communications Team deals with press and other enquiries about Transport Scotland and what it does. Working closely with the Chief Executive, the team keeps the Minister for Transport informed about public and media interest in Transport Scotland's areas of responsibility. It also manages information provision on behalf of the organisation, for example through the website: www.transportscotland.gov.uk.
Concessionary Travel and Integrated Ticketing
Transport Scotland is responsible for establishing the Free Bus Scheme for older and disabled people by April 2006 and Concessionary Travel Scheme for young people by April 2007, in line with Ministerial commitments. It is also looking at ways to increase provision of integrated ticketing (where one ticket can get you anywhere) throughout Scotland.
People eligible to use the concessionary schemes will access them by carrying the National Entitlement Card. The Free Bus Scheme will be the first service available via the Card from 2006. The Card will allow free travel for older and disabled people travelling on local buses and scheduled long distance coach services anywhere in Scotland. For island residents it will include ferry services to and from the remote islands.
Local authorities will be responsible for administering and issuing cards to those eligible for the older and disabled persons scheme. Transport Scotland is responsible for authorising and making reimbursement payments to bus and ferry operators; and reviewing claims to ensure they are reasonable. This review function involves a range of measures, from auditing the number of journeys undertaken on individual routes, to statistical sampling of the travel information received from operators. The Concessionary Travel Scheme for young people will launch in 2007 and is currently being scoped.
---