4. Transporting Scotland's Freight 
4. Transporting Scotland's Freight 
Scotland's transport network supported nearly £53 billion worth of trade in goods in 2017[13]. This was a 15% increase in the value of trade in Scotland, from £45.8 billion in 2016.
However, tracing Scotland's exports and imports and how they are transported can often be difficult for a number of reasons. Firstly, official data on Scotland's trade, and the volume of goods carried by different modes of transport is often collected and published by different organisations which can make aggregation and comparisons difficult (i.e. DfT, CAA and ORR). Some of the data collected on trade flows, and how goods are transported is often only published at a UK level, and it is difficult or impossible to disaggregate this to a Scottish level.
Secondly, the methodology for counting exports to and from Scotland mean that often goods which move from Scottish ports to offshore oil rigs/basins, can be counted as Scottish exports/imports. 
Scotland has a large amount of goods which are shipped via a number of countries before arriving at their final destination. For example, as discussed earlier, the Netherlands is the largest export market for Scottish goods, in part, as a result of the dominance of the Dutch port of Rotterdam, which acts as an international shipping hub, with goods shipped on to other destinations from there. Some exporters may not know the final destination of their goods, and this is reflected in the trade statistics.
Finally, accounting techniques are sometimes employed to move goods between company headquarters around the world, and so while goods and services may be exported and imported based on company balance sheets, occasionally the physical goods may not 'travel' anywhere, with services being even more difficult to follow.
Scotland continues to have strong trade links to a number of countries overseas with trade open up to over 105 countries across nearly 100 different industries and sectors[14]. One example is the food and drink sector which totalled £9.8 billion worth of exports in 2014, with fish and seafood making up the largest share of food exports that same year.
Scottish seafood companies who export their perishables often rely on frequent transport links to achieve the fluidity of their production process. Salmon is the number one food export for Scotland, with trade extending to more than 65 countries around the world. The Scottish Salmon Company (SCC) is one of the largest producers of salmon in Scotland. Initially the majority of the SCC's transport is done by boat, and then by road. Once goods reach the distribution centre, products are routed, predominantly by road, for the UK and mainland Europe and by air to international locations further afield such as China and the USA. The importance of the road network and air freight to Scotland's food and drink exporters is examined later in this chapter.
This remainder of this chapter will examine Scotland's key transport gateways and networks – namely Scotland's airports, ports, roads and railways. 
4.1 Key Transport Gateways and Networks
Scotland's key transport gateways include all of the four main modes of travel; air, road, rail and sea. The vast majority of Scotland's freight is carried on land either through its extensive road network which consists of over 56,000 km of road, or its railways with a total route length of 2,819 km – 709 km of which is electrified. Of the Scottish road network, 20% are major roads (including trunk and non-trunk 'A' roads), with only 1% of trunk road network being comprised of motorways. 
Scotland's primary trunk road link to the rest of the UK and further into mainland Europe (via the Channel Tunnel) is across the M74 and M6 across the Scotland England border. Other routes that cross the border include the, A1 north of Berwick, the A6105 a few miles to the west, the A697 at Coldstream, the A68 at Carter Bar and the A7 north of Longtown. In 2016, 90.9% (167 million tonnes) of goods lifted by UK HGVs that originated in Scotland also ended their journey in Scotland. In total, only 8.9% of freight journeys originating on Scottish roads left Scotland for other UK destinations, 97% of which had a final destination in England.
Scotland's main airports for passengers are Edinburgh, Glasgow, Aberdeen and Inverness.  For freight, the main airports are Edinburgh, Glasgow and Glasgow Prestwick. Its major ports[15] are Aberdeen, Cairnryan, Clyde, Cromarty Firth, Dundee, Forth, Glensanda, Orkney, Peterhead, Stranraer and Sullom Voe.
Between 1998 and 2012, total freight lifted in Scotland fell by 65 million tonnes (20%). This is consistent with the change in the make-up of Scotland's economy. In 1998, 23% of the economy was made up in the production sector with 68% in services. By 2012, these figures had changed with only 16.7% of the economy being production and 75.6% services[16]. This movement towards a more service driven economy is likely to have impacted the amount of freight lifted and travelling around the country.
Of the roughly 270 million tonnes (excluding rail and pipeline) of freight lifted in Scotland in 2016, the vast majority of freight lifted was carried on Scottish roads[17] with its final destination also in Scotland. In 2016, an estimated 166.9 million tonnes of goods were lifted within Scotland by UK HGVs and transported to destinations within Scotland. About 16 million tonnes of goods from Scotland were delivered to destinations elsewhere in the UK, and around 20 million tonnes were brought into Scotland from elsewhere in the UK. In comparison, the volume of international road freight by UK HGVs travelling to and from Scotland to a country outside of the UK is very small: less than 1 million tonnes in 2016.
The following sections provides further information on freight carried by the key modes and the location of the key hubs in Scotland.
4.2 Air Freight
Figure 4: Scotland's Top 5 airports with passenger numbers and freight carried (2016)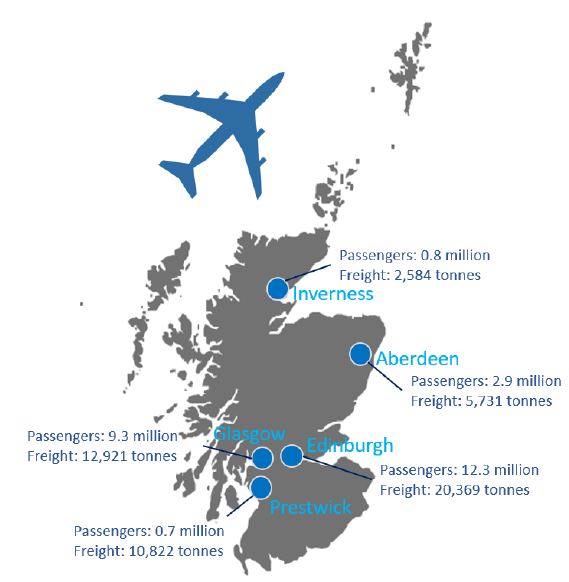 The figure above (Figure 4) shows the top 5 Scottish airports by freight and passenger numbers in 2016[18]. That year freight carried by air in Scotland totalled 55,392 tonnes. Air freight makes up a miniscule portion of the total tonnage of freight lifted in Scotland (approximately 0.5% in 2016, excluding rail and pipeline), however, this is likely due to the fact that the nature of goods being transported by air tend to be of a higher value, less bulky and more time sensitive. For example, some international flights may carry time sensitive blood and human tissue cargo. This is likely not to weigh much, but the importance of timeliness is critical and the worth of such goods is invaluable.
Although Scotland's airports are primarily used for passenger journeys, air freight remains important to Scotland's trade market. Whilst Scottish air freight has declined by a third since 2006, air freight volumes have been on a steady increase since reaching a low of 45,000 tonnes in 2011. As Scottish companies require the timely movement of certain types of goods, it is likely that the air freight industry will continue to be important to Scotland's export industry and therefore a crucial part of Scotland's wider transport network.
The chart below (Figure 5) shows how freight has changed over time by airport. Over the past 5 years, freight volumes from each of Scotland's 5 main airports have remained broadly unchanged, with the two Glasgow airports seeing the biggest fluctuations. Scotland's top airport for both freight and passenger numbers is Edinburgh Airport, which is now the UK's 6th busiest airport.
Figure 5: Tonnage of Air Freight by Scottish Airport (2016)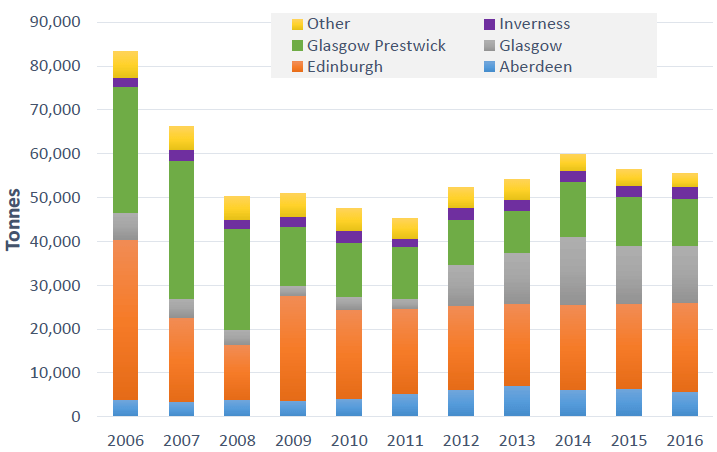 In 2016, there were 26.9 million air passengers from all Scottish airports, 1.4 million (5.6%) more than the previous year. Passenger numbers have increased year-on-year for the past six years, and have grown by 2.4 million (9.9%) in the last decade. 
From Scotland's airports it is possible to access 55 countries (international, excluding rUK) and over 220 destinations directly. Scotland's most popular destination in 2016 was Spain, with 2.4 million journeys, accounting for 16% of air passengers of direct journeys abroad that year. Edinburgh Airport had 12.3 million terminal passengers in 2016 (11% increase) and Glasgow Airport had 9.3 million, 7% more than the previous year. Aberdeen had 3.0 million, (down 15%) and Inverness had 0.8 million (17% more). Together these four airports accounted for 94% of total terminal passengers. 
Other popular origins/destinations were the Netherlands (1.4 million passengers), the Republic of Ireland (1.2 million passengers) and Germany (around 1.0 million passengers). 
4.3 Water Freight
Approximately a quarter of Scotland's freight (excluding rail and pipeline) was handled by Scotland's sea ports in 2016, with the vast majority (95%) of this being carried through the 11 major commercial ports[19]. Latest data[20] shows that these major ports carried 63.4 million tonnes in 2016, compared to 66.6 million tonnes in total for all Scottish ports, and of this 63.4 million tonnes of freight lifted by the major ports, 67% (42.5 million tonnes) was foreign traffic[21].
Between 2006 and 2016, overall freight volumes have fallen by 34%, with only 3 out of the 11 major ports growing. This is highlighted in the chart below which highlights the locations and changes in freight carried over the last 10 years. The decline in the amount of freight handled by Scotland's port is a long-standing trend. In 1998, 116 million tonnes of freight was handled by Scottish ports, with 61 million tonnes (52.4%) of this being export freight. By 2016 this total figure had declined by 43% from 1998 to 67 million tonnes.
Figure 6: Change in freight handled by Scotland's 11 major ports 2006-2016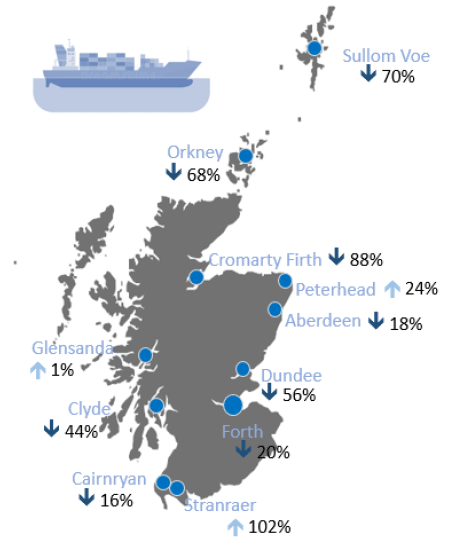 Over the past 20 years, there has been a large shift away from domestic freight (to and from other ports in the UK) to imports from outside of the UK. In terms of share of total freight, compared to 1998, domestic freight carried by Scotland's major ports has fallen by 8.3 percentage points, whilst the proportion of imports (from outside of the UK) handled by these ports has increased by roughly the same amount. While the absolute values of all freight have fallen, a greater proportion of ports' traffic comes from handling exports (73% of their activity).
The 11 major ports connect to over 100 destinations worldwide, including other ports in the UK, mainland Europe, and further afield in China, South America and the Southern Hemisphere. As was highlighted above, the majority of goods handled by Scottish sea ports are outbound (export goods). This is highlighted by Glensanda which only ships outwards (bulk granite aggregates) to destinations elsewhere in the UK and to mainland Europe. 
The main types of foreign traffic (both exports and imports) through the major ports in 2016 were crude oil (23.5 million tonnes), oil products (6.8 million tonnes) and other dry bulk (4.5 million tonnes). This is highlighted in the graph (Figure 7) below:
Figure 7: Type of international (foreign) freight and tonnage carried by Scotland's Major Ports (2016)[22]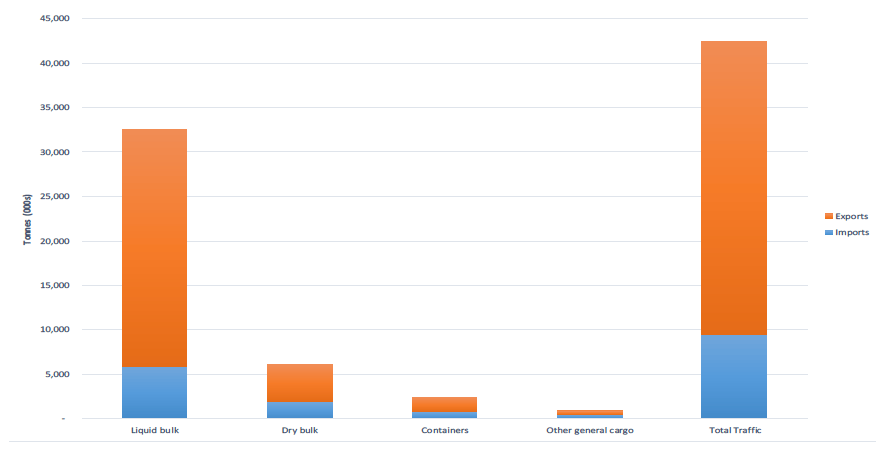 Of the foreign freight traffic shown above, the Forth and Clyde ports combined accounted for 72% (30.6 million tonnes) of all foreign traffic into major ports in 2016.
In 2016, most exports handled by Scotland's ports were destined for the Netherlands (10.8 million tonnes), China (6.4 million tonnes) and Germany (3.9 million tonnes), while most imports arrived into Scotland from Norway (1.8 million tonnes) and the Netherlands (1.6 million tonnes).
The Forth (27.4 million tonnes), Clyde (8.7 million tonnes) and Sullom Voe (6.2 million tonnes) ports accounted for the highest volume of freight traffic in 2016, while top exporting ports for international traffic were the Forth (21 million tonnes); Sullom Voe (3.9 million tonnes) and Glensanda (3.4 million tonnes).
The Rosyth to Zeebrugge freight route was the only regular ferry route between Scotland and Europe up until early 2018 when the route was discontinued. This service carried 32,800 vehicles in 2016, a 24% decrease on 2015.
4.4 Road Connectivity
Scotland's road network consists of over 56,000 km of roads, with 20% of the network comprising of trunk roads and motorways. In the last decade Scotland's motorway length has increased by nearly 16%, whilst the length of A roads has increased by just over 2%[23]. 
The estimated volume of traffic on Scotland's roads in 2016 was around 46.4 billion vehicle kilometres, 2.3% more than 2015[24]. The main trunk road / motorway connecting Scotland with England is the M74, which connects with the M6 on the Scottish / English border. This route provides a continuous motorway route from Scotland to mainland Europe via the Channel Tunnel. Other routes that cross the border include the, A1 north of Berwick-Upon-Tweed, the A6105 a few miles to the west, the A697 at Coldstream, the A68 at Carter Bar and the A7 north of Longtown. The trunk road network also links up Glasgow / Central Belt with Stranraer (Loch Ryan/Cairnryan) which is Scotland's main port for Northern Ireland and Republic of Ireland. Traffic to Stranraer from the east / south is carried by the A75 from the M74/M6 interchange near to Gretna.
As has previously been highlighted, three quarters (75.3%) of freight in Scotland is carried by road (204 million tonnes). The vast majority of this (82% or 166.9 million tonnes) remains in Scotland. In total, only 18% of freight journeys originating on Scottish roads left Scotland for other UK destinations, 97% of which had a final destination in England (See Table 1 below)
Table 1: Quantity of freight lifted or arriving in Scotland 2016 (million tonnes)[25]

| | | | |
| --- | --- | --- | --- |
| | Scotland-Scotland | Scotland – rUK | Scotland - non UK |
| Tonnage Lifted | 166.9 | 16.4 | 0.2 |
| | | rUK-Scotland | Non UK - Scotland |
| Tonnage Lifted | | 20.4 | 0.1 |
| As a percentage of total tonnage | 81.8% | 18.0% | 0.15% |
The volume of Scottish road freight bound for/coming from international (non-UK) destinations is a small proportion of this total figure (less than 1 million tonnes in total, so approximately 0.15%). The vast majority of this international freight was exports, with only 128,000 tonnes of goods entering Scotland (imports) from non-UK countries in 2016, with 99% of which coming from destinations in the EU. 
Road freight to mainland Europe
Although the proportion of freight carried by road to mainland Europe is small it is still an important mode for transporting some of Scotland's key exports particularly perishable goods such as Scottish seafood to the main wholesale market in Boulogne sur Mer in northern France. The quickest route for transporting these goods by road to mainland Europe is via the motorway network (M74, M6, M42, M40 / M1, M25 and M20). However due to the time sensitive nature of this cargo, any delays en route can have a significant impact on the freshness, quality and price of such produce. At around 480 miles from the central belt, it is estimated that once the necessary breaks and formal booking in and out processes are taken into account, this can take between 12-14 hours. This is close to the daily limit of an HGV drivers legal hours. Even a 2 hour delay en route can be too long for the goods to reach market and be sold at a premium price. Perishable goods (and their refrigerated trucks) make up an unknown proportion of this Channel traffic.
Much of the data for international destinations include too small a sample size for an accurate estimate but of the data that can be reliably estimated, 32% of road freight bound for international destinations in 2016 (65,000 tonnes) went to France, while 12% (24,000 tonnes) went to Germany.
Using a simple calculation, taking the average freight weight of a lorry leaving/entering Scotland from outside the rest of the UK[26] (the maximum carrying weight for a UK HGV is currently 44 tonnes, so it is assumed that average weight taken is 30 tonnes) this suggests an average of 6,766 lorries a year from Scotland cross the Channel to Europe and 4,266 come back in the opposite direction.
The data available for the Channel ports suggests that between the port of Dover and Eurotunnel there are around 2.6 million HGV crossings a year[27]. If this estimate is accurate then the Channel Port crossings by Scottish lorries account for less than 0.5% of total crossings. However, although this suggests the total freight travelling to / from Dover is small, this is a key gateway for Scottish traders and mainland Europe.
4.5 Rail Connectivity
Scotland's railway network consists of 359 stations across mainland Scotland with links further afield to the rest of the Great Britain via the East and West Coast. These routes are used primarily for passenger travel, with over 94 million passenger journeys being made between April 2016 and March 2017. Of these journeys (91.4%) had a destination within Scotland, further highlighting the importance of Scotland's rail network for internal connectivity.
The most recent published Scottish rail freight data is from 2012-13 and as such is difficult to compare levels across the modal types[28]. As a point of reference, similar to the overall long-term decline in freight volumes, rail freight was also on a downward trajectory between 2005-6 and 2012-13. In 2012-13, 8.4 million tonnes of freight was lifted in Scotland by rail, 15% less than the previous year, and 41% less than the 2005-06 peak.
Cross-border passenger journeys originating out with Scotland have been increasing since 1994-95, with 4.2 million journeys of this type being made in 2015-16.
Rail freight data at a GB level also echoes this trend and it is evident that rail freight volumes have been on a steady decline since their peak in 2013-14. Rail freight columns increased by 60% from the mid-90s to 2013-14 but the rapid decline in coal traffic means volumes have fallen since then[29]. In 1986 82 million tonnes of coal was rail, in 2016 this had reduced to 12 million tonnes. The decline in the transportation of coal can be linked to the decommissioning of UK coal-fired power stations. In 2016 Scotland's largest and only remaining coal-fired power station in Longannet, Fife was decommissioned, undoubtedly impacting of the volume of freight carried by rail in Scotland. For all categories of rail freight across Great Britain, the total volume of rail freight moved fell to 17 billion net tonnes kilometres in 2017-18, a 1.7% reduction on the previous year and down 5.7 billion net tonnes kilometres (25%) from the 2013-14 peak.
A recent report jointly commissioned by the Scottish Government and the Rail Delivery Group[30] highlighted rail contributing up to £670m in Gross Value Added annually to Scotland's economy, supporting up to 13,000 jobs and facilitating up to a further £650m in wider economic benefits. The rail freight sector is a key component of these figures. Rail freight is seen as a preferred option from an environmental perspective with each freight train said to take on average 60 HGV's off the road.
According to Network Rail, Scotland's main rail freight terminals are across the central belt. Going from East to West these are in Grangemouth, Mossend, Coatbridge, Hillington and Elderslie. The Network Rail figure below (Figure 9) shows the main rail freight route out of Scotland via Carlisle. Daily rail freight services connect Scotland to hubs and ports in England such as Felixstowe, Southampton, London and Liverpool. Tesco runs regular freight trains from their distribution centre in Daventry to Inverness using the West Coast and Highland Mainline. An overview of the Freightliner Coatbridge rail terminal is given in the following chapter.
Fiugre 9: Rail Freight Network Connecting Scotland with England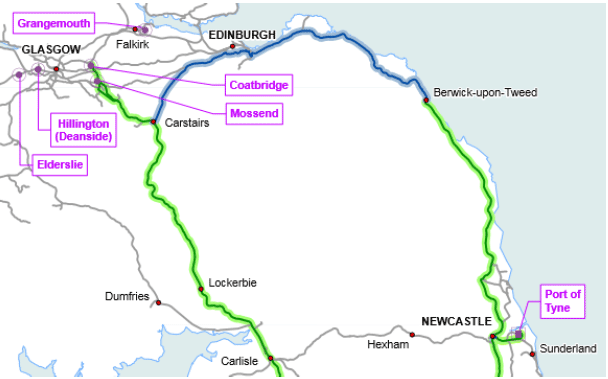 ---