5. Scotland's Key Transport Hubs
5. Scotland's Key Transport Hubs
This chapter provides an overview of some of Scotland's key ports, airports, and road and rail terminals which are used to handle Scotland's freight.
Aberdeen Harbour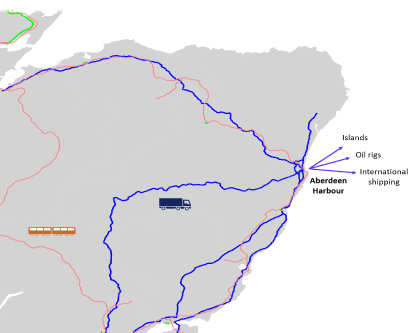 The harbour is the principal commercial port serving the north east of Scotland and is one of Europe's leading marine support centres for offshore energy. Operated by Aberdeen Harbour Trust and located in Aberdeen city centre it handles around 6,500 vessel arrivals and around four million tonnes of cargo, valued at approximately £1.5 billion annually. It has been estimated that it supports 12,260 jobs in the Scottish economy, with 9,565 of these jobs for the Aberdeen City and Shire economy. It is the key hub for servicing and the decommissioning of oil and gas platforms in the North Sea, and it is also one of Europe's leading marine support centres for offshore energy. It is major port of departure for the Baltic and also Scandinavia. Major exports include fertiliser, granite, and chemicals.
The harbour is close to the A90 and A96. The A90 is the main arterial route into the city from the north and south, linking Aberdeen to Edinburgh, Dundee, Brechin and Perth in the south and Ellon, Peterhead and Fraserburgh in the north. The A96 which starts in the city centre runs north to the Moray coast and Inverness. Aberdeen Railway Stations and depot is located adjacent to the harbour.
The harbour is currently being extended into the nearby Bay of Nigg / Torry, which will provide a facility for oil industry decommissioning work and cruise ships, and is due to be completed in 2020 at the cost of £350 million. 
The Serco Northlink Ferry (SNF) Service to Orkney and Shetland operates from Aberdeen with there being up to 7 passenger and vehicle sailings a week. SNF freight vessels to the islands also operate from Aberdeen and currently there are sailings daily during peak months to service Kirkwall and Lerwick's Livestock transportation needs.
Cairnryan/Loch Ryan Port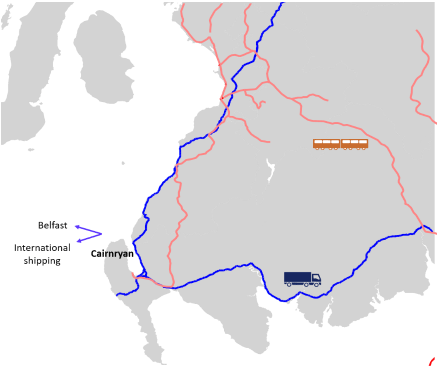 Cairnryan / Loch Ryan are the main ports carrying goods and passengers between Scotland and Northern Ireland. Located approximately 80 miles south west of Glasgow on the A77, and 6 miles north of Stranraer on the eastern shore of Loch Ryan, it has two ferry terminal at the north and south of the village. The south terminal which is opened in 1973 is operated by P&O Ferries, with services to the port of Larne. The north terminal is operated by Stena Line linking to the Port of Belfast.
The port is the third busiest in the UK for carrying goods to and from Northern Ireland / ROI with around 400,000 freight units carried on this corridor each year (with Liverpool the busiest, followed by Holyhead). There are 13 daily crossings in each direction on this corridor providing a near turn up and go service.
The UK is the Republic of Ireland's largest trading partner (13% of exports from the Republic go to the UK, with the largest sectors being meat, pharmaceuticals and chemicals). The UK acts as a logistical lifeline that connects the Republic of Ireland to the rest of the EU, with 80% of Irish road freight that reaches mainland Europe passing through the UK.
As was observed in data collected by the South West Scotland Transport Corridor Study (due for publication in 2019) commissioned by TS, the exact end destination of freight carried through the port is difficult to track. A significant amount of freight carried by the vessels operating to/from Cairnryan / Loch Ryan is unaccompanied. Drivers on the Scottish side drop off and pick up trailers from the quayside and often did not know about the end destination of the goods they are transporting (Transport Scotland – due for publication 2019).
Edinburgh Airport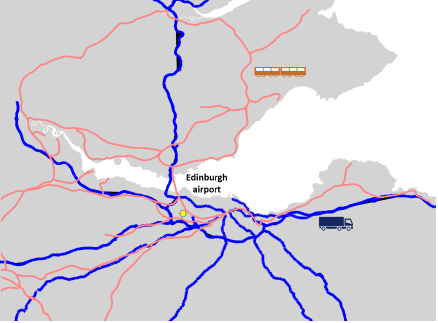 The airport is located 5 miles west of Edinburgh city centre and close to the M8 and M9 motorways. It is owned by owned and operated by Global Infrastructure Partners, who are also the majority shareholder and lead the management of Gatwick Airport. The airport has one runway and one passenger terminal, and employs about 2,500 people.
In recent years Edinburgh Airport has become Scotland's busiest passenger airport, and is now the UK's 6th busiest airport. Since 1985 the number of passengers carried by the airport has increased tenfold. It is also the airport which carries the most freight in Scotland although the amount of freight carried has remained consistent over the last 10 years [31](20,369 tonnes in 2016). 
Eurocentral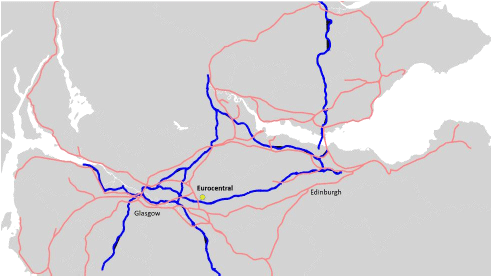 Eurocentral is Scotland's largest commercial site extending over some 650 acres and situated just off the M8 motorway 12 miles east of Glasgow city centre and 34 miles west of Edinburgh. It is within 40 minutes by road to Edinburgh and Glasgow airports. Current tenants at the site include a number of logistics companies such as XPO Logistics, DX and Wincanton, major retailers Lidl, Morrisons, Next and Amazon, and is the Scottish printing press for News International. It is also the site of the Eurofreight rail terminal, and there are plans to expand this facility. Nearby Maxim Park is the UK's largest speculative office park development.
Forth Ports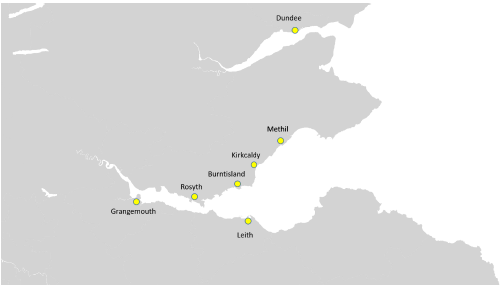 Forth Ports owns and operates seven commercial ports on the Firth of Forth, and the Firth of Tay (Grangemouth, Dundee, Leith (Edinburgh), Rosyth, Methil, Burntisland, Kirkcaldy) covering 280 square miles of navigable waters. It also owns and operates Tilbury on the Thames. The ports are located close to the trunk road network (M9, M8, M90, A1, and A720) and to Edinburgh Airport.
Forth Ports is Scotland's largest port, with 27.5 million tonnes being handled by the port in 2017 a small increase on 2016 (27.4 million tonnes)[32]. However in 2017 it slipped in its ranking in the Top 10 UK major ports by tonnes carried from 7th place to 8th place. 
Over 50% of Scotland's GDP in goods goes through the River Forth and the River Tay, such as Oil & Gas, Food & Drink, Agriculture, Tourism, Manufacturing and Renewable Energy. Forth Ports also have two specialised marine terminals for oil and gas export, and operate Scotland's largest container terminal at Grangemouth which handles over 225,000 Unit's each year. In 2017 it was the second largest port in the UK for handling liquid bulk (crude oil, oil products, liquefied gas, and other liquids). 
Until April 2018 DFDS provided a freight ferry service three days a week from Rosyth to Zeebrugge. However following a fire on one of the vessels this service was withdrawn.
A service had been operating from 2002 initially as a passenger and freight service.
Freightliner's Coatbridge Terminal 

The terminal handles the majority of rail freight in Scotland. The 20 acre site located on the Motherwell to Inverness main line and situated between Edinburgh and Glasgow, is located close to the Central Scotland trunk and motorway network and road distribution centres. Given its central location it handles most intra-Scotland rail moves, further enhanced by its location close to major RDCs, key Scottish exporters and principal road haulage hubs. It has eight rail sidings with six rails under the cranes. There are two rail areas, each with three rail sidings and served by two overhead gantry cranes. The facility has storage capacity for 250 TEU (Twenty-Foot Equivalent Unit) laden and 1600 TEU empty. It runs a daily services to / from each of the key ports: Felixstowe (once a day), Southampton (twice a day), London Gateway (daily), and Liverpool (daily). It also handles three services per day to and from Daventry / Purfleet for Direct Rail Services Ltd.
Glasgow Prestwick Airport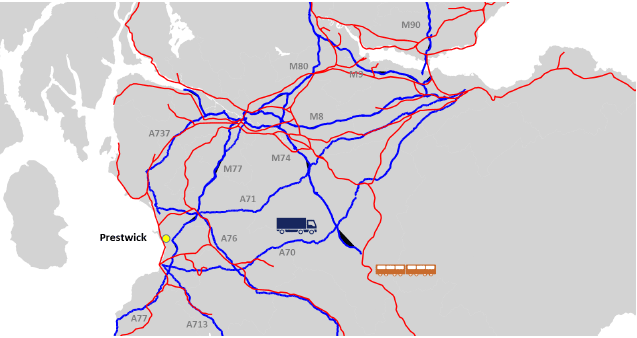 Situated 34 miles south west of Glasgow city centre Glasgow Prestwick Airport is an important gateway for freight and passengers. The airport is currently owned by the Scottish Government. The airport employs over 320 people and a further 1,700 jobs through its supplier network. SG see the facility as an important infrastructure asset that helps to sustain jobs in the west of Scotland (in excess of 4,000 jobs). Over 50% of the country's aerospace workforce are employed in Prestwick, although not directly by Glasgow Prestwick Airport Limited.
The airport is connected to the trunk road network through the nearby A77 which connects Glasgow with the port of Stranraer. It is also on the Ayrshire Coastal railway Line (Ayr-Glasgow) and is the only Scottish airport with its own dedicated railway station.
Passenger numbers at Prestwick have declined markedly over the last 10 years (in 2006 - 2,395,000 annual passengers compared to 672,000 in 2016) partly as a result of rapid expansion and better connectivity at Glasgow and Edinburgh airports, and consolidation by low cost airlines in major airports. There has also been a decline in the amount of freight carried through the airport (in 2006 28,537 tonnes of freight were carried through the airport, compared to 10,822 tonnes in 2016). However it is worth noting that there has been a decline in Scottish air freight throughout this period - 83,260 tonnes in 2006 compared to 55,392 tonnes in 2016.
Glensanda
Glensanda port, situated on the western shore of Loch Linnhe on the Morvern Peninsula, is operated by Aggregate industries UK Ltd. Given its remote location and as vehicles are unable to access the quarry by road then the port is engaged exclusively in the shipping out of granite aggregates from the adjacent Glensanda Coastal Super quarry which is the largest granite quarry in Europe. The quarry has an annual production capacity in excess of 9 million tonnes and a massive 760 million tonnes reserve of granite. The port is one of the UK's top ten tonnage ports, and has a fleet of its own purpose built ships which includes the Yeoman Bontrup and Yeoman Bridge – the largest gravity fed self-discharging bulk carriers in the world, each able to carry 100,000 tonnes of granite.[33]
Since the port opened over 30 years ago, in 1986, there have been in excess of 5,500 shipments from the port to projects throughout Europe. In 2017 it handled 6 million tonnes in freight.
Hillington Park

Established in 1938, Hillington Park is Scotland's largest business park and home to over 500 organisations employing over 8,000 people.[34] Frasers Property acquired Hillington Park in November 2017. Located on the M8 between Glasgow City Centre and Glasgow International Airport, it is also well serviced by being the site of two train stations as well. Current tenants at the site include a number of logistics companies including JG Russell's large freight park (who are one of Scotland's largest logistics firms with over 250 vehicles and 1000 trailers[35]) as well as smaller logistics firms such as MIQ and SEKO and a range of large retailers.
Orkney Islands Harbour Authority 
The Harbour Authority operates 29 piers and harbours across the Orkney Isles, which includes Scapa Flow, Europe's largest natural harbour at 125 square miles. Some of the smaller harbours operated by Authority provide local inter-island ferry services, whilst the larger ferry terminals at Kirkwall, Stromness, and St Margaret's Head connect the main island to the Scottish mainland. The amount of freight leaving Orkney increased by 5% between 2016 and 2017 to over 4.6 million tonnes.[36]
The Orkney Islands continues to be the most popular cruise ship destination in the UK, with over 140 cruise ships calling into Kirkwall and Stromness annually. With destinations including Iceland, Norway, Denmark and Germany as well as around Scotland's Highlands and Islands.
Ship to Ship operations of crude oil cargo have been conducted in Scapa Flow since 1980. The deep, sheltered water of Scapa Flow and its sheer expanse holds around 1 billion cubic metres of water, which offers unrivalled sheltered, swell and tidal stream free anchorage in northern Europe. In 2007, an historic milestone was reached when the world's first Ship to Ship transfer of liquefied natural gas took place in Scapa Flow.[37]
Hatston pier just outside Kirkwall, is Scotland's longest deep-water commercial berth, and attracts oil and gas support vessels, some of the world's largest cruise shipping, freight and passenger ferry services and a sheltered berthing facility with extensive quay space for short term operational and maintenance activity for the marine renewable industry.
Furthermore, Orkney is home to the largest crab processing plant in Europe. It is not just the oil and gas industry that benefits from the deep sheltered waters of Scapa Flow. Commercial fishing for prawn, crab, lobster and scallop and the recent development of large scale salmon farms contributes a significant commercial value to the local economy. These premium products are shipped to restaurants across Europe.
There is a robust freight service by boart from the islands to the mainland, although as with other freighting routes, it is difficult to ascertain the end destination of the freight itself after it reaches the mainland. The Serco Northlink Ferry (SNF) Service operate frequent freight and passenger services from Kirkwall to Aberdeen and daily ones from Stromness to Scrabster. Pentland Ferries also operate a daily service between St. Margaret's Hope on Orkney to Gills Bay on the Scottish Mainland, carrying 80% of all livestock and dangerous goods cargoes between the two.
---