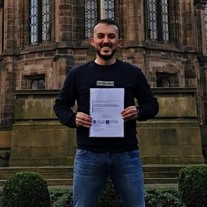 Elshan Fatahiany
2019 Summer Placement
Tell us about yourself
Hi, my name is Elshan, I'm 22 and I'm a fifth year Civil Engineering student at the University of Glasgow. I am due to graduate in summer 2020.
My interests are in anything related to current affairs. I am a keen observer of sports as well, in particular the roller coaster ride by following Scotland's Football Teams!
I'm a keen student who likes to get involved in societal work, most notably in my penultimate and final year of studies - founding Glasgow University Civil Engineers - a Civil Engineering society at the University of Glasgow.
Work experience? 
I started with being an events steward at G4S, stewarding at the football in Glasgow.
I then went on to intern at Scotland TranServ, who are the operating company for the SW Trunk Road Network operating for their client - Transport Scotland.
After this, I secured a summer placement at Transport Scotland.
What Directorate were you based in during your Transport Scotland placement?
I spent the summer of 2019 in the Contracts Branch of the Major Projects Directorate.
Your highlight of the scheme?
Spending the summer with a very welcoming team. I was really fortunate to work with industrial professionals who would take their time to explain things to me. Transport Scotland have real industrial professionals who mentor you during your placement.
I was also able to meet with the other summer placements and the Transport Scotland graduates whom I have become good friends with as well.
I have been able to understand the contractual procedures behind the work done by the Built Environment which is the basis of any work I will do as a Transport Engineer.
Priceless is an understatement of the experience I have gained.
How has your placement experience helped with your studies?
My placement experienced allowed me to undertake my dissertation in the aspects of the tender process undertaken by the built environment industry.
My attention to detail has massively improved, I am able to dissect any document given to me as a result of the work I completed over the summer.
Furthermore, this placement was a big bonus for me applying for Graduate Schemes as well. During my interviews for Graduate Schemes the interviewers really appreciated the experience I had gained from Transport Scotland. Without this placement it would have been harder to secure my Graduate Transport role which starts after this summer.
Top tips for students thinking of applying?
If you really want the placement, then be prepared to put in a good amount of time and effort into preparation.
Before sending your application - read it out aloud.
Take your time in answering questions, you may realise that taking your time to think of an answer may be better than an answer you'd give off the hoof.
Good luck!
---