AWPR benefits delight North East drivers and businesses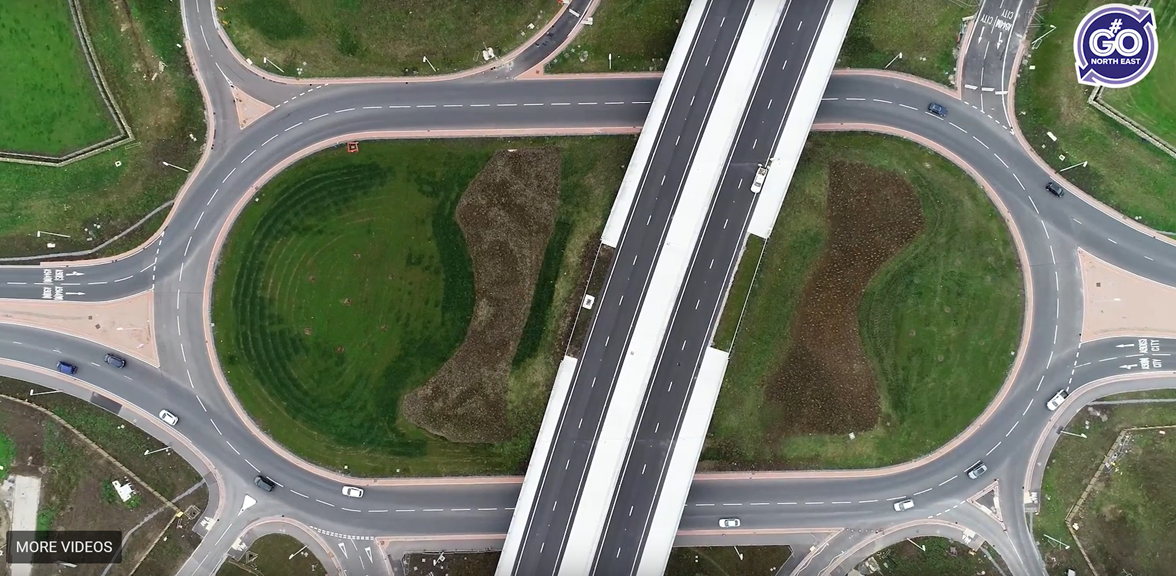 Huge journey time reductions and eased congestion on local roads are 'everything the North East hoped for' following the opening of the lion's share of the transformative £745 million project last week.
This was the verdict of business owners and general road users after the Craibstone  Stonehaven and Charleston section opened before last Wednesday's morning rush hour (December 12).
However, cautious hopes the final 4.5 mile (7.5km) section between Parkhill and Craibstone would open before Christmas have been dashed. Contractor Aberdeen Roads Limited (ARL) has this week informed Transport Scotland it will not meet the deadline it set itself at the Scottish Parliament's Rural Economy and Connectivity Committee just over a fortnight ago (December 5).
Cabinet Secretary for Transport, Infrastructure and Connectivity Michael Matheson warned the same committee meeting to treat ARL's estimates with caution.
AUDIO CLIP OF MR MATHESON covering today's news.
Mr Matheson said: "This week, ARL informed us it was no longer able to meet its own deadline of concluding works at the Don Crossing before Christmas. This is just over a fortnight since it set this deadline publicly in Parliament. I have consistently urged caution and realism about ARL's ambitious timescales. Unfortunately, as disappointing as this news is, it comes as no surprise to me it has been unable to achieve this.
"We have been here before with ARL. My officials and I will continue to work constructively and offer every assistance to get the remaining 4.5 miles open as soon as possible. I also want to pay tribute to the workforce who have undoubtedly been working hard during this most challenging time of year.
"It is well known that ARL has experienced a series of technical issues during the construction of the Don Crossing.  In order for this Government to protect the public purse, it is imperative that ARL provides the necessary technical and commercial assurances for the Don Crossing. We cannot and will not contemplate releasing payments for this structure without these critical assurances.
In terms of an opening date for this section, although ARL are forecasting January 2019, they have been unable to provide a definitive date.
"More than 85 per cent of the AWPR is now open to traffic and is delivering immediate benefits which the people of the North East are clearly enjoying. I'm thrilled to be seeing story after story of people and businesses seeing substantial improvements to their journey times and reduced congestion across the city. Obviously this is still anecdotal but the road has been performing very well so far. It has been a very vivid demonstration of the transformation that infrastructure can bring about in people's daily lives, the quality of their environment and the economy as a whole."
----------------------------------
Meanwhile, North East businesses are starting to notice the benefits already due to  the sections that have opened, with video testimonials available for general use. 
 ---------------------------------
Russell McLeod, managing director at Rainbow City Taxis said: "We're only a few days in so we do need to reserve judgement, but the difference in journey times since the opening of the Craibstone to Stonehaven and Charleston section of the route have been unbelievable.
"Journeys are quicker and traffic is lighter, it's really everything we hoped for. Driving in the city centre is unrecognisable compared to before – particularly if you're travelling across Anderson Drive where traffic is noticeably quieter.
"In theory, when journeys are quicker, the customer will pay less and we're seeing a reduction in some fares as a result. It's great news for our clients and we hope to get more jobs done with drivers spending less time sitting in traffic. It's a huge improvement and it's something I never thought I'd see in Aberdeen."
Russell Borthwick, chief executive of Aberdeen & Grampian Chamber of Commerce, said: "Businesses and residents within the North East are already unlocking many of the benefits of this project and are within touching distance of the full AWPR project reaching completion.
"This was a key infrastructure project for firms in the North East and many businesses considered the AWPR when developing their strategies for growth, something they are now able to push on with. Furthermore, businesses, residents and visitors within Aberdeen City should see the benefits of reduced congestion, ultimately making the city a more pleasant place to visit and spend in – feeding in to the ongoing City Centre Masterplan work.
"This incredibly positive investment in the future of the North East is just the beginning however. It now falls to those within the region to talk up the fantastic benefits that the finished project will deliver for the North East and for businesses to take advantage of the shortened journey times to improve their productivity and potentially attract new customers and employees with the barriers removed by these faster journeys."
Derick Murray, director of Nestrans said: "The benefits so far are huge. People are having big chunks of time taken out of their journeys and their journeys are so much easier because they're travelling on a straight piece road with fewer junctions.
 "The difference in traffic that we are seeing on Auchmill Road, Anderson Drive and Stonehaven Road just shows you that the AWPR is already doing what it is supposed to do. It's been an absolute boon to many people who are trying to cross Aberdeen and the feedback that I've been getting has been nothing but positive.
 "We now need to try to maximise the benefits of the project and ensure drivers use the AWPR as this will reduce the number of cars, emissions and noise in the city centre and allows us to create clear benefits for everyone."
Steve Szalay, managing director of Aberdeen Airport said:
"My experience of the AWPR has been absolutely fantastic, I have driven from Glasgow to the airport this morning and it's only taken two and a half hours.
"For the passengers that are using the road to get to the airport, it's proving incredibly popular. People are getting to the airport early, which is great for us in terms of getting people checked in and through security.
"Before the AWPR opened you'd have to allow an hour in traffic to get to the airport for an early flight and on a good day it might be 40 minutes – now it's about 20 minutes. That's a lot more palatable and a better customer experience. All in all, it's a really positive story."
Murray Alexander, director at XIC, a design and printing company based in Altens, said: "I have nothing but positive feedback when it comes to the AWPR. From a commuter perspective, the new road has more than halved the time spent traveling to and from work.
"From a business perspective, we have already seen significant changes for XIC. With staff now able to get from the office in Altens to Westhill in under 15 minutes, and traffic in general becoming less congested, our staff can move easier around the city.
"As a result, we've found that both our delivery drivers and our sales staff have been able to increase their productivity, allowing for a more efficient working day." 
Howard Crawshaw, director of Knight Property Group said: "The AWPR has been a huge benefit to Knight Property Group. With many of our developments being in the Westhill region as well as satellite offices in Altens Industrial Estate, the faster commute times have been a huge attraction for both current and prospective tenants.
"We feel Westhill will see a flurry of activity in the New Year when property gets to the top of peoples lists as it is very much a 'half way house' for commuters thanks to the new road. When the last section to Dyce opens, it will really showcase our out of town property and make these locations even more desirable when tenants weigh up where they wish to be located."
Colin Ross, UK Head of Communications at Aker Solutions said: "When we decided to build our regional headquarters here at Aberdeen International Business Park, the planned infrastructure projects were a key consideration. Now that the airport link road and a big part of the AWPR is open, we're already seeing benefits for our business.
"We have better access to our customers and our suppliers, but it's also opened up access to a whole new talent pool on the other side of the city. Before the AWPR, many people may not have considered working in somewhere like Dyce because of the stigma of the traffic and the commute, so the impact of this project is strategically important to us.
"Aberdeen has suffered for many years with difficult infrastructure, so a project as significant as the AWPR will help to increase the speed of business. The opening of the new road radically improves the commute experience for some of our staff and will improve how we are able to interact with our customers and suppliers moving forward."
Calum Richardson, founder and chef director of The Bay fish and chip shop, Stonehaven said: "The new road totally surpassed any expectations I might have had. Out of curiosity I recently made a trip using the road and drove from Stonehaven to the airport in approximately 15 minutes! The amount of carbon reduced and energy saved by the opening of this road will also have significant environmental impact. 
"It's a great development that will really benefit the people of Aberdeenshire and bring us closer - The Bay alone has seen a real increase in people visiting, and we're looking forward to welcoming more people down to Stonehaven's beach front.
"Stonehaven businesses will hopefully see an increase in new customers as a result of this, and we look forward to showing them the fantastic products and services we've always offered."