AWPR - Stagecoach prepares to transport thousands to GoNorthEast Road Festival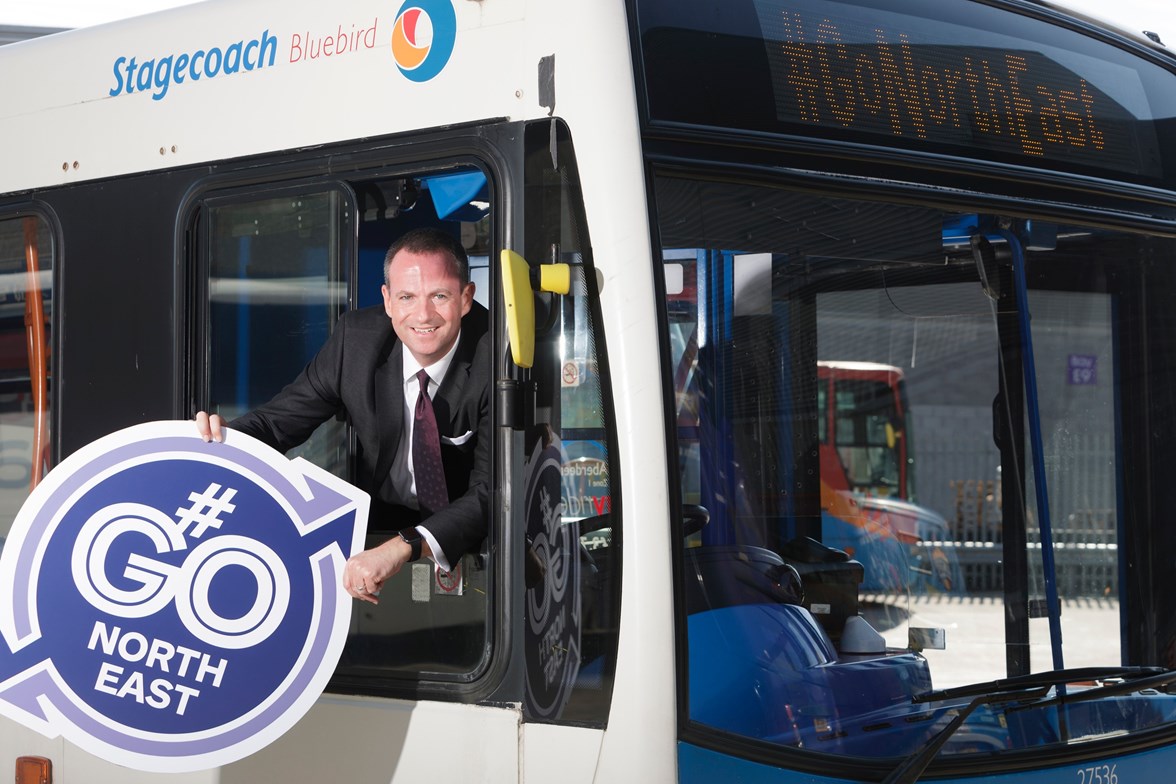 Stagecoach North Scotland is urging people visiting the GoNorthEast Road Festival to book their free transport in advance to cut down on any queues, as thousands are expected to attend the community festival this weekend.
The free weekend-long event, on Saturday 8 and Sunday 9 September 2018 has been planned to celebrate the transformational Aberdeen Western Peripheral Route/Balmedie to Tipperty (AWPR/B-T) project in advance of its eagerly-awaited opening.
The GoNorthEast Road Festival, on Saturday 8 and Sunday 9 September 2018 will offer visitors a range of exhibitions and entertainment within a festival style village on a section of the new road. In addition to the festival attractions, people of all ages and abilities will have the chance to cycle and walk along a picturesque part of the new road in the Dee Valley, including crossing a new bridge over the River Dee.
For safety and security reasons, the only way to access the festival site is by using the free Shuttle Bus service provided by official transport partner, Stagecoach. This service will operate from two locations – Union Terrace and Kingswells Park & Ride with buses every 5 minutes throughout the day from both locations.
Further shuttle buses will be available from Craibstone for cyclists who have completed the GNE Cycle Experience and wish to visit the festival on Sunday from 10am to 4pm only.
David Liston, managing director of Stagecoach North Scotland, says customers can pre-book their journeys and cut down on waiting times.
David added: "This is a huge celebration event which we're very proud to be part of. To make sure everyone makes the most of this special festival, we'd urge the public to book their free shuttle journey with us in advance, so they can travel to the event site at their preferred time and cut out any queueing.
"Those who chose not to book their journeys in advance will be allocated a shuttle on a first-come-first-served basis and may have to wait for a bus which has capacity, so we'd recommend people plan ahead so they can relax and enjoy what promises to be a brilliant day out."
Highlights of the community festival include:

• Transport through the ages - 120 vintage and modern vehicles on display curated by local event partners Grampian Transport Museum, including the latest in electric vehicles
• Interactive displays on new technology and engineering from Shell's Eco Marathon teams and the Greenpower Formula 24 initiative with others to be confirmed
• A car simulator, toy car arena and lots of fun activities for children including face painting and murals created by toy cars
• International street performers
• Borrow a Bike will see a stock of up to 200 bicycles, including electric bikes, offered to people of all ages and abilities to borrow and travel their choice of distance along a closed 4km loop on the road
• A Country Walk allowing people to explore a 1.8 km route to enjoy the picturesque Dee Valley
• The GNE Cycle Experience offering 1,500 pre-registered cyclists the chance to bring their own bikes along to cycle an 18km closed-road loop on the new AWPR on the morning of Sunday 9 September. (Please note this opportunity is now fully subscribed).

Stagecoach North Scotland has also added its backing to the GoNorthEast campaign, stating bus journey times and punctuality should be improved because of the AWPR/B-T project.
The company states the AWPR/B-T project should reduce carbon emissions, improve air quality, enable better routes for buses and make journeys to city smoother and faster for its customers.
David added: "The AWPR project will take traffic away from city centre bottlenecks, like Guild Street and Market Street, and we think bus journeys in and out of the bus station should be more efficient as a result, particularly in the peak periods where we can experience delays due to congestion.
"Those travelling by bus to the Buchan area will benefit the most from the new road as we are already seeing quicker bus journey times on the recently opened section of the AWPR north of Aberdeen. It's great news for our customers and our drivers."
To book a shuttle bus, please click
here
.