AWPR Workforce mobilising for 2015 Start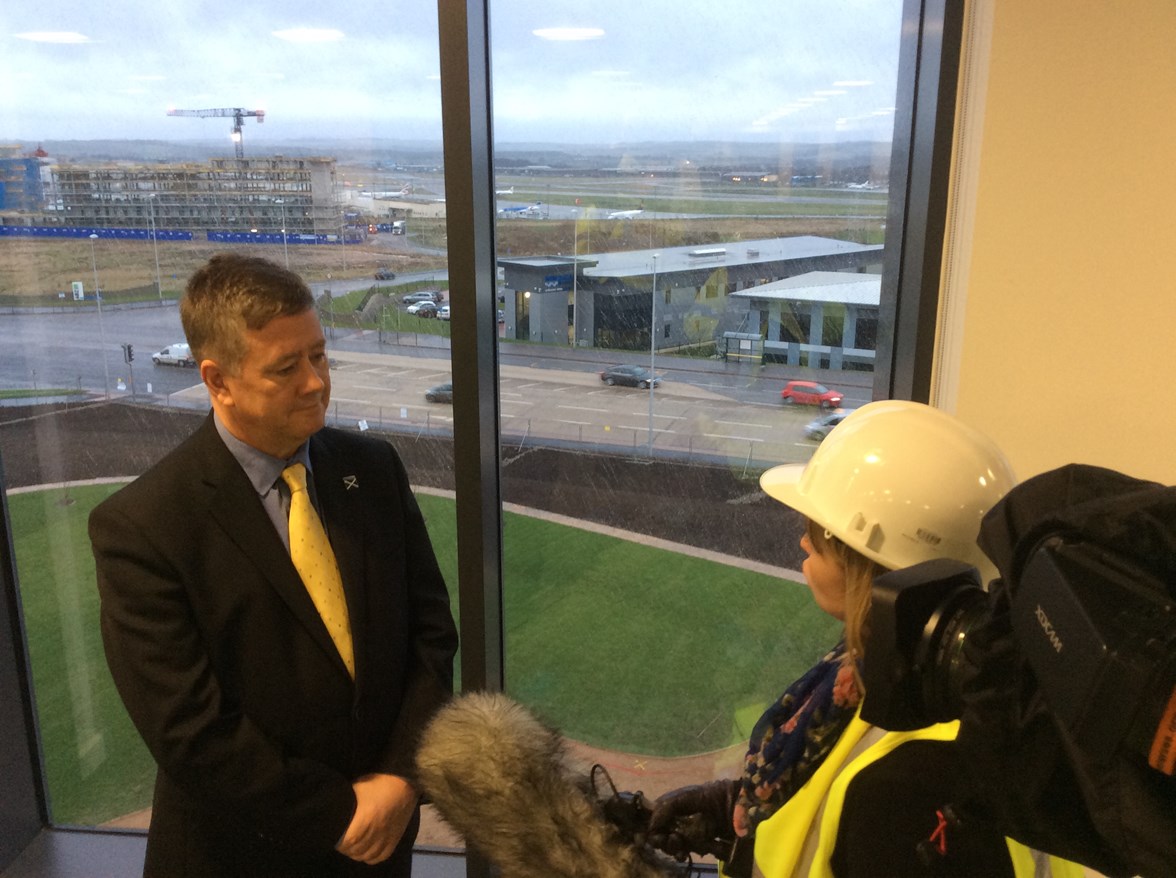 Reviewing work in 2014 on AWPR / B-T project, and looking to the year ahead Cabinet Secretary for Infrastructure, Investment and Cities, Keith Brown said:
"When looking back at 2014, a number of Scottish transport success stories stick out, but none more so than a road project which will deliver so much for Aberdeen and the surrounding areas.
"The Aberdeen Western Peripheral Route/Balmedie to Tipperty project is a mammoth undertaking not just in Scottish terms, but the single largest contract of its type anywhere in the UK. When finished, it will deliver over 58 km of new two and three lane carriageway around Scotland's oil and gas capital. It includes 12 new junctions, nearly 14 miles of slip roads and accesses, two river crossings at the River Dee and River Don, a bridge for crossing the Aberdeen to Inverness Railway, four pipeline crossings and three wildlife bridges, in addition to more than 150 other structures.
"Of course this kind of investment should have been carried out decades ago when it became apparent that the oil boom would create the kinds of pressures we now see on the roads in and around Aberdeen on a daily basis.
"We recognised this and the fact Aberdeen is a major driver for the Scottish economy. So we have made the project one of our key priorities and have pressed hard to ensure the new road is delivered as early as possible. The many benefits the project will deliver - £6 billion of investment and 14,000 jobs for the north east over the next thirty years – can then be realised.
"2014 has proven to be a pivotal year.
"The first part of the year saw the bidding process to find a contractor commence and by the summer were in a position to select a preferred bidder. We were then able to open detailed discussions about specific elements of the scheme which could be delivered early and secure some quick wins.
"One of first achievements was to secure a planned completion date of winter 2017, brought forward from spring 2018. But we went further, ensuring specific parts of the project - the airport sections at Craibstone and Dyce junctions – could be delivered early, releasing those benefits some 20-months ahead of the original timetable. Calls to prioritise the Balmedie to Tipperty section were also answered – with the anticipated delivery of that part of the project brought forward to spring 2017, a full year ahead of the original schedule.
"In August we entered into an £8 million pre-works agreement which allowed vital advance works like tree clearing and utilities diversion works to take place. A local road in Aberdeenshire was also taken forward to allow Aberdeenshire Council to start work on a new park and ride facility near Findon.
"This was undertaken to ensure as much of that work was complete in advance of the main constructions works starting as soon as a full construction contract was in place.
"December saw us finalising the deal with Connect Roads - now called 'Aberdeen Roads Limited', the company now entrusted to deliver the new road – with costs driven down by around £220 million over the lifetime of the thirty year deal. Contract costs were also reduced by around £11 million too, a success story in itself. In addition, we have also ensured the costs of the project being shared by Aberdeen City and Aberdeenshire Councils, will be around £10 million less each.
"There is also much to look forward to in 2015.
"Aberdeen Roads Limited is now in a position to mobilise, and the public will start to see significant activity right across the north east as its 1000-strong workforce and plant is moved into place. Construction managers, foremen, site engineers, quantity surveyors, earthwork gangers, joiners, scaffolders, electricians, machine operators - will all descend on the project. Earthworks will start to shape the new road and preparations made for the first sections of tarmac to be laid.
"2015 promises to be exciting year for road users in Aberdeen. The essential preparations are now complete and work on this long-awaited road improvement for Aberdeen and the north east is on the verge of being well and truly under way.
"Transport in the north east will soon never be the same again."