E-bike revolution continues across Scotland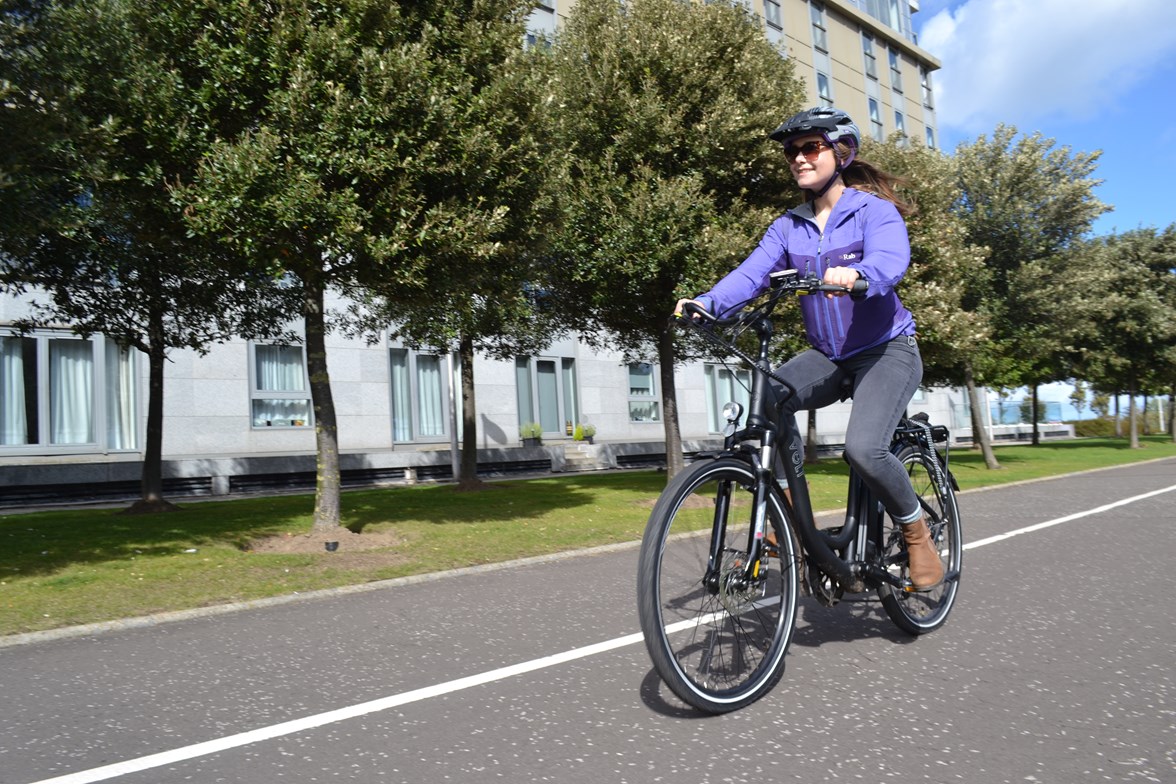 The eBike Grant Fund for 2019/20 has provided over 100 e-bikes to 19 organisations across Scotland. Over £273,000 has been awarded from the Scottish Government so far, with additional awards expected by the end of the year.
The fund is focused on providing support to community organisations, local authorities, public sector agencies, colleges and universities through direct grants or match funding. It ensures that people across Scotland can access the benefits of e-bikes in an affordable way. Since the initiative began, over 600 e-bikes have been funded.
Twechar Community Action will receive ten e-bikes to offer trials and a free borrowing scheme to the local community. Ore Valley Housing Association will receive four bikes for Cardenden and Lochgelly to support school visits and offer access to the local community as part of a wider sustainable travel project. These projects offer new e-mobility options at the heart of local communities, promoting active and sustainable travel.
Cabinet Secretary for Transport, Infrastructure and Connectivity Michael Matheson said:
"I'm pleased that we've been able to help a further 19 organisations procure e-bikes or e-cargo bikes in 2019 so far. This is part of our ambition to develop an Active Nation, where more people have opportunities to walk and cycle than ever before.
"These awards coincide with World Car Free Day, which prompts all of us to consider leaving the car and home and to think about how we can travel more sustainably for our health, wellbeing and our climate. Through the eBike Grant Fund, delivered through Energy Saving Trust, we've funded over 600 e-bikes, unlocking e-mobility and sustainable travel opportunities right across the country.
"I'm committed to ensuring that people can access and experience e-bikes in their communities in an affordable manner – in order to offer active and exciting opportunities to travel more sustainably as part of everyday journeys."
Ellie Grebenik, Senior Programme Manager, Scottish Transport at Energy Saving Trust said:
"More than £270,000 to date has been awarded in round three of the eBike Grant Fund. The amount of money will support the purchase of 113 e-bikes and 11 e-cargo bikes, along with four e-trikes and three trailers across 19 organisations.
"The use of e-bikes and e-cargo bikes helps reduce transportation costs and lower emissions, improving local air quality. It also provides a great example of active travel for business and organisational use.
"The eBike Grant Fund is still accepting applications from public and third sector applicants and full details are available on our website."
Background
Successful applicants:
CFINe – Aberdeen – £12,700.00 – 2 e-cargo bikes
Ore Valley Housing Association – Fife – £6,523.37 – 4 e-bikes, 2 trailers
Centre for Entrepreneurship Scotland – Glasgow – £10,800.00 – 6 e-bikes
Hope Amplified – South Lanarkshire – £18,900.00 – 14 e-bikes
Huntly & District Development Trust – £4,350.00 – 4 e-bikes, 1 trailer
Volunteering Hebrides – £3,698.00 – 2 e-trikes
South Seeds – Glasgow – £6,799.95 – 3 e-bikes
Midlem Village Hall – £6,580.87 – 4 e-bikes
Twechar Community Action – £16,666.67 –10 e-bikes
City of Edinburgh Council – £3,088.50 – 3 e-bikes
Green Space Scotland (Hayburn Park Association) – £6,053.00 – 1 e-cargo bike
The Bike Station – Edinburgh – £22,540.00 – 4 e-cargo bikes
Roseneath Peninsula West Development Trust – £21,800.00 – 2 e-bikes, 2 e-cargo bikes, 1 e-trike
Forth Environment Link – £91,348.00 – 40 e-bikes
Partnership funding with Cycling Scotland
The projects below were offered funding for e-bike elements of project submissions originally made to Cycling Scotland. Cycling Scotland are delivering other elements such as cycling amenities and facilities. EST are supporting these joint projects that will all offer community e-bike and e-cargo bike trials:
Applecross Community Company – £14,018.39 – 10 e-bikes
Bike Dufftown – £4,900.00 –2 e-bikes, 1 e-trike
Cyclestation – North Ayrshire – £9,901.80 – 6 e-bikes
Lochaber Environmental Group – £3,000.00 – 1 e-bike
Northmavine Community Development Trust – £6,000.00 – 4 e-bikes, 2 e-cargo bike.