Electric future for A9 and beyond
Further support has been announced by the Scottish Government in support of the ambitious commitment to phase out the need for new petrol and diesel cars and vans by 2032.
The overall budget for the popular Low Carbon Transport Loan, has increased from £8m to £20m for 2018/19, allowing more businesses and consumers to make the switch to electric vehicles (EVs) than ever before.
To further accelerate the transition of EVs into public sector fleets, the Switched on Fleets budget has been quadrupled from £1.2 million to £4.8 million in 2018/19. Additionally, a new funding stream, the Switched on Towns and Cities Challenge Fund has been announced. Through intensive action, it is designed to enable a step-change in the uptake of EVs in Scotland's towns and cities.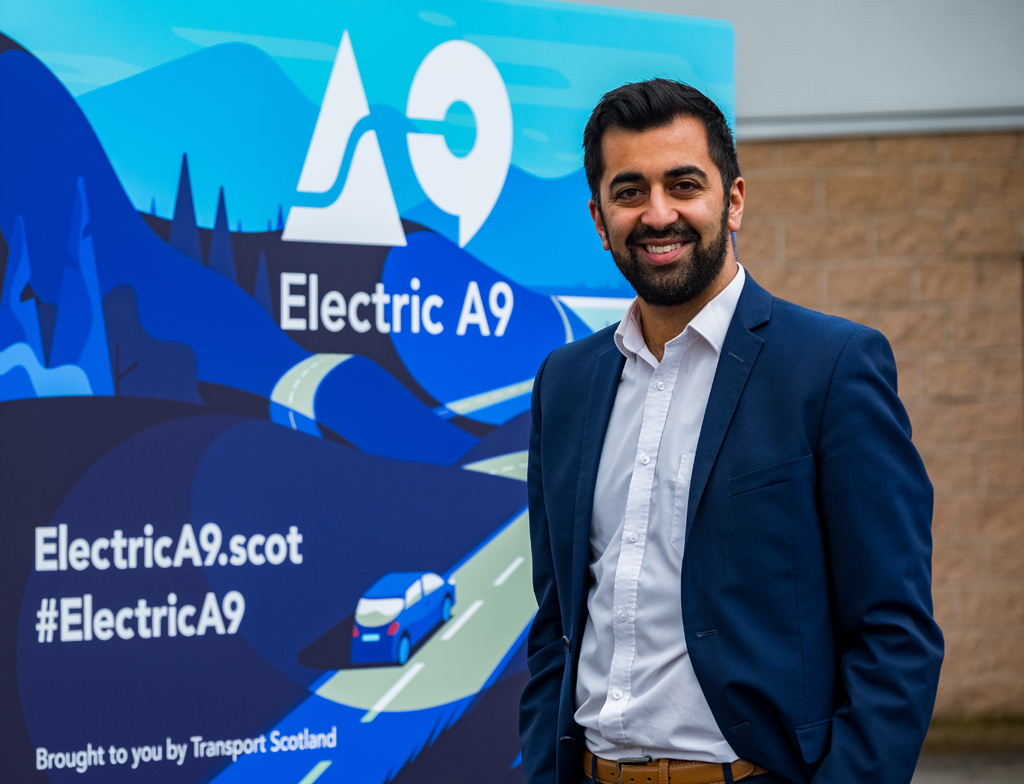 Minister for Transport Humza Yousaf attended Falkirk Stadium, the future site of an EV charging hub being funded through Transport Scotland's European Regional Development Fund Low Carbon Travel and Transport Programme, to launch the Electric A9 project and announce the range of new funding streams on offer. He said:
"The Electric A9 will greatly expand and build further resilience into our existing ChargePlace Scotland infrastructure, which is already one of the most comprehensive in Europe. From the site of the planned hub here in Falkirk and all the way to Scrabster, visitors and local communities will be able to benefit from multiple charge place hubs across the route.
"Our ambitions, however, stretch even further than the longest road in Scotland. We want every town and city to enjoy the benefits of EVs and this requires an even wider charging network. The new Switched on Towns and Cities Challenge Fund will support local authorities and partners to implement activities to incentivise the uptake of EVs in urban areas.
"We have more than doubled the amount of loan funding we currently offer to individuals and businesses, and have quadrupled the amount of support for public sector fleets so that we can demonstrate leadership and showcase the many benefits of EVs to all of Scotland. Through the Electric A9 and the wider programme announcements, we are committed to securing the opportunities that the global transformation in mobility is creating. With the various funding streams we have on offer and our ambitious plans for the Electric A9 and beyond, I'm proud that Scotland continues to lead the way in supporting and encouraging EVs on to our roads."
To find out more about the Electric A9 and Scotland's comprehensive charging point network visit www.electricA9.scot.
To discover the wide range of loans and grants on offer from the Scottish Government to help encourage EV ownership, visit the Energy Saving Trust Scotland website.