Erskine Bridge turns 50
Accessibility options: read a transcript for the video celebrating 50 years of the Erskine Bridge
A series of unseen photos is being released to mark the 50th anniversary of the Erskine Bridge.
The iconic crossing over the Clyde was opened on the 2 July 1971 by HRH Princess Anne, becoming the first fixed link between Dunbartonshire and Renfrewshire.
Construction on the project began in April 1967 at a cost of £10.5m, which is the equivalent of almost £150m today.
The bridge is 1.3km in length and 30m wide, with its tallest support measuring 50m.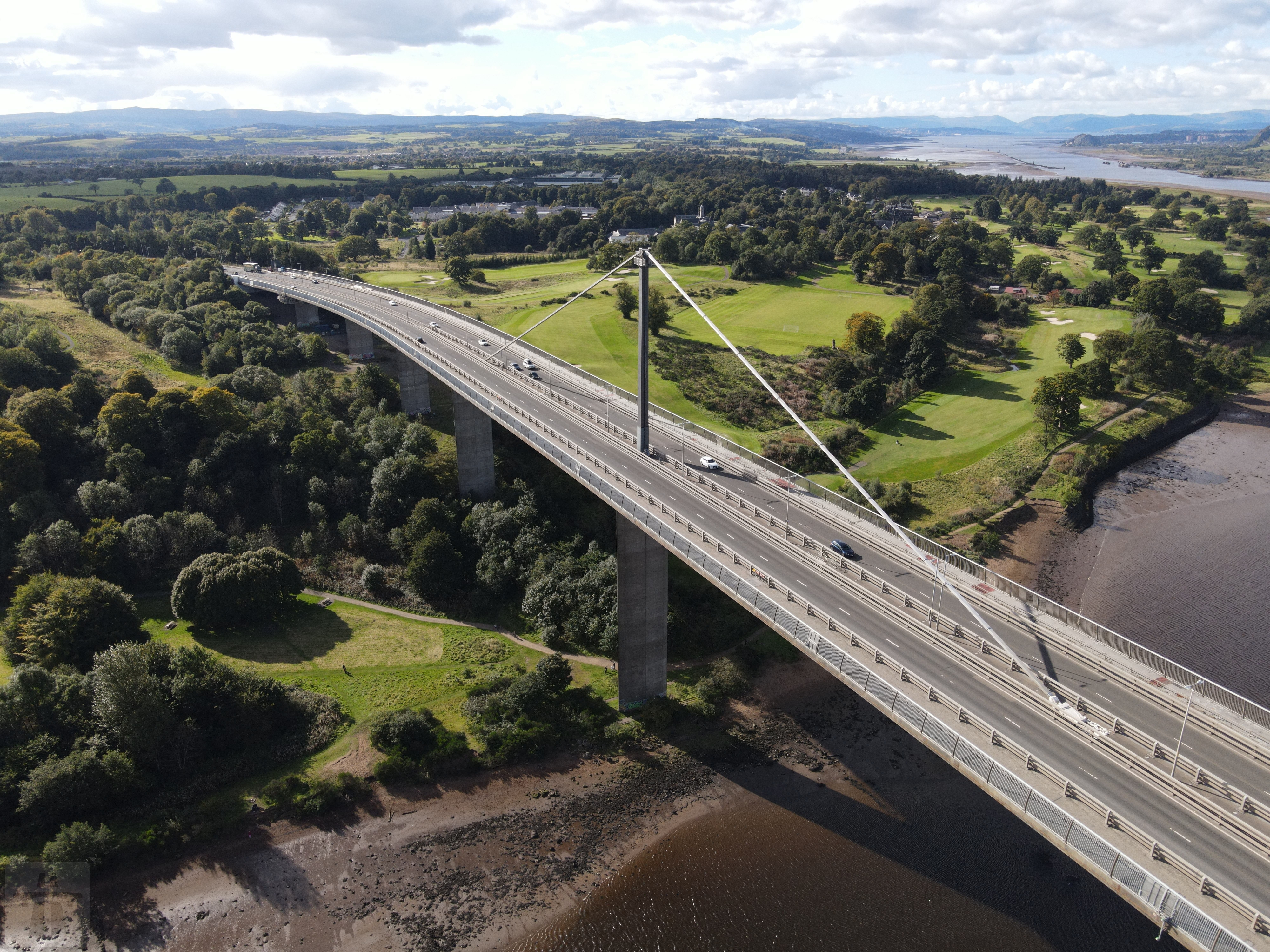 Minster for Transport Graeme Dey:
"The Erskine Bridge has become an iconic landmark and was, at one point, the longest cable-stayed bridge in the world.
"The crossing helped to significantly cut journey times when it opened to traffic, particularly during the busy tourist seasons. It continues to play an important role, carrying over 35,000 vehicles every day.
"The Erskine Bridge has also been listed for unique architectural and technical features, so it's important to recognise the impact it has made in the past 50 years."
The Glasgow Motorway Archive, in collaboration with Transport Scotland, is releasing a number of previously unseen photos of the Erskine Bridge.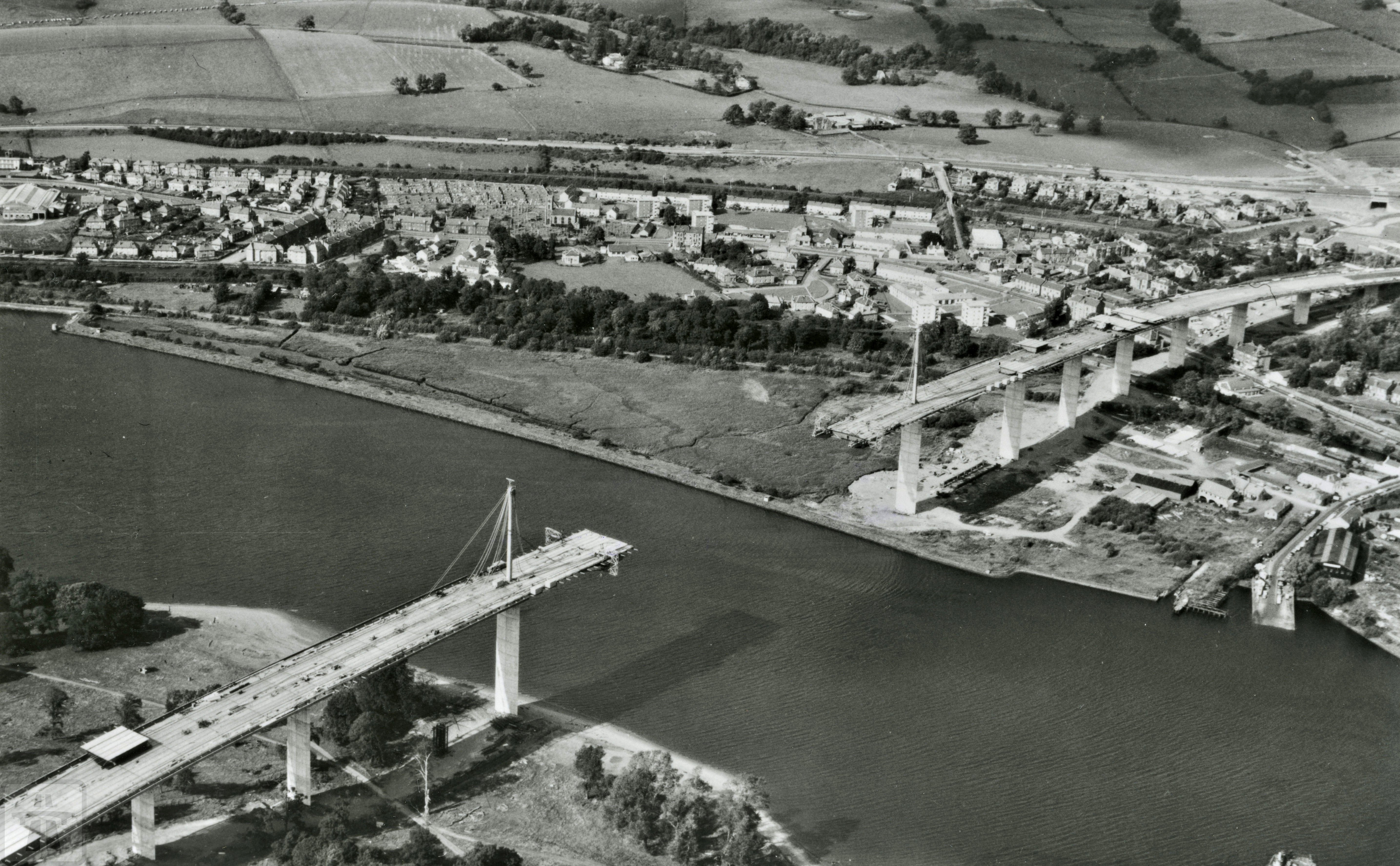 Stuart Baird from the Glasgow Motorway Archive said:
"The Erskine Bridge remains ones of the most ambitious civil engineering projects ever undertaken in Scotland and has become a much loved landmark.
"The Glasgow Motorway Archive is delighted to have unearthed previously unseen photos of its construction in time for its 50th anniversary and we look forward to sharing them, and a few other surprises, on our website and social media channels."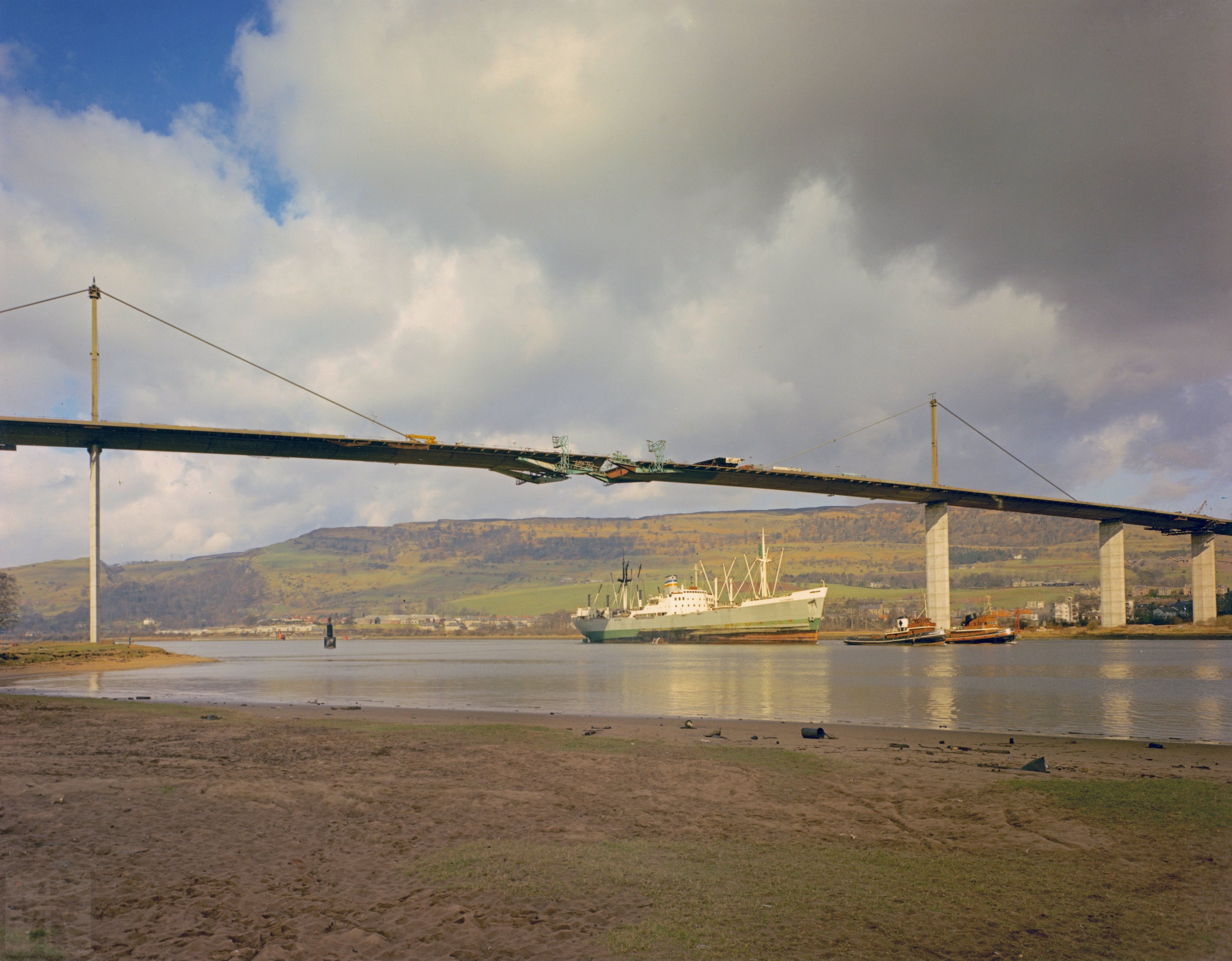 Celebrating 50 years of the Erskine Bridge - video transcript
| Caption text | Visual |
| --- | --- |
| Today we're celebrating the 50th anniversary of the Erskine bridge. | Drone footage of the Erskine Bridge. |
| Since opening, it is estimated to have carried over 430 million vehicles | Drone footage of traffic on the Erskine Bridge |
| and been a strategic transport link supporting Scotland's economy | The bridge from shore level, followed by more drone footage of traffic on the bridge |
| Erskine had been a crossing point for centuries, but a replacement ferry was needed | Archive footage of a ferry carrying vehicles across the Clyde at Erskine |
| So in 1963 experts started design work for a new crossing that would be part of a blueprint for the revitalisation of Scotland's Central Belt | Archive footage of the bridge being designed using models |
| The Clyde was a major shipping channel which built vessels like the Queen Elizabeth II so the bridge deck would be 45 metres high to ensure passage for large vessels | Archive footage of the Queen Elizabeth II |
| Construction of Erskine Bridge started in 1967. The bridges two central pylons would extend 39 metres above the deck and the total length of the bridge deck over 1300 metres long | Archive footage of Erskine Bridge being constructed |
| When Princess Anne opened the bridge on 2 July 1971 it was the longest bridge of its kind anywhere in the world | Archive footage of Princess Anne opening the bridge |
| Today the Erskine Bridge is still recognised for its structural simplicity and slender appearance and remains an iconic landmark and major transport link | Modern day drone footage of the bridge, followed by timelapse footage of traffic passing over the bridge. |