Falkirk active travel hub now open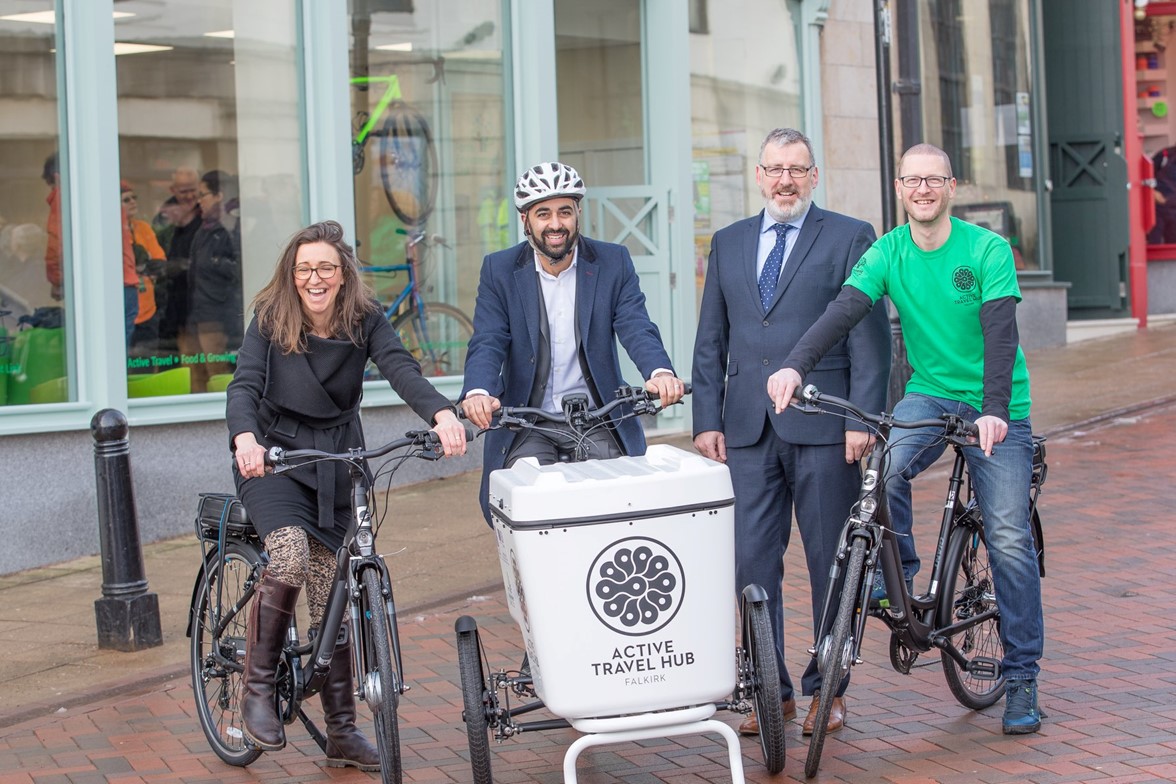 Minister for Transport and the Islands, Humza Yousaf, has opened the Falkirk Active Travel Hub based at 203 High Street. The new hub will encourage and support local people to make healthier, greener travel choices.
In June 2017, The hub was part of a wider project awarded over £500,000 in European Regional Development Funding through the Low Carbon Travel and Transport Challenge Fund, led by Transport Scotland and delivered through the Energy Saving Trust. It was one of four projects awarded up to £2.6m in the first round of the challenge fund.
As well as providing access to bikes and e-bikes through a bike 'lending library', the hub shares information on active travel routes and provides workshops on bike maintenance. It is part of the Healthier Greener Falkirk Project, a joint initiative between Falkirk Council and charity Forth Environment Link, which will also see a low carbon vehicle hub created at Falkirk Community Stadium with 20 electric vehicle charging bays.
Minister for Transport and the Islands, Humza Yousaf said:
"I am delighted to be invited to open the Falkirk Active Travel Hub and to recognise the efforts of staff and volunteers of Forth Environment Link.
"Thanks to the forward looking partnership between Forth Environment Link and Falkirk Council, a fantastic space has been created that visitors and the local community can use to engage with greener and more active modes of travel. The previous round of the Low Carbon Travel and Transport Programme, provided £2.6m of European regional development funding to 4 projects, including this fantastic new hub here in Falkirk.
"The progress that has been made here today, reflects our commitment made through the Programme for Government. We have doubled the active travel budget from £40m to £80m and we have stated our target to phase out the need for new petrol and diesel cars and vans by 2032. It's encouraging to see yet another step in our commitment to building a cleaner, greener and more active nation."
For the latest news from the Falkirk Active Travel Hub visit: https://twitter.com/FalkirkATH