First Aberdeen Bypass Junctions Open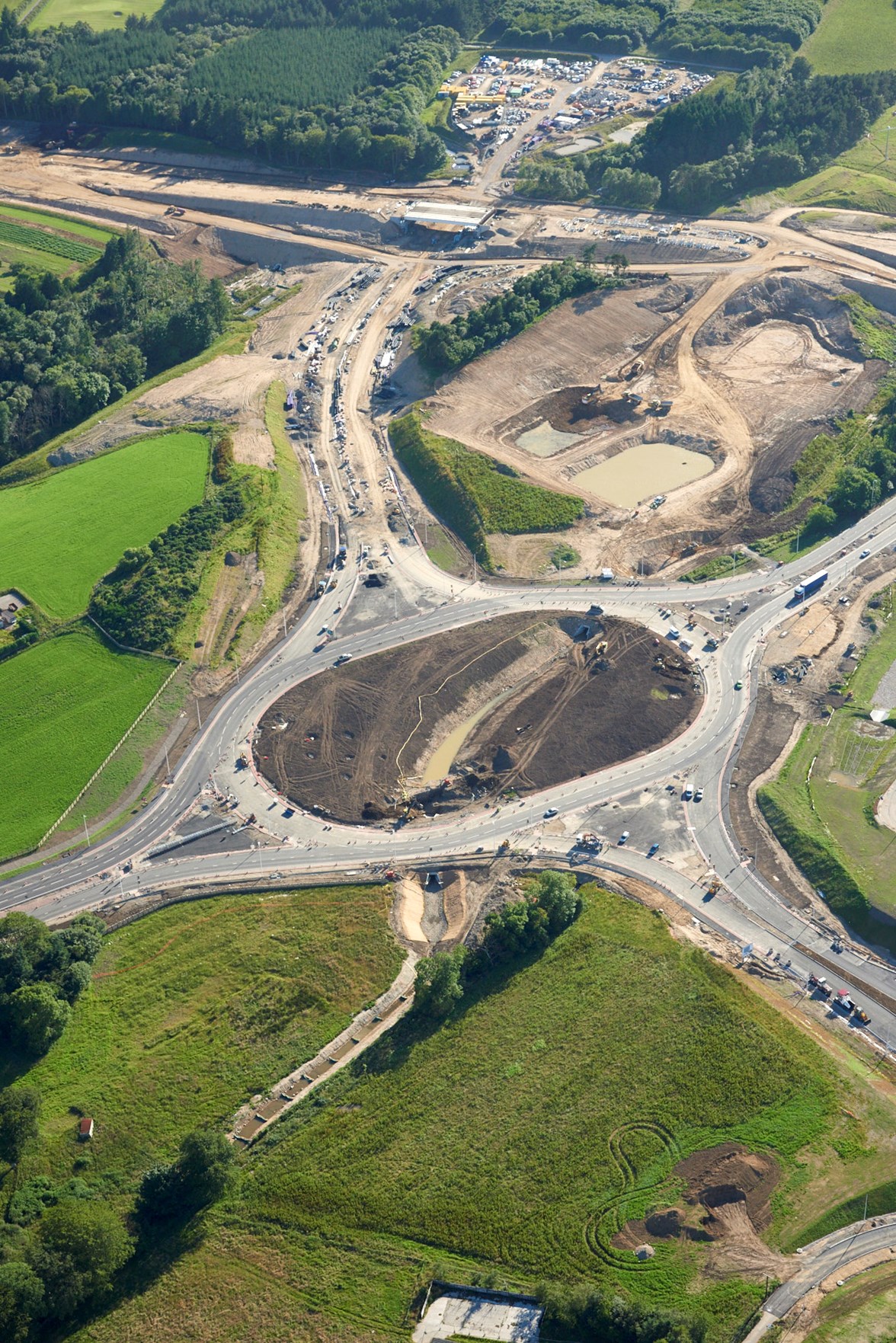 Cabinet Secretary Keith Brown, Council Leaders and Aberdeen International Airport have welcomed news that drivers can now use the Craibstone and Dyce Drive Junctions on the A96 (Inverurie Road) at Aberdeen Airport - the first section of the Aberdeen Western Peripheral Route/Balmedie to Tipperty (AWPR/B-T) project to open to traffic.
These works involved the construction of a new roundabout to form a new Craibstone Junction and replacing another roundabout with permanent traffic lights to form the new A96 (Inverurie Road) / Dyce Drive Junction.
Craibstone Roundabout will connect with the AWPR dual carriageway, once it opens, and also with the new Airport Link Road, which Aberdeen City Council is due to open tomorrow (Monday 29 August).
Following a visit to Aberdeen late last week, the Cabinet Secretary for Economy, Jobs & Fair Work, said:
"Back in December 2014, we announced that the Craibstone and Dyce Drive Junctions would be open to traffic in autumn 2016 and we can confirm that the first section of the AWPR/B-T works, the Craibstone and Dyce Junctions, is now open and operational.

"I'm sure this news will be appreciated by local communities, road users and businesses in the north east and across Scotland who have been extremely patient while these works were undertaken.
"Early benefits from the project are becoming a reality with improved road safety in this area and better journey time reliability which, along with Aberdeen City Council's Airport Link Road which is due to open [tomorrow/today, 29 August], will help improve and enhance travel in the local area.
"The north east economy needs every stimulus that can be provided and our investment in this project is expected to bring in an additional £6 billion to the north-east economy and create around 14,000 jobs over the next 30 years. We can look forward to the full benefits of these works starting to be realised when the road opens in winter 2017.
"More widely, we are committed to making improvements at the Haudagain Roundabout once work on the AWPR project is complete. We have also invested around £10m in a new Inveramsay Bridge on the A96 which opened earlier this year, and have made a longer term commitment to dual the A96 between Aberdeen and Inverness."
AWPR/B-T works are expected to continue in the Craibstone and Dyce area until winter 2017, predominately on the construction of a new bridge which will carry the AWPR over the A96.
Aberdeen City Council Leader Councillor Jenny Laing said: "The opening of the Craibstone and Dyce junctions is a significant step in the AWPR/B-T project. We look forward to the AWPR/B-T's completion and unlocking the benefits it will bring to the city and the wider region."
Co-Leader of Aberdeenshire Council Martin Kitts-Hayes said: "It is great to see this key section of the route open to traffic. These junctions will be important for commuters, residents, businesses and visitors in and out of Aberdeenshire, and once the full project is complete will be a key route for travellers using the airport.
Fellow Co-Leader Cllr Richard Thomson added: "It is encouraging to see the progress being made across the whole of the AWPR/B-T route, and this will be a particularly well-used section for many people. It gives a real indication of just how transformative the project is for the north-east of Scotland and it is hugely satisfying to see that vision becoming a reality."
Carol Benzie, Managing Director of Aberdeen International Airport, said: "I'm pleased to see that the new roundabout and junction are now operational. We welcome the improved road system around the airport, as it will alleviate the traffic issues that have created challenges to our passengers and employees in recent years."
Notes to editors
The AWPR/B-T project is scheduled to open to traffic in winter 2017.