Grants to start e-bike revolution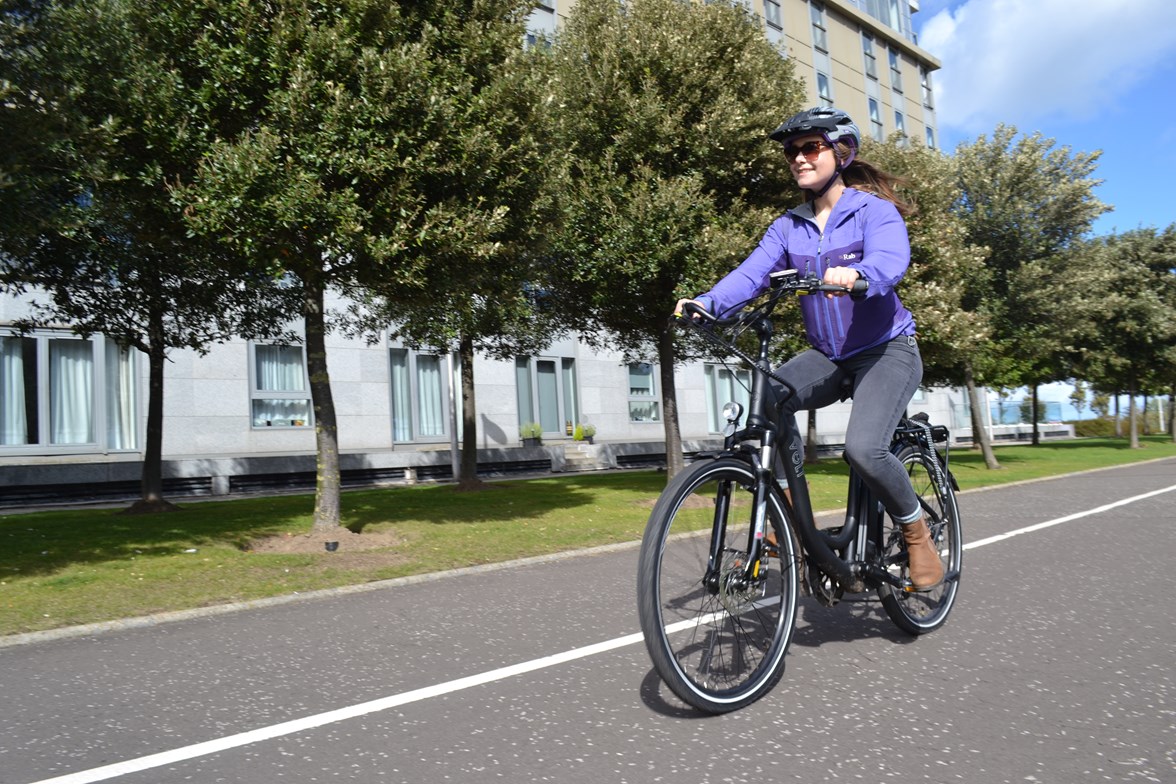 Nineteen public sector organisations and community groups across Scotland are to share £470,000 from the first E-bike Grant Fund.
The successful applicants were announced by Cabinet Secretary for Transport, Infrastructure and Connectivity Michael Matheson during Climate Week as part of the Scottish Government's plans to encourage widespread e-bike adoption.
The fund has been so successful that the Scottish Government has made an extra £250,000 available to support a second round of applications.
Organisations to receive funding from round one include Volunteer Dundee, which will encourage older people to trial e-bikes and e-trikes, Arran Eco Savvy, which aims to lend e-bikes to businesses so staff can try commuting on two wheels, and Laggan Forest Trust, which will encourage local residents to use e-bikes for shorter journeys.
The E-bike Grant Fund is aimed at local authorities, public sector agencies, community organisations, colleges and universities. It also targets Home Energy Scotland advice centres, active travel hubs and community centres so that more people can test ride e-bikes.
Cabinet Secretary for Transport, Infrastructure and Connectivity Michael Matheson said:
"We had a hugely encouraging response to the fund, with 36 applications aimed at helping people of all abilities. It was great to see requests from rural areas where e-bikes can be particularly important for helping people get around and cover greater distances than a normal bicycle, potentially tackling social isolation, especially where public transport is limited.
"E-bikes give as much or as little assistance as you need, so they're a good first step for anyone looking to try their hand at active travel, especially if their route could involve hilly terrain.
"Cycling can be great for our health and our environment and, by doubling the active travel budget, we will continue to develop innovative projects and funds which will help us deliver an Active Nation."
Matthew Eastwood, Head of Transport at Energy Saving Trust said:
"Thanks to significant demand, Transport Scotland has made an additional £250,000 available for a second round of the E-bike Grant Fund, inviting applications from public sector and community organisations to apply for grant funding in support of e-bike, e-cargo bike and adapted bike projects. Application details can be found via the Energy Saving Trust website, with application forms being available from Tuesday 9 October 2018.

"We are very pleased that we received a large number of applications ranging from small community groups looking for e-bikes to facilitate access to services in rural communities, right up to local authorities looking to facilitate large scale public hire schemes to enable a shift to sustainable and active travel and improved air quality in Scotland's towns and cities."
Full list of successful applicants
Glasgow City Council: 63 e-bikes for public hire scheme (Nextbike) – £176,623
Hope Amplified: 15 e-bikes – £14,786
Transition Linlithgow: 3 e-bikes for community FiXiT Hub – £6,497
Happy and Healthy: 6 e-bikes – £9,864
Glasgow Kelvin College: 3 e-bikes – £5,771
Edinburgh and Lothians Regional Equality Council: 5 e-bikes – £6,553.
Bike for Good: 5 e-bikes (includes one e-cargo bike) – £13,642
North Ayrshire Council: 5 e-bikes (includes one e-cargo bike) – £8,399
University of Strathclyde Student Association: 6 e-bikes – £14,405
South Lanarkshire Culture and Leisure: 18 e-bikes (includes 3 e-cargo bikes) – £23,330
The Laggan Forest Trust: 3 e-bikes – £1,640
Clydebank Housing Association: 5 e-bikes (includes 1 e-cargo bike) – £4,345
Arran Eco Savvy: 6 e-bikes – £11,706
Kirknewton Community Development Trust: 2 e-bikes – £4,598
Scotland's Learning Partnership: 12 e-bikes – £15,000
Loch Lomond and Trossachs Countryside Trust: 2 e-bikes – £5,941
Volunteer Dundee: 8 e-trikes, 2e-bikes, 1 trailer – £14,661University of Stirling: 12 e-bikes – £7,465
Transport for Edinburgh: 52 e-bikes – £119,946