Ground broken on new active travel project in Glasgow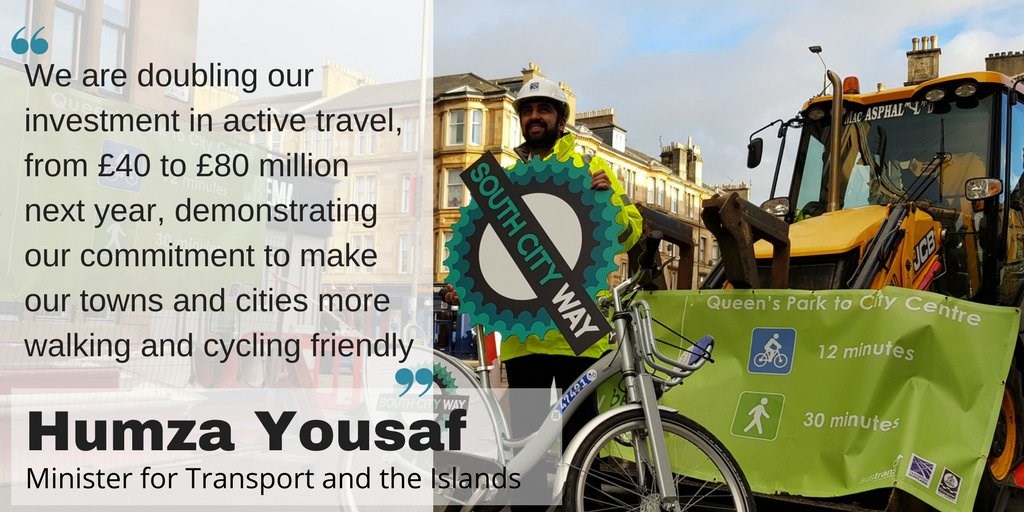 The Minister for Transport and the Islands, Humza Yousaf, has launched the initial works of the South City Way (SCW), Glasgow City Council's winning bid to the 2016 Community Links PLUS (CLPLUS) competition run by Sustrans Scotland.
Granted £3.25 million of funding from the Scottish Government with Glasgow City Council match funding the project, on completion, journey times between Queen's Park and the city centre are estimated to take 30 minutes on foot and 12 minutes by bike. The SCW will deliver a 3km segregated cycle and pedestrian route from Queen's Park in Glasgow's Southside to Stockwell Street in the heart of the Merchant City.
Humza Yousaf, Minister for Transport and the Islands, said: "I am delighted to join partners and local businesses in launching the SCW. Glasgow City Council has demonstrated real vision through its commitment to develop this major active travel route from the south side to the city centre.
"The expert panel who evaluated the 2016 bid was incredibly impressed with the high level of design and innovation shown by the SCW project. Whether you live, travel or work in Glasgow, this infrastructure will allow generations of people to better and easier enjoy the benefits of greener and healthier modes of transport.
"The Scottish Government's Active Nation initiative is designed to encourage more of us to make everyday and leisure journeys sustainably - on foot and by bike. To achieve this vision, we are doubling our investment in active travel, from £40 to £80 million next year, demonstrating our commitment to make our towns and cities more walking and cycling friendly."
Funded by the Scottish Government and run by Sustrans Scotland, the design competition delivers pioneering and game-changing projects which inspire public bodies in Scotland to design better places and spaces for people to live, walk and cycle in for everyday journeys.
For more information visit the Community Links PLUS competition website or visit https://www.sustrans.org.uk/news