Highland Tain station gets lease of life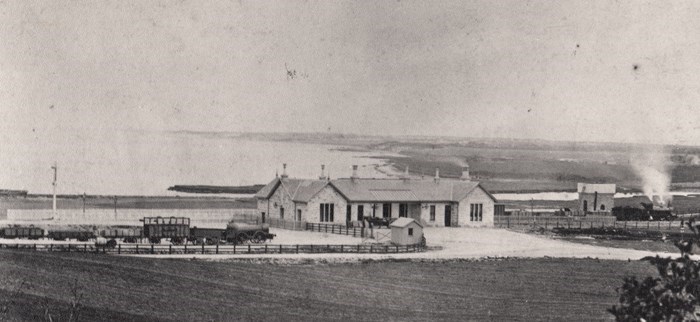 The 'Platform 1864' restaurant was funded jointly by grants from Transport Scotland's Station Community Regeneration Fund and the Railway Heritage Trust.
The Station Community Regeneration Fund breathes new life into old and disused railway station premises by funding local community groups to transform them into facilities to benefit local people.
Local chef, Graham Rooney, sought funding to restore the old station building and turn it into a gastro-pub and family restaurant and was successful in securing £210,000 from the SCRF, and £105,000 from the Railway Heritage Trust, which he was able to match to fund restoration work and equipment.
Graham contracted local architects and builders to do the work and even ran a competition for pupils from Craighill Primary School to name the restaurant.
Emily Vass a primary 6 student came up with the name of 'Platform 1864', honouring the year the station was built. In recognition of her effort she will have a dish named after her on the menu.
Graham is also donating 50p each time this dish is sold towards providing out of course activities for local people. He is currently seeking volunteers to act as Trustees for this body.
Tain station was built and opened by the Inverness and Aberdeen Junction Railway in 1864, but this company almost immediately merged with another to from the Highland Railway. In its heyday it employed up to 30 staff, but its fortunes gradually declined as the railway changed and modernised, and the building eventually closed to passengers in June 1991. The building is Listed at Grade B, so it has set empty since then, weather tight but with no use.
Minister for Transport and Islands, Derek Mackay said: "I would like to congratulate Graham and everyone involved in the construction on Platform 1864 for their huge efforts in giving this building a whole new lease of life, I hope it serves the community well for many years to come.
"Scotland's railway stations should be at the heart of the community and, through the re-launch of the Station Community Regeneration Fund under the Abellio franchise, I look forward to seeing more disused stations buildings put back into use in the future."
Graham Rooney said 'I was very fortunate to be able to train as a chef here in Tain, and have been able to use that experience in developing my career around Scotland. I am delighted to return to Tain, and will use Platform 1864 to offer a new facility in the Burgh, which will also put back into the community some of what I have gained from my own experience here.'
Andy Savage, Executive Director of the Railway Heritage Trust, said 'Tain is a wonderful example of how the local community can use a listed railway station in new and imaginative ways. We are delighted to have been able to help fund Graham Rooney's imaginative proposals, and wish them every success in the future.'