How busy is your bus?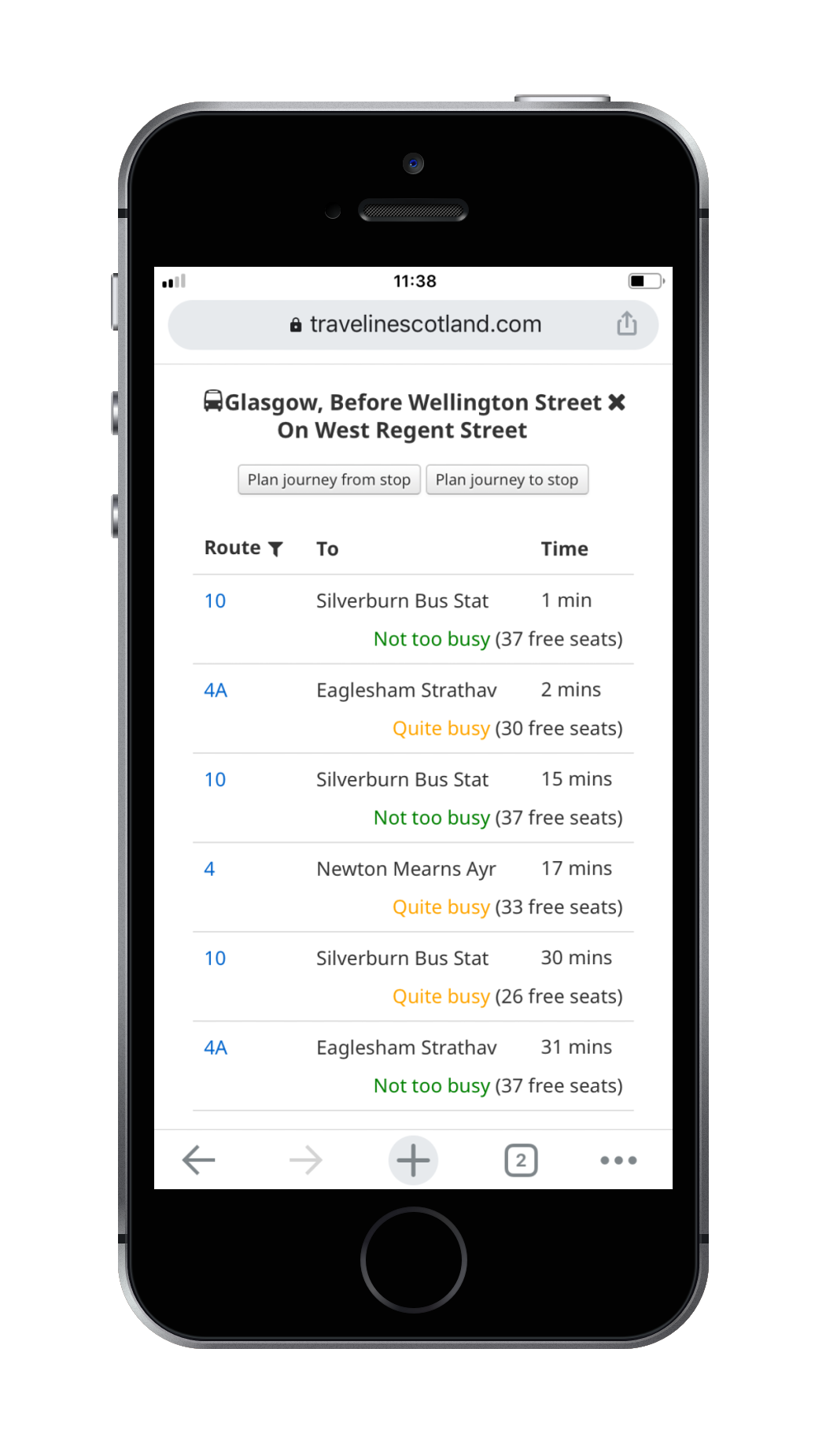 Passengers now able to check real time bus seat availability in one place
From today, Traveline Scotland is providing real time information on the capacity of bus services for multiple operators across the west of Scotland (SPT) and Aberdeenshire (NESTRANS) areas. This service, a first in the UK, allows passengers to check if seats are available before catching their bus.
With capacity restricted on public transport due to physical distancing measures, the public are being encouraged to plan their journey and avoid busy times where possible.
This development, which significantly improves people's ability to plan their journey more effectively and travel safely, is the first part of a phased roll out that aims to cover the whole of the country over the coming months.
Information is being collated and verified so that the journey planners on the Traveline Scotland website and associated IOS & Android apps will now show how many seats are available, or how busy a bus is when it is in service. By using the on board ticket machine and driver input, digital data is also able to indicate whether a service is quite busy, not so busy or relatively quiet in real-time for passengers benefit.
Commenting on the initial roll out of the system, Cabinet Secretary for Transport, Infrastructure & Connectivity, Michael Matheson said:
"This is a first in the UK for real time capacity information from multiple operators to be made available to the public in one place.
"As physical distancing continues to be in operation across public transport, this will allow people to more effectively plan their journey and help them to travel safely.
"We are supporting bus operators to provide this information and make it available at a central source via Traveline Scotland for the benefit of the travelling public. This work has been accelerated as part of Covid-19 support measures for public transport, with funding of £50,000 from the Scottish Government.
"I would like to the thank the bus industry and regional transport partnerships for their willingness to participate in this project to support people make better informed travel choices and use public transport with increased confidence.
"Across public transport, cleaning regimes have increased, face coverings are mandatory and physical distancing is in place to help people travel safely. Now with the added ability to check on how busy a service is prior to starting a journey, people can plan ahead and avoid busy times far easier than before.
"This initial roll out of the service covers a significant amount of the country and we look forward to seeing it develop across Scotland and more operators over the next few months."
John Elliot, Chief Executive of Traveline Scotland, said:
"Traveline Scotland are pleased to be a partner in the capacity tracking project, along with Transport Scotland, Regional Transport Partnerships, Bus Operators and Technology Suppliers.
"This will be a very real benefit for those who use or intend to use buses and will help them to travel safely. This development helps to keep Scotland at the forefront of digital technology and its application to Public Transport Information."
Colin Urquhart, Intelligent Mobility Solutions Manager at Trapeze Group UK, said:
 "The Trapeze team is excited to have been part of this innovative project which has seen multiple stakeholder groups combine their expertise to ensure the delivery of safe and reliable mobility for the people of Scotland. We have developed this technology to be easily expandable, ensuring we can accommodate data from additional operators, and paving the way to replicate this model in other parts of the UK."
Sharon Morrison, Communications Director for West Coast Motors; said:
"Throughout this pandemic bus has continued to play a key role in serving its communities and moving people around safely and responsibly.  
"Traveline Scotland's capacity checker offers a one stop shop for those travelling with multiple operators to track how busy buses are across west Scotland and Aberdeenshire. We hope this exciting new function takes the stress out of travel and provides a simple, safe and easy way to travel by public transport."
This project is a collaboration between Transport Scotland, bus operators, ticketing suppliers, Regional Transport Partnerships and Traveline Scotland. Current participating operators can be seen in the 'next departures' section. As part of this rolling improvement programme, updates and further user information will be added on a regular basis, with the next area targeted for inclusion being east Scotland.