Investment In Scotland's Trunk Roads To Soar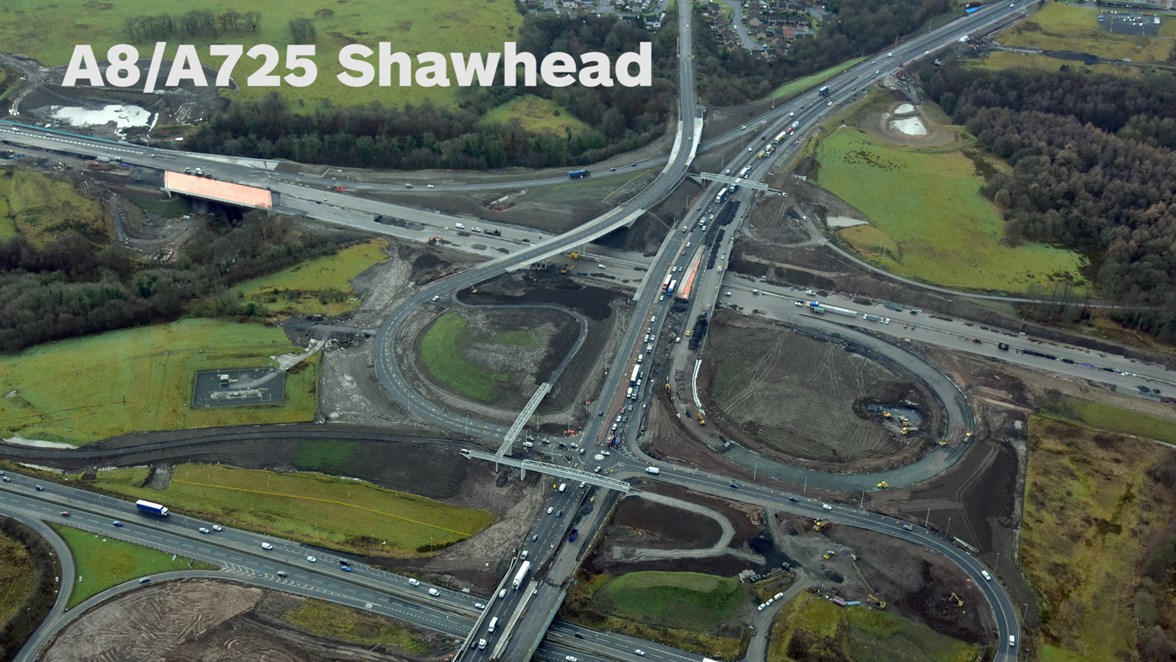 Exclusive aerial video footage and new aerial stills showing the significant construction progress achieved on central Scotland's motorway network was released by Transport Scotland today (Friday) following the Scottish Government's budget announcement which will see an increase of £167 million allocated to future investment in similar infrastructure projects.
The aerial video shot from a light aircraft gives road users a new perspective on the investment and scale of works across central Scotland's motorway network as the £500 million M8 M73 M74 Motorway Improvements Project nears completion.
Welcoming the increase in funding, Mr Keith Brown, the Cabinet Secretary for Economy, Jobs and Fair Work, said: "Our Infrastructure Investment Plan is already delivering major infrastructure improvements such as the M8 M73 M74 Motorway Improvements Project, with projects worth almost £6 billion currently under construction. We will now inject a further £167 million of spending to accelerate planned projects and maintain Scotland's trunk roads.
"Our total investment in our motorways and trunk roads has risen from £830 million in 2016-17 to £997 million in 2017-18, an increase of 17.9%. As well as supporting new investment this shows we are committed to ensuring that the trunk road network remains safe, efficient and resilient, allowing effective movement of people, goods and services around, as well as to and from , Scotland.
"This investment will bring economic benefits, support jobs and will also improve the infrastructure of our public services for years to come."

Mr Brown added: "Next year will see the £500 million investment to upgrade central Scotland's motorway network come to fruition as the new M8 and upgraded M73 and M74 open to traffic in the spring.
"Together, with this increase of £167 million of further investment in planned infrastructure projects and maintenance, I am confident 2017 will deliver a vastly improved motorway network fit for the 21st century."
"As this major project to upgrade the main route between Edinburgh and Glasgow enters its final stages, it's important to recognise the substantial amount of new infrastructure that has already been built, including several strategic junctions which are now nearing completion - including Shawhead, Chapelhall and the new underpass at Raith.
"I'd also like to thank the thousands of road users who travel through the works on a daily basis for their continued patience, and would ask that they bear with us as we approach the final stages of construction as works gets underway to tie the new roads in with the existing roads in the New Year." 
When complete, the M8 M73 M74 Motorway Improvements Project will improve journey times and boost Scotland's economy by improving connections between the commercial centres of Glasgow and Edinburgh and beyond.
Road users can expect to shave approximately 20 minutes off their journeys along the A8/M8 corridor between Glasgow and Edinburgh and approximately 15 minutes through Raith Interchange at Junction 5 on the M74.    
Mr Brown added: "It's been a significant challenge to keep the 100,000 vehicles which use these routes every day moving, whilst undertaking a project of this scale and complexity. However, the end is now within sight and the benefits to motorists will soon be realised."
Transport Scotland released aerial footage taken over the main routes providing a unique perspective of the construction works already undertaken, however motorists are being warned to expect further delays and disruption in the New Year as a result of major traffic management.
Graeme Reid, Project Sponsor for the M8 M73 M74 Motorways Improvements Project, said:
"The New Year will bring further traffic management challenges as works continue to tie the new roads into to the existing infrastructure and we thank road users for their continued patience. We are working closely with our contractor to complete the final phases of construction as quickly as possible and look forward to opening the new roads to traffic in Spring 2017."
Budget breakdown:
The Scottish Government's investment in trunk road maintenance supports the delivery of our three key strategic outcomes for transport – improved journey times, reduced emissions to tackle climate change and improve air quality and health, and improved accessibility and affordability.
The budget for network strengthening on the trunk road network which funds repairs alongside safety critical work, inspections and essential bridge maintenance has increased to £55.99 million, an increase of 37.2%
The budget for structural repairs on the trunk road network has increased by 1.8% to £27.9 million
The capital budget available for maintenance of the Forth Road Bridge has increased to £21.46 million, an increase of 138.4%
The capital budget available for maintenance of the Tay Road Bridge has increased to £2.3 million, an increase of 360%
Background:
The M8 M73 M74 Motorway Improvements Project marks a £500m investment in Scotland's trunk road network and aims to tackle congestion problems on the A8/M8, M73, M74 and at key junctions including Raith (M74/A725) and Shawhead (A725/A8).
Scottish Roads Partnership (SRP) is the consortium responsible for designing, financing and constructing the project as well as operating and maintaining the roads for 30 years following completion.
The benefits of the investment will improve journey times during peak periods, improve connectivity, journey time reliability and road safety across the Central Scotland motorway network.
The project will also help promote sustainable economic growth by improving access to facilities and employment areas, with in excess of 100,000 vehicles using each of the main project roads on a daily basis.
ENDS