It's a bug's life on the A9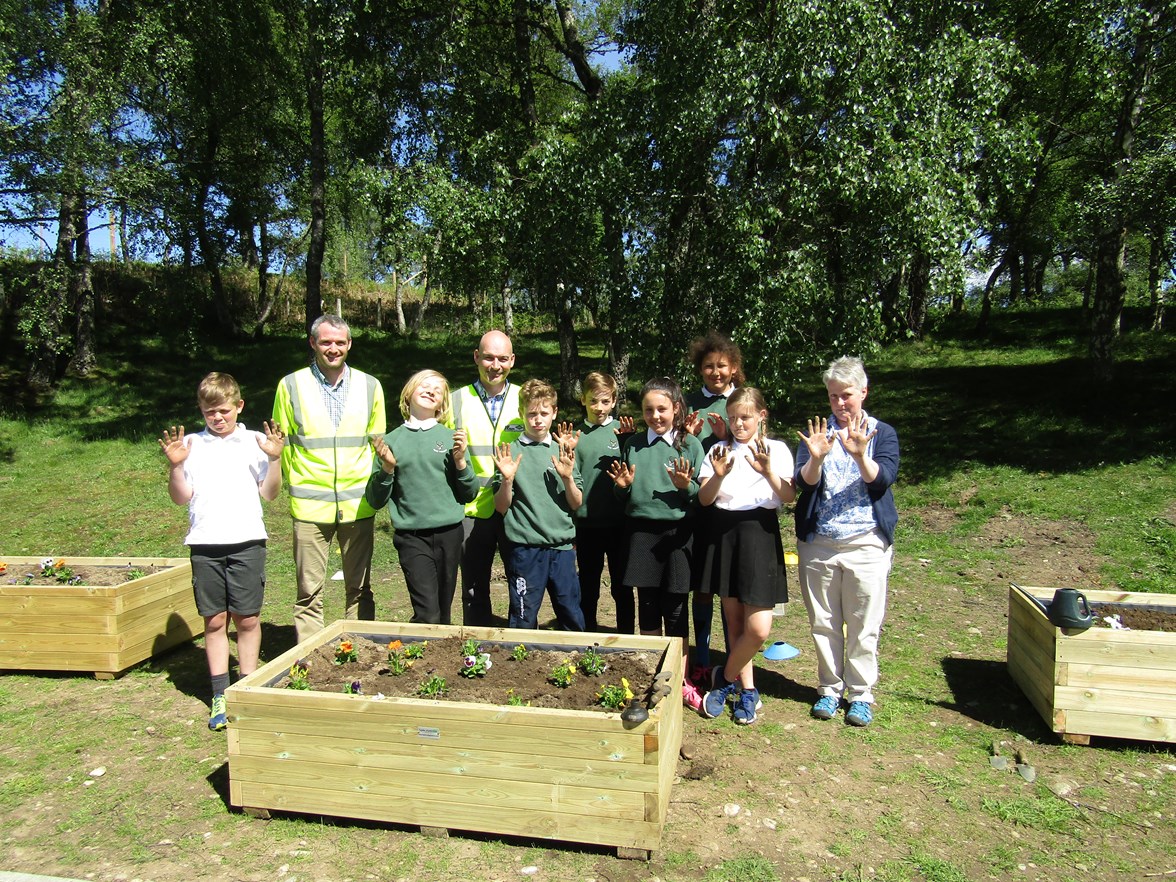 Wills Bros John Paul Joint Venture, the contractor tasked by Transport Scotland to upgrade the A9 between Kincraig and Dalraddy went back to visit Alvie Primary School last week to install planters to brighten the revamped playground they provided last year.
 
Along with the planter boxes, the contractor has also provided six bug hotels providing opportunities for the schoolchildren to enjoy watching the bugs building their homes. The bug hotels are attached to the fence within the school grounds and filled with materials such as fir cones which provide snug, safe places for the insects to hibernate.  
 
The bug hotels are known to attract lacewings and ladybirds important species in the garden which should help protect the flowers that the schoolchildren planted in the five planter boxes with the help of the contractor's team.
 
Having completed the revamp last year, Contractor Wills Bros John Paul JV kindly donated and installed the planter boxes and bug boxes at their own expense. Paul Gilligan, Site Manager said:
 
"We are delighted to hear how much enjoyment the additional playground facilities we installed last year have provided the children.  We were keen to add some finishing touches to the playground by adding some colourful flowers and an educational and interesting feature with the Bug Hotels.
 
"With work on the stretch now in its final stages as we near completion, it has been pleasing to provide these additional facilities for the children as our parting gift for the warm reception we have received both from the school and the community in general over the last two years."
 
Headteacher Kip Clarke,  added:
"We are very grateful to Wills Bros John Paul JV for the planters and bug boxes, they will make such a difference. We have lots of rabbits in our grounds, and every summer they strip our garden before we can harvest the vegetables. The planters are really sturdy and high enough to prevent the rabbits from eating the growing veg. The children are going to plant carrots, radish, peas, and beans. We have all kinds of insects in our grounds and mini-beast hunts are very popular.
"The children are excited about the bug hotels and keep checking to see if the first 'guests' have arrived!"
Pat Brassil, Project Manager, Transport Scotland said:
"Significant progress has been made on this project and completion of the first section of the A9 Dualling Programme is now firmly in our sights. 
The Contractor is to be commended not only for the work undertaken to upgrade this stretch of the road but for the positive relationships forged with the community, in particular the local primary school over the last two years."