Low Emission Zones continue to help households travel better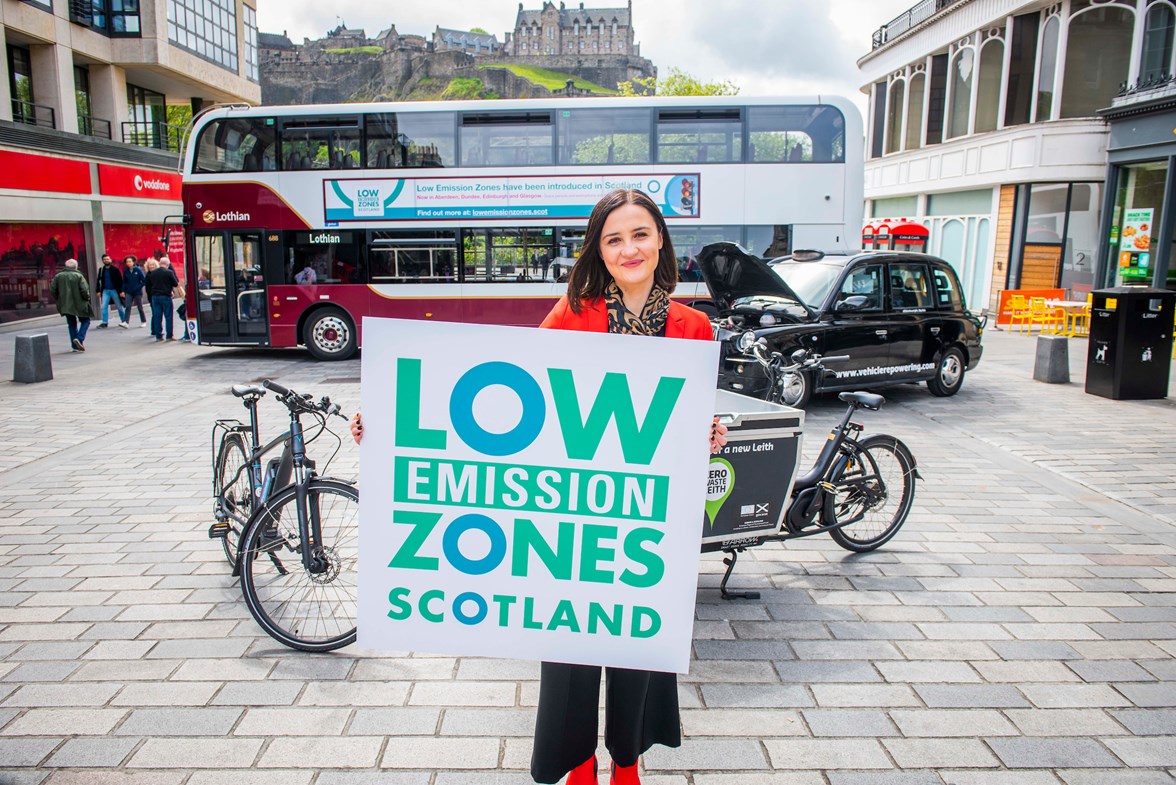 The Scottish Government is providing £5 million to re-open the Low Emission Zone (LEZ) Support Fund for 2023-24. This Fund offers cash incentives and Travel Better credits, if non-compliant vehicles are removed from Scotland's roads.
Administered by Energy Saving Trust, this programme is means-tested and offers help to those most affected by the introduction of LEZs. It provides people and micro-businesses with financial support to travel more sustainably and meet the established air quality standards which will improve air quality and protect public health.
The LEZ Support Fund provides households and smaller businesses with a grant of £2000 to incentivise disposal of a non-LEZ standard vehicle. The Fund will also offer up to further £1000 in mobility grants or Travel Better credits to purchase a bike, e-bike or public transport vouchers.
£2 million of the overall support funding will enable the retrofitting of light goods vehicles, heavy goods vehicles and taxis through the LEZ Retrofitting Fund for microbusinesses. Collectively, these two funding steams represent the Low Emission Zone Support Fund – and both are delivered through Energy Saving Trust.
Cabinet Secretary for Transport, Net Zero and Just Transition Màiri McAllan said:
"I'm pleased that the LEZ Support Fund has again opened to provide support to those that need it most. This demonstrates our commitment to improving public health and air quality in our city centres – ensuring that this important transition, for our health and environment, happens in a fair way.
"Since 2019, the Scottish Government has provided over £10 million through the LEZ Support Fund. This has resulted in over 2800 non-compliant vehicles being disposed of or retrofitted with cleaner technology and at the same time enabling a shift away from cars and towards more sustainable transport options. It's really encouraging that the fund has enabled the purchase of over 1400 bikes, e-bikes or cargo bikes for homes and businesses.
"Wider enforcement of LEZs are already underway in Glasgow, with Aberdeen, Dundee and Edinburgh following in 2024. I would encourage everyone to think about how LEZs may affect them and to visit www.lowemissionzones.scot for the latest information."
Heather Quin, Senior Programme Manager at Energy Saving Trust said:
"We're delighted to continue our delivery of the Low Emission Zone support funds on behalf of the Scottish Government. With the current cost of living crisis intensifying, it's more important than ever that lower-income households and small businesses continue to get the support they need to adapt and make the switch to low carbon transport.
"This funding has already helped many individuals, families and businesses prepare for the enforcement of Scotland's Low Emission Zones and adopt more sustainable travel options. With the re-opening of the funding, we hope to enable even more people to enjoy the many benefits that improved air quality and access to active and sustainable transport can bring."
For more information on the funding available visit www.lowemissionzones.scot or visit the Energy Saving Trust website, who administer funding on behalf of the Scottish Government.