M8 journeys cut by 20 minutes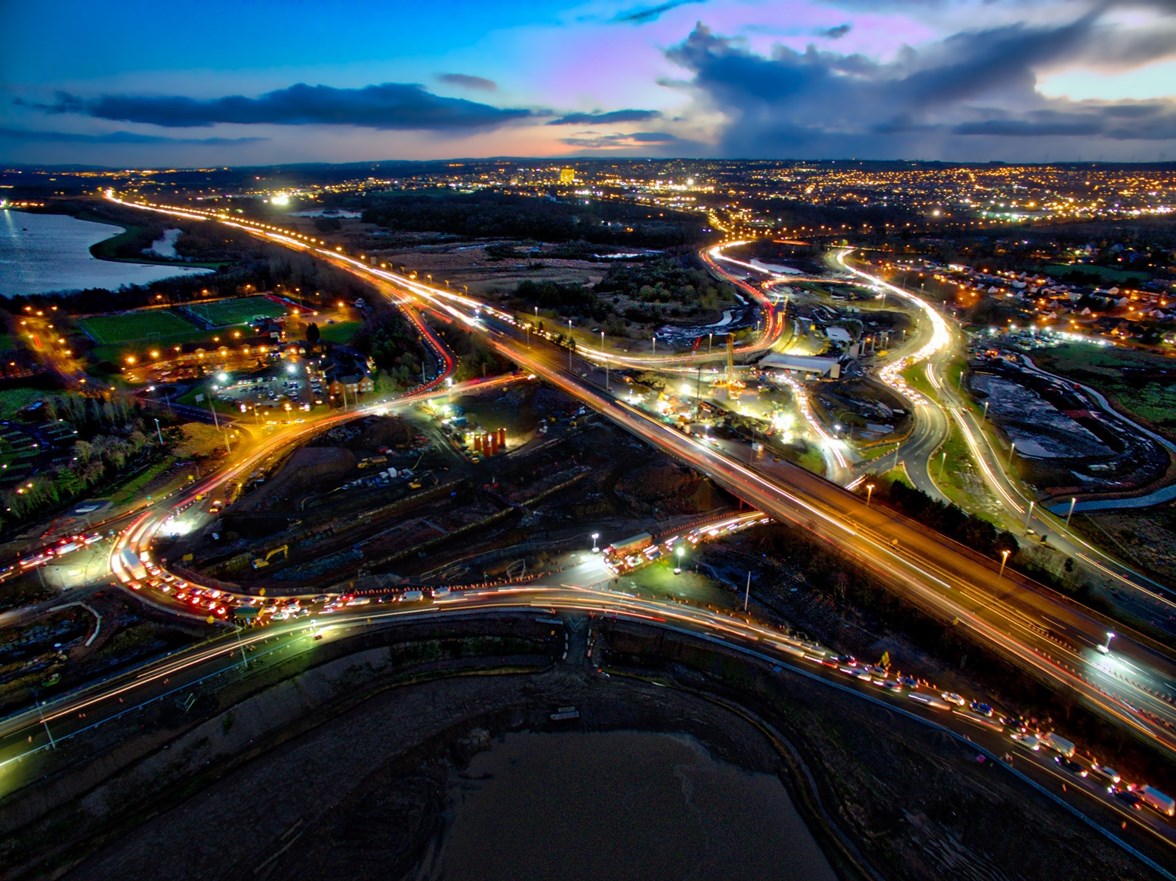 First Minister Nicola Sturgeon has officially opened the £500 million M8 M73 M74 Motorway Improvements Project, saving motorists up to 20 minutes on journey times.

The project, including the new seven mile stretch of the M8 motorway, aims to tackle congestion problems in central Scotland and is the first part of a combined £1.7 billion investment by Transport Scotland in the roads network.

New analysis by Transport Scotland shows journey times are significantly improved, with vehicles now travelling along the M8 at an average speed of almost 70mph, even during the busiest periods.

The journey time savings have been assessed as contributing more than £1bn to Scotland's economy, improving the connections for businesses between Edinburgh and Glasgow and beyond.

Improved road safety through the reduction of traffic on local roads, is set to result in a predicted reduction of more than 100 accidents per year, and accident savings of more than £118m over a 30 year period.

Speaking at the Maxim Business Park at Eurocentral, the First Minister said:

"This new length of motorway has completed the M8 link between Glasgow and Edinburgh and Scotland's previously most congested junction.

"The M8 is a vital link in the central belt and this newly completed section will help connect people to business, leisure and education opportunities and also creates a better environment for companies to do business.

"Businesses are already reporting a journey time saving of up to 20 minutes travel between Scotland's biggest cities and a similar saving for those using Raith junction. These improvements and additional road capacity will ensure our economy has room to grow.

"With the completion of this project, and three others others - the Queensferry crossing, the first section of the A9 dualling and the Aberdeen bypass - by next spring, more than 250km of new roads will have been completed in the last 10 years – representing a total investment in construction of £2.81 billion."

During construction, the project provided training and employment to more than 8000 workers, who contributed more than 6.5m hours of work to deliver these improvements.

It also project provided a minimum of 30 graduate and apprenticeship positions during the three year construction period, with a further 20 construction jobs each year aimed at the long-term unemployed. The project is also expected to provide sustainable long-term employment opportunities for approximately 60 full-time staff during the operation and maintenance of these routes over a 30 year period.

Stuart Patrick, Chief Executive of Glasgow Chamber of Commerce, said:

"Connectivity between Scotland's two biggest cities is vitally important for trade so we warmly welcome the completion of this major infrastructure project.

"The M8 M73 M74 road network is also a key link for people commuting to Glasgow, with shorter journey times a real benefit to businesses and the economy.

"Congratulations to Transport Scotland and its partners for delivering such an extensive project which will have a huge, lasting impact for travel across the country and beyond."
Work on the project started in February 2014 and all roads on the M8 M73 M74 Motorway Improvements Project were opened to traffic in Spring 2017 as planned.

Project numbers:
• 6.5 million man hours worked
• 8,000+ people worked on site at various stages over the three years
• 418,000 trees & shrubs being planted as part of the project
• 95% of on-site waste recycled
• 16km of combined foot/cycle-ways built or upgraded
• 43 new structures including 15 new road bridges and 2 railway bridges
• 25km carriageway upgraded/built during construction
• 2,500,000m2 new road pavement laid
• 3,500,000m3 of cut
• 2,500,000m3 of fill
• 100km drainage

Further infrastructure projects set to complete include the Queensferry Crossing, AWPR & Balmedie to Tipperty and A9 Dualling Kincraig to Dalraddy.

This project marks the start of a year of infrastructure delivery across Scotland. By spring 2018, the total length of new and upgraded roads delivered in Scotland over a twelve month period will be 175km, including more than 61km of motorway and 75km of dual-carriageway. In addition, more than 54km of cycle routes and footpaths will have been completed.