Matheson donates AWPR cycling equipment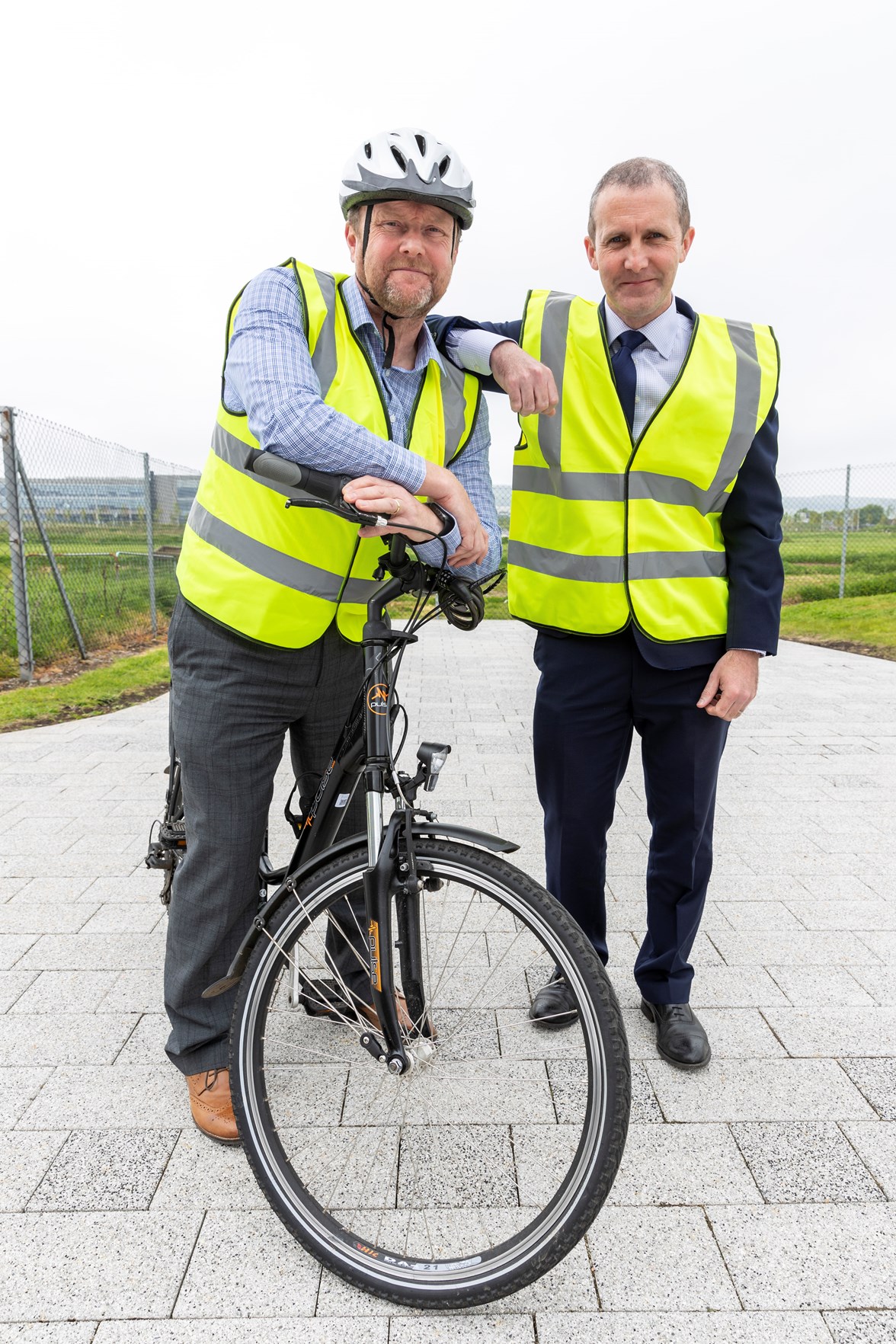 Cabinet Secretary for Transport, Infrastructure and Connectivity, Michael Matheson has handed over a wealth of nearly new cycling equipment used during the AWPR GoNorthEast Roads Festival in September 2018 to local organisations, Adventure Aberdeen and Live Life Aberdeenshire.
The equipment had been purchased as part of last September's GoNorthEast Road Festival cycling activities including 'Borrow-a-Bike', which allowed people of all ages to cycle a section of the road without having to bring their own equipment. The equipment available to donate, which had to be bought for the event rather than hired, includes:
• 13 bikes (five toddler bikes, six children's bikes and two women's bikes)
• 32 children's-sized helmets
• 1,050 high-vis jackets
Transport Secretary, Michael Matheson said:
"The GoNorthEast Festival was a tremendous success with 14,000 people coming along to the unique two-day event. The feedback we received was extremely positive and the Borrow a Bike initiative in particular proved to be very popular with visitors of all ages and abilities, who took advantage of a stock of up to 200 bicycles, including electric bikes, to travel their choice of distance along a closed 4 km loop on the new road.
"We were keen to show active forms of travel, such as cycling and walking, as well as thank the local community for being so patient while the extensive construction works were underway. It therefore gives me great pleasure to hand over a range of equipment, including bikes, to two local organisations, Adventure Aberdeen and Live Life Aberdeenshire, who are ideally placed to ensure that these can be used regularly by local people across North East communities."
Rab Dickson, Acting Director, of Nestrans, the regional transport partnership for Aberdeen City and Aberdeenshire said:
"We have been working with Transport Scotland to help identify a suitable destination for the stock of bikes and equipment they had left over from the Roads Festival. We wanted to ensure that as many local people benefit from this equipment and we realised the best way of doing that was to work with the project's funding partners, Aberdeen City Council and Aberdeenshire Council via their own arms-length bodies, Adventure Aberdeen and Live Life Aberdeenshire. Both carry out sterling work on a daily basis across the North East and I know will put all the bikes and equipment to good use, helping promote the importance of a safe, active lifestyle."
Sport Aberdeen's Director of Healthy & Active Communities, Keith Gerrard:
"The provision of this donation will be a fantastic addition to Adventure Aberdeen's supply of cycling equipment. The Kingswells base is already a popular venue for the Bikeability programme & Go Mountain bike award. These schemes teach and encourage children to get on their bikes and this kind donation is sure to help us to encourage communities to engage in fit and active lifestyles through cycling."
Cllr Anne Stirling, Aberdeenshire Council's Communities Committee chair, said:
"Live Life Aberdeenshire and Aberdeenshire Council are working to encourage active lifestyles with a focus on mental health, wellbeing and obesity. The cycling equipment provided by Transport Scotland will assist with this objective being met."