New road safety app is out of this world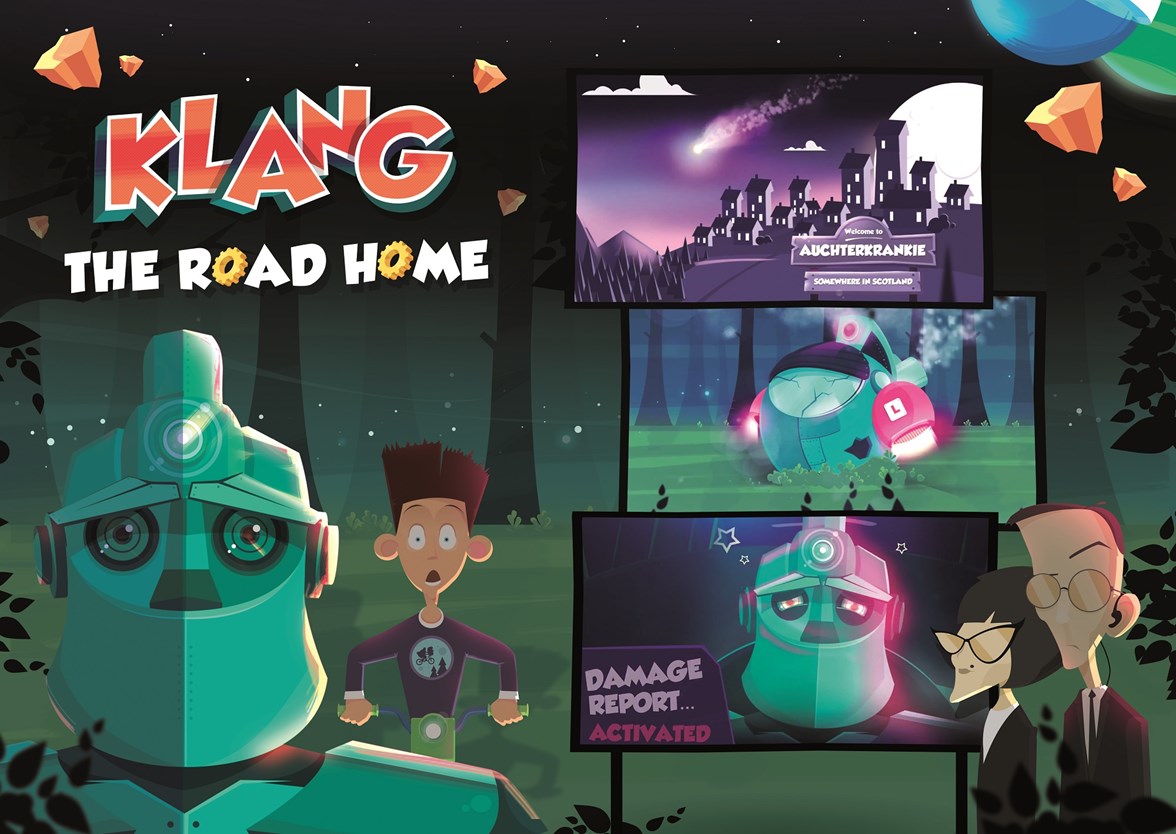 The app, KLANG: The Road Home, has been developed by Road Safety Scotland (part of Transport Scotland) and the Scottish Government using gaming technology to get across important road safety messages.
The game sees alien robot Klang crash land on earth from the planet Fendaar in a nearby galaxy. He needs help to safely navigate our busy streets to find the missing parts for his ship before making his way home, all the while avoiding discovery by rogue detection officers.
Victoria Dolatowska Headteacher at Southwood Primary School said:
"The children were really impressed with the app, they all went home and downloaded it right away and have been testing it out with siblings and parents. The KLANG character and great graphics seem to really have captured their interest and engaged them, which is key in any successful learning! The Junior Road Safety Officers (JRSOs) are going to lead an assembly so that they can launch the app to all of our P4-7 pupils and to encourage the teachers to use it too."
The JRSOs added
Molly McLaren:
"It's fun to play, it will be really good for my little brothers and sisters to use."
Ellie McCormack said:
"I really like the graphics, I think it will teach children of all ages in a fun way. I like KLANG the robot. My dad has really enjoyed playing it too."
Zeeshan Farooq:
" I like it because children are learning important stuff in a fun way. My wee brother has it and it's helping him to learn about road safety."
Chelsea Bermingham:
"It's great, my wee brother has additional support needs and he has enjoyed playing it. I have downloaded it onto his iPad for him. My mum says it's great too as it will help him to learn about road safety as he gets older."
Mairi Blair, Assistant Director at Road Safety Scotland said:
"I am delighted this fun and interactive way for kids to learn important road safety messages has been such a hit. I enjoyed trying KLANG out for myself and I am sure teachers and the young people it is aimed at will find this a useful classroom tool."
In Scotland, pedestrian accidents continue to be a serious problem, with 464 child pedestrian casualties in 2013 alone. Children aged 8-11 are one of the most vulnerable groups with injuries commonly resulting from crossing the road close to home or school, as the capacity to make judgements regarding speed and distance are not yet fully developed.
The app fills the need for resources that reinforce road safety learning with games and its development comes at a time when online behaviour among children and young people is growing and evolving. Around 12% of 8-11 year olds own a mobile device and over a third use it regularly.