No place for abuse on transport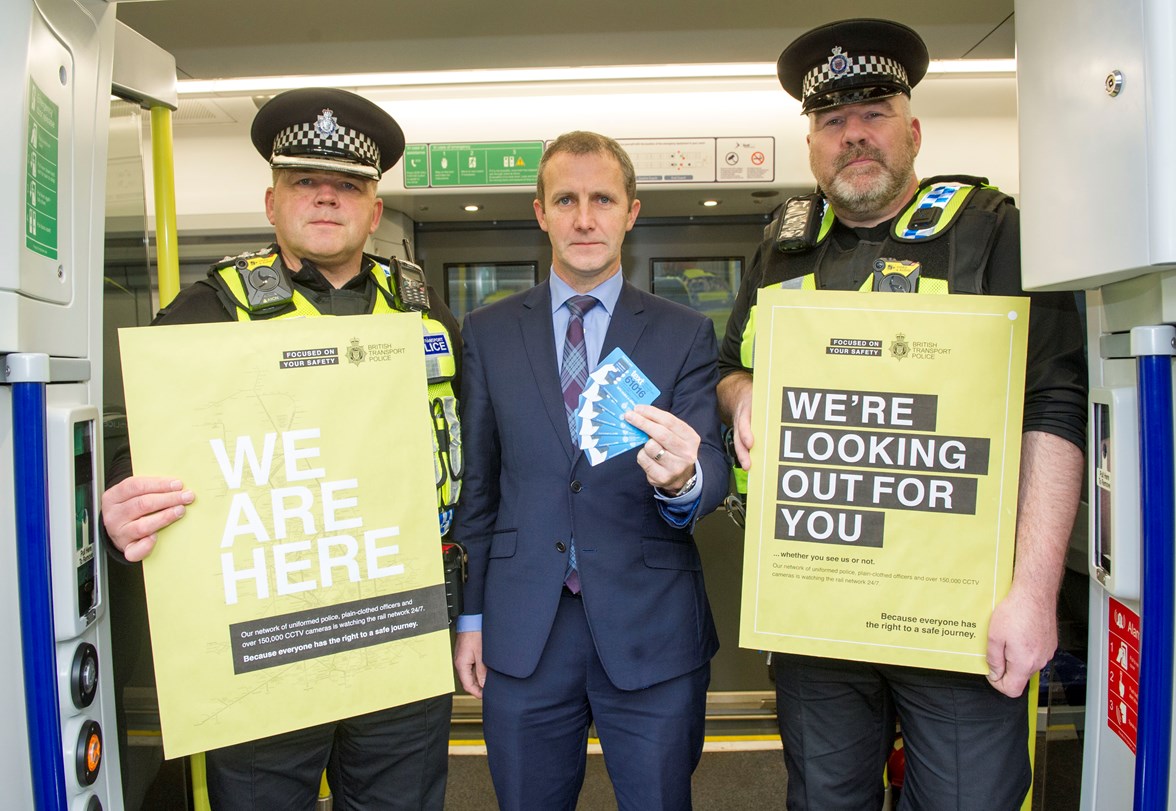 With the festive season just around the corner, party goers and transport users are being asked to extend the season of goodwill to rail staff and their fellow passengers.
This time of year traditionally sees many people let their hair down as they enjoy the seasonal festivities, while others work around the clock to make sure they get home safely. Sadly, a small minority think it is appropriate to assault those around them, particularly after a few drinks.
Whilst becoming a victim of violent crime on the rail network remains low, in 2018-2019, 453 violent offences have been reported to British Transport Police in Scotland. This won't be tolerated, which is why the Scottish Government is lending its support to British Transport Police's 'Focused on your safety' campaign, delivered with rail industry partners, which targets this type of crime.
Michael Matheson, Cabinet Secretary for Transport, Infrastructure and Connectivity said:
"Assaulting those that work on the railway and other passengers is unacceptable and I have no hesitation in supporting this important campaign. Violence or abuse of any kind will not be tolerated. Everyone working or using public transport has an absolute right to go about their business without fear of verbal or physical assault.
"It is fitting that this campaign has the backing of Scotland's transport providers and the trade unions. Our plea to the public to that they not only give their support by refraining from this type of wholly unnecessary behaviour, but also by actively reporting it where they see incidents or suspicious behaviour happening."
BTP Chief Superintendent Eddie Wylie said:
"We believe that everyone has the right to a safe journey and whilst violent crime on the rail network remains low, any incident of violent crime is one too many. Our network of uniformed police, plain-clothed officers and 150,000 CCTV cameras are looking out for both staff and passengers 24/7 but you can also always text us 61016 if you need us and call 999 in an emergency."
Angus Thom, ScotRail Chief Operating Officer, said:
"The safety of our people and our customers is our number one priority, and any physical or verbal violence towards either is completely unacceptable.
"While it's encouraging that crime on Scotland's Railway remains lower than anywhere else in the UK, no one should have to deal with threatening behaviour of any nature while at their workplace, and we'll continue to work with the authorities to clamp down on it."
TSSA General Secretary Manuel Cortes and RMT Regional Organiser Mick Hogg said:
"Violence, abuse or threatening behaviour towards our members, railways staff is completely unacceptable. More than that will land you with a criminal conviction. So by all means enjoy the festive season but don't disrespect our railway staff."
Kevin Lindsay, ASLEF's organiser in Scotland, said:
'We all want to let our hair down and have a bit of fun over the festive fortnight – at Christmas and New Year here in Scotland – but every passenger, and every man and woman who works on our railway, has the right to go to work without being abused or attacked. That's why we are backing the BTP plea for people to enjoy a drink, and a party, but remember to treat each other – and train drivers and station staff on the railways here in Scotland, with respect."