Significant snowfall expected ahead of Monday morning rush hour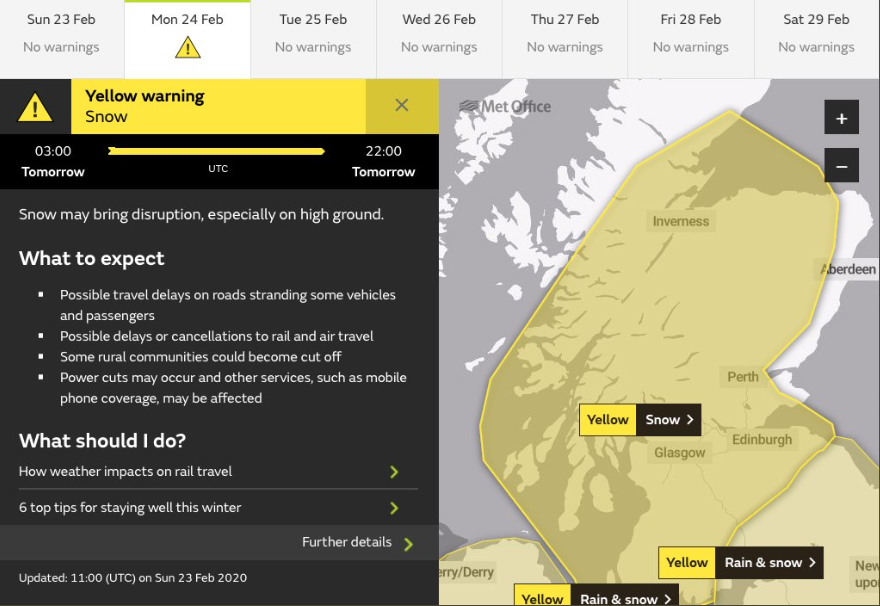 A yellow warning for snow ahead of tomorrow's rush hour has been issued by the Met Office.
Snow, sleet and rain is expected to move in to the south of Scotland overnight reaching the central belt in the early hours. The snow is then expected to reach Grampian and the north of Scotland later in the morning. Commuters are warned of low likelihood of medium impacts to the transport network due to the significant amounts of snowfall.
The Multi-Agency Response Team based at the Traffic Scotland National Control Centre in South Queensferry has been activated to monitor conditions and help to deploy response teams where necessary. Traffic Scotland is also providing updates on social media, website and radio broadcasts.
A Transport Scotland spokesperson said:
"We are being advised by the Met Office to expect significant amounts of snowfall across much of Scotland overnight and into tomorrow morning, in particular in the Central Belt during rush hour, so there is potential for people's journeys to be disrupted.
"As always, we ask that people check for the very latest information before heading off on their jouneys, drive to the conditions and follow any Police Scotland travel advice. People can check Traffic Scotland's travel service which will give details of what's happening on the trunk road network, allowing them to plan ahead as necessary. Motorists can check if their route is available by going to Traffic Scotland's mobile website - my.trafficscotland.org – which provides live information on the move.
"Other modes of transport – ferries, trains and flights may also be disrupted, so we ask people check with their operators before setting out."
Inspector Greg Dinnie from Police Scotland said: "We are advising motorists who will be travelling in the areas affected by the weather warning to travel with caution; potential snow and disruption is expected, particularly on higher ground.

"Be prepared to slow down and drive at speeds that are appropriate for the conditions. Plan your journey in advance, allow extra time and make sure that your vehicle is adequately prepared.

"You can keep up to date with weather and road information by following The Met Office and Transport Scotland on social media."