Training Scotlands future engineers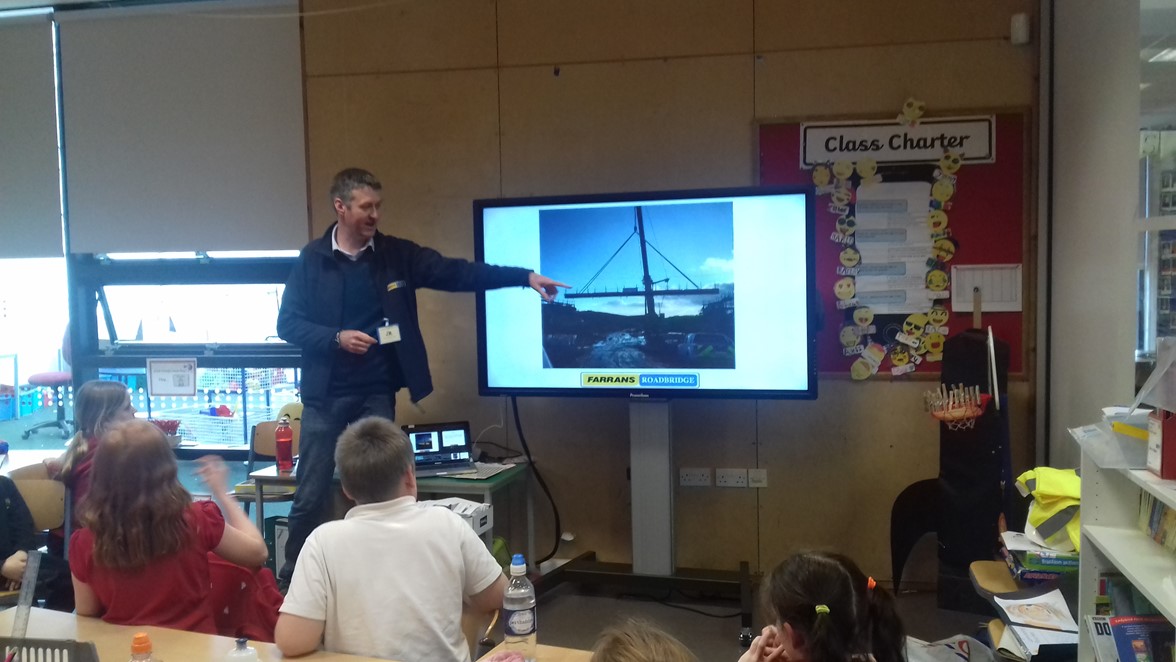 The contractor on a much anticipated improvement project on the A737 has been busy engaging with young people in North Ayrshire.
In the latest of a series of events, four staff from contractor Farrans Roadbridge Joint Venture(JV) took time out from constructing the Dalry Bypass, to visit Dalry Primary School earlier this month.

Putting the fun into learning about engineering, three P1 classes at Dalry Primary School had the opportunity to see a 16 tonne wheeled excavator that the contractor took along to the school. The children also had the opportunity to try on some Personal Protective Equipment (PPE) which included hi-vis vests, safety glasses and hard hats.

Project staff then spoke to approximately 50 children in P5 about the important role that engineers play in today's society. They were given a presentation on civil engineering as well as an insight into the Dalry Bypass – just a mile and a half from the school. The 9 and 10 year old children were then set some practical challenges. One of the challenges involved teams building a small bridge out of paper using different methods of construction to balance cubes. The winning team managed to place 20 cubes on their bridge having carefully worked out the best placement of the cubes, and the best strengthening methods of the paper bridge.
This latest visit is one of a number of recent visits to schools. Farrans Roadbridge JV started their recent school visits by attending Kilwinning Academy. Having specially trained 13 staff as STEM ambassadors, they spoke to over 120 young people about the benefits of a career in construction.
The Contractor has also attended careers events at Elderbank Primary School and Largs Academy.
Brian Snow, Project Manager, Farrans Roadbridge JV said:
"Farrans Roadbridge JV are keen to engage with local schools to promote STEM subjects. We hope to leave a lasting impression to inspire the children, and would hope it will encourage them to follow a career path in Engineering and Construction "
Mrs Kay Stevenson, Teacher, Dalry Primary School said:
"This was a fantastic opportunity for the children to engage with the members from Farrans Roadbridge Joint Venture(JV). It gave them the opportunity to find out what engineers were doing in their local community and how they could apply their STEM skills in the future."
Gavin Dyet, Project Manager Transport Scotland said:
"I am pleased to see the Contractor forging relationships with the local community in which this project is situated.
Work continues to progress on the construction of the Dalry Bypass with the results visible along the entire route. More than 100,000m3 of material has been excavated and at the end of January five beams were delivered to site and installed ready to carry Blair Road over the new stretch of A737. "