Transport Minister drives ahead with first fully fitted new electric train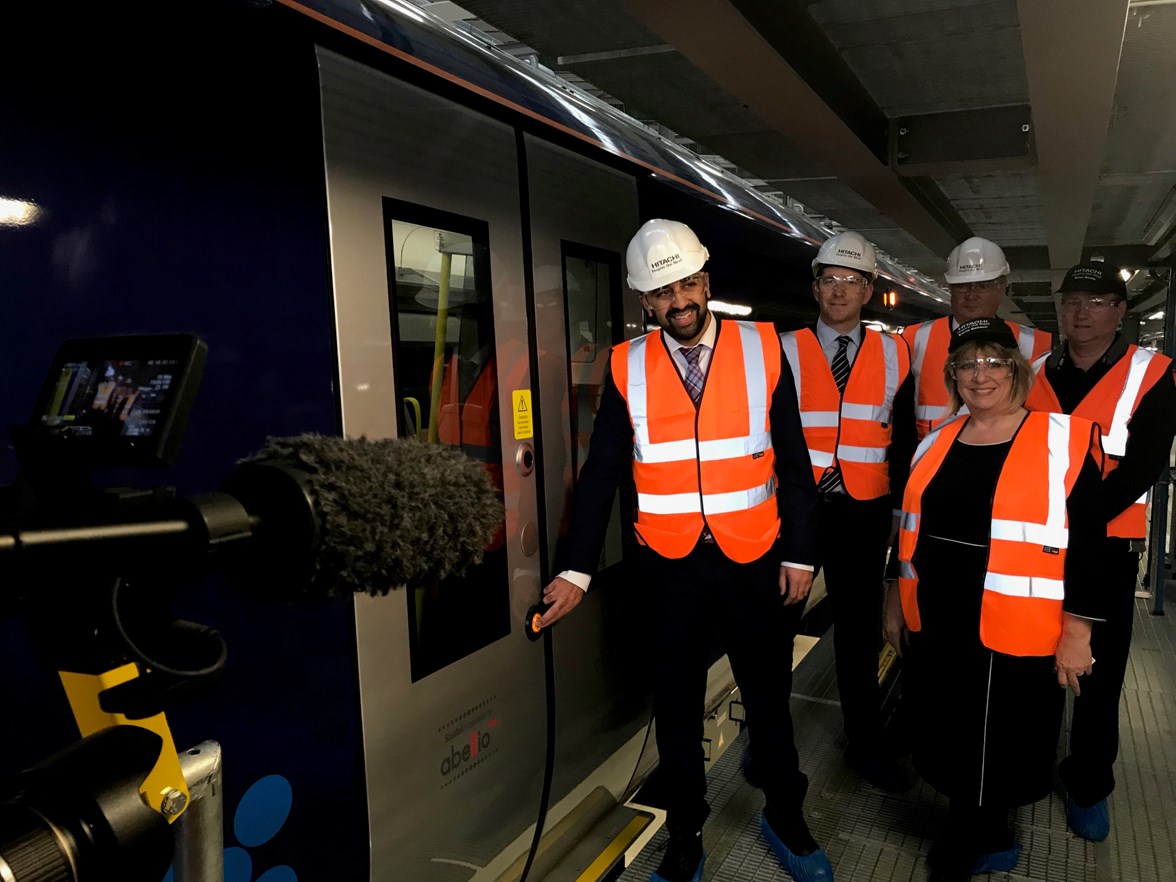 The first of a seventy strong fleet of fully fitted electric trains is set to arrive in Scotland later this week as electrified passenger service moves another step closer.
This class 385 train is in addition to the trains currently completing their final phase of route testing between Edinburgh – Glasgow on the newly electrified line.
Transport Minister Humza Yousaf was able to get on board the brand new passenger service train while it did its latest run on Hitachi's test track at the Newton Aycliffe factory, near Darlington.
He was also able to see the final stages of work being completed by staff at Hitachi's £82m facility on a number of new trains that are also bound for Scotland in the coming months.
Mr Yousaf said:
"This Scottish Government's £5bn investment is helping build the best railway Scotland has ever had.
"Since 2007, we have introduced an extra 160 carriages with 200 more to follow by 2019, increasing the ScotRail fleet by 50% and helping support the on-going increase in passengers numbers on Scotland's railways.
"This important visit has allowed me to see first-hand the latest progress on these new trains. It was a privilege to see close-up the first fully fitted c385 train and to meet the men and women who are working hard to deliver this fleet for Scotland which I know will make a real difference to passengers."
Hitachi Rail Europe Managing Director Karen Boswell said:
"We're building a brand new fleet of trains for Scotland from scratch in our state-of-the-art manufacturing facility in the UK. It's great to be able to show the Minister the high-tech Japanese engineering that goes into this train, before it heads to Scotland. The top quality design will vastly improve the journeys of passengers, which will be shorter and more comfortable."
Ian McConnell, programmes and transformation director at the ScotRail Alliance, said:
"We're building the best railway Scotland's ever had, and the new trains are a key part of that. The arrival of the first fully kitted out new train in Scotland is another key milestone in this process. It's an exciting time for customers, who will benefit from modern, new electric trains from next year.
"The new trains will deliver faster journeys, more seats and better services for our customers."
This is one of 70 trains which are being built as part of the new £370 million c385 electric fleet. It is expected to arrive in Craigentinny depot in Scotland by the weekend after which it will undergo rigorous route testing, staff familiarisation and driver training to enable it to come into service in the coming months.
Transport Scotland, Hitachi Rail Europe and the ScotRail Alliance are working together to ensure passengers travelling between Edinburgh and Glasgow feel the benefits of these trains as soon as they have completed the rigorous testing programme.
Production at the rail vehicle manufacturing facility is ramping up to enable the full Edinburgh-Glasgow via Falkirk High services to become "all electric" next year. The new trains will provide more seats, better accessibility, faster journeys and modern facilities when they are gradually rolled out across other central belt services in the next 18 months.