Transport Minister launches Scotland's rail freight strategy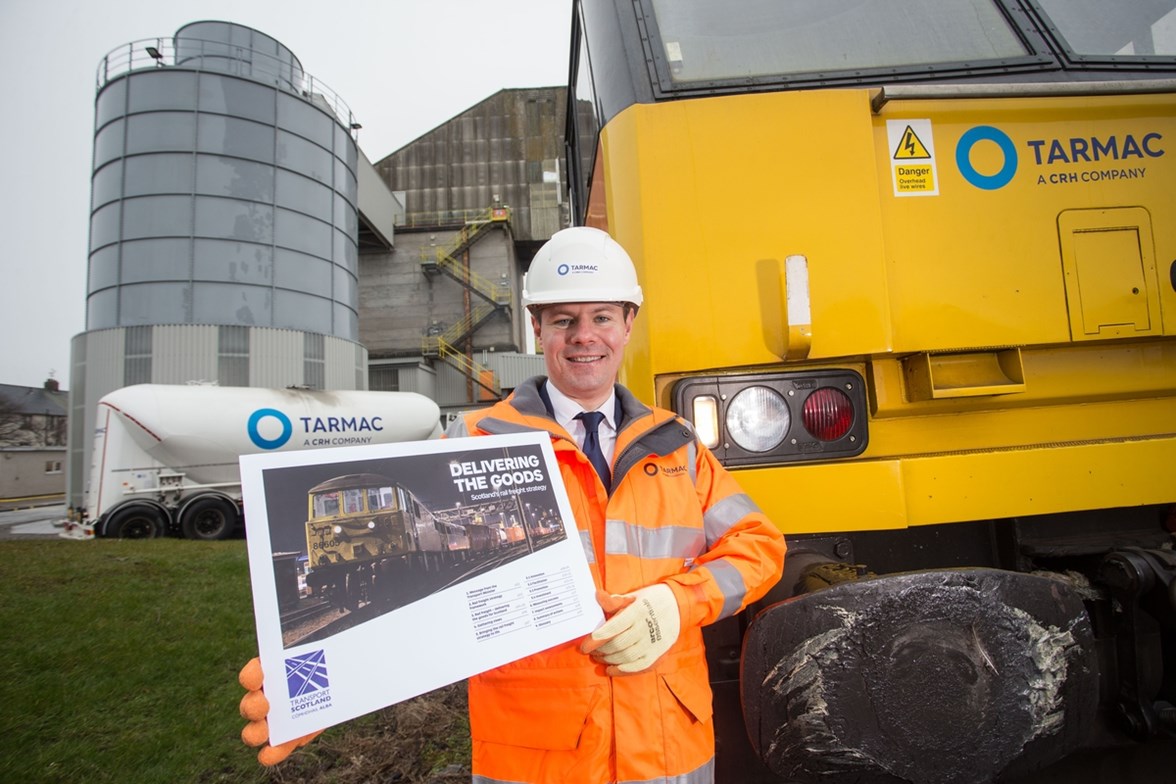 The document, 'Delivering the Goods' outlines a new vision for a competitive and sustainable rail freight sector that will meet the demands of modern markets, provide a boost to the industry and support economic and environmental targets.
The strategy supports the rail freight sector to tap into new and growing markets through four key levers of innovation, facilitation, promotion and investment. It has a range of actions to inform its delivery and critical success factors against which progress can be tracked and measured.
Mr Mackay called upon industry and business across Scotland and the UK to unite behind the delivery of the strategy and support the rail freight sector:
"This strategy follows a comprehensive consultation process that sought the views of the rail freight industry, businesses, trade unions and other stakeholders.
"What became clear during this process is that there are growing challenges facing the industry, however it also revealed a definite desire to tackle them and a need to work together in order to put rail freight back onto a sustainable footing.
"By offering a range of concrete actions that will lead to increased innovation and collaboration across the industry, targeted investment in Scotland's strategic freight network, and better promotion of the benefits of rail freight both to business and society, we can create the conditions that will allow the sector to prosper and grow.
"I am confident that this strategy will lay the necessary groundwork for creating a sustainable, high quality, highly efficient rail freight industry that Scotland needs, wants and deserves."
Mr Mackay visited Tarmac's depot at Aberdeen Craiginches rail freight terminal where he saw at first hand operations which will transport concrete from Dunbar to Aberdeen for use in the construction of the Aberdeen Western Peripheral Route.
Chris Swan, Senior Manager, Rail at Tarmac said: "As one of the UK's largest private sector users of rail freight, we were pleased to welcome the Minister to launch this strategy and demonstrate how our rail freight capacity in Scotland is helping us to meet our customers' requirements for high quality construction materials on infrastructure projects."
Tarmac recently signed a new five year haulage contract with Colas in Scotland, alongside a deal with VTG to supply 46 new, modern cement wagons, which will enhance its capacity to supply customers with materials for critical construction projects.
The new rail freight strategy has been endorsed by the Rail Freight Group (RFG), which represents users and suppliers of rail freight throughout Britain. RFG's Scottish Representative, David Spaven, said:
"We welcome the Scottish Government's strong support for the development of rail freight in Scotland. The industry is ready to rise to the challenge, working innovatively with government – at all levels – and with our customers, both existing and potential. The more freight we can move by rail, the greater the economic and environmental benefit for Scotland."
ENDS