Winter Service Launch 23/24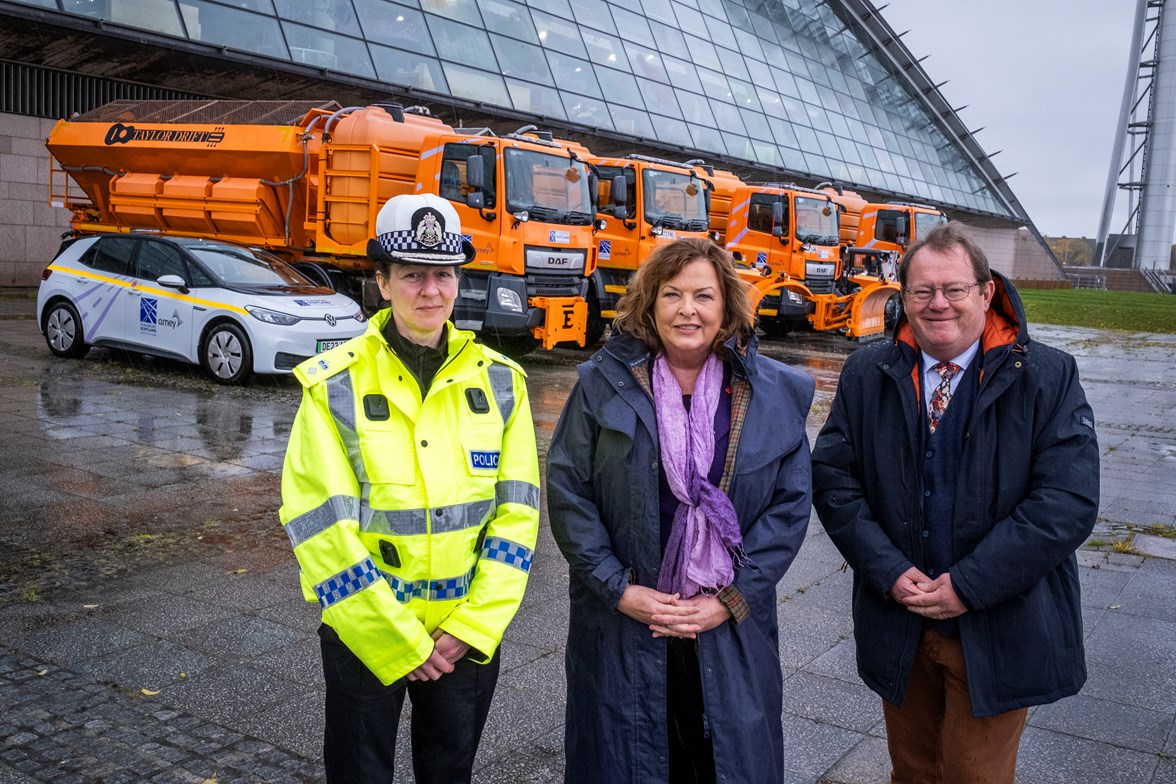 Scotland's trunk roads will be serviced by a fully refreshed fleet of gritters this winter to help keep Scotland moving.
With new network management contracts in place for the north west and north east units, it means the entire gritter fleet has now been replaced with new vehicles as part of the improved winter service. Gritter numbers are maintained at a record high of 240.
All four network management contracts bring increased quality and innovation to the winter service. This includes:
Enhanced snow clearance strategy and gritter patrols across the trunk road network.
Improved snow plans for specific routes, which now cover the Aberdeen Western Peripheral Route and parts of the A90 around Aberdeen, as well as the M8, M74, M77 and M80
Pro-active treatments of foot and cycle paths.
Salt barns are full with almost 467,000 tonnes ready for use – which is more than was used across both Scotland's trunk and local roads last winter.
Police Scotland and the Met Office will have dedicated staff based at the Traffic Scotland National Control Centre in South Queensferry throughout the winter period to ensure close and effective working between key partner agencies. The Scottish Environment Protection Agency will also contribute to the Multi-Agency Response Team to help improve the overall response to heavy rainfall and named storms.
Minister for Transport Fiona Hyslop said:
"Our teams work hard throughout the year to learn lessons from previous winters and prepare the trunk road network for the worst conditions that winter can bring.
"This winter will see a fully refreshed gritter fleet conducting enhanced patrols across the network for the first time since all four improved maintenance contracts were put in place. Our route specific snow plans have also been updated and will now include the Aberdeen Western Peripheral Route and parts of the A90.
"It's not just the impacts of snow and ice that we plan for at this time of year. We've already experienced heavy rain in recent weeks with the impact of Storm Babet, so I'm pleased to see SEPA as part the multi-agency response team this winter.
"It's also important that motorists play their role. We're asking them to make sure their vehicles are prepared for difficult conditions and they know where to find the best sources of information to help plan their journeys ahead of time. Traffic Scotland provides up-to-date information on the trunk road network at its website, twitter/X account and internet radio broadcasts. The ever popular gritter tracker is also back this winter, so you can follow the named gritters as they patrol your local area.
"I'd once again like to recognise the incredible efforts of all the transport workers during Storm Babet, and thank them for all their hard work and planning to help keep Scotland moving this winter."
Chief Superintendent Hilary Sloan, head of Road Policing, said:
"Planning ahead can save all road users a lot of potential disruption, especially when winter weather can be changeable across Scotland.
"There are steps you can take to help your travel experience this winter, such as checking your tyre tread, tyre pressure and windscreen washer levels. It's your responsibility as a driver to ensure your windows are completely clear before starting your journey. Surface water, high winds and ice will affect how you should drive.
"If a weather warning is in place, listen to media broadcasts – including radio – for updates. Follow your local authority on social media, check Traffic Scotland's website and share that information with people who might not have access to the internet.
"Collaboration with key partners is vital in our preparation and response to the demands faced every winter."  
Met Office Markets Director Ian Cameron said:
"Storm Babet was a reminder of the devastating impacts severe weather can have on lives, communities and transport infrastructure
"Our long-standing relationships with Transport Scotland, SEPA and partners through winter provides key information needed to help everyone to make better decisions to stay safe and thrive."By working together, we're able to use forecast information to help manage transport networks and keep things running as smoothly as possible."
Pascal Lardet, Unit Manager in SEPA's flooding team, said:
"Working together with emergency response partners and other agencies is a key part of how SEPA helps Scotland prepare and respond to the flooding impacts of extreme weather. The climate crisis recognises that we're likely to see more intense and damaging events like Storm Babet, and SEPA's flood forecasting and warning services are central to how we can adapt, and take action to reduce the impact of flooding on our lives.
"Every day, in partnership with the Met Office, we deliver three-to-five-day flood forecast guidance, and 24/7 we're monitoring river and coastal conditions, ready to issue regional Flood Alerts and local community Warnings. As we head into winter, this is a great time for people to sign-up to our free Floodline message service, and use the Scottish Flood Forecast, updated online daily."