Winter service launch
Improved support and information is being made available for drivers using the trunk road network to help keep Scotland moving this winter.
These improvements come following the 'Beast from the East' weather event earlier this year, which saw the Met Office issue its first red weather warning for snow in Scotland since the introduction of the colour coded warning system.
New equipment has been added to the winter fleet, new police travel advice will help give clear guidance to drivers and the Met Office has launched an online forecast dedicated to conditions in Scotland.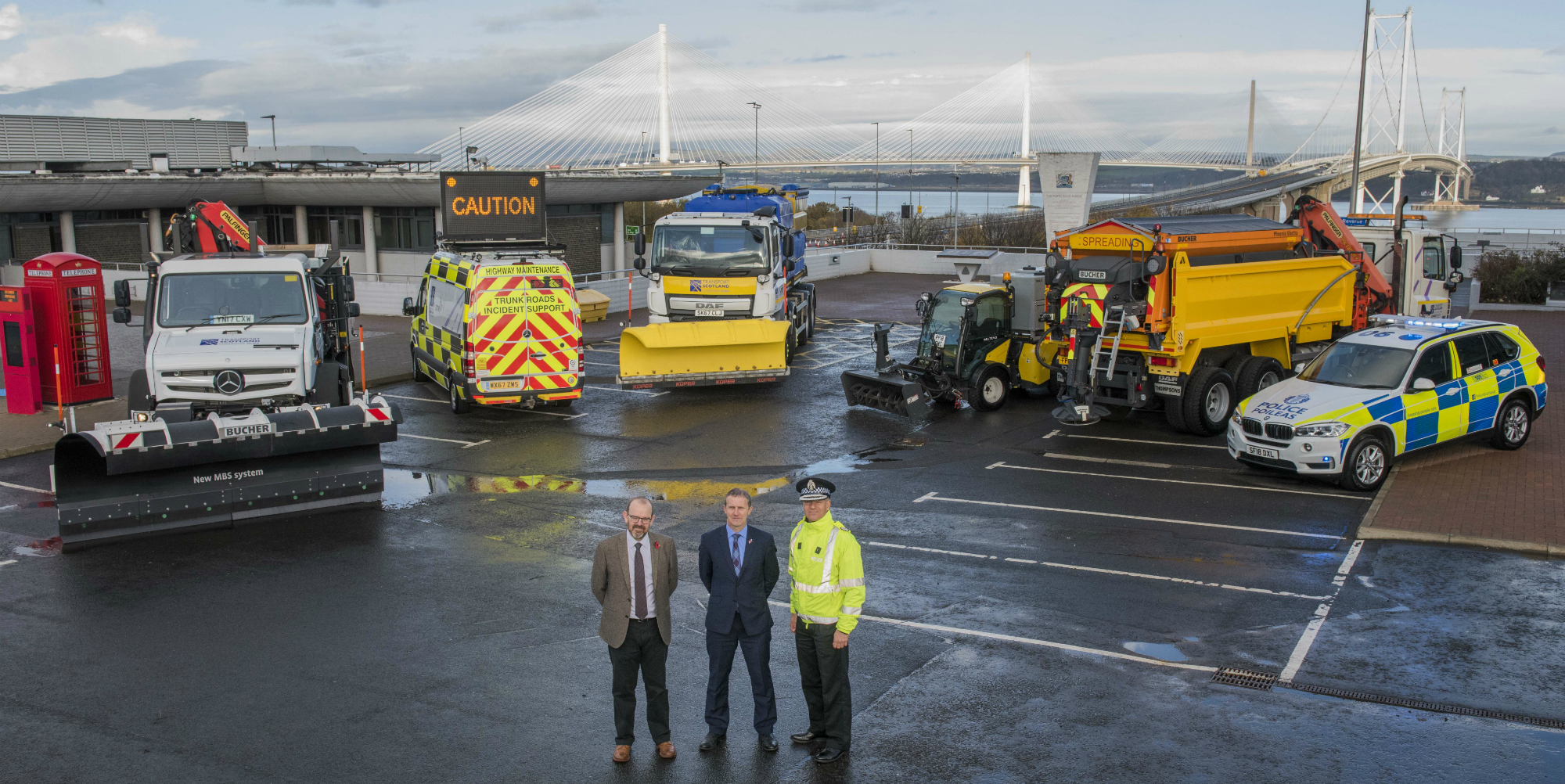 The new equipment includes:
a customised Unimog, capable of spreading enhanced liquid de-icer, which will be strategically located for use during high level snow and flooding events.
an electric powered spreader, which will be deployed as patrol vehicle on the M8.
a Hilltip Icestriker from Finland, fitted with a V plow, will be trialled on the M80 to ensure recovery teams can access incidents in the most challenging conditions.
As well as the fleet of emergency response vehicles, we have more than two hundred traditional gritters located at 42 depots across the country. Specialist snow plans are being developed, in conjunction with our operating companies and Police Scotland, for the M8, M74, M77 and M80, following the significant snow events on these routes in recent years. We also continue to liaise with the haulage industry to ensure their members are aware of conditions and advice.
Salt barns are full and further live brine trials will be carried out to give teams alternative treatments during the lowest temperatures. The gritter tracker is once again up and running, letting people see where our gritters have been carrying out treatments.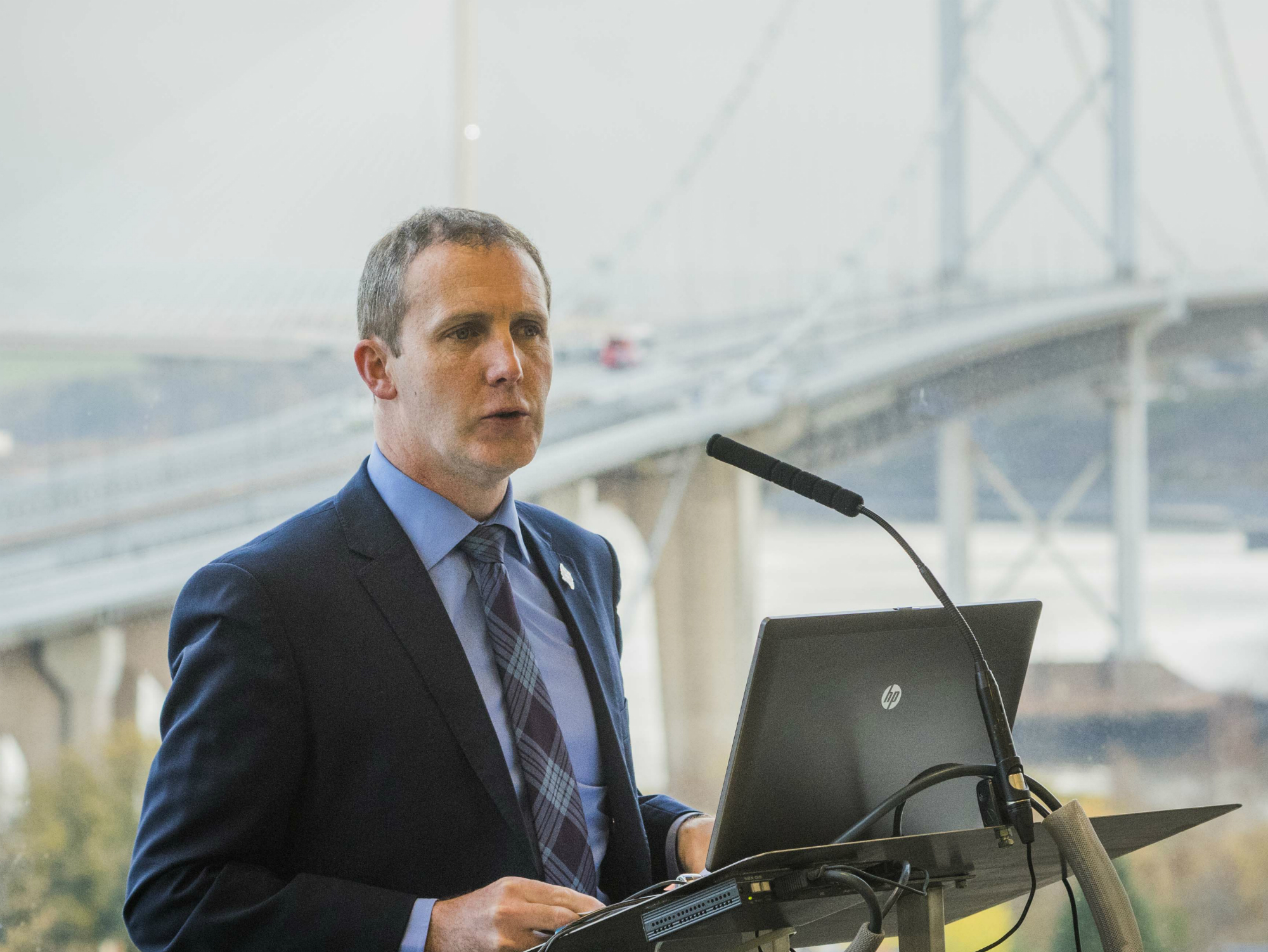 Cabinet Secretary for Transport, Infrastructure and Connectivity Michael Matheson said:
"We can't prevent the challenging weather we see during the winter period, but our teams work all year round to ensure we're fully prepared and ready to respond when difficult conditions set in.
"The challenges faced during the 'Beast from the East' are still fresh in the memory, so we have looked to make improvements across the board, from equipment and treatments to information and advice for travellers.
"As always, the Traffic Scotland mobile site – my.trafficscotland.org – provides up to date information on the trunk road network, the @trafficscotland twitter page is regularly updated and the popular gritter tracker is also available.
"Transport Scotland officials will continue to work with Police Scotland, the Met Office and other partner organisations to ensure we have a joined up approach to keep Scotland moving this winter."
Representatives from Police Scotland and the Met Office will be based at the Traffic Scotland National Control Centre in South Queensferry during the winter period.
Following heavy snowfall during the 'Beast from the East', Police Scotland has revised its travel advice to ensure drivers get clear, concise advice on conditions.
Assistant Chief Constable Mark Williams said:
"Motorists found the numbering system we were using to indicate the severity of travel warnings confusing, as it didn't directly relate to the weather warnings issued by the Met Office. As a result, we've decided to replace it with a system which is more specific and targeted.
"Our new system will make advice much clearer for drivers of all types of vehicles and we'll be issuing specific guidance to drivers of Goods Vehicles, buses and also to drivers of vehicles which may be vulnerable to being blown over on exposed routes.
"Winter driving is a question of common sense and drivers should ask themselves if they really need to travel when conditions are poor. No-one should ever place themselves at risk on the road and it may be worth considering postponing your journey or making alternative arrangements such as delaying travel until conditions improve.
"If you are travelling on the roads you should ensure you and your vehicle are adequately prepared for the conditions, making sure you have sufficient fuel and supplies such as warm clothing, food and water in the event you are delayed. Charge your mobile phone and plan your route in advance. Listen to media broadcasts, especially local radio, and visit the Traffic Scotland website for more advice."
The Met Office revised its own weather warnings earlier this year and has launched a daily YouTube broadcast, dedicated to conditions in Scotland.
Andy Kirkman from the Met Office said:
"The Met Office is delighted to continue working closely with our partners in Transport Scotland, delivering key weather information and advice to decision-makers to help them get through the winter season. Adverse winter weather such as snow, ice and heavy rain can cause disruption to transport services - our forecasters and advisors work closely with authorities in Scotland to prepare for these types of weather.
"As part of our commitment to continually improve, this year we introduced daily Scotland weather broadcasts on our YouTube channel and we are now able to issue weather warnings up to 7 days in advance, enabling people, businesses and emergency responders to know what the weather has in store and what impacts that weather may bring."