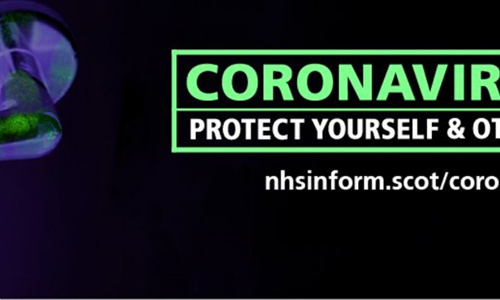 Coronavirus (COVID-19)
Latest transport updates and news, as well as useful links to other websites for travel advice and information.
---
Stay at home, protect our NHS, save lives
It is important to follow advice to stay at home unless it is essential to go out. By doing this we can all help to reduce the spread of coronavirus (COVID-19), protect our NHS and save lives.
The Scottish Government has been clear in advising that only essential travel should be undertaken at this time. This applies whether you are using public transport or walking, cycling or driving.
Limited public transport services continue to operate to ensure people who absolutely need to get to work can continue to do so. Visit Traveline Scotland or check with your operator for the latest information on services.
Road construction and maintenance
In response to Scottish Government guidelines, we've instructed our road operating companies that all non-essential operations and maintenance cease and that this is done safely and efficiently. We're also implementing a managed shut down of construction work on our new roads project sites which is likely to take several days to complete in most cases.
Transport news
Update from Transport Secretary on Coronavirus impact on transport
Transport Secretary Michael Matheson gave an update to the Scottish Parliament's Rural Economy and Connectivity Committee (RECC) on the transport resilience response to COVID-19 on 18 March 2020.
Watch the Scottish Parliament video from 10:32:00 onwards:
Latest news from the Scottish Government
1 April 2020
31 March 2020
30 March 2020
28 March 2020
27 March 2020
26 March 2020
25 March 2020
24 March 2020
23 March 2020
22 March 2020
21 March 2020
20 March 2020
19 March 2020
18 March 2020
17 March 2020
16 March 2020
15 March 2020
14 March 2020
13 March 2020
12 March 2020