Oban primary school kids get smart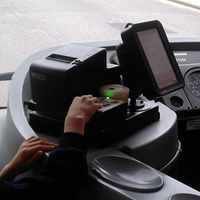 Argyll and Bute Council supported by Transport Scotland and West Coast Motors has introduced a 10 journey carnet ticket primarily for 100 children who are not entitled to free school travel. On 17 August 16, pupils were able to travel throughout Oban using their Kidz saltirecard on West Coast Motors buses.
The smart ticket is purchased on bus and loaded onto the Kidz saltirecard by the on-board ticket machine, and used when required by tapping the card at the electronic ticket machine to deduct 1 trip every time a journey is required.
The new smart form of travel is ideal for pupils travel patterns as it only deducts 1 journey when they travel, and reduces the requirement for children to carry cash with them,  permitting quicker and easier boarding.
---