Prentice Coaches launch smart e-Purse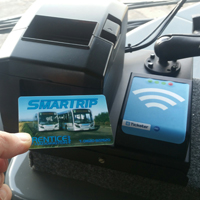 On 10 October 2016, Prentice Coaches, supported by Transport Scotland, introduced a smart e-Purse which enables passengers to add e-money onto their Prentice Coaches saltirecards either online or on bus.
This means that passengers don't need to worry about having cash when they board the bus as they can just tap their Prentice Coaches saltirecard at the electronic ticket machine and travel. The fare is deducted from the e-money held on the saltirecard and is proving very popular and convenient with customers and also the bus operator.
Ross Prentice, owner of Prentice Coaches said:
"As a progressive and innovative company we are always looking for ways to make it easier for passengers to use our buses and having our own smartcard, supported by Transport Scotland, will do that. We have already had requests for cards after announcing their availability on our social media channels.
"Furthermore, we intend introducing more smart products very soon including carnet and period passes which will offer our passengers a breadth of travel options on our bus service."
This second pilot is continuing to provide invaluable input to the development by Transport Scotland of the national e-Purse scheme.
---