01 Performance Report
Overview
Statement by Chief Executive
Introduction
The 2016-17 Annual Report and Accounts for Transport Scotland presents a review of the Agency's performance during the year, together with the audited accounts for the year. In the overview section below, the Agency's Chief Executive provides his summary on performance, sets out the key purposes of the Agency and the risks / challenges faced during the year. Performance is analysed in detail within the Performance Analysis section.
I am pleased to introduce Transport Scotland's Annual Report and Accounts for 2016-2017. The past year has been another busy and exciting time within the Agency, as we continue to support Scottish Ministers in delivering transport projects and priorities across Scotland.
The start of the year marked the beginning of a number of important actions for our policy teams, with the refresh of the National Transport Strategy refocusing our roles and responsibilities in line with Minister's transport priorities, and work has now begun on a fuller strategy review.
May 2016 saw Derek Mackay MSP promoted to Cabinet Secretary for Finance and the Constitution, and we welcomed a new Minister for Transport and the Islands, Humza Yousaf MSP, and a new Cabinet Secretary for Rural Economy and Connectivity, Fergus Ewing MSP.
Our major projects continued at a pace this year, with the M8/M73/M74 Motorway Improvements Project reaching critical stages including the demolition of the M74 Bothwell Bridge and a number of altered junctions on the M8 becoming ready for use. In addition, our north east schemes continued to progress, with a £50 million design contract awarded for the A96 Inverness to Aberdeen dualling scheme, and new junctions opened on the Aberdeen Western Peripheral Route/Balmedie to Tipperty (AWPR/B-T)Project.
In August 2016, our Rail directorate saw refurbishment of the Queen Street tunnel, which reopened early and on budget, and December 2016 also saw the opening of a new interchange station, Edinburgh Gateway, and refurbished trains coming into service. All these marked further significant milestones in the Scottish Government's five year £5 billion programme of investment.
Elsewhere our Aviation, Maritime, Freight and Canals team were successful in securing new air routes to the USA and beyond, and oversaw the award of a £900 million ferry services contract for the Clyde and Hebrides routes.
On the roads, maintenance remained a priority, as well as the repair of the truss end link on the Forth Road Bridge. The Saltirecard family of smart tickets continues to expand with multi-operator smart card tickets currently available on buses in Aberdeenshire and Tayside. Early in the year we updated our Strategic Road Safety Plan and we continue to see safety cameras, along with our Road Safety Scotland marketing campaigns, have significant positive effects on public safety.
The year has presented a range of challenges which the organisation has had to respond to, including the performance of the ScotRail franchise, cost increases and time delays on a range of major rail projects not directly delivered by the Agency, as well as the impact of weather on the opening date for the new Queensferry Crossing.
The Agency has responded well to these challenges through strengthened project governance, performance monitoring/ reporting and engagement with our delivery partners.
It is always pleasing to see the efforts of our Transport Scotland team, plus our partners and stakeholders, recognised for their hard work to improve the transport network. In summer 2016, we were awarded the Scottish Transport Award for Travel and Marketing Information, highlighting how working across directorates and with partner organisations, we can provide a better service for the travelling public. Further awards have acknowledged innovative road safety schemes, transport projects, the reopening of the Forth Road Bridge and of course, the Queensferry Crossing made it into the Guinness Book of Records.
I am very proud of the skill, flexibility and professional commitment of staff within Transport Scotland. I thank all colleagues involved and also acknowledge our partners across Scotland, who played a significant role in making this another very successful year in transport.
Purpose and Activities of the Organisation
Transport Scotland is an Agency of the Scottish Government responsible for national transport and accountable to Parliament and the public through Scottish Ministers.
We oversee the operation and improvement of the trunk road, ferry, inland waterway and railway networks in Scotland; air passenger facilities in the Highlands and Islands, and are responsible for securing air routes for Scotland; national concessionary travel schemes and the provision of network traffic and travel information services. We also support Ministers in prioritising future transport policy and investments, whilst actively promoting sustainable transport and road safety.
The Scottish Government aims to create a more successful country, with opportunities for all of Scotland to flourish, through increasing sustainable economic growth, and this provides the focus for our work. Transport Scotland's delivery priorities are for improved connections across Scotland; increased safety and more innovation; continuously improved performance; better journey times; better reliability; greener transport alternatives and reduced emissions.
These provide a clear focus to support development and delivery of efficient, effective and sustainable transport infrastructure and services for Scotland.
Key Issues and Risks Affecting the Organisation
The principal risks and uncertainties facing Transport Scotland relate to our major contracts for, and financial investment in, the provision of rail, ferry, bus and air services, the maintenance of the road, rail and the Highlands and Islands air networks and major infrastructure such as the Queensferry Crossing.
The inherent risks relate to performance by contractors which can also be affected by outside factors such as adverse weather. We have focussed efforts in particular on improving winter resilience on the trunk road network and manage the related financial risks on these contracts by providing support, including monthly reporting to budget holders, directors and the Scottish Government.
Roy Brannen
Chief Executive, Transport Scotland
Performance Analysis
The following high level objectives were set out in our Corporate Plan 2012-15 which was extended to cover 2016-17 and thereby align with the Scottish Parliamentary cycle. The plan is currently being revised in 2017-18.
Improved connections across Scotland and internationally
Increased safety, more innovation
Continuously improving performance and organisation
Better journey times, better reliability, quality and accessibility
Low carbon technology and infrastructure, reduced emissions
The key contributions of each Directorate within Transport Scotland during 2016-17 are set out below. Many of the projects/programmes undertaken contribute to the achieving of multiple objectives. Regular formal progress reports are provided to senior management during the year, including details of progress against targets and narrative on measurement methodologies and variations from targets.
A more detailed analysis of our performance is reported more fully in our Transport Review 2016 which can be accessed from our website at www.transport.gov.scot/publication/annual-review-2016.
Trunk Roads and Bus Operations
Following the publication of the Strategic Road Safety Plan update in March 2016, we have been working with communities and partners to promote and action the Safe System approach set out within the plan to deliver improvements to our speed enforcement capability and innovative speed management solutions, through 2017 and beyond.
The Average speed camera system and HGV speed limit pilot, which came into force on the A9 between Dunblane and Inverness in 2014, continues to improve safety on this stretch of road, with significant improvements noted in driver behaviour. Figures for 2016 show the number of overall casualties fell by 37%, and the number of vehicles travelling at excess speed fell by 95%.
Following the 2015 Safety Camera Programme Review, the first new sites for safety camera enforcement were introduced in late 2016. The A77 safety scheme was upgraded to new digital cameras at a cost of £1 million and cameras have also been deployed on the A90 Forth Replacement Crossing (FRC); the M8 M73 M74 Motorway Improvement Project; the A9 Kincraig to Dalraddy and also to support the Aberdeen Western Peripheral Route /Balmedie to Tipperty (AWPR/B-T) project. In addition, camera enforcement of variable speed limits will be introduced for the first time in Scotland in 2017, as part of the FRC Intelligent Traffic Systems.
We continue to support the transport planning and delivery of all of Scotland's Major Events through working with event promoters and the wider transport sector. In 2016-17, we played a key role in the successful delivery of transport support for the The Open Golf at Troon, "T in the Park" and the Royal Highland Show.
We have continued to support our most vulnerable citizens by investing nearly £200 million in the Scotland-Wide Free Bus Concessionary Travel Scheme for Older and Disabled People. In 2016, 1.3 million national entitlement cards were renewed to incorporate the latest smartcard technology.
We are committed to promoting, supporting and advancing the rights of pedestrians to ensure that our roads and pavements are accessible for all. The stakeholder working group, comprising of disability groups, active travel and motoring services will carry out a review and public consultation on improving parking in Scotland. The findings will inform the development of legislation and guidance for implementation.
As well as continuing to invest in the maintenance of our trunk road structures such as the A985 Kincardine Bridge and the A898 Erskine Bridge, we have also implemented a strategy to protect our network from overweight vehicles. Using the latest Automatic Number Plate/Weigh In Motion we are working with key stakeholders to target overweight vehicles with a view to mitigating this practice.
As part of the Scottish Government's Programme for Government, to address wear and tear on the network, we successfully undertook the £2.4 million replacement of two bridges in the A830 programme, at Ranochan and Arienskill. Part of eight bridges being upgraded along the route, Ranochan opened to traffic in December 2016 and Arienskill opened in February 2017.
We continue to progress the delivery of the Scottish Government's vision for one Saltirecard smart ticketing system to be available across all public transport modes throughout Scotland. We continue to engage with the bus industry, local authorities and Regional Transport Projects (RTP's) as well as with ScotRail and the ferry franchises, and Scottish bus operators now deploy compatible ticketing equipment to dovetail into this programme. Discussions are on-going to expand the existing schemes and to introduce, as a priority, multi-operator smart ticketing in the Glasgow and Edinburgh areas. The smart Saltirecard has been introduced on all routes and was made available in 2017 across the network, for the majority of ticket types. It is anticipated that all ticket types will be available on Saltirecard by 2019, including some multi-modal tickets.
Major Transport Infrastructure Projects
The Forth Replacement Crossing (FRC) project is now expected to open to traffic by August 2017. The projects remains within a budget range of £1.325 – £1.35 billion. The project has now realised cumulative savings of £245 million since construction began in June 2011.
The FRC Contact and Education Centre has proven to be hugely popular, with local communities, schools, colleges, universities and other organisations taking advantage of the many events that continue to be organised by the project team. Since opening, over 70,000 people, including more than 20,000 school pupils, have been informed about the project through the outreach and education programme.
Progress continues on the Aberdeen Western Peripheral Route/Balmedie to Tipperty (AWPR/B-T) project. Phase 1 of the project, comprising the Craibstone and Dyce junctions on the A96, opened to traffic in late August 2016, and employment on the project peaked during 2016 at 2,500 people. It is estimated that, when complete, the AWPR/B-T project will cut journey times across Aberdeen by up to half at peak times and will generate over £6 billion of additional income (at 2004 prices). We have an extensive schools engagement programme, which is aimed at encouraging young people to consider the construction industry as a career route, whilst informing them about the AWPR/B-T project in general. So far, the project team has reached out to almost 6,500 primary, secondary and college/university students.
The £500 million M8/M73/M74 Motorway Improvements Project entered its final stages in 2016-17. The M74 J5 Raith underpass opened to traffic in February 2017, providing immediate and substantial journey time improvements for drivers using the A725 and travelling between the Bellshill bypass and the East Kilbride expressway. This project, will improve journey times during peak periods, enhance connectivity and contribute to road safety across the Central Scotland motorway network. The project opened to traffic in Spring 2017.
Design work is well underway on the 11 road schemes that make up the 80 miles of A9 Dualling between Perth and Inverness – one of the biggest transport infrastructure projects in Scotland's history. The design and construction work for the A9 programme is helping support over 1,200 engineering jobs in Scotland. The first section to be dualled, at a cost of £35 million, is between Kincraig and Dalraddy and is scheduled to open in the summer of 2017.
We launched the Academy9 Programme to maximise the benefit of the A9 dualling by infusing elements of the various activities involved into the education curriculum and increasing awareness of STEM (science, technology, engineering and mathematics) and civil engineering-related careers, with the goal of getting pupils ready for the local jobs which the programme will create. Since the launch of the programme in August 2015, events have been held with over 2,600 students and 400 teachers in schools along the length of the A9.
As part of the ambitious programme to dual the A96 between Inverness and Aberdeen, work is progressing on the design work for the Inverness to Nairn (including Nairn Bypass) scheme, and Draft Orders were published in November 2016. In addition, a design contract worth up to £50 million was awarded in June 2016 for the A96 Dualling western section between Hardmuir and Fochabers. Route options design and assessment work on this section has commenced and is expected to take two years to complete. The current phase of design work on the A96 Dualling is supporting over 100 graduate and apprentice jobs in Scotland.
Made Orders were published on the A90/A96 Haudagain Junction Improvement in February 2017 and on the A9 Berriedale Braes Improvement in March 2017 which, subject to there being no legal challenges, will complete the statutory procedures for these two much needed schemes.
In July 2016, four bidders were invited to participate in the competition for the main works on the A737 Dalry Bypass. Preparatory work began in February 2017 to ensure the site will be ready for the main contractor following the award of contract in spring 2017. Completion of the Dalry Bypass will enhance economic and employment opportunities, and improve journey times and reliability for motorists and businesses along the length of the A737, and it will facilitate separation of local from strategic traffic, thereby leading to improved safety for both rural road users and communities.
Aviation, Maritime, Freight and Canals
Aviation
We continued to improve Scotland's international business connectivity and in-bound tourism in partnership with Scottish Enterprise and Visit Scotland. New routes supported now include connections with Toronto, Montreal, Dusseldorf and Helsinki. We also supported the reinstatement of the link between Inverness and Heathrow via British Airways and a new KLM service between Inverness and Amsterdam.
The contract for supported air services to Campbeltown, Tiree and Barra was renewed. The new contract will result in significant improvement to these services, including the expansion of the Tiree and Barra services from daily to twice a day in order to address capacity issues. Sunday services to Campbeltown will also commence earlier in the year, as part of the new contract.
The Air Discount Scheme continues on the Public Service Obligation (PSO) routes to Campbeltown, Barra and Tiree, with providers promoting day trip packages to help extend the season for summer visitors.
In October 2016, a Memorandum of Understanding with Heathrow Airport was finalised, providing a platform to grow connectivity with the UK's only World Hub Airport, thus securing further benefits for Scotland.
We also welcomed Glasgow Prestwick Airport's Strategic Plan 2017-2022 outlining the senior management team's ambitions to develop the business over the next five years, and this will be published in April 2017.
Ferries
A £97 million contract was awarded to Ferguson Marine Engineering Limited (FMEL), Port Glasgow to construct two new major 'dual-fuel' ferries for the Clyde and Hebrides Ferry Services network (CHFS). These will be the largest commercial vessels to be built on the Clyde since 2001, and will mark the beginning of a new era of commercial shipbuilding on the Clyde. The ferries will operate on liquefied natural gas and marine diesel.
A third hybrid vessel, MV Catriona began service in September, and work to construct two new dual fuel vessels (for the CHFS network) continues at Fergusons's shipyard on the Clyde. Delivery is due in the second half of 2018.
Funding of £17.8 million was provided towards the £30 million redevelopment of Brodick Harbour and the extension of slipways for the 'lifeline' Kerrera ferry service were completed in August 2016.
Rail
In the summer of 2016, the Glasgow Queen Street Tunnel was successfully remodelled to accept electrification ahead of the new longer, faster and greener Class 385 electric trains due to arrive in September 2017. A co-ordinated timetable and communications plan ensure that passenger disruption was kept to a minimum.
The Edinburgh Gateway Interchange station opened in December 2016, at a cost of £41 million. This new station offers huge benefits to rail passengers travelling to or from the Gogar area, integrating the rail network with the tram network and providing a convenient link to Edinburgh Airport.
The Borders Railway project team won the prestigious 2016 Scottish Public Service Award in the category of Programme and Project Management. In the first year of operation passenger journeys exceeded 1.3 million. New data published in January 2017 revealed that tourism in the Borders and Midlothian has received a major boost since the introduction of the Borders Railway, with a significant improvement in key tourism performance figures, compared to the first half of 2015, before the railway opened.
A contract was awarded during February 2017 to lengthen platforms at Edinburgh Waverley for the introduction of the new Class 385 trains between Edinburgh and Glasgow and on the East Coast main line.
A £3 million initiative, designed to encourage passengers to switch to the ScotRail smart Saltirecard, was introduced in 2016-17. Benefits include offering ScotRail monthly and annual season ticket holders an extra week's free travel, as well as additional ad hoc promotions if they switch to the new card. In addition, weekly season ticket holders converting to smart Saltirecard will also receive a one day return ticket to travel anywhere in Scotland. Other discounted fares initiatives for less frequent (leisure) passengers will be announced over the course of the coming year.
Seven fully refurbished trains – C320/4s – are now in service on the Strathclyde electric network. These trains are now fitted with Wi-Fi, power sockets, accessible toilets, two wheelchair spaces, new lighting, carpeting and interior/exterior branding. In addition, two C385s trains have been tested in the Czech Republic and Germany running in seven car formation.
The second year of the Caledonian Sleeper franchise has seen significant improvements to reliability and punctuality. Detailed preparations in year resulted in no weather-related cancellations or significant delays – a substantial improvement from the previous autumn/winter. In June 2016 a mock-up of the new trains was unveiled; providing sleeper users with a preview of the improvements anticipated once the new trains come into service in 2018. Construction of the new sleeper vehicles has already commenced.
In March 2016, HS2 Ltd's report on "Broad options for upgraded and high speed railways to the North of England and Scotland" was published, along with the Scottish Government's "High Speed Rail Summary Report". A working group, comprising representatives from the Department of Transport (DfT), Transport Scotland, HS2 Ltd and Network Rail, has been formed to deliver the UK and Scottish Governments' commitment to take forward liaison with Network Rail and identify any and all options for consideration.
There are now eight operational Community Rail Partnerships (CRPs) in Scotland. The delivery model currently being used sees the Rail franchise holder working with, and funding established CRPs to develop their plans for a particular railline. These plans include promotion of the line, utilising vacant station buildings for community-based projects and adoption of a station, which can involve anything from keeping the station tidy to external floral arrangements. Work continues with local community groups with a view to creating new CRPs and community initiatives.
Transport Policy
Smarter Choices, Smarter Places is a behaviour change programme which seeks to increase the number of journeys done by walking, cycling, using public transport and car sharing. Currently 184 projects are being delivered through this programme. The £5 million in grant funding has attracted £6.5 million in match funding from partners including local authorities, Road Transport Partnerships (RTPs) and the NHS.
We continued to invest in the ChargePlace Scotland network of electric vehicle charge points, which now comprises over 1200 public charging bays (equating to over 600 points) across Scotland, including over 150 'rapid' chargers, one of the most comprehensive networks in Europe.
Our interest-free loan scheme, operated by the Energy Saving Trust, is boosting electric vehicle sales by enabling consumers and businesses to make the switch to low emission cars, vans and taxis. In addition, our Switched On Fleets initiative, has provided £3.5 million to support the introduction of around 350 new electric cars and vans into the Scottish public sector fleet.
Following the success of the Transport Accessibility Summit in March 2015, we set up a Transport Accessibility Steering Group to co-produce an Accessible Travel Framework for Scotland 'Going further'. This was launched by the Minister in September 2016. The aim is to identify and remove barriers to travel and ensure that all journeys are as pleasant an experience as possible.
A Mid-Term Review of the Road Safety Framework to 2020 was completed and published in March 2016, and road safety partners agreed three new priority areas to help reach our 2020 casualty reduction targets, namely speed, age and vulnerable road users. The Framework consequently won a Prince Michael of Kent International Road Safety award.
Following devolution of powers on school bus safety to the Scottish Parliament in 2015 we continue to the Seatbelts on School Transport Bill in order to ensure that seat belts become a legal requirement on all dedicated home-to-school transport in Scotland. The Bill is scheduled for introduction to Parliament in 2017.
Road Safety Scotland (RSS) continues to promote road safety as a lifelong learning process, engaging with education professionals and providing learning resources to facilitate the promotion of road safety across all educational establishments. An evaluation of the Early Years' Approach, Go Safe With Ziggy, was positive and encouraging, and work has now begun to address the recommendations in the report. Campaign activity in year has focused on country roads, motorcycles, child in-car safety, drink-driving and vulnerable road users. RSS also took part in several events promoting road safety and ran their own Annual Seminar, which focused on the priority areas identified in the Framework Review.
Social and Community Issues
Our staff use the Scottish Government's 'Skills for Success' framework approach to learning, development and career planning. We continue to embrace a programme of education engagement (Career Ready), where staff use their skills and experience of work to help young people in the surrounding area prepare for employment.
In procuring major contracts we are at the forefront of delivering community benefits beyond those of the normal contract requirements. One example of this is the benefits to the community delivered through the FRC project. This project has directly supported an average of 1,200 jobs, peaking at 1,300 with total indirect and induced benefits estimated to be worth around £6 billion to the Scottish economy. Up to December 2016, 308 out of 561 sub-contracts (55%) have been awarded to Scottish firms with a value of £183 million out of a total of £486 million (37.6%). In addition, 51,638 out of a total of 55,908 supply orders (92%) have been awarded to Scottish companies with a value of £152 million out of a total of £202 million (75%). In total therefore, as at 31 December 2016, Scottish firms have been awarded sub-contracts or supply orders on the FRC project alone totalling some £335 million out of a total of approximately £688 million (48.7%).
During each year of construction, the FRC project committed to deliver 45 vocational training positions, 21 professional body training places and 46 positions for the long term unemployed, as well as providing further scope to maximise Modern Apprenticeship opportunities. The project has actually delivered an annual average of 105, 32 and 51 positions in these categories respectively, with 795 places delivered for vocational and professional training and the long-term unemployed. The FRC project's commitment to engage with communities and share information regarding construction methods and progress has resulted in over 70,000 people engaging with the Project Exhibition; Schools Programme; Wide Outreach and Education Programme for colleges, universities and professional groups; community group visits and presentations; and Community Forums.
Employment on the M8 M73 M74 Motorway Improvement Project peaked at 1,450 in September 2016. Over 150 local Small to Medium Enterprises (SME) have benefitted by being awarded contracts valued at in excess of £74 million. A sizeable proportion of the £171.8 million of contracts awarded to companies other than SMEs has been sublet to local sub-contractors and suppliers. The project has also delivered opportunities for a minimum of 30 graduate and apprentice positions during the three year construction period, with a further 20 construction jobs each year aimed specifically at long term unemployed people. The project is also expected to provide sustainable long-term employment opportunities for approximately 60 full-time staff during the operation and maintenance of these key routes over a 30 year period
Employment on the AWPR/B-T project peaked at 2,500 in 2016. The project will also deliver an annual average of 30 vocational (apprentice) training positions, 15 professional body (graduate) training places and 30 positions for the long-term unemployed. Following construction, during the operation and maintenance phase, it is expected that there will be an additional seven graduate and apprenticeship opportunities and five positions for long-term unemployed people.
We are also delivering community benefits for the Highlands and Islands and Dundee in the aviation sector through our sponsorship for Highlands and Islands Airports (HIAL). Infrastructure is provided which supports essential air services and HIAL directly employs around 600 staff in those communities. We also contract three lifeline air services serving Barra, Campbeltown and Tiree which cannot be provided commercially and the Air Discount Scheme provides discounted air fares for the residents of some of Scotland's most remote communities making fares more affordable.
The contract for the provision of ferry services to the Northern Isles, awarded to Serco, actively identifies opportunities for the third sector and supported businesses in the area and Serco remain committed to this principle. This affords opportunities for the third sector and supported businesses to benefit from a much larger range of opportunities and become involved in Serco's supplier forum.
The current Caledonian Sleeper Franchise Agreement requires an increasing proportion of its hospitality and catering spend to be undertaken with Small and Medium Enterprises (SMEs). Serco is so far exceeding this requirement, linking with a variety of local suppliers to provide on-board meals for the Caledonian Sleepers.
ScotRail currently makes available vacant rooms within station buildings at a "peppercorn" rent for use by small, start-up businesses in areas where a lack of accommodation for new business is restricting growth. This initiative helps to stimulate the local economy through job creation and community involvement. In addition, vacant rooms are also given to community groups including an Active Travel Hub at Kilmarnock Station; Artist's studio at Aberdour Signal Box and a mixed martial arts gym at Helensburgh Central.
Sustainable Growth
We have contributed to the Scottish Government's purpose of sustainable economic growth set out in the Climate Change (Scotland) Act. We have developed a range of policies and proposals within the draft Climate Change Plan, published in January 2017. The draft Plan, together with the new climate change bill will deliver an integrated approach to a low carbon transition in Scotland which promotes social inclusion and sustainable growth.
We continue to promote alternatives to private car travel through funding to CarPlus to develop a network of car clubs across Scotland, and to the Energy Saving Trust to promote fuel efficient driving, as well as working with organisations to encourage their transitions to low carbon travel and transport choices.
Along with other key stakeholders we are working to deliver the aims of the Scottish Government's Cleaner Air for Scotland Strategy, the purpose of which is to achieve further reductions in air pollution.
Future Developments
Transport Scotland is a major contributor to the Scottish Government's Programme for Government 2016-17, which focuses on the themes of an education system providing opportunities for all, an economy with more jobs and fair work, public services fit for the future, empowering people and communities through strengthened local democracy and safeguarding Scotland's place in the world. Good transport links continue to play an essential role in creating a sustainable economy, and our transport network supports and connects communities and enables people to go about their daily lives.
The Programme for Government makes a commitment to review both the National Transport Strategy (NTS) and Strategic Transport Projects Review (STPR). Hence, STPR2 will be an examination of the strategic transport infrastructure interventions required to support the delivery of the Government's Economic Strategy and continue to deliver a transport network which is fit for the 21st century, in the context of the priorities to be set out in the new National Transport Strategy. It will provide a clearer alignment with Scottish Government plans, policies and strategies such as the National Planning Framework as well as the Climate Change and Infrastructure Investment plans. Work on STPR2 will commence in 2017 and will be completed after the review of the NTS.
In February 2017, the Minister for Transport and the Islands committed to overseeing a policy review on the future procurement of lifeline ferry services. The review will consider the application a potential exemption from the requirement to tender, as well as the requirement to satisfy State aid and all other legal, policy and financial implications relevant to alternative models for procuring ferry services.
Financials
The financial statements for the year ended 31 March 2017 have been prepared in accordance with the Accounts Direction given by the Scottish Ministers in pursuance of the Public Finance and Accountability (Scotland) Act 2000, and in accordance with The HM Treasury Financial Reporting Manual (FReM). The financial statements are consolidated within the Scottish Government Consolidated Resource Accounts.
These financial statements were authorised for issue on 22 August 2017.
Our Annual Review is also published on our website at: www.transport.gov.scot, and the Scottish Government Consolidated Resource Accounts at www.gov.scot.
Significant accounting policies
The areas where accounting judgements have significant impact are outlined below:
Valuation of the Trunk Road Network
The trunk road network is valued on the basis of current replacement cost, adjusted to reflect the current condition of the road component and the depreciation of structures and communications assets. To produce this valuation requires the use of assumptions, estimates and professional judgement. The model used to produce the valuation is known as the Road Authorities Asset Valuation System (RAAVS), and work is currently undertaken by WS Atkins using standard costs to value the individual components of the network asset and indices to revalue these on an annual basis through a joint contract with the other UK Road Authorities.
Recognition and the valuation of provisions
Due to the long term nature of our road and rail improvement schemes certain assumptions and judgements are required to be made for the estimated cost of land acquisition and compensation claims. This is due to the often protracted negotiation periods involved and the initial uncertainty over both the financial value and the final payment date of any compensation.
Valuation of accruals
Due to the timing and availability of final year end information from external parties and operating companies within Concessionary Travel, Rail and also Roads maintenance contracts, certain assumptions and judgments are required to be made when processing final accruals.

Public Private Partnerships (PPP)
We have three Public Private Partnerships (PPP) agreements in the form of Private Finance Initiative (PFI) contracts (M77-Connect, M74/M6–Autolink & the M80 Highway Management (Scotland) Limited). These arrangements meet the definition of Service Concession Arrangements in accordance with the disclosure requirements of IPSAS 32.

We also have PPP agreements in the form of Non-Profit Distributing (NPD) contracts for the M8/M73/M74 Motorway Improvements Project, with Scottish Roads Partnership (SRP) and Aberdeen Roads Limited (ARL) for the new AWPR/B-T. Both SRP and ARL are contractually obliged to provide the infrastructure and related services to the public on our behalf. We will retain overall control of the related assets and account for them on the Statement of Financial Position (SFP).

We have reviewed the degree of control exercised by each of the parties in existing PPP contracts and conclude that the degree of control we retain satisfies the requirements that the related assets created are required to be accounted for on our SFP. Details of the accounting treatment can be found in notes 1 and 16 to the annual accounts.

For details of the differences between NPD and PFI contracts, see the Scottish Futures Trust website at www.scottishfuturestrust.org.uk
Rail infrastructure in Scotland
Our responsibility for rail strategy includes setting strategic outcomes, primarily through Network Rail and the ScotRail and Caledonian Sleeper franchises, and defining the level of public expenditure available to support this.
Network Rail outputs and associated funding for Control Period 5 from 1 April 2014 to 31 March 2019 in Scotland was determined by the Office of Rail Regulation (ORR). Following their reclassification as a central government body in 2014, Network Rail now borrows from the UK Government to cover its future financing requirements. The major projects specified by Scottish Ministers for delivery by 2019 are largely funded through this agreement, which includes a ring-fenced borrowing limit to protect the delivery of Network Rail's programme in Scotland. Under the Memorandum of Understanding agreed with the UK Government following reclassification, the Scottish Government, with regulatory oversight from the ORR, continues to manage its own relationship with Network Rail in the delivery and funding of specified outputs on the Scottish rail network.
Funding
Resources to fund our operating costs and capital investment programme were allocated in the Scottish Government Budget 2016-17.
The choice between public and private funding is governed by suitability for alternative forms of finance (including value for money as well as availability). The policy decision set out in the 2016-17 budget is to maximise investment by utilising all available forms of finance (whilst working within a 5% affordability envelope for revenue financed schemes) in light of significant capital constraints.
Financial performance and use of resources
We are required to monitor expenditure against our budget which forms part of the Rural Economy and Connectivity portfolio. During the year, the budget can be subject to revision and adjustment via the Scottish Government Autumn Budget Revision (ABR) and Spring Budget Revision (SBR). The table below shows the movement in our budget and comparison with the outturn.
Original Budget 2016-17 £000's
ABR Adjust £000's
SBR Adjust £000's
Revised Budget
2016-17 £000's
Outturn 2016-17 £000's
Variance £000's
Rail Services
737,246
-
3,100
740,346
737,865
2,481
Concessionary Travel
261,300
-
-
261,300
250,196
11,104
Motorways & Trunk Roads
744,176
281
15,150
759,607
717,116
42,491
Ferries
198,600
-
-
198,600
209,677
(11,077)
Air
50,800
-
-
50,800
48,083
2,717
Other Transport
97,500
70
(735)
96,835
93,195
3,640
Scottish Futures Fund
20,250
-
-
20,250
18,893
1,357
Local Authority Grants
21,934
-
21,934
21,681
253
Total DEL
2,131,806
351
17,515
2,149,672
2,096,706
52,966
AME
-
-
-
-
7
(7)
AME ODEL Capital
1,522
(1,522)
ODEL PFI Resource
87,586
-
-
87,586
73,164
14,422
ODEL PFI Capital
-
157,000
-
157,000
157,269
(269)
TOTAL
2,219,392
157,351
17,515
2,394,258
2,328,668
65,590
A total of £2,150 million of budget cover was allocated from the Scottish Government Departmental Expenditure Limit (DEL) budget (15-16: £2,071 million). Annually Managed Expenditure (AME) relates to land compensation claims on the trunk road network. The remaining £244 million of budget (15-16: £180 million) represents on-balance sheet PFI/PPP projects scored outwith DEL. Of this, £88 million is scored against resource and includes payments for the, M77, M80, and M6 schemes. The capital element relates to the construction costs of the M8 M73 M74 project. These budgets form part of the overall budget of the Scottish Government, and contribute to the overall Scottish Government position.
Outturn Analysis

| Transport Scotland 2016-17 | Budget £000's | Actual £000's | Variance £000's |
| --- | --- | --- | --- |
| Resource – Operating Costs | 863,210 | 854,842 | 8,368 |
| Resource – Investment | 656,516 | 687,792 | (31,276) |
| Resource Depreciation (non-cash) | 111,365 | 79,367 | 31,998 |
| Capital | 518,581 | 474,705 | 43,876 |
| DEL total | 2,149,672 | 2,096,706 | 52,966 |
| AME | - | 1529 | (1,529) |
| PFI Resource (ODEL) | 87,586 | 73,164 | 14,422 |
| PFI Capital (ODEL) | 157,000 | 157,269 | (269) |
| Total | 2,394,258 | 2,328,668 | 65,590 |
Outturn Analysis
The final outturn for the year against the main budget areas is shown in the outturn analysis table. The DEL underspend of £52.9 million, comprises a cash underspend of £21 million and a non-cash underspend of £31.9 million. In year savings include lower than expected levels of expenditure within the demand led area of Free Bus Travel and slippage due to delays in the procurement of integrated ticketing hardware (£13.2 million), reduction in the service charges and management agent fees on the M6 and M80 schemes and the M8 M73 M74 unitary charges (£14.4 million) and savings in Rail due to slippage in cross border rail costs, the impact of which is not expected to be felt until 2018-19 (£2.5 million). These are being partially offset by increased pressures within major projects such as the M8/M73/74, A9 Kincraig to Dalraddy and Pulpit Rock. The underspend on non-cash DEL is due to the RAAVS condition outturning lower than budget. The ODEL Capital figures reflect only the construction costs of M8/M73/M74 project, together with the budget allocated in the Spring Budget Revision.
The total underspend of £65.5 million (15-16: £21 million underspend) represents approximately 2.0% (15-16: 0.9%) of the overall budget.
The Statement of Comprehensive Net Expenditure (SoCNE) on page 28 identifies net operating costs of £1,695 million. Capital expenditure is not recognised as in-year expenditure within the SoCNE, but the table below provides a reconciliation of overall outturn to SoCNE.
| | |
| --- | --- |
| | £000's |
| Net Operating Costs per SoCNE | 1,695,172 |
| Add: Additions to Intangible Assets (note 7) | 63 |
| Add: Additions to PPE (note 6) | 591,565 |
| Add: Additions to Investments (note 9) | 46,012 |
| Less: Disposals of Intangible Assets (note 7) | 0 |
| Less: Disposals of PPE (note 6) | (74) |
| Less: Repayments of Investments (note 9) | (3,929) |
| Less: Disposals on Assets held for Sale (note 8) | (98) |
| Less: De-trunkings (note 6) | (59) |
| Add: De-trunkings depreciation (note 6) | 16 |
| Outturn per Management Commentary | 2,328,668 |
The majority of Transport Scotland's budget is spent, either directly or indirectly, with private sector companies. Only 2% is utilised on the on-going Agency running costs. The chart below shows the percentage spent on each of the main areas of service provision identified in the budget.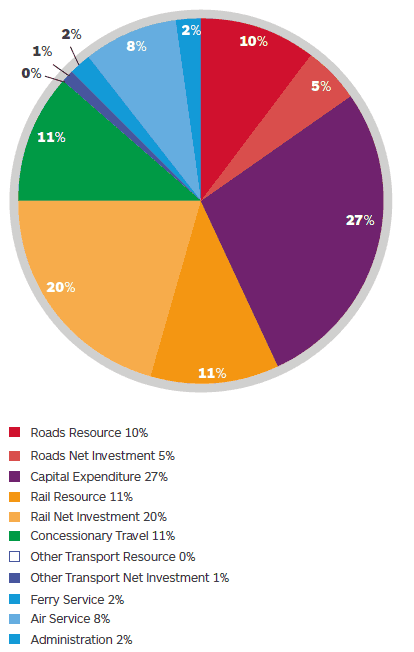 The total asset base is £18.7 billion, the majority of which relates to the trunk road network. Additions to the value of the asset include the A96 Inveramsy Bridge.
Relationship with suppliers
We are committed to prompt payment of bills for goods and services and aim to settle all undisputed invoices within contract terms and also in line with the Scottish Government 10 day payment policy. We settled 96% of invoices within this timescale (15-16: 96%). The amount owed to trade creditors at the year-end as a proportion of the aggregate amount invoiced during the year, represented 1.4 days in proportion to the total number of days in 2016-17 (15-16: 0.3 days).
Future Spending Plans
The Scottish Budget Draft Budget 2017-18, provides details of our spending plans that will help deliver sustainable economic growth. These allocations are included in the table for the coming financial year.
| | |
| --- | --- |
| | 2017-18* £000's |
| Resource – Operating Costs | 921,311 |
| Resource – Investment | 654,812 |
| Non-Cash | 97,511 |
| Capital | 560,982 |
| Total | 2,234,616 |
| ODEL | 121,163 |
| Total | 2,355, 779 |
*Source – Scottish Budget Act 2017-18
Sustainability
The Climate Change (Scotland) Act 2009 requires us to report on corporate operational emissions across activities such as office energy use and business travel. Collectively, these actions underpin the commitments in our Carbon Management Plan (CMP).
Following the completion of Carbon Management Plan v.2 and the introduction of the mandatory Public Bodies Climate Change Duties Reporting in 2016, the agency published a new Carbon Management Plan – 3rd Edition (CMP v.3). CMP v.3 set a new corporate carbon emission baseline, along with associated targets and projects, until 2019/20. The emission scope has widened to cover both operational emissions from our buildings and travel, as well as trunk road lighting emissions (also known as Network Energy emissions). As such, our baseline targets and projects are now broken down to reflect the technical and source-apportionment diversity of our in-scope emission sources.
The performance against the overall baseline will be reported via the Public Bodies Climate Change Duties Reporting portal, however for the purposes of this report, information will only relate to the operational Carbon Footprint based on the baseline set using the 2015/16 data.
A detailed Sustainability Report will be published in late 2017, providing fuller details of our operational carbon footprint.
During the course of the financial year 2016/17, Transport Scotland's operational emissions have decreased by 1.2% when compared to the previous year.
Energy: Emissions from electricity use in our our offices (Buchanan House/Victoria Quay/Traffic Control Centre) have increased by 3%. Gas consumption has increased by 5.4%.
Water: Consumption Emissions have increased by 17%.
Waste: Emissions from waste disposal have increased by 10.6%.
Commute Travel: Emissions associated with commute travel have decreased by 49%.
Business Travel: Emissions attributed to business travel have increased by 10% when compared to the 2015/16 baseline. Emission reductions were achieved for Underground Travel (Down 59%) and Car Hire (Down 2%). Emissions increases are attributed to Taxi Travel (Up 1.6%) Ferry Travel (Up 1368.83%) Air Travel (Up 28%) Bus Travel (58%) and Rail Travel (Up 21%).
Corporate Operational Carbon Emissions 2016-17
Element
Metric
Baseline in 2015-16
Actual in 2016-17
% change compared to previous year
Indicator
Total Emissions
-
kg/CO2e
1,377,607
1,358,408
-1.2%
⇩
Energy (Scope 1&2 GHG emissions)
Electricity
kg/CO2e
764,976
788,226
3%
⇧
Gas
kg/CO2e
265,257
279,682
5.4%
⇧
Travel (Scope 3 GHG emissions)
Business Travel
kg/CO2e
187,717
206,788
10%
⇧
Travel (Scope 3 GHG emissions)
Commute Travel
kg/CO2e
154,504
77,804
-49%
⇩
Water
Water
kg/CO2e
3,131
3,670
17%
⇧
Waste
Waste (BH)
kg/CO2e
2,022
2,238
10.6%
⇧
Roy Brannen
Chief Executive
21 August 2017
---